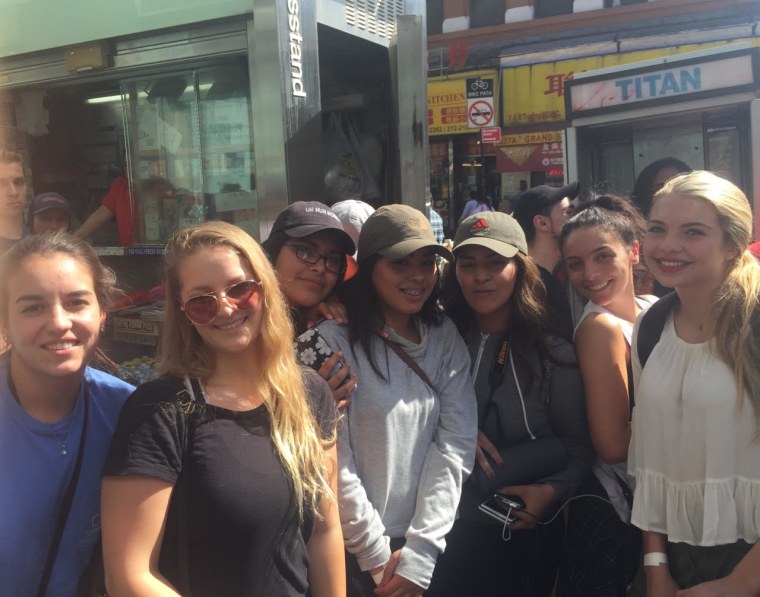 Drake opened a pop-up space in New York's Chinatown to build excitement for Views From The 6 yesterday. With nothing but a flyer and a location to go on, eager fans showed up the shop to see what Drake had to offer. Some just showed up with high hope that Drake would actually be there in person.
Fans who managed to get inside found there were free black and white t shirts with the word, "VIEWS" printed across the front. A group of girls blasted, "Controlla"—Drake's leaked track with dancehall artist Popcaan, out of a huge speaker to make standing in the heat more pleasant. As others waited for the doors to open, I went down the line and asked fans what they thought Views would sound like when upon its April 2016 release.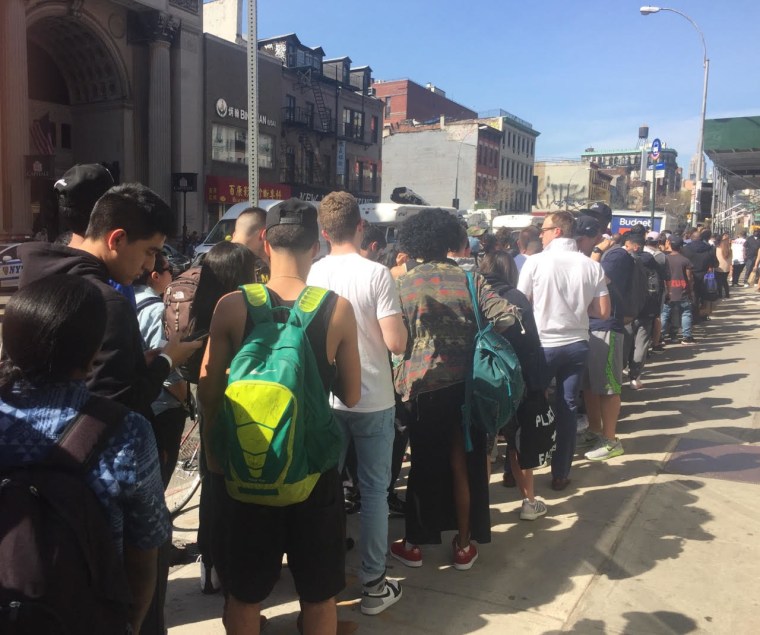 Leading up to Drake's surprise, the songs, "Summer Sixteen," "Pop Style," which features Jay Z and Kanye West, and feel good dance jam, "One Dance," featuring Wizkid and Kyla have given us a taste of what types of sounds Drake's experimenting with. "He's going to hit you with more of the Caribbean vibe and get more into that. Especially, because it's coming out right before it gets hot out," said Drake fan, Xavier Vittoro.
"It's going to be a feel. A summer feel. Like a Tamia, "I'm So Into You" summer feel." said Nia Simpkins who was waiting last in line with four of her friends. " It's gonna' be lit. It's going to set the tone." Her girl squad agreed with enthusiasm.
"A lot of dancehall. He's been experimenting with it a lot lately. It won't be dark, definitely bright. It's going to be awesome I think. Usually by the 4th or 5th album there's been a lot of practice and experience," said Jordan Giha who was one of the early comers who stood closer to the front of the line. "You can hear the sound difference from the first album until now. It's cleaner and more precise."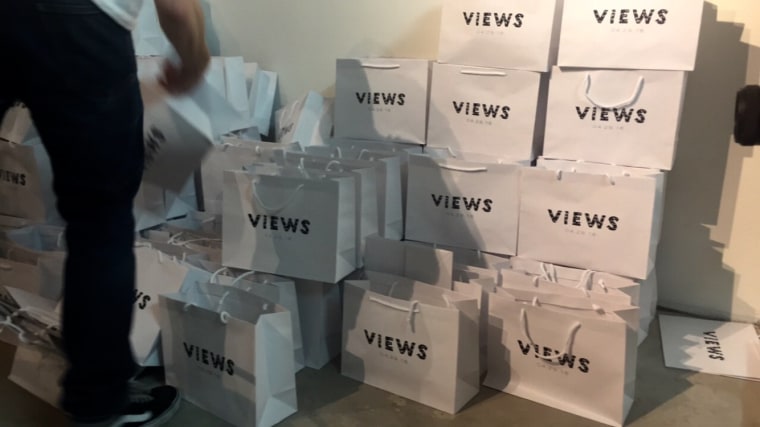 Most people seemed to agree that Drake would be tapping into the global market by integrating sounds of the African Diaspora and making lively music that could get people amped. As the anticipation began to grow from many onlookers who thought Drake would actually be inside, NYPD officers started to regulate the growing crowds.
After the police cleared the street of the overflow from the sidewalk, the men up front began letting people inside. Upon entry, a rack of white "VIEWS" shirts were placed in the front of the space. On the next wall, the logo was posted onto a brick wall under the Beats logo. Getting the complimentary shirt was swift exchange. At the counter, the staff asked everyone their t-shirt sizes, handed off a crisp white bag and the security sent you on your way through the exit. As it got later into the evening, hopefuls still accrued around the the third block. Some still didn't even know what was inside the shop. All they knew, is that it was an offering from Drake and that was something worth waiting for.