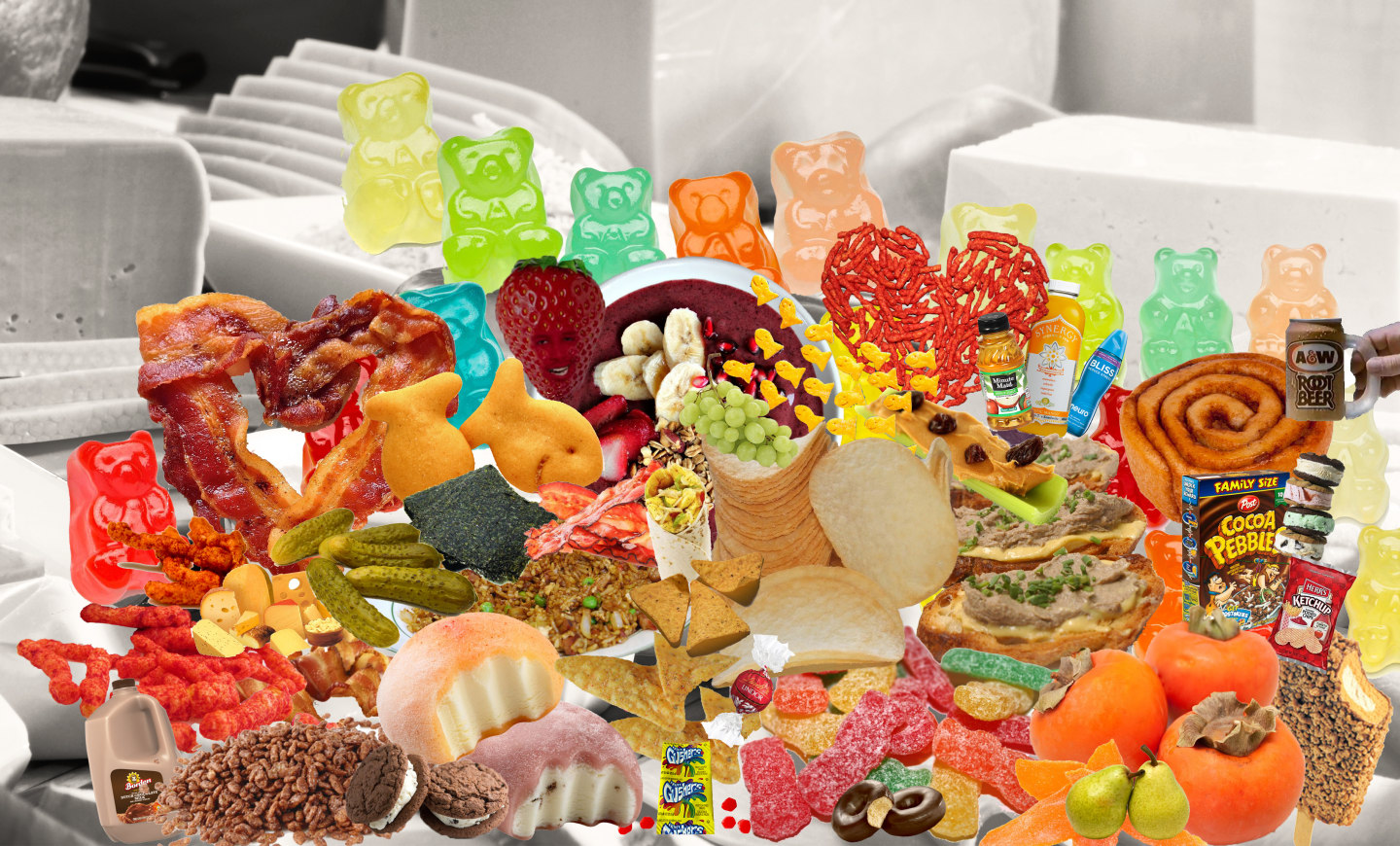 Sweet, sour, crunchy, or cold—to each their own favorite snack. And so, on the occasion of 4/20—although snacks are good any day of the year, at any time—we polled 22 artists from all walks of life on what they reach for when they need just a little something to nibble on. Below, their answers.
1. Bibi Bourelly: My favorite snack would have to be hot Takis from 7/11. They hit the spot. I also like grapefruits along with pineapples, because they are refreshing and give you a kick to wake you up.
2. Kreayshawn: Most of my favorite snacks include some kind of cheese. If you have never dipped your Flaming Hot Cheetos in some nice cold cream cheese or drenched your Cool Ranch Doritos in 7/11 dispensable nacho cheese or even spreading some fancy brie on a cracker and topping it off with a nice crisp grape, then you are not living. These are my favorite snacks. Let's not forget your local Japanese Grocery Store can offer you all kinds Japanese versions of your favorite American chips!
3. Snootie Wild: I'm a skinny fat dude, man. Olive oil kettle chips, honey buns, and gummy bears are at the top of my snacks list, especially on a day like 4/20. No real preparation, just open 'em up and go in. The rhyme and reason? None outside of the fact that they taste good as hell. Well at least not for the chips and buns. I love gummy bears because my grandmother use to give them to me.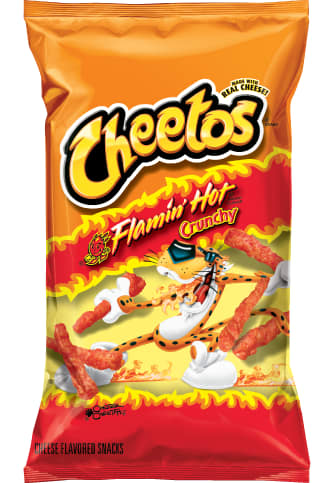 "If you have never dipped your Flaming Hot Cheetos in some nice cold cream cheese... then you are not living."—Kreayshawn
4. Shura: Gherkin is the best snack in the world. Every time you eat a Gherkin you remember how amazing it is and promise to start eating more Gherkins from now on but inevitably trail off into a more or less Gherkin-less existence until the idea—like a lightbulb in above one's head in a cartoon—strikes and you are back to eating Gherkin.

5. Boogie: At the studio a nigga gotta have ginger shots on deck. We even getting a NutriBullet for the crib. Also kombucha and bacon and coffee are necessary. And even though they ain't food, I'm still gonna say weed and backwoods. Outside of that, a nigga tryna be healthy.

6. Ryan Hemsworth: Ketchup chips are always the jam. I don't know if they're widely available in America, might just be a Canadian delicacy. Get yourself some damn ketchup chips and a bottle of A&W root beer.

7. Bobby Brackins: I'm growing out of the ratchet-ass shit like Funyuns, Hot Cheetos, pork rinds—after I eat that stuff, you don't feel good. If I'ma eat some snacks, I'd like to be able to not feel hella slowed down afterwards. I like Greek yogurt ice creams (blueberry, strawberry, and pineapple flavors). I like dried mangos, because they're less of a guilty pleasure—it's fruit, even though it's got sugar all over it, you feel me? I like cookies and cream ice cream sandwiches. I also like Pinkberry, usually mango or strawberry flavors, but they all change seasonally so I got to work with whatever season it is. I put mochi, strawberries, the wafers, and the little chocolate wafer sticks as the toppings. I like blue NeuroWater as my drink of choice. I also like the spicy wasabi dried seaweed snacks.
8. Logan Takahashi: I've become a bit addicted to acai bowls in the past year and a half—especially the almond butter kind. Delicious, and you feel great after eating.
"I like Pinkberry, usually mango or strawberry flavors, but they all change seasonally so I got to work with whatever season it is."—Bobby Brackins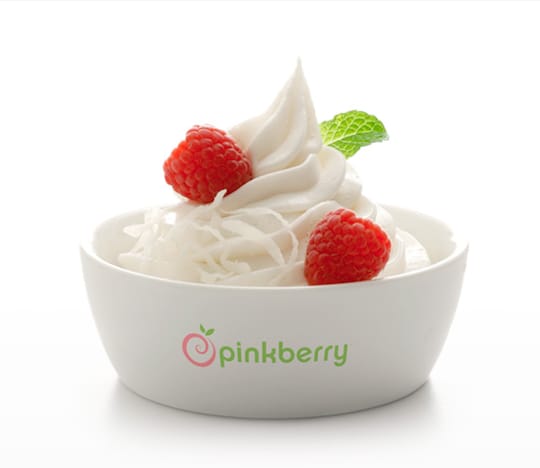 9. Berner: Thai food, and I turn up. I usually order the whole menu, but some specific things I'll go for are basil chicken, angel wings, bbq pork fried rice, and pad thai with chicken, hold the bean sprouts. I'm all about sweet and chewy candy that fuck my teeth, like strawberry Gushers and Lemon Heads. Or Lindor milk chocolate balls. And a ginger beer!
10. Jacquees: My favorite snack is probably Cocoa Pebbles cereal. I love it with extra cold milk, preferably on the go.

11. Paul Wall: When I smoke, I usually got a cold muddy cup to quench my cottonmouth. But snack-wise, I try to keep it healthy. My boy Baby Bash has got me eating fruit to keep us healthy. Rick Ross on them pears, so we try to get on them pears. Bananas, peaches, apples, the usual, nothing too crazy. He go all out, because he's from California so gets all kinds of exotic stuff.
12. Chevy Woods: I like Goldfish and Pringles (plain flavors). I'm not really a sweets person, but I'll have Jolly Ranchers around. I'm into juice too, Minute Maid apple juice and sometimes chocolate milk.
13. Christian Holden from The Hotelier: I make four eggs mixed with some sort of greens and I wrap it up in a tortilla with barbeque sauce. Eggs and barbeque sauce, it's awesome. I started making this when I was living at a house that bulk orders food and I was like, oh I have to make myself things. I was like, I kind of want eggs, so I did that. We always had different types of breads and sauces so I just used whatever we had and that seemed to work.
14. Heems: I like samosas. A lot. Sometimes I cut their corners off and squeeze them into Pav, a type of bread often found accompanying Bombay street food. I make a home-made chutney out of tamarind and one out of mint and cilantro to toss on their. Mmmmm.

15. Adia Victoria: My favorite snack is chicken liver pâté. As it is a particularly labor exhaustive snack, it is usually reserved for special occasions. My grandmother taught me the recipe as a kid—chopped deep fried livers, relish, boiled egg, onion and an embarrassing quantity of mayonnaise served on toast points (when I want to show off) or Ritz crackers (when I just want to get to the point). There is something ritualistic in its preparation. It takes me back to my grandmother's kitchen in South Carolina. I think I was the only kid at my middle school with her own pâté recipe. That made me feel just plain fancy.
16. Young Dolph: I like Pecan Spinwheels by Little Debbie, chocolate covered almonds, cheese flavored popcorn and spicy hot popcorn mixed, and root beer or cream soda.
"Some specific things I'll go for are basil chicken, angel wings, bbq pork fried rice, and pad thai with chicken, hold the bean sprouts."—Berner
17. Keznamdi: My favorite snack is an ackee wrap with banana smoothie. Ackee is Jamaica's national fruit, most people in Jamaica eat it with saltfish but as a vegan I keep it ital: ackee, which is marinated in coconut milk, and then put in a tortilla sandwich wrap with lettuce, tomatoes, onions, and other vegetables. It goes along with a vegan sweet and sour (dipping) sauce. I love it because it's easy to cook, the texture is nice, goes well with natural seasoning, and just make me feel like I want to dance when I eat it. I like to wash it down with a banana smoothie using frozen bananas, spirulina, hemp seeds, coco, irish moss and coconut milk.
18. E.M.M.A.: My favourite snack is ants on a log. Take a piece of celery, fill it with peanut butter, and add raisins along the middle. Apart from being sweet, savory and healthy, it's also more entertaining than just celery.
19. Mikey from Illegal Civilization: I had Chocolate Donnetes in the yellow wrapping for the first time in Barcelona a few weeks ago and smuggled some back to the U.S. they were so fire. Or Golden Gaytime ice cream bars in Australia, and butter madeleine cakes in the U.S.A. with some hot chocolate. Crazy!
20. Sweyn Jupiter: I got to go for persimmons. They are so juicy and were my fave growing up. And dried seaweed. Mmm! The tempura range as well, so good.
21. Rich the Kid: I drink lean and eat candy. My favorite candy to eat is Sour Patch Kids, 'cause it's sweet and sour.
22. Jazz Cartier: My go to midnight snack is my Cuzzi Ice Cream Cookie Crumble. I bake five to 10 chocolate cookies. Put ice cream in a bowl (cookies & cream and rocky road), crush the cookies in a separate bowls, and once I'm done, I add the cookies to the ice cream. And then you add the other flavoured ice cream (whatever you prefer) on top to keep things interesting. And, wow! Thank me later.