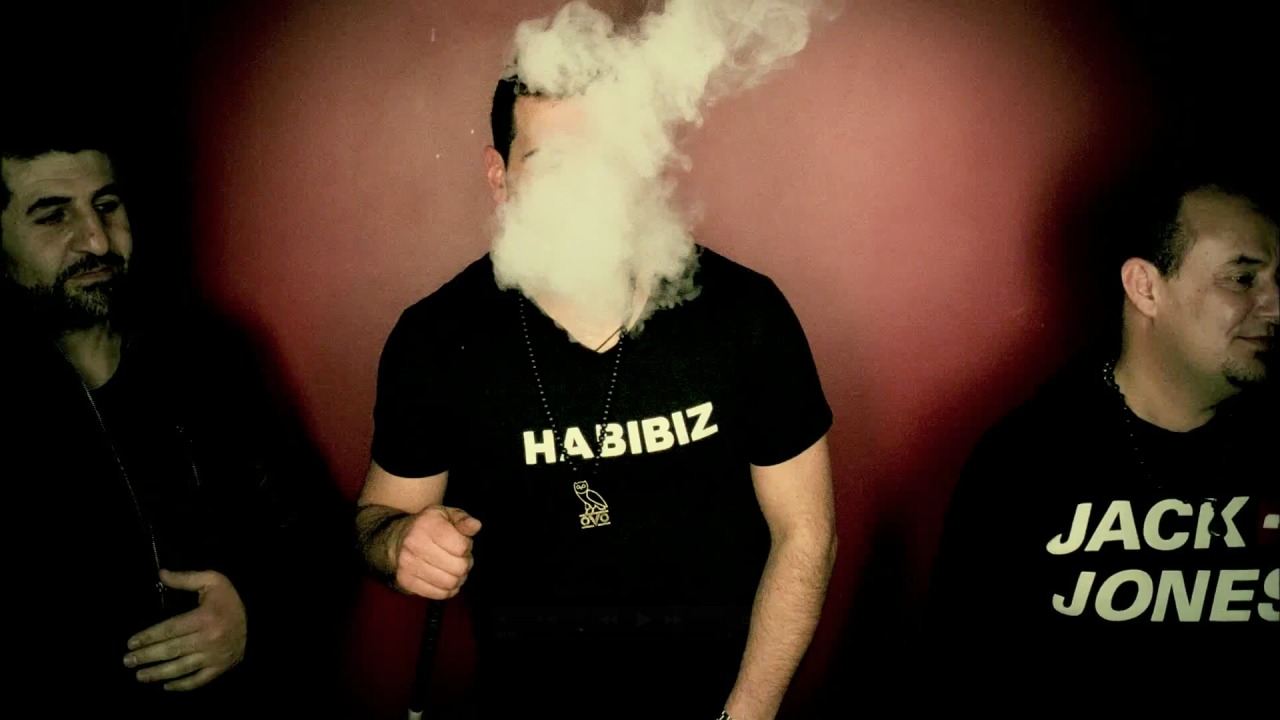 The bright scent of mint floats through a dark lounge. Music by R. Kelly, Kodak Black, and Teddy Afro plays through large speakers nestled in each corner of the room. It's Friday night in late March at Cloud 9 shisha lounge, which sits at the corner of Danforth and Coxwell Avenues in Toronto's east end. (Locals call the spot Rotana's.) Large, semi-private booths divide the room, and the cliques congregated in it. In one booth, a group of young East African women pull on a collection of shisha pipes. They're sipping pineapple Barbican sodas, and occasionally dab to Drake and Future's "Jumpman" before transitioning to the Ethiopian eskissta dance. And they're acting a bit coy because, in another booth, there's a group of young men. Some are playing dominos, while others rap and sing along to the music. In fact, the whole place is mostly filled with East African men and women in their mid-20s. It's an ideal social environment for these students and working people from one of Toronto's largest diasporas in search of Friday night fun. But just over a month later Cloud 9 has closed, a precursor of many possible closings to come under a new Toronto bylaw.
In November of 2015, the City of Toronto announced a new bylaw would take effect on April 1, 2016, prohibiting indoor shisha (or hookah) smoking under a Toronto municipal code. This bylaw places 70 businesses, mostly owned by Middle Eastern and East African proprietors, under the hazard of closure. In turn, the transition threatens a culturally alternative and halal space for people of color. Right now, the ban is in its first phase of enforcement: Toronto Public Health (TPH) inspectors will visit establishments to educate them on how to restructure their current business models without selling shisha by July 1.
Sumaya, who declined to provide her last name, is part owner of The Prince, another east end lounge which borders Scarborough and North York. Although food and beverage is on her menu, she said 90 percent of her monthly income comes from the sale of shisha. When the bylaw reaches its last phase of enforcement, she said, The Prince could become essentially impossible to keep open.
In a phone call, TPH spokesperson Loren Vanderlinden said businesses have been given time to prepare for the change. "Tobacco hookah smoking has been banned for a long time [in Toronto], although we knew that it was still happening," she said, referring to a 2010 action, under the Smoke Free-Air Act in Toronto, which banned businesses from selling tobacco, but allowed them to sell herbal shisha, a tobacco-free product.
According to Vanderlinden, shisha lounge owners who allow indoor smoking in their establishments after July 1 will be subject to repercussions, including tickets and summonses, alongside possible Licensing Tribunal hearings. (Set fines have yet to be determined.)

For shisha smokers, many of whom are Muslim, these establishments offer a halal setting to engage in an alternative recreational activity that doesn't conflict with religious or cultural values.
Shisha culture isn't new. Persians introduced the custom to the Mughal Empire in India in the early 16th century, and shisha is now a cultural mainstay throughout the Middle East and parts of Africa and Asia. Immigrants from these pockets of the world have popularized the tradition in the West. In practice, shisha involves a single-stemmed instrument that allows for the smoking of flavored tobacco. The vapor smoke passes through a glass water basin before it's inhaled through a pipe. Flavors range from apple, melon, or simple combos like grape-mint, to more elaborate combinations such as Blue Mist (sweet blueberry with a hint of mint) or Sex on the Beach (a blend of light citrus flavors).
The history of brown and black bodies and tobacco consumption is long. Assigned with protective, healing, and sacred significance, tobacco was given a divine status in cultures from pre-Columbian North America to parts of Africa. Whether chewed, swallowed, or inhaled—tobacco was thought to have brought both empowerment and solace to consumers. But this ancient relationship was complicated by colonization and slavery in the Americas, and through commodification of the crop from the early 1600s to present day.
Today, London, New York, and Dubai all have strong shisha cultures. In Toronto, lots of people smoke shisha privately, but public lounges like Mazaj, Dreams, and Casablanca, located in various corners of Toronto and its closely linked outer suburbs, serve as intergenerational gathering places that give diaspora communities a sense of home. In recent years, shisha has become mainstream: it's now part of the bottle service and VIP landscape in clubs from Toronto to Atlanta, while also making the occasional appearance in music videos by artists like Tyga and French Montana. The health risks of tobacco are also now more clear: the World Health Organization released a study in 2005 demonstrating that smoking shisha for an hour was the equivalent of consuming 100 to 200 cigarettes.

"It's an attack on culture."—Ali, Habibiz
Habibiz is in the middle of Scarborough, east of downtown Toronto, and attracts a slightly younger and larger crowd than other shisha spots. The lounge has a club feel and is divided into two sections: the main seating area for all guests, and a VIP lounge. Only loyal customers get access to VIP, including a few of OVO's finest. Despite its contemporary party vibe and success, Habibiz now faces the same threat of closure as many other establishments across the city.
"I get pissed off every time I think about it," said Ali, a Lebanese-Canadian, who owns the club. (He declined to provide his last name.) "Other than [this ban] affecting all of the existing businesses, it's an attack on culture," he said. Just before we spoke, he oversaw an inspection by city officials at the lounge.
For shisha smokers, many of whom are Muslim or raised in Islamic environments, these establishments offer a halal setting for recreational activity that doesn't conflict with religious or cultural values. "I think smoking shisha is just another everyday thing that you can do," said Ali. He laughed softly: "I don't drink alcohol, so what am I supposed to do now? Go hang out in parking lots?"
Toronto isn't the only municipality cracking down on shisha. Vanderlinden said she recently gave a testimony to the New York City Department of Health with regards to Toronto's bylaw and enforcement. And in the U.K., Birmingham professional football club, Aston Villa F.C, recently dropped one of its players for smoking shisha during a trip to Dubai.
Last year's bylaw announcement followed increased discussions about safety in and around shisha lounges in Toronto's Danforth East neighborhood after the murder of 21-year old Abdiweli Mohamed Yusuf. Another man was murdered outside of Cloud 9 in mid-April. These two incidents, occurring blocks apart, have been enough to regenerate debate about safety and shisha across the city.
Sgt. George Mullin, community response unit manager for Toronto Police 54 Division, attributed shisha culture to "non-community members" visiting the neighborhood, spawning increased violence. For many, this kind of commentary is another way of criminalizing black diasporas and their cultural practices, specifically Somali-Canadians. This has been a recurrent narrative for the community since Somali men were linked to the 2013 outing of Rob Ford as a crack-cocaine user.
Vanderlinden said that for TPH, the largest concern isn't violence, but an increase of shisha consumption amongst youth. TPH's research, she said, suggests an "increase in hookah smoking amongst young people. From a health standpoint, the most protective approach is to prohibit [shisha] use in these kind of public establishments." Across the city, shisha businesses say they reinforce a strict age requirement for entry. Cloud 9 enforced a 25 and over clientele, through carding. "My spot is for people 19 plus," said Ali, of Habibiz. "It's not for kids."
But for adults, many see the crackdown as having a racist and xenophobic undertone. "I don't see anything bad about shisha compared to drugs, cigarettes, and alcohol," Ali said, pointing to how alcohol consumption has been linked to cardiovascular disease, and various other health concerns, yet remains a widely normalized cultural practice. Several existing studies demonstrate excessive alcohol consumption triggers an increase of bar fights, as well as drinking and driving, which killed 121 Canadians out of a reported 90,277 incidents, as of the last national census in 2011. He continued: "If you're really concerned about people's health, why not ban cigarettes and these other things first?"
Many subcultures are being edged out as Toronto changes to accomodate economic growth. Banning shisha in public spaces is, Ali said, an attack on culture and a censure on the ownership of spaces for Toronto's diasporic communities. Recently, he
opened a Habibiz location in Montreal. But when I ask if he can imagine an alternative space of cultural ownership arising in a shisha-less Toronto, he said he couldn't fathom it. "Where else is there for us in this city?"