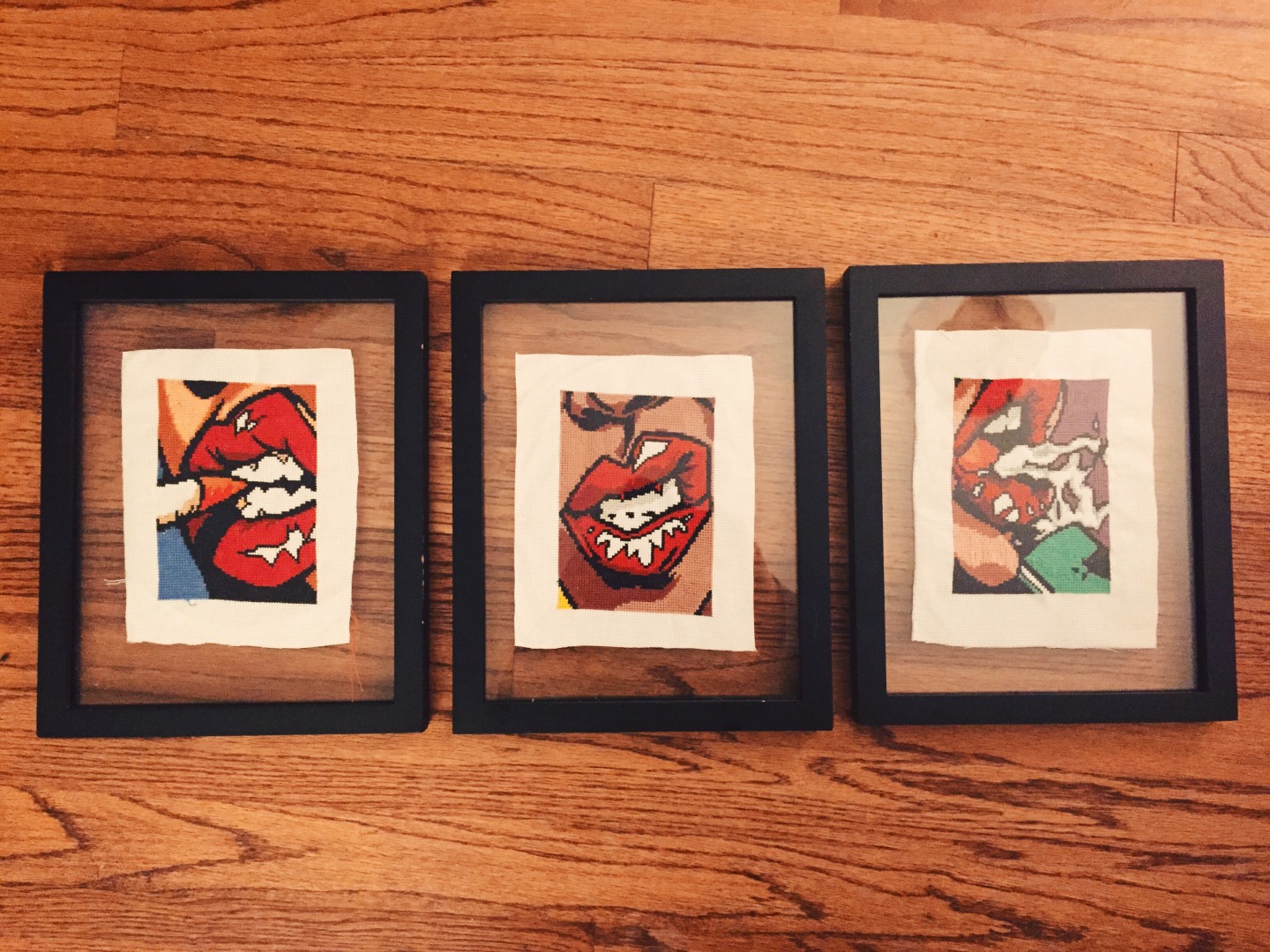 The stairs leading up to Emma McKee's Wicker Park apartment are lined with dozens of hip-hop concert posters, ranging from 2011—the year McKee first moved to Chicago—to 2016. The flyers feature Chance The Rapper, Kids These Days, Vic Mensa, Mick Jenkins, a makeshift canon of Chicago's brightest young artists. Many of those featured are fans of McKee as well. The St. Louis native has found a niche cross stitching pieces mostly for street artists, musicians, and the hip-hop community at large, both inside and outside of Chicago.
McKee's pieces are a sharp departure from the fussy aesthetic that traditionally defines cross stitching. When her English mother tried to get McKee interested in the form as a kid, she had little patience for it. "I saw it as a kind of outdated art form that was used to keep women occupied so they wouldn't have to exercise other faculties," McKee tells The FADER, "just like something to do around the house." After giving the medium a chance, she realized how much she liked its soothing effects. "I have a really active mind and I'm constantly turning things over—I get overstimulated. Cross stitching allowed me to be calm and focus."
The first cross stitch she ever did was in 2014, an adaptation of Will Prince's artwork for Chance the Rapper's "Hey Ma" that took her five months to complete. Next up was a piece for street artist JC Rivera, Chicago's "Bear Champ." From that point, her body of work ballooned, as more rappers, producers, and artists inquired about the pieces. McKee won't make a cross stitch for just anyone—what she calls 'quality control'—and she doesn't sell her work. She only does trades, mostly for art or music.
Below, Emma McKee speaks about the intersection between hip-hop and cross stitch, why Chance the Rapper is so inspirational to her art, and how her barter-only system works.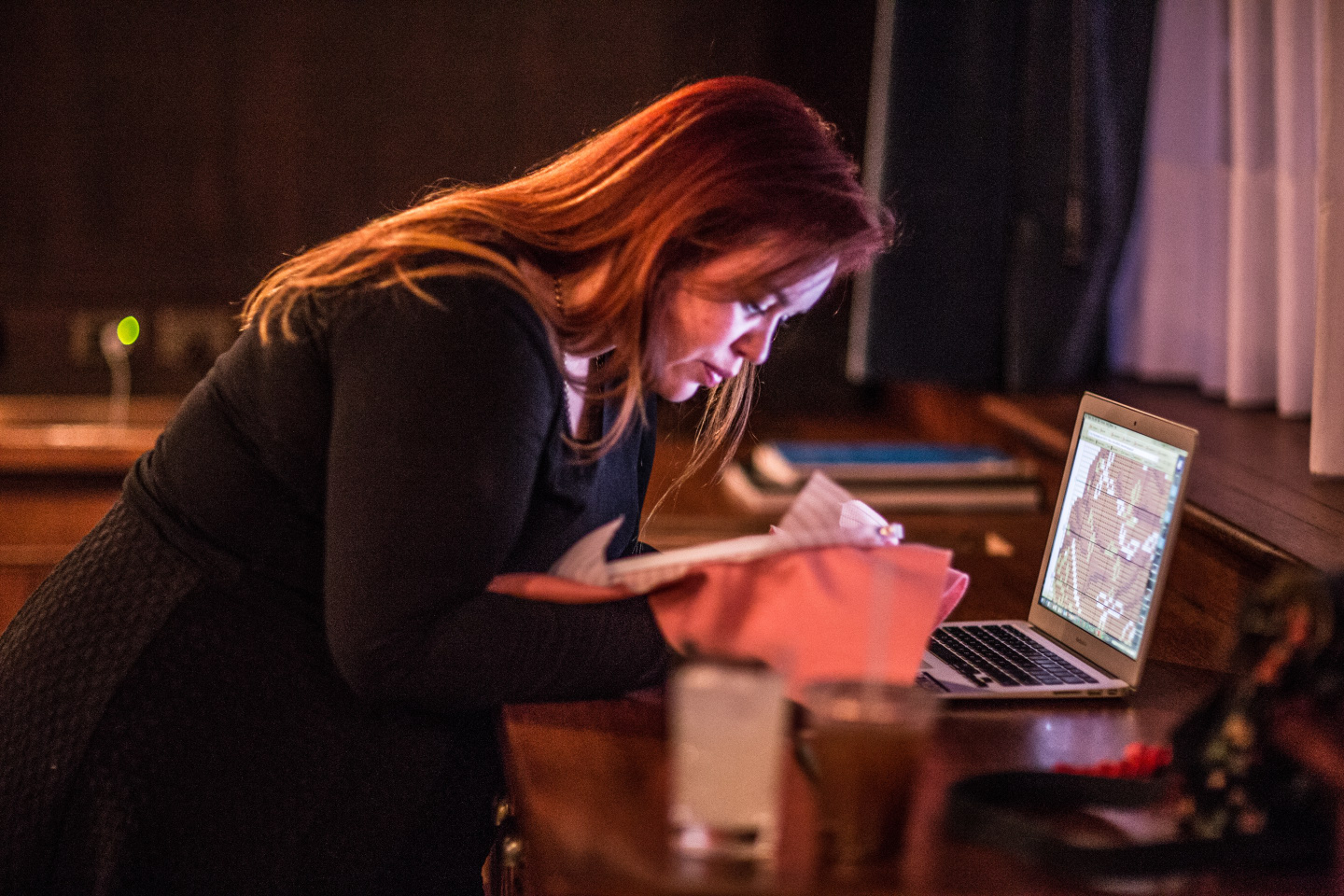 It's interesting how you've flipped the intent of cross stitching, something that is very domesticated, British—kind of an "old world" medium.

EMMA MCKEE: That's the thing—there's no other art medium that has such preconceived notions about it. It's very British. It's like the whitest shit ever. I feel like a lot of people want to talk about the irony of it, but I think irony is really played out actually. There's this whole return to finding meaning and giving back and being excited about things that were uncool for a long time. If you look at someone like Chance, he loves shit—he's enthusiastic. And that's bomb, that's cool. That creates other things.
How did you and Chance the Rapper connect?
After I moved to Chicago my buddy Garrett brought me to hear Kevin Coval. Anybody who knows the Chicago hip-hop scene, knows that Kevin runs [the poetry slam] Louder Than A Bomb, and [youth organization] Young Chicago Authors. I remember going to a reading in Pilsen and Chance the Rapper was doing poetry and I was like, 'Who the fuck is this?' And so me and Garret just kinda followed around Chance the Rapper for anything he did. There was just something about him and it made me feel like Chicago is gonna be cool. Like seeing this kid do this shit, and doing it really well. Chance was really important for my development in Chicago.
Do you remember when you fell in love with hip-hop?
My dad is a minister and my mom's an opera singer, both people with vocations. I just kinda did my own thing for a long time. They treated me like an adult. [In St. Louis], I would walk myself down the street [to a] place called Streetside Records, which doesn't exist anymore. In the beginning I listened to a lot of Cash Money, Ruff Ryders, of course Nelly's Country Grammar 'cuz he came to our school and gave us burned CDs of it before it came out.
And so I just had these CDs and I didn't really know what they were, and so I just played them all and was just like jesus christ, what is this?I was kind of like a weirdo in school…I always felt really out of place. I always felt very self conscious. I found weird solace in this super over-the-top anger. [Hip-hop] just made me feel like I wasn't put on the planet alone.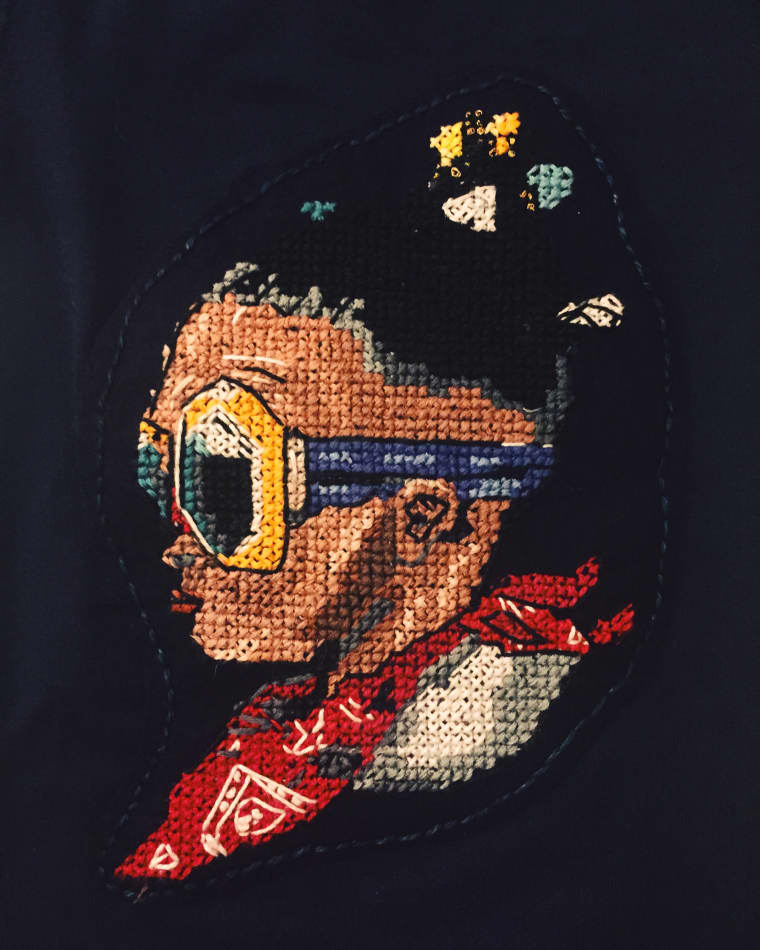 What's the actual process behind a cross stitched piece?
I'll think of an idea, and this guy Sean, who is actually my barista, will draw it for me. Then, I'll take the image, turn it into a grid—a bunch of tiny x's—and figure out the colors. Then I buy the thread. I use something called waste canvas, which is basically a grid that you put on top of whatever fabric you are stitching on, that can be pulled apart once you finish the design. So I have my gridded pattern, which I look at, and my grid on my fabric. The rest is mostly counting squares. When I'm done, I pull the waste canvas out and am left with my design on whatever I've decided to put it on.
Can you talk a little bit about what you led you to a barter system over a traditional commercial model?
I feel like not taking commissions and not letting people pay me for shit adds a whole other level to the conversation. We live in a world where money is everything, but when you take money out of the conversation, it flips the power. When someone gives you money for your art, they have ownership over it, but this way, nobody can tell me what the fuck to do.
How do you choose what to make for people and who to create a piece for?
I was so thankful for Chance and Kevin Coval and Hebru Brantely and Vic Mensa and all the [Social Experiment] and Peter Cottontale, Andrew Barber, all these people in Chicago. They didn't know it, but they were the only people I had in Chicago for a long time.
And so it all started as a thank you. I wanted them to know how much gratitude I had. And I truly think the thing that we really have that's of any importance is time. A big piece will take like 60 fucking hours, and I feel like there's probably no better gift you can give to somebody than your time. And so I'd pick a person because I wanted to make things for them that they might like.
It must be liberating not to have an "end goal."

I'm enjoying getting to make things for people that make them so fucking happy… [and] to understand people's creative processes better has been a really amazing byproduct of all this. It's interesting to see how much somebody is willing to give of themselves when they know you are willing to give all of yourself. I'm not trying to make money off these people. I'm just existing and they are as well, and we're not disrupting each other. It's kind of a nice thing.