A Short Primer On GAIKA, London's Shape-Shifting Artist Who Thrives On The Surreal
The vocalist and producer moves along a spectrum between dancehall, trip-hop, and industrial.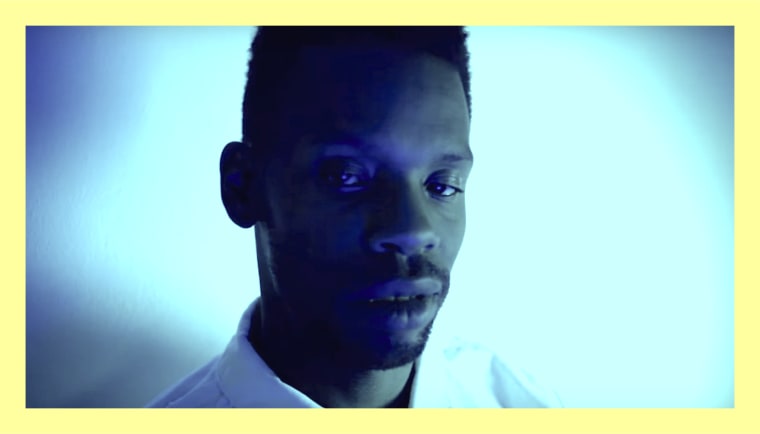 GAIKA is a vocalist and producer from Brixton, London, who makes murky dancehall-tinged songs for city landscapes. He's name-checked garage, grime, trip-hop, and grunge as influences on him—and there's a clear reggae and dancehall slant to his tunes—but the most exciting thing about GAIKA (full name Gaika Tavares) is that he doesn't sound like anything else. His voice has a listless, sandpaper-rough tone, yet his hooks make you lose your shit on the dancefloor. His beats might hark back to his Jamaican and Grenadian heritage, but the sunshine is wrung out through the grey filter of his hometown and birthplace, London.
He's a musician who exists on the blurred boundaries between several worlds—not least in the sense of his deliberate straddling of different cultural contexts. He told The Guardian that he most wants his music to be played "at Fillings Caribbean takeaway in Brixton." Elaborating in a Dazed interview, he stressed how important it is to him that his lyrical messages about identity and society are not taken away from the south London roots he came from: "Often, as soon as you say something overtly political, you become divorced from the street and the very people that need to hear it the most. It becomes this kind of middle class fetish music and you get tagged with 'political rap.'"
Here's everything you need to know about GAIKA's alluring, liminal party tunes.
Most first heard him on this brooding remix of "All The Way Down" from Kelela's Hallucinogen EP.
But for those in the know, that was preceded last year by his surreal, anti-television banger "Blasphemer."
In November 2015, he released his first mixtape MACHINE, described as "DEVISED IN THE HOODS WORLDWIDE."
And showed his knack for gripping visuals with the video for "Heco."
He then linked up with Mykki Blanco for the low-slung, snarling "Push More Weight."
His second mixtape SECURITY dropped via Mixpak in April 2016—in his words, the soundtrack to "drinking premium spirits in a brokedown flat." Here's lead single "PMVD":
Now, he's about to embark on a headline EU/U.S. tour, before returning to play London again in June 2016.