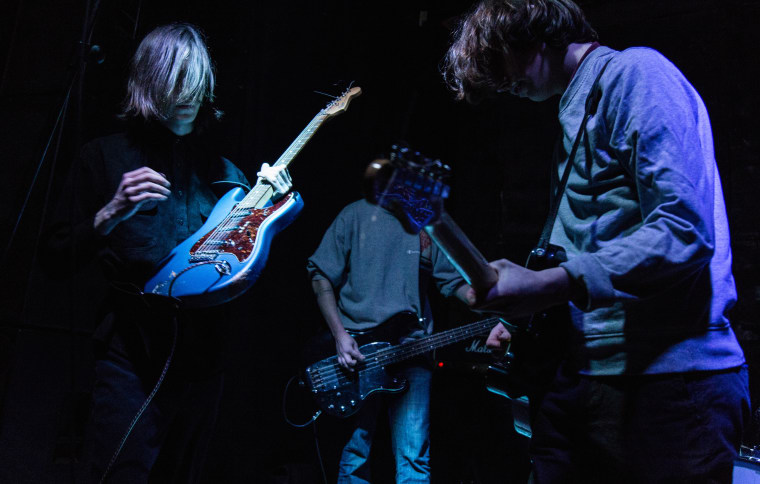 Ever since last April, when Brooklyn's Wharf Cat Records put out Ukranian band Bichkraft's debut LP Mascot, fans of the Kiev rockers have been waiting for the next taste of their beautifully frantic, paranoid Russian-language fury.
Today, Bichkraft is announcing a new record called Shadoof, which will be out June 10. And with that disclosure comes their sophomore effort's first single, "Sleeves At Farewell."
While Mascot was fully deep, dark, and heavy, Shadoof (which is an Arabic word for a bucket, lever, and fulcrum-constructed tool used for drawing water) has tones of shoegaze and psychedelia, and seems more inclined toward pop hooks and beats than one might expect from a noisy Ukranian rock band. Bichkraft are not going to be the type of guys to easily pin down.
"Sleeves At Farewell" is Shadoof's best example of Bichkraft's twisty ways; it's nearly-jazzy, Murray Street-reminiscent, and a total jam. "Jenia Bichowski sings this track," Bichkraft told The FADER via email. "We can't remember recording this song for some reason, it must have been very late at night in our home studio." Bichowski gasps and yelps, revealing a painful kind of lusty love as he sings what translates to I was watching for a long time/ And my eyes became/ Like silk, and Sometimes I don't own myself/ Closing up the curtains/ Feels like touching your skin.
Listen to "Sleeves At Farewell" below, and stay tuned for more Bichkraft. You can preorder Shadoof here.