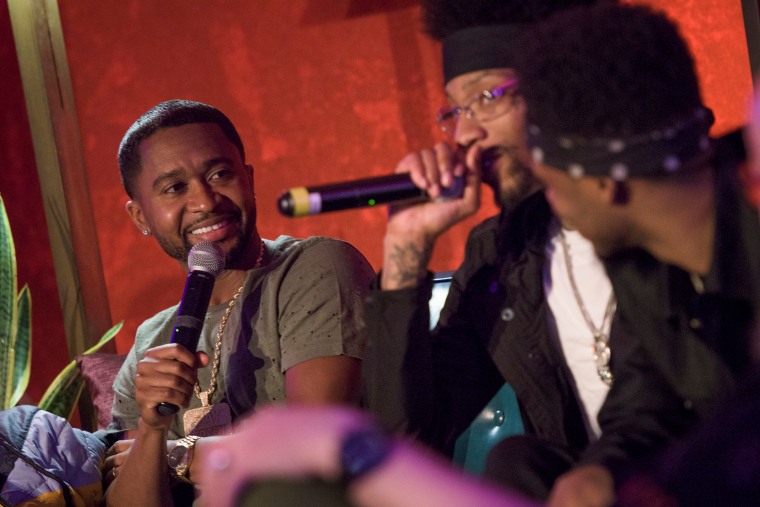 On Saturday night, Zaytoven, Sonny Digital, and Metro Boomin sat in exactly that order, right to left, during their hour-or-so long conversation, Beatmaker Roundtable: Trapped, which took place in Manhattan as part of the month-long Red Bull Music Academy Festival New York.
It might not have been intentional, but as Sonny Digital noted, there was some significance to this seating arrangement. "[Zaytoven] birthed us," Digital said, crediting the man to his right with fostering hungry young artists such as himself and Metro, and for acting as a cornerstone in Atlanta's trap scene.
"If Zay moved from Atlanta, that'd probably end it," Digital added, with a laugh. "There'd be no foundation."
Meanwhile, Metro chimed in with a sentiment that likely rings true to a good chunk of the artists who define Atlanta's presently dominant rap landscape: "Zay's the godfather."
And so we listened extra closely to Zaytoven's response, when he was asked about what "trap" even means. Below is are his thoughts on the intentionally messy, always motivating, and quickly mutating genre, as he has lived it. (This has been edited and condensed.)
ZAYTOVEN: A lot of times when people talk about "trap," it might be a place of selling illegal drugs or something like that. But to me, a trap can be anything. A trap can be your job—me, cutting hair, the barbershop is my trap, that's how I'm making my money. And I think the music we make to go along with it is just the soundtrack of somebody hustling, hustling real hard to make money.
Trap music to me is hustling music. When I think of trap, I think of something that is unrehearsed. It's something that's edgy, not too well put together. The music that we was making, we was in there making songs that we wasn't trying to make perfect. [When] you talk about robbing somebody and selling dope or all that type of stuff, it's not supposed to sound to clean or so perfect; people want to get the real feeling behind what you're saying. If you listen to my early music, I didn't know how to mix. I barely knew how to record for real, and I didn't care. What he's saying is hard, and the beat is hard, so I got the drums up loud. Gucci Mane might be saying something, and don't know what he's talking about, but we gonna keep it. To me, that's what trap music was: it had a really dirty, edgy feel to it. That's what trapping is.
Our songs ain't mixed. [Gucci was] talking about stuff that sometimes don't make no sense. It was entertaining in a different way, but you could tell by the words that he was saying and the way he looks and his lifestyle that he's probably one of those guys for real, that he probably sells drugs for real. When I make music, I make it according to how I feel about [whoever I am working with]. Being around a guy like Gucci Mane, he is the guy that he raps about. So if I feel like this guy is going to rob you, then that's the type of music I'm going to make.
I was listening to Young Jeezy and Shawty Red, and to me, the trap music they had was something special. That was the competition that me and Gucci was looking at, we was like, "We have to do something better then them." But what we ended up doing was totally different. Their trap music was real theatrical, it sounded real serious, it sounded cinematic. But what me and Gucci was doing—I'm playing the keys, we got flutes and organs, and it sound like, this ain't trap music. But then I start adding dirty bass drums to it and he [starts] talking about what he talking about. But [Gucci did it] in a funny way—he had charisma, so I think the trap music that we did was something totally different.
Now trap is EDM music too. I think it's progression; trap is its own now. It's amazing that people have really dug so deep into the trap music that we made that was so ugly and dirty and not well put together and made it such a big thing. It's almost dance music now. That's big, that's big for trap music to me, because we never thought people would listen to it like that. We making hits for the guys around the neighborhood and it turned into such a big thing.
I do a thing called Producer Camp now, and the first one, I had a guy fly out from Nigeria, because they really in tune to the music that we do. That's crazy to me. I think we have the strongest sounding music out today.
Update 5/25/2016 1:30 p.m. EST: Watch Zaytoven, Metro Boomin, and Sonny Digital's Beatmakers Roundtable in its entirety.