How Chance The Rapper & The Social Experiment Could Change The Grammys Forever
The young Chicagoans are steadily making free music a viable standard.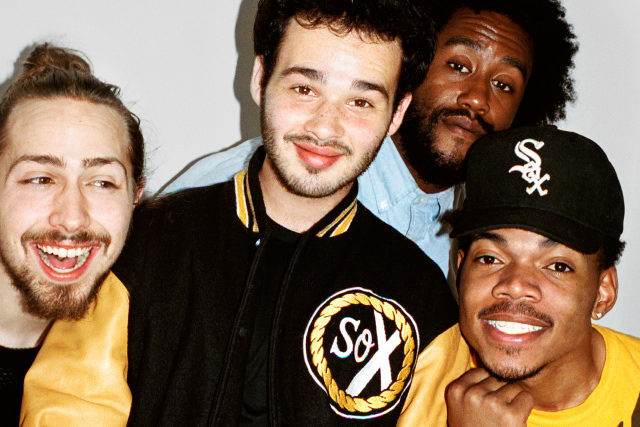 Back in 2013, Jay Z turned an experiment into a marketing campaign. During the rollout of Magna Carta Holy Grail, his 11th solo album, he declared that he was ushering in a set of #newrules for the music industry. What he actually did was cleverly game the system: by pre-selling a million copies of Magna Carta to Samsung for $5 each, which Samsung then distributed through a limp proprietary app, Jay went platinum and made $5 million before the album was even released. The venture was ostensibly a marketing effort for Samsung's mobile business but, maybe more importantly, it was among the most high-profile new approaches to selling music since Radiohead released In Rainbows with a pay-what-you-can model in 2007. Artists, and the industry, needed new technologies, frameworks, and philosophies about distribution that went beyond applying to digital downloads the same strategies that had been used for physical discs. Though Jay Z's #newrules didn't fully catch on—aside from paving the way for Rihanna to make a similar deal with Samsung for the release of this year's Anti—they made it clear that more experimentation, ergo more challenges, were on the horizon.
And, indeed, artists and platforms have tried all sorts of ways to distribute music and earn recognition for it. In 2013, Nipsey Hussle sold 1,000 copies of his Crenshaw mixtape for $100 a piece, Nicki Minaj spurred the Recording Industry Association of America into retroactively counting digital streams and thereby made 2014's The Pinkprint jump from platinum to double-platinum certification, and, in more recent months, Apple and TIDAL have worked hard at making exclusive, single-platform releases the norm. As the entertainment economy, with music leading the charge, struggles to right itself from the imbalance posed by the arrival of the internet and other technological advances, artists are increasingly turning to income from avenues other than album sales—selling merch, touring extensively, partnering with brands. In other words, the imperative to move units in the traditional sense is lesser than it's ever been.
Accordingly, one of the most radical propositions has come not from labels with deep pockets or tech companies with a product to shill but from Chance The Rapper & The Social Experiment, a handful of young Chicagoans taking a principled stand by making free releases more of a standard. Chance's breakout solo project Acid Rap was released for free on SoundCloud and via his own website in April 2013. And, more notably, Donnie Trumpet & The Social Experiment dropped the collaborative album Surf last spring as a complimentary download on iTunes—the service's first such release. To date, Chance has never put a project up for sale. On Thursday night, he delivered his solo follow-up, Coloring Book, via Apple Music with a simultaneous merch drop. (It's technically a paid stream requiring an Apple Music subscription, but the album is not available for direct purchase anywhere.)
While artists and the industry attempt new approaches, institutions are figuring out how to keep up. For the past few months, Chance and his friends have been the faces of a buzzing conversation about the rules governing eligibility for the Grammys, one of music's highest honors. As it stands now, in order to be eligible for a Grammy nomination, "recordings must be commercially released in general distribution in the United States, i.e. sales by label to a branch or recognized independent distributor, via the Internet, or mail order/retail sales for a nationally marketed product." The discussion came to a head this week when a Chance fan created and circulated a Change.org petition calling for the National Academy of Recording Arts and Sciences to change its position on the eligibility of free releases for Grammy nominations. "Ridiculously talented artists who are releasing free mixtapes and projects are not getting the recognition they truly deserve...Not all artists should be forced to release their music for free, but the ones who do should not be punished for doing so," the petition reads. It echoes Chance's own opinion, which he referenced in his "Ultralight Beam" verse earlier this year, rapping, I hear you gotta sell it to snatch the Grammy. He's also spoken out about it on Twitter and in interviews.
The petition was started by Max Krasowitz, a 15-year-old high school freshman from State College, Pennsylvania, partly in response to the "Ultralight Beam" lyric. The idea materialized in a Twitter group DM between 60 of Chance's biggest fans, Krasowitz told me over the phone. "We all thought it was unfair and we decided we should do something about it," he said. A few days after going live, the petition has nearly 30,000 signatures, including one from Chance himself. ("By no means did we think it would get to that level in such a short amount of time," Krasowitz said. "We're just happy to support [Chance].") The petition was also acknowledged by the Grammys. A spokesperson for the Recording Academy told The FADER over email:
"The GRAMMY Awards process is fluid and, like music, continues to evolve. As a peer-voted award, the awards process is also peer-determined. Each spring, music creators in the community work with Recording Academy staff to prepare and submit proposals, which are then reviewed by the Board and announced shortly thereafter. Rules for the 59th Annual GRAMMY Awards will be announced this June."
Historically, the decision to restrict nomination eligibility to commercial music was to help more easily distinguish between professional and amateur releases said Joshua Fisher, who manages The Social Experiment's Donnie Trumpet and Nate Fox and has been a Grammy voter since 2008. The issue is gaining more attention as of late, but the Grammys have allegedly been trying to figure out how to handle free music for a while, Fisher said. Though a spokesperson confirmed that Coloring Book will not be eligible for a nomination because of its release as a paid stream, the Academy's willingness to overlook the distinction between an album and a mixtape could be taken as a promising sign; Drake and Kehlani, for example, received Grammy recognition for, respectively, 2015's If You're Reading This It's Too Late and You Should Be Here, both of which were described as mixtapes, not albums. "When they said my whole mixtape was nominated in a category full of albums, I basically started crying," Kehlani told The FADER last December.
Fisher, who is optimistic that the Grammys will eventually "do the right thing," insisted that the music is the bottom line. "I understand how it could be hard for [the Academy] because it's really hard to make the distinction between who's real or who's not [in terms of making sure samples are cleared and collaborators are consenting and compensated]," he said. "But if it's our collective decision not to sell music, or however we want to give it away, that shouldn't take away from the fact that it's professionally done and the fact that it's good music. If you're blessed enough to make stuff at that standard, then you deserve to be recognized."
"I hope to one day win a Grammy or work with the Academy in some capacity but it's a deeper thing about the value of music." —Donnie Trumpet
For Donnie Trumpet & The Social Experiment, the free release of Surf was intended to make it available for as large of an audience as possible. But beyond maximizing potential listeners by limiting barriers to access, the decision served to challenge assumptions about what music is worth, particularly in an age in which artists have more direct communication with their fans. "I'm not out here tryna please the Grammys; I hope to one day win a Grammy or work with the Academy in some capacity but it's a deeper thing about the value of music," Donnie Trumpet said over the phone from L.A., hours before the release of Coloring Book. "We've been approached by a lot of people to try to find a compromise, like, selling it for just one day or releasing an exclusive vinyl or some other interesting way to sell it. But I thought that would be tiptoeing around our pretty firm line of not selling Surf," he said.
Chance made a similar point in a 2013 interview with Rolling Stone: "The whole point of Acid Rap was just to ask people a question: does the music business side of this dictate what type of project this is? If it's all original music and it's got this much emotion around it and it connects this way with this many people, is it a mixtape? What's an album these days, anyways? 'Cause I didn't sell it, does that mean it's not an official release? So I might not ever drop a for-sale project."
The word "disruption" has become a cliché associated with stale Silicon Valley startup culture, but the concept is as relevant as ever. In the past, and especially in the history of popular music, it was the emergence of new genres that served as disruption. The way rap music was born out of marginalized communities and went on to disrupt, so-to-speak, mainstream America was unprecedented. But in this current social and cultural climate, the ways music is distributed and the ways artists engage with the public are proving to be just as important in dictating the landscape of the future. Institutions like the Grammys may be slow to catch up, but the change is happening with or without them.
"I do see this new lane that we're carving and I don't always think that it's gonna be appreciated right away. Often times, the revolution isn't embraced at first," said Donnie. "I don't know what the final winning formula is, but it has to be something different, something new, something that hasn't even been thought of, something that we can't predict yet."