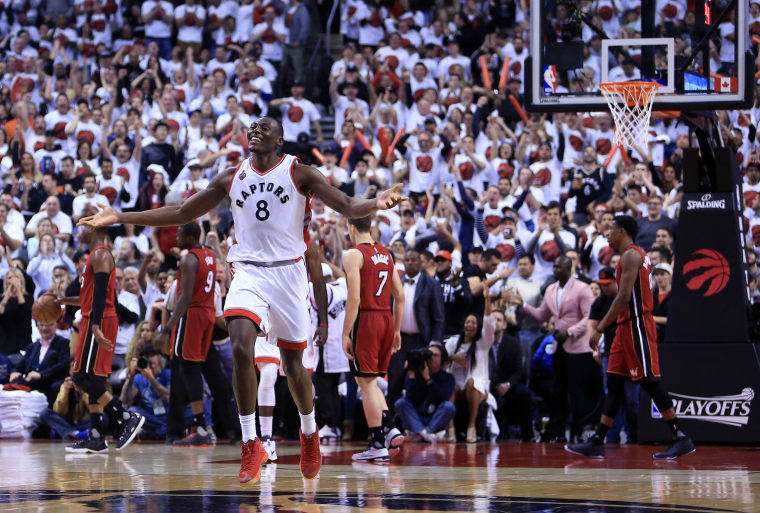 Shout out to the guy waving a massive Guyanese flag at every Toronto Raptors playoff game. I'm not sure who he is or why hoisting the huge, five-color flag in the middle of Jurassic Park—the makeshift fan viewing area set up outside the Air Canada Centre every playoffs—is how he chooses to express his fandom. But I've come to know that he'll probably be there, no matter the weather or the absurdity of being emotionally invested in a game where you cannot control the outcome. To a slice of the city's dedicated Raptor fans, Guyana Guy has become an unofficial symbol of Toronto, much like ever-present "superfan" Nav Bhatia, who's held season tickets for the team, Canada's only NBA franchise, for over 20 years.
During the first round of this season's NBA playoffs, before Toronto defeated Indiana in a seven-game series earlier in May, a short of video a Pacers fan went viral. In it, a guy looks at the camera and says, with such little self-awareness that you might initially think he was joking, "What's up with all the Canadian Indian Muslim fans? I don't understand it. They're everywhere!" It was stupid as hell and certainly racist, but the sentiment echoed one of the chief ways the world beyond Toronto has consistently misunderstood us. The Raptors' success and the light shone on the city by Drake's continued ascent finally makes it clear to outsiders—and, to be fair, some insiders too—that the city isn't dominated by white people, that it has a singular culture largely made up of multiple immigrant identities, that the stale stereotypes about moose and igloos and maple syrup are based more on foreigners' ignorance than any kind of reality.
That gradual shift is part of what made the Raptors' 27-point victory over the Miami Heat on Sunday feel so special. Sure, it's about basketball: the team has advanced to the conference finals for the first time in the franchise's history. But it was also a point of relief in the face of all the roasting, on Twitter and elsewhere, that Torontonians are subject to. The win felt, too, like a turning point for Toronto. Though many of us didn't expect to make it through this round, the team—and the moment—is all tied up in our collective identity nonetheless. We didn't get swept by Miami and, though that could very well be our fate against Cleveland in the Eastern Conference Finals beginning Tuesday night, having something positive to rally around is everything to a city in need of a collective exhale.