Why Are The Soccer Hooligans Of Argentina Killing Each Other?
In the city of Rosario, Argentina, some soccer fans have evolved into a mafia with an illicit cash flow and a stable of hit men. A look inside their homicidal turf war.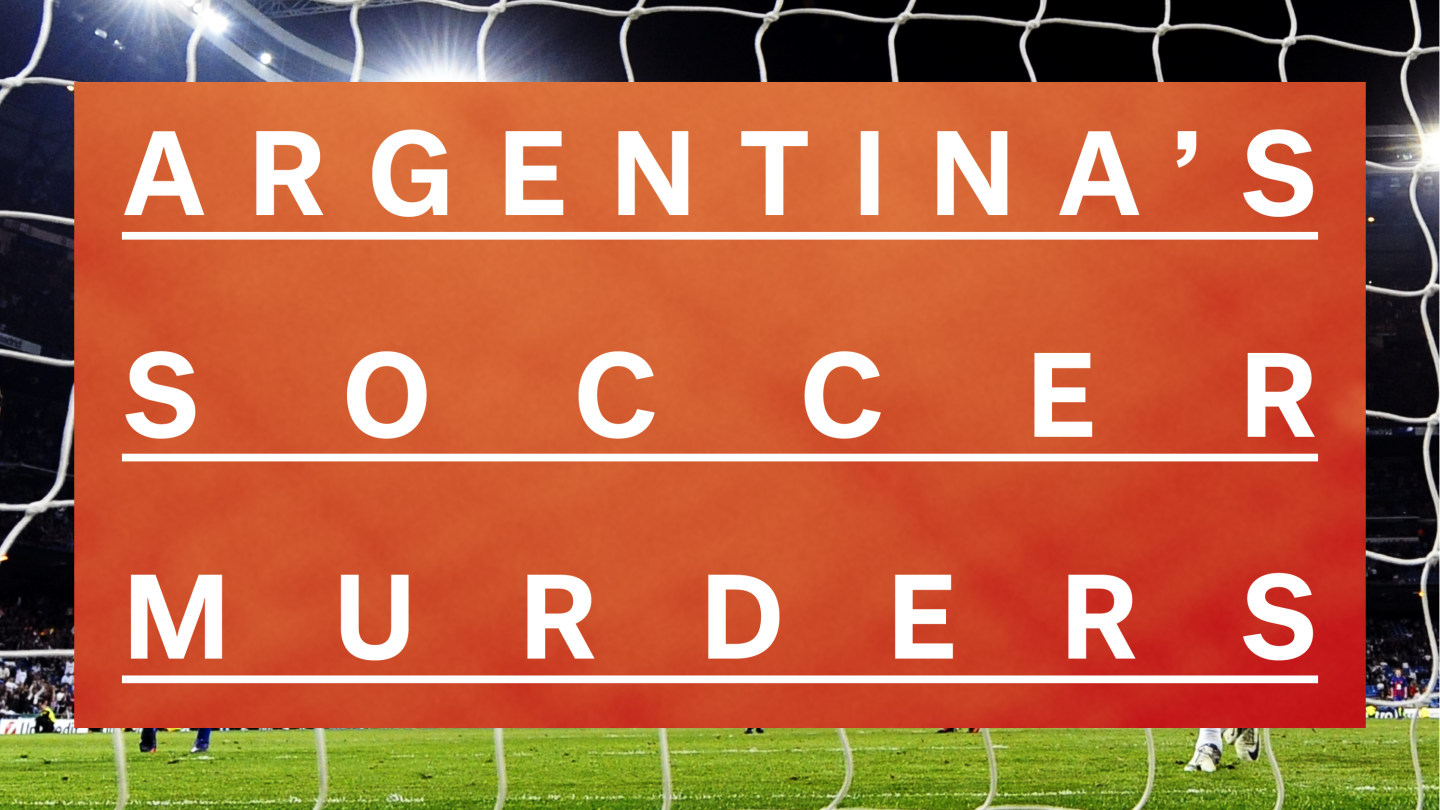 On the day they finally killed him, Roberto "Pimpi" Camino was out in his city enjoying what was becoming a boozy all-nighter. Locally, Camino was famous: he was the head of the hardcore fan club of Newell's Old Boys, the adored professional soccer team of Rosario, Argentina. And in Rosario, a prosperous and populous port on the coast of the Paraná River, Camino's position meant something: renown, respect, fear, and—in a clandestine, roundabout kind of way—a significant cash flow. He was also famously debauched: a bad gambler, he was known to fuel himself up for long nights of high-stakes punto banco with generous helpings of cocaine and a curious mixture of Dom Perignon and Red Bull.
Camino had taken leadership of Newell's extremist fan club—known, in Argentina, as a barra brava—in the late '90s. He ruled with choppy control: there were constantly oppositional factions who fiended for his spot. He'd travel with a bodyguard, sometimes even several at a time, but he was still vulnerable. Three years before his death, in the summer of 2007, Camino was in his Peugeot 607 when a gunman—Leilo Ungaro, an old enemy of Camino's from their joint childhood in the infamous Rosario neighborhood of La Tablada—pulled up on him. One bullet zinged through his pelvis, another smashed through his abdomen.
He survived that attack, but by the top of Newell's 2009 season, his reign was over. It wasn't violence that did him in, but a popular coup: Diego Ochoa, a thirtysomething long-haired son of a baker, had pushed him out. Relative to the barra brava's rank-and-file, Ochoa was both better educated (he'd gone through some high school) and better off. He never actually spent much time working in the family business. Nonetheless, he was known as "Panadero": The Baker.
He established himself over Camino by culling support with the barra brava's youngest members. He'd take them drinking and partying. He'd make sure all were involved, and all had a good time. In text messages and phone calls later intercepted by Rosario prosecutors, Ochoa called them "the kids"; he would tell people he wanted to "make them happy"—to "pamper them a little."
"When I was in the street, I was at his side," a barra brava member named Elias "Gordo" Alderete would later tell prosecutors. "I had [it] like a king. He gave me everything I wanted." And "in exchange," Alegrete explained, "I accompanied him, to care, to secure him."
Ochoa's charges had silly nicknames—"Pollo," "El Indio," "Virus"—and a serious fealty. His primary accomplices were divided into two tactical units. One was the fuerza de choque, or strike force: they were tasked with handling any physical threats, either from everyday fans or from rebellious elements of the barra brava, that occurred in the stands at Newell's games.
The others worked the knottier problems. They were the sicarios—the hit men. As another member of the barra brava would later explain to the authorities, "If they needed … someone heavier to 'tirar tiros'"—take shots—"Ochoa would send for them."
A year into Ochoa's tenure as the recognized chief of the Newell's barra brava, in the early morning of March 19, 2010, Camino was out drinking at a Rosario pub called Ezeiza. In the months since being ousted, Camino was still running his own, breakaway faction of the barra brava. He and his group were aware of their precarious position, but they hadn't been cowed into hiding.
Later reports would say he'd been tailed that night by a man in a burgundy Crypton motorcycle, who then relayed Camino's location to his killers. At some point between 5 and 6 in the morning, Camino stepped out of the bar to have a smoke. That's when two of Ochoa's sicarios—including Rene Ungaro, the brother of the man who attacked Camino in 2007—walked out of a car and shot Camino five times, hitting him in the legs and the heart. Later, his body was seen being dumped out of a BMW and out onto the front steps of Carrasco Hospital.
At the time of his death, according to a report in the local Rosario newspaper Olé, Camino was plotting on seizing back the control that Ochoa had taken. "Preparaba un ejercito," they wrote: he was "preparing an army."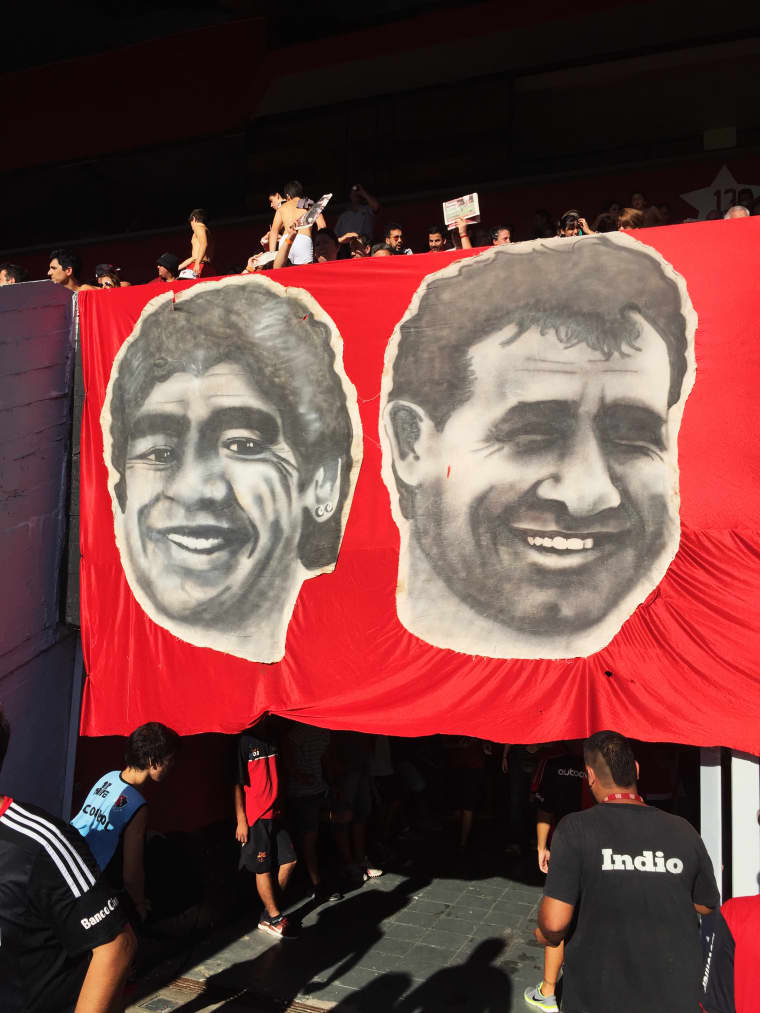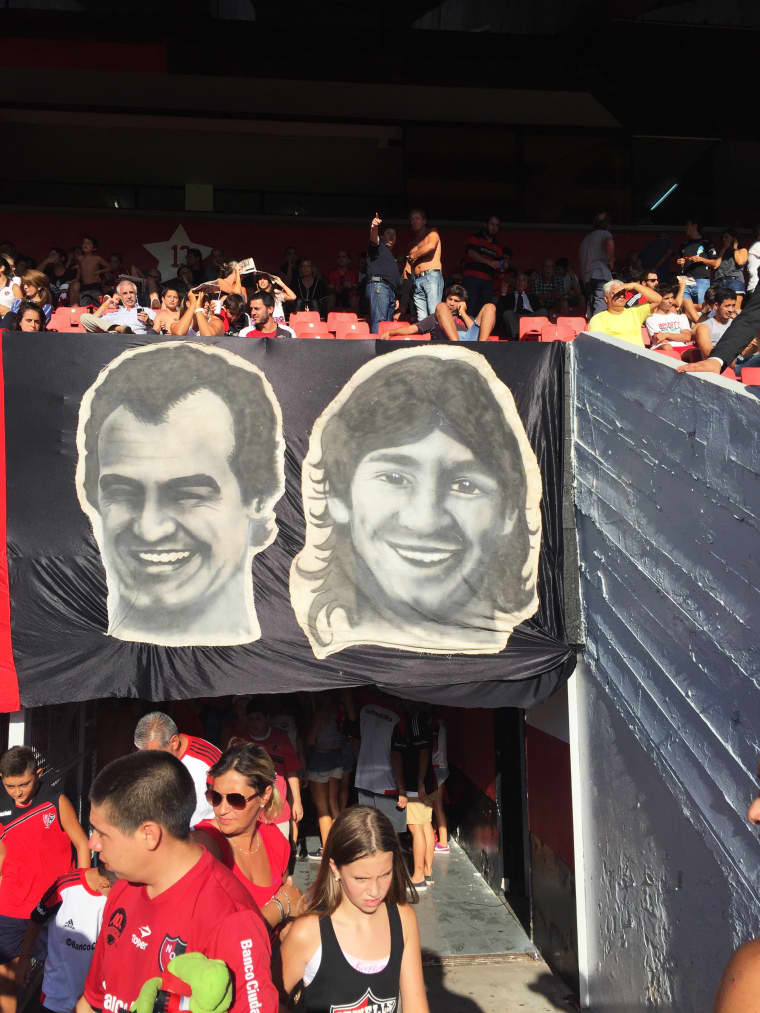 In the early '80s, the American journalist Bill Buford witnessed England's famed soccer hooligans firsthand, and found himself morbidly entranced. For the better part of the decade, Buford hung close to bellowing supporters throughout the U.K. and Europe, dutifully studying the drunken destruction they lay down before them.
Hooligans operated as the violent arm of their preferred club's fanbase. They'd seek out and ram themselves into supporters of other clubs, or the police, and would wait for—would pray for—the brawl to come. Drastic measures were taken against them: at one point in the 80s, supporters of Manchester United were technically banned from matches anywhere in Europe.
And yet, as Buford soberly recalls in his 1990 nonfiction classic Among The Thugs, there was always so much to see: baton swings, kicks to ribs and faces, metal bars planted into the heads of fathers trying to get their families away from stampedes, full beer cans slung into craniums, the windshields of cars smashed in with engine parts. Human crushes, stabbings, splattered blood.
The hooligan, and his adjoining aesthetics—the shaved heads, the track pants, the "fags," the lager—is a bedrock of British culture. But the imminent dangers, perceived or otherwise, that the hooligans once posed are now gone in the UK. A traditional demarcation point is the Hillsborough disaster, the infamous stampede at a 1989 Liverpool-Nottingham Forest match, where a mind-boggling 96 people were crushed to death.
A government crackdown and league-wide response followed. The aged and decrepit stadiums were reconstructed and rendered cleaner and safer; for the first time, it did not seem insane to bring the whole family to a game. Police presence was reconsidered, and moved away from the exact kind of public confrontation the hooligans craved toward more effective, more draconian policies: known hooligans were put on watchlists and banned from games, sometimes for years.
It turns out hooligans weren't at fault at Hillsborough: in 2016, an official inquest would put the onus squarely on tragically shoddy policing. It's also possible that, by the time of Hillsborough, hooliganism may already have been on its way out. In the '90s, U.K. youth culture became druggy, all-night rave culture. Suddenly, hooliganism felt black-and-white and antiquated.
Violence around the sport still exists. In Europe, particularly Eastern Europe, extremist fan groups known as ultras—some of them ugly nationalistic crews, fueled by forever-simmering sectarian conflicts —are known to wreak the odd bit of havoc. And so every couple of years, it seems, the same handwringing arises: are the bad old days of soccer violence back again?
Read past the grabby headlines, though, and you see a quainter reality: violence is now limited to the margins of the sport. For the most part, there's far too much money in the business of European soccer for anyone to allow bloodshed to jeopardize it. Whatever incidents do occur are spontaneous mob attacks. They are anarchy.
It is across the Atlantic, in lovely Argentina, where the hooligans have evolved on a whole different wavelength. The British made soccer hooliganism a bizarre cultural artifact. The Argentines have made soccer hooliganism into a legitimate, if deathly dangerous, career choice. As Javier Beltramone, a Rosario prosecutor involved in the ongoing legal campaign against the Newell's barra brava, has explained: "Under the pretext of love of a club, spurious criminal business structures are hidden."
The death of Pimpi Camino is a strange tale, one fueled both by the historical insanity of Argentine soccer and a current boom in drug trafficking—and an attendant rise in homicides and criminality—under which the city of Rosario currently suffers. At that peculiar nexus, there is the Newell's Old Boys barra brava.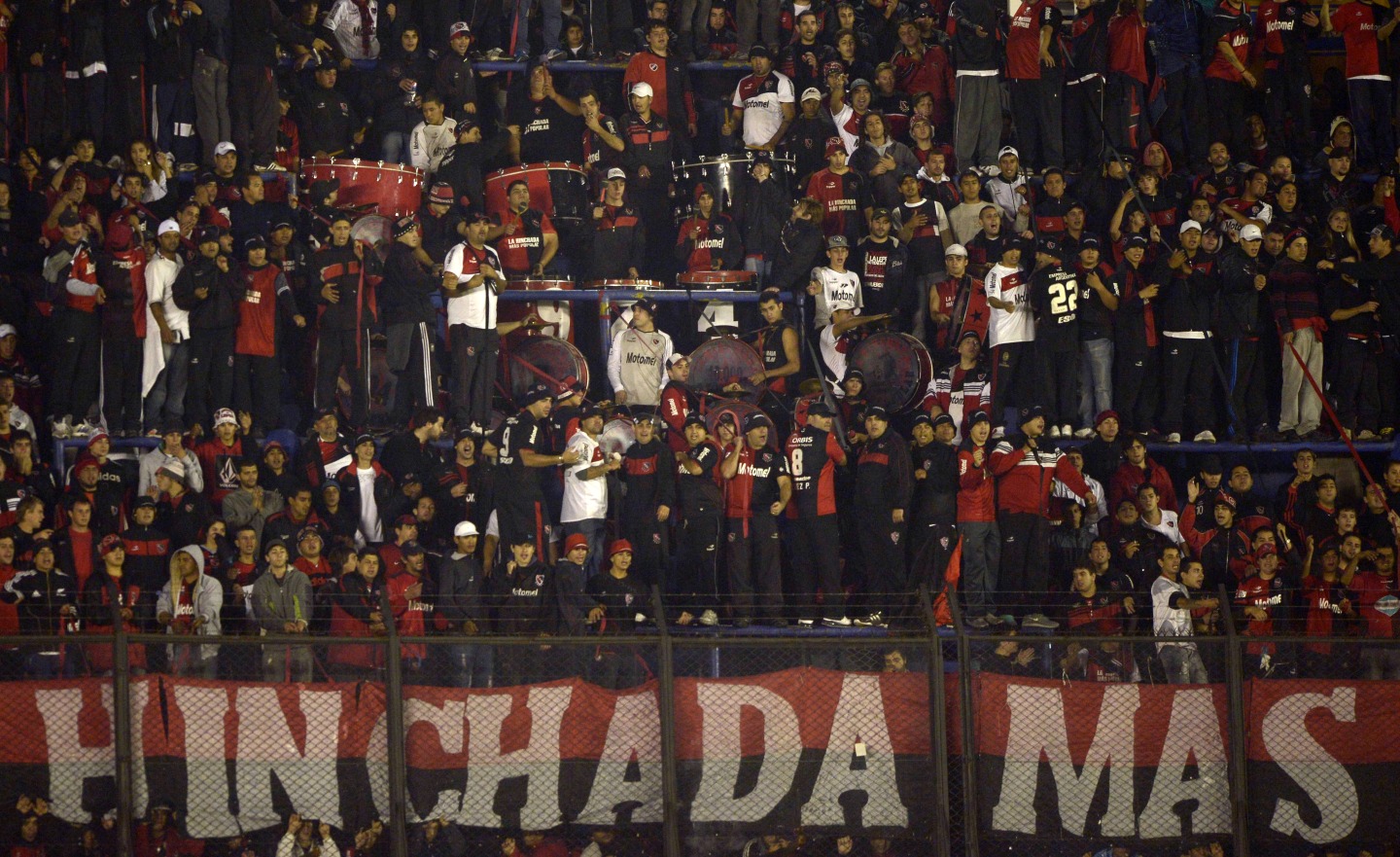 At the turn of the last century, an educator and football obsessive named Isaac Newell founded a soccer team. He was a transplanted Brit: hence, the team's peculiar English name. "Old Boys" meant "graduates": the team's first-ever players were students at Newell's Colegio. The year was 1903. That means Newell's Old Boys predates three of the four major American sports leagues by decades.
In the century since, Newell's has won the Primera División, Argentina's top league, six times, and have seen many storied names play on its pitch. Argentina's soccer godhead Diego Maradona passed through Newell's at the end of his career, a bit tubby by then, but still a feverish goal-hound. Barcelona superstar Lionel Messi, the greatest player alive, came up through the team's youth system before heading to Spain; if he were to return to play in Argentina, he's said, it would only be for Newell's.
The Primera División is a national institution: its Buenos Aires titans, Boca Juniors and River Plate, have arenas the size of Yankee Stadium. And while the league can't compete with the talent that plays in Germany, Spain, Italy, or England, where top-flight Argentine players regularly head for massive paychecks, its fans are just as famously manic.
And it's exactly because the players and coaches are not as famous or as well-paid as their counterparts in Europe—and, therefore, easier to fire or sell—that the stakes can feel higher for everyone involved: every game, there are livelihoods on the line. As Newell's current star Maxi Rodriguez has explained, "If you lose three or four games in a row, the coach is likely to be thrown out. Fans are pushing you to win all the time and managers are forced to make rash decisions. This generates … madness."
Technically, the barra brava's responsibilities are simple and clean. They are the loudest and most loyal supporters; they wave massive banners and bang drums and chant out their love. At games, there are common practices: marijuana is plentiful, but cocaine use is frowned upon within the actual stadium; the cops look the other way if you're sneaking in flares and fireworks, but generally not if you try to sneak in firearms. Weapons are, then, mostly cruder things: sticks, stones, and sharp things like knives or shivs.
In their home stadium, El Coloso del Parque, the Newell's barra brava take up the populares, a standing-room only section on one of the goal-sides of the stadium. There, the respect that exists toward the barra brava is most palpable: there is a middle section of the populares, fitting about 600, which all fans know to leave empty until the barra brava make their grand, bombastic entrance.
Fights with the barra bravas of other teams occur, but not in the stadium: for the last few years, in the hopes of curtailing just such violence, fans of the away teams are not allowed to enter the Newell's stadium, and Newell's fans are not allowed to travel to away games.
But all that sound and fury is just the forward-facing element of the operation.
Their actual money-making methods are murky by design. According to prosecutors and the local media, there's a wide range in Newell's barra brava's portfolio, with drug sales on the one end and ticket scalping on the other. Wherever they can get their hands, they just might: a mafia, in jerseys and bucket hats.
Most deviously, for fans of the game: the barra brava has direct relationships with the players. According to one insider who's worked with both the barra brava and Newell's, it's a tribute-paying system: the players give the barra brava game-worn jerseys and pay for barra brava travel to away games. "In exchange," the insider says, "the barra brava protects them and does not insult them."
As for how the team itself feels about this—well, it's complicated. Publicly, they deny any connection to the barra brava: "There is no relationship" is all a Newell's publicist will say to me. Privately, they establish truces themselves. It's understood that the barra brava's ticket-scalping is predicated on the team itself handing them the tickets; according to the insider, Newell's gives the barra brava around 3,000 tickets a match, to sell or distribute as they choose.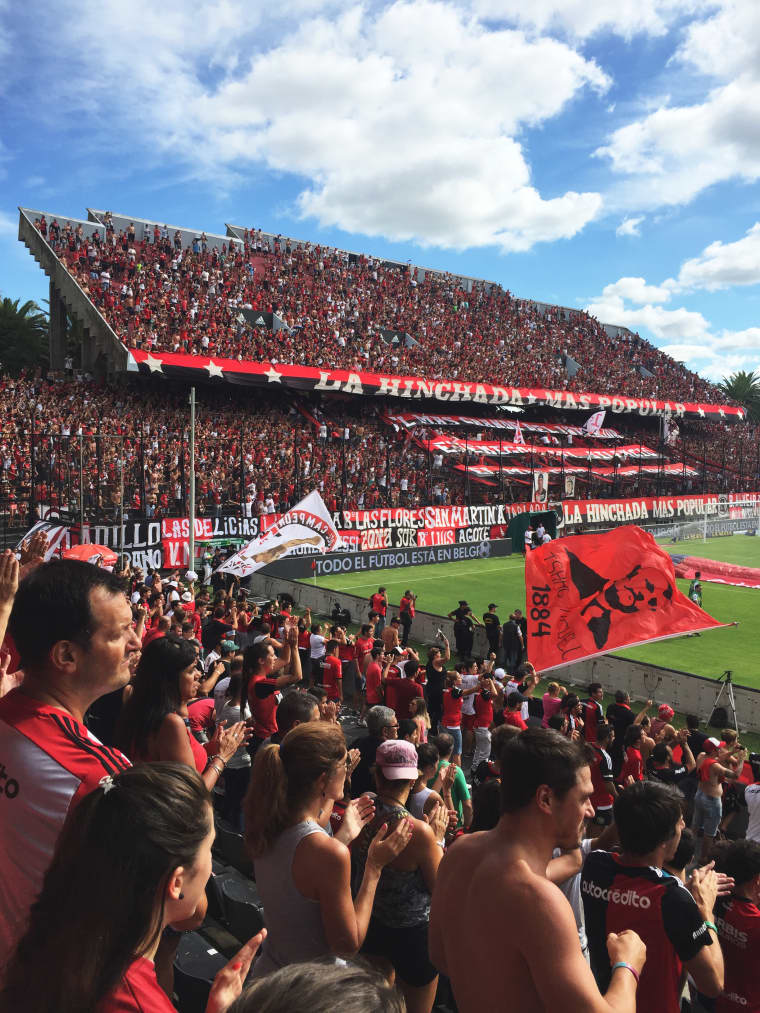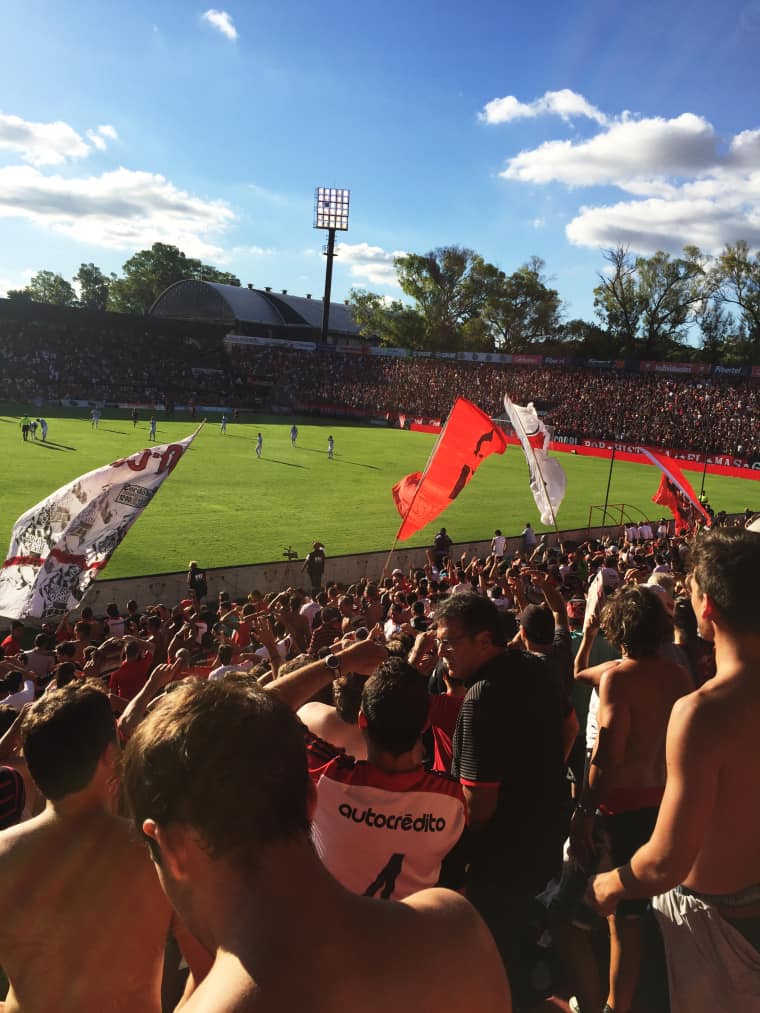 So why would professional sports teams not only tolerate, but actively encourage, what is effectively a criminal conspiracy in their stadium stands?
For Newell's, the team president—the equivalent of an American general manager, who makes all final front office decisions—is not hired, but elected by dues-paying fans, usually every four years. Candidates for the position run slick televised campaign ads and, like the politicians they are, work to curry favor with local power brokers. It's a quid pro quo: the presidents of the club and the leaders of the barra brava help one another maintain control.
From 1994 to 2008, Newell's was run by a man named Eduardo López. By the end of his run he was despised for his power-mongering: in the tradition of autocrats the world over, he continuously postponed elections. Eventually, he was ousted by a popular uprising of Newell's fans, who mobilized in street protests.
López was also despised for his manipulation of the barra brava. Allegedly, he gave Pimpi tacit control of Newell's basketball stadium, which meant touring bands or local acts looking to play the venue had to go through Pimpi. In his power as president, López would also have been the one to control the flow of tickets to the barra brava. In exchange, they worked like his very own goon squad.
Says one longtime Newell's fan, about attending Newell's games during the López reign: "If you sing against López, a big guy appears and kick your ass down to shut up. Or even worse."
One can imagine team officials reasoning that it's better to have the extremist fans within their fold than outside of it. The central fallacy, though, is the notion that having the barra brava within the fold means having the barra brava under control. As Carlos Varela, the go-to defense attorney here in Rosario for the barra bravas, tells me: "It is like a Frankenstein. They create this monster to protect themselves. But the monster ends up eating them."
Varela is a flashy man. His gray suit has a metallic, robotic sheen; his buckled leather shoes come to a dramatic point; his cufflinks have the kind of heft that means they could, you'd imagine, be used, in a pinch, to hurt someone. When he tells me of his daughter, he quickly unbuttons his crisp white dress shirt to loose bare his right arm and show me the cursive tattoo he has there of her name: Matilda, named in honor of Natalie Portman's aspiring teen-assassin character from Léon: The Professional. He's in his late forties, deeply tanned, solidly built, with nice tough coils of black hair and the kind of rasp you'd expect on a man who'd spent many nights out with Pimpi Camino.
Varela was Camino's lawyer, but also his friend: "I loved him," he says. Not that that stops him from some gallows humor at his bud's expense. "He was out to smoke a cigarette," Varela says, of Camino's death, then smiles wide, before delivering a line he may well have delivered many times before. "Smoking kills."
We're in the back booth of a large, airy restaurant called Johnny B. Good, off the central Oroño Boulevard. As Hard Rock Cafe knockoffs go, it's a pretty spirited one: photos of shirtless guitar shredders plaster the walls, dramatic signs declare things like "MUSIC SAVED MY LIFE," and a massive row of multicolor Fender Stratocasters rainbows vertically over our heads.
Varela's office is upstairs, but he appears to do a lot of his business here. At one point in our conversation, a tall man in a dark suit appears, dutifully hands Varela a folded check, and takes off. Varela happily unfolds the paper, shows it to me, and makes sure I understand: "Money!"
Over cortados, Varela gives me the loose biography of his life swimming amid the murk of Rosario crime. He's an animated talker, his thick fingers always moving to illustrate an anecdote. For the appearance of gunshots, he might say "bang bang" while miming the firing of an AK-47. For drugs, he'll shovel his hands toward his nose, mimicking a Scarface-like hoovering of cocaine.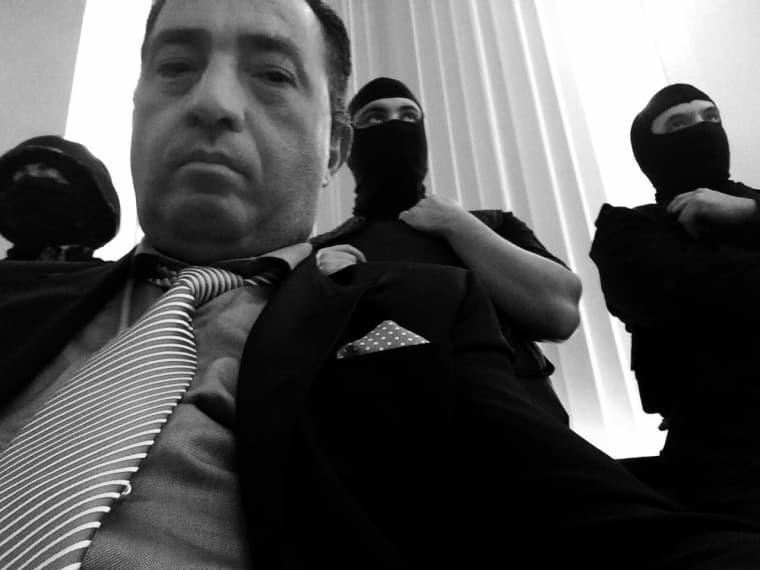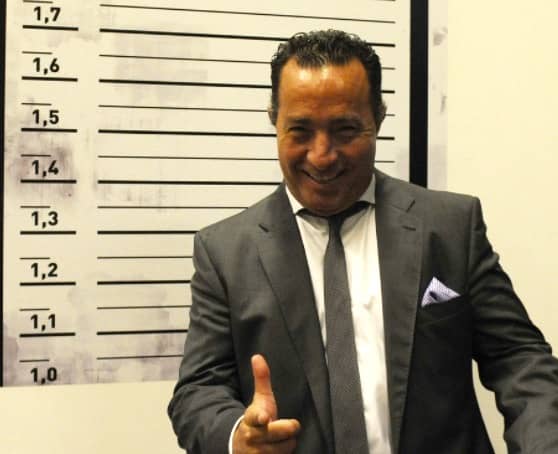 Varela has been representing Rosario's criminal underbelly ever since graduating law school. Inspired by "all the movies: Acción Civil with Travolta, Se Presume Inocente with Harrison Ford," Varela wanted to be a litigator; inspired by the media attention it brought him, he took salacious cases no one else was clamoring for.
He made his name in the soccer world by representing Andrés Bracamonte, the legendary, long-running leader of the barra brava for Rosario Central, Newell's hated crosstown rival. His other main gigs were bank robbers. This was the mid-'90s, and robbing banks and hijacking armored trucks was the calling for Rosario's more ambitious criminals. Then came the 1999 Villa Ramallo incident. "It was the most violent thing in the history of robbery in Argentina," Varela says. "It set a kind of after and before in the history of crime here." Hostages were taken, and kept for hours; two would end up dead in a botched police rescue.
Varela wasn't involved in the case, but he says a police crackdown on the kind of bank robbers that he was representing ensued. Rosario's more enterprising criminal class, he says, were already tiring of the hassle of the practice: "One million dollars in Argentina pesos, it is like 200 kilos! Very difficult to rob!" So they began moving narcotics. Cocaine, marijuana, some lab drugs like ecstasy, but no paco, or cocaine paste, Argentina's version of crack. You need to hit the capital to get that.
By the mid-2000s, estimates Varela, small bands of drug dealers were established throughout the city making roughly $15,000 USD a day. Before, it was boom and bust: "One million dollars, it vanishes," he says. "Alcohol, las drogas, las chicas—and la plata is out of the way." Now it was a daily drip. "That's like the drop which is making the hole in the stone."
Recognizing that a new circus had come to town, Varela started repping the manifold members of a drug-running, family-run outfit known as Los Monos: the Monkeys. And that is, actually, how he came to know Camino: growing up, Camino was childhood friends with Ariel Maximo Cantero, the villainous patriarch of Los Monos.
"An extremely violent person," Varela says of Cantero. "Terrible, terrible, terrible." As a criminal chief, Camino was a contrast: gregariously, he played Robin Hood for his neighborhood, doling out cash for medical costs and school supplies. "Pimpi" was an insulting jail yard name that Camino, out of winking spite, ran with: it's short for "pimpollo," meaning flower bud. He was, says Varela, in prison for murdering his unfaithful wife.
Remembering Camino, Varela is affected. "He didn't have the emotional balance to lead this huge group of people," he says of his former client. "Pimpi was a person that you maybe want to kill in some moments, and then you love him and you want to sit and have a beer. He was bipolar. He was a cocaine addict. He was overwhelmed by the situation."
Varela's own flashiness is undercut with this kind of sensitivity. He's amazed he's made it this far his peculiar business, unscathed; he's chastened by some of the things he has done. At one point he brings up The Garden of Forking Paths, a short story about parallel realities by Jorge Luis Borges, the goliath of Argentine literature.
"When I read that I was walking by dark roads," he explains. "I understood the story; it was relieving. I said: 'OK, if I am wrong now, there is a parallel time when I am right. There is another Carlos, who is acting correctly. He is the same Carlos. But luckier.'"
The assassination of "Pimpi" Camino should have consolidated "Panadero" Ochoa's power over the barra brava. But before the year was out, he'd be challenged. It was a home game in September. Ochoa was in the populares, amid his screaming constituents. Then two men that were heretofore loyal to him—Matías Pera and Maxi Rodriguez—made their move.
Pera was a burly guy, his manifold tattoos inching past the neck collar of the tank tops he often favored. Rodriguez was second generation barra brava: his father, Sergio, was known as "Quemado," or The Burned One, by the supporters. In turn, the barra brava knew Rodriguez, the son, as "Quemadito." Little Burned One.
In the blurry security camera footage of the incident, you see Ochoa disappear from the stands. In the very next shot, he's out by the turnstiles at the front of the stadium. His long black hair has been disheveled from his ponytail, and it flows behind him. He's a bit wobbly, but it does not seem to bother him too much that, except for his red-and-black Newell's jersey, he has somehow been stripped completely naked, and his penis dangles freely.
Pera and Rodriguez had lost faith in Ochoa, or perhaps had never had it. "My relationship with Ochoa, it was not good," the elder Rodriguez, Sergio, would later explain to prosecutors. "When Ochoa took the pibitos"—the little kids—"to the clubs, I didn't go. I'm a big man. Panadero manipulated the pibitos as he wanted. He gave them champagne and things like that. I would not let myself be handled by Panadero. I always told [my son] to not be used."
Pera was young enough for Ochoa to try to win his influence. But unlike the pibitos, Pera never got enough to fall in line. "Panadero promised everything," Pera would say. "And I never [got] anything, even a kilo of sugar."
The plan was simple: to beat and strip Ochoa naked and, in the chaos of the ensuing humiliation, to take hold of the populares. In its execution, they succeeded wildly. The bizarre incident became infamous enough to be granted a title by the local media: "La Entangada." (Loosely translated, its something akin to "The Thonging or "The Pantsing"). And yet, despite the graphic public nature of their actions, Ochoa was not cowed.
Within two months of "La Entangada," Matías Pera was attacked while walking down a Rosario street with a friend: a gunman fired five shots into his back, right arm, and left thigh. Somehow, Pera survived. And according to him, what the gunman said before opening fire was "Esto te lo manda el Panadero, traidor": "The Baker sends you this, traitor."
As the barra brava member Carlos Alegre would say later of Pera's faction, "They did martial arts. They had strength of muscles. But the other little group had la fuerza del gatillo." The force of the trigger.
One afternoon in Rosario, I head to see Newell's play. Outside the stadium, the calm of chirping birds is interrupted by regular cracks of fireworks and short ladies selling sunflower seeds. "A las pipas!" they scream.
I meet Javier, a local novelist, auto shop employee, and Newell's superfan that I'd found and befriended online. He's got a shaved head, a chin-strap beard, and wide smile; he smokes constantly. He's wearing the white away Newell's jersey. He's here with his kid, Valentin, an 11-year-old with a thick black bowl cut. Valentin is wearing the red home Newell's jersey.
Inside is cacophonous: something like 30,000 people making the noise of double that. Newell's is playing Racing FC, a team from outside Buenos Aires. When they enter the pitch, the singing goes to jeers and shrieks.
Javier points to the stands of the Newell's barra brava. The fans inside are blanketed under flapping, massive, craftily homemade signs, all making confident declarations: "Enemigos del Silencio," "El Más Campeón de Rosario." They're closed off with fencing, which is both topped and lined horizontally with barbed wire.
When Javier was a kid, he used to watch games from the populares. But when he was 18 he got in a verbal argument with another Newell's fan, to which the guy responded by pulling up a shirt and showing Javier the gun in his waistband. Javier has largely stayed away since, and says he won't ever take his kid there. What was the argument about, I ask. "Sometimes people argue about the game and then fight," he answers, smiling. "People are so fucking crazy."
Palm trees sprout out one side of the stadium. The sun is beating hard, and the players ooze sweat, but the breeze picks up too. The sky is blue save for some nice fluffy white clouds. It's a workday afternoon but the place is nearly full anyway and everyone, not just the barra brava, stands the whole time. Here, men of all ages and body types go shirtless.
On the pitch, the auspiciousness of the day is rewarded. Newell's manages a barrage of shots and—off breakways, off corners, off crosses—nets a bonkers five goals. Javier's favorite comes from Maxi Rodriguez, who played in Spain and England for years before returning here, where he played as a youth. "He loves Newell's like we love Newell's," Javier shouts, over the din.
Rodriguez's goal is the last one of the day, a punctuation point in the 90th minute: he cobbles together a series of one-on-one moves, finds himself inside the penalty box, and hammers the ball past the Racing keeper's head. A bit awkward, but all power. Javier, so happy, turns to me and screams, "THAT'S MAXI!"
I ask Javier to translate the song that's being chanted now, and he's reluctant. He says it's part of a whole parcel of songs about "the wine and the drugs that blow my mind" and "hating the other team" that bums him out. He says that it was about 20 years ago that El Coloso began to become violent, and aggressive, and that it's been increasingly like that ever since.
There were nice songs, too, though, as all those goals rang out. The fans were singing something about their "corazón," and they were flinging their right hands back behind their heads, and then throwing them far out to the pitch, over and over. They were, it looked, actively yearning. Javier and Valentin let out guttural screams together: "Yeaaaaaah!" All around us, far enough from the populares and the barra brava, were shirtless fathers and shirtless sons, clenching double fists, pumping in synchronicity, minds overrun with joy.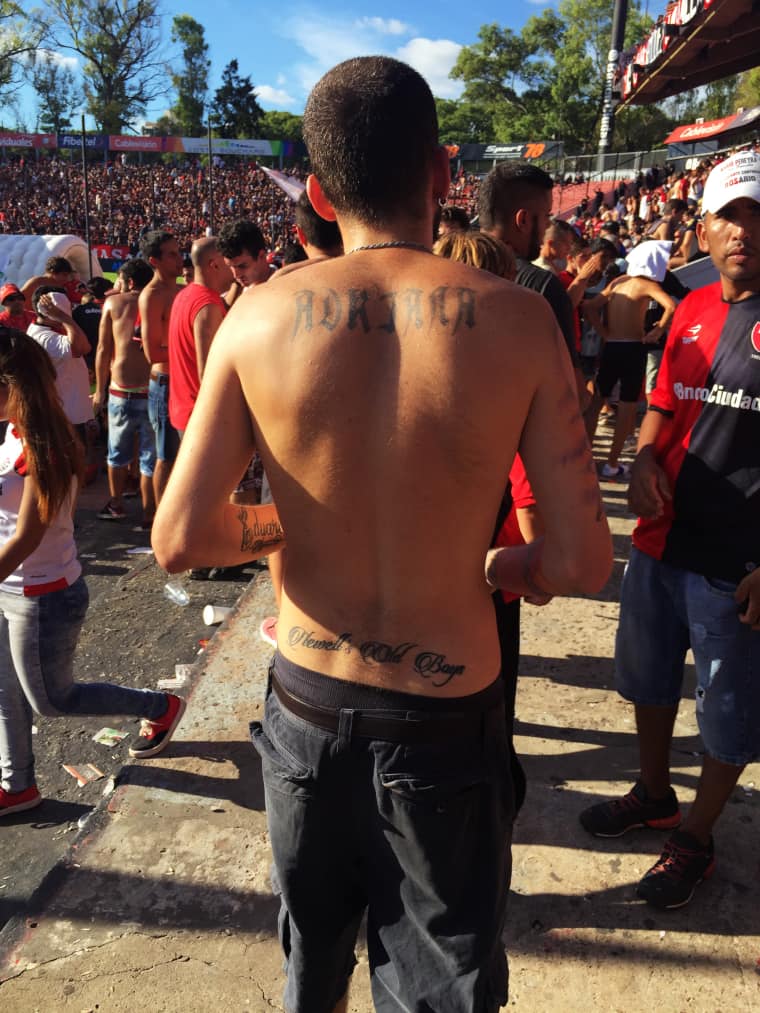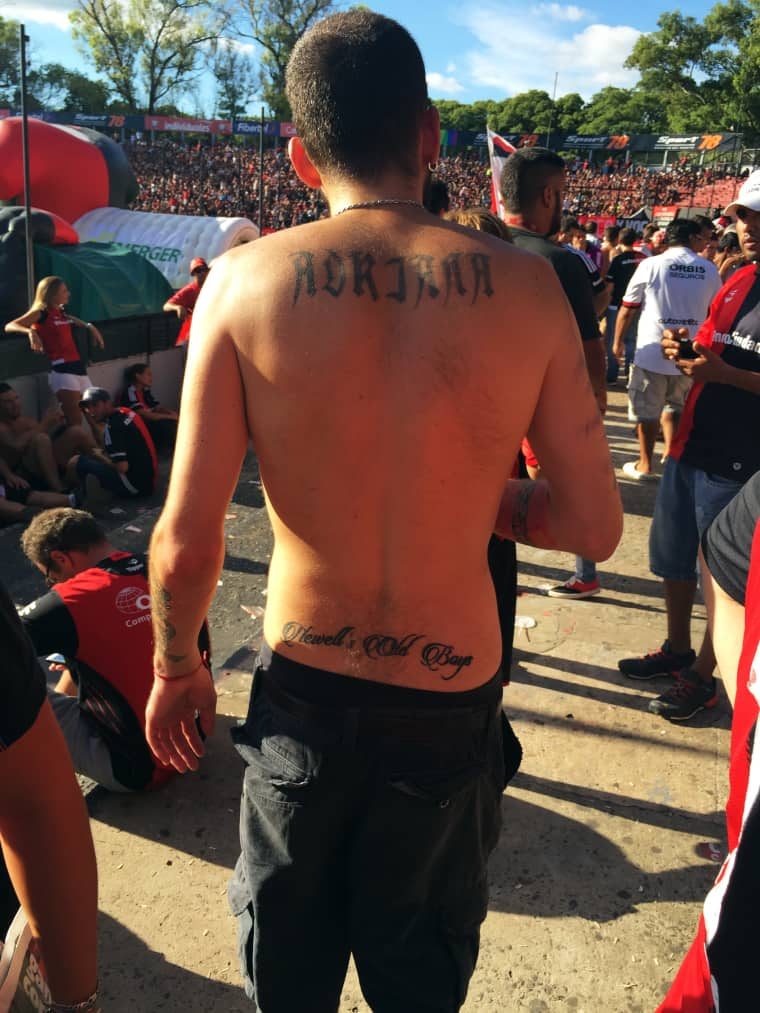 Within two years of Ochoa's attack on Matias Pera, his conspirator Maxi "Quemadito" Rodriguez was ready to try again. During an unrelated stint in the Pinero prison, Rodriguez was telling friends that, once he was out, he was planning on organizing an insurrection to grab the barra brava.
Ochoa had spent his time since "La Entangada" tending to the everyday minutiae of overseeing the barra brava. He was running the ticket racket and communicating with Mariano Lorente, the nephew of then Newell's president Guillermo Lorente, about acquiring and distributing the game-worn jerseys.
He also tended to the armament. "I need the screws and tools," he told one underling in texts intercepted by Rosario prosecutors. Later, charting out their case in an affidavit, the prosecutors would haughtily explain, "There are no conversations where Ochoa expresses his need to repair … his vehicle, some furniture or bookshelves … [but] in the world of gangs EVERYONE KNOWS that 'tools' means firearms and 'screws' means bullets."
In the prosecutors' collection of his text messages and phone conversations from the time after "La Entangada" and the reprisal attack on Matías Pera, Ochoa sounds harried by betrayal, and bracing for more. "Stop recruiting traitors," Ochoa tells Betito Godoy, one of the men who killed "Pimpi" Camino. "Realize that all these people are shit, they're fake … this is giving me gray hairs, and aging me a year or so as well."
"Everything's screwed up now," Betito responds. "There's no telling who will be saved."
At the top of 2013, Ochoa was tipped off to Rodriguez's plans. Rodriguez had confided in a barra brava friend named Jesus Romano. Rodriguez had known Romano since childhood. But he did not realize, apparently, that Romano was an Ochoa loyalist.
On February 5th, 2013, Rodriguez was walking down a Rosario street with his girlfriend: his old friend Romano had gotten in touch, and arranged a get-together. Rodriguez was on crutches because, just over a week before, he'd survived a shooting. In the days after that initial attack, according to the phone records, he called Ochoa five times—presumably, to ask for a cessation of the violence. There is no record that, during those calls, Ochoa and Quemadito spoke.
Once again, Ochoa's sicarios carried out their execution in public. The assassin was a man named David "Porteño" Rodriguez. On the corner of Pellegrini and Corrientes, and in front of a gaggle of witnesses, Porteño shot Quemadito in the head.
Quemadito was friendly with Porteño, too: they had texted regularly before the hit. Later, the prosecution would note, "Incredible: the victim of a homicide communicates with his future sicario just one month before his death."
One late night in Rosario, I have a beer at the home of Hernán Lascano, a reporter for the newspaper La Capital. Lascano is 48, but, with his buzzed hair and jean shorts, looks a decade younger. He's been covering crime in Rosario for 20 years, and mostly writes these days about Los Monos, Rosario's reigning drug cartel. "I have some threats," he says, matter of factly. "They wrote a note and managed to slide this under the door of my house. My ex-wife almost fainted." Noticing my jumpiness, he calms me: "It was just one time. Not this house!"
Recalling the killing of Rodriguez, Lascano says, "It was terrible. It was in downtown one afternoon. There were lots of people walking down and up." Of Ochoa, he says, "I talk to him a couple of times. He is very smart. Very intelligent." Hernan has reported extensively on the barra brava: he knows them well, and is quietly repulsed. "Impunity [is] a strong feature of these people," he says. "They are in a way sure that they will be able to avoid punishment, you know?"
In the summer of 2013, Ochoa was arrested. He was not the triggerman for the deaths of Camino or Rodriguez. He wasn't even present at the scene of the shootings. But according to the prosecution, all attacks came from his direct orders. There are two counts of attempted murder against him (the attack on Matías Pera and the unsuccessful first attempt on Rodriguez) and two counts of homicide. As Lascano explains, in the local legalese, he's been charged with being the "ideological author" of the crimes. To date, he is still awaiting trial.
According to Carlos Varela, the defense lawyer, the barra brava is now in control of another of his clients: Walter "El Ruso" Pera, whose own father, Oscar Pera, preceded Camino as chief. Varela makes El Ruso sound like a new breed: a pragmatic technocrat. "He manages everything, but he almost doesn't go to the stadium," Varela says. Ochoa is still looming: his legal team is currently fighting to get evidence against him acquired via wire taps thrown out. And just to further complicate Varela's life: Varela himself is on the legal team fighting for Ochoa, the man who allegedly killed his friend Pimpi.
As for Pera: he, as of now, has no relationship with Ochoa. And so even the latter man finds acquitall, says Varela, "Ochoa is not coming back to the barra brava. I might be wrong. [But] I think that if Ochoa wants to go back, he's going to have to shoot someone. And I don't know if he's in the mood to do that."
A few weeks after our first sit-down, I meet Varela again at Johnny B. Good. At my request, he has brought Pera with him. Pera wears a white T-shirt with a colorful abstract pattern, brown shorts, ankle socks, and red New Balance sneakers. His chin is strong, and slightly clefted. His brown hair is parted and cascades out nicely, in the style of some '80s wrestlers. There is scarring on his right hand, running from the bottom of his palm to the tip of his thumb. His wristwatch seems expensive.
Casually, he explains the nuts and bolts of his life. When he was a kid he had very light blond hair, and so a lady from the neighborhood started calling him "El Ruso": The Russian. He's had Newell's in his life since before he was born: his mother, when pregnant with him, used to attend the games. When he was a kid his father didn't allow him to travel to away games with the barra brava, so he'd sneak in amid the luggage on the fan bus. He's now 35, and married with a young son at home.
I point to the tentacle snaking down his arm. A Newell's tattoo? I ask. He shakes his head, and explains: if you are true barra brava, you don't actually want a Newell's tattoo. When traveling in enemy territory, that would mark you as an obvious supporter of your team. "That could play against you."
Things with the barra brava right now are "calm," he says. "Tranquilo." He spends his time tending to the tickets, to the flags, to the drums. "Also I have to take care about what people are saying about the club." He says he has "side people who are telling me what happens." He says "in this field, to be betrayed, it is very common. You have to build around you a fence of information."
He says the violence isn't wanted. "To go see Newell's, it's like going to a party. As a leader, of course you always want the best—you want everything to be nice." But the situations arise, and "there is no possible talking you can do. You have to manage it with your fists. Because if you don't fight you have to leave. And the consequences of the fighting, sometimes they are terrible. But you can only know them after."
I ask what he learned from his father Oscar's leadership. He says it's hard to say, because they were different times. For one, weapons were less common; back then it was all fists. Varela chimes in, wistfully: "Those were more lyrical times."
So. How long do you think you can do this?
"I would like to go on for five more years, and then retire," Pera answers. "Things are quiet, and I can manage. Now, elections are coming. It depends on who is gonna be president. My objective is always to manage things."
And what about the challenges? Recent history suggests a faction will rise against El Ruso, too. What about them?
"The dwarves are looking to take the power—I have to deal with that quickly. If we let them grow, then you cannot stop the dwarves."
"Always it is full of dwarves," he says. "They want to grow from one day to the other."
On my last day in Rosario, a quiet, pleasant February afternoon, I visit the site of Camino's death. There's not much there. The Ezeiza pub is gone, now just a brown building with an aluminum slab taking up its doorway. A grayish, busted old Fiat is moored on the bit of cracked sidewalk out front. All around, the neighborhood's stray dogs bark, egging each other on. A woman heading to the maxikiosco calls back to the man in the junkyard across the street, asking if he needs anything. "Fernet!" he answers, making her smile.
The outside fence of the junkyard is a crumbled brick wall, onto which a floppy unkempt tree is spilling over. On the brick wall is painted a mural in support of Newell's. It reads, in uneven script and the team's alternating red and black, Barrio Estallada De Lepra. The Neighborhood That Is Exploded With Leprosy.
In the 1920s, as the story goes, Newell's were invited by a local hospital to play a benefit match against their rival, Rosario Central, with proceeds going to patients of leprosy. The infectious skin disease is now largely contained, but still infamous for its disfiguring sores and lumps; back then, the dreaded leprosy was much more commonplace. Newell's effusively accepted the offer, but Central coldly rejected it. Ever since, Newell's fans have been known as la leprosa: the leperous ones.