Here's What You Need To Know About Tami T, Berlin's Joyously Candid Pop Provocateur
Prepare to be obsessed with the singer-producer's potty-mouthed and poignant songs.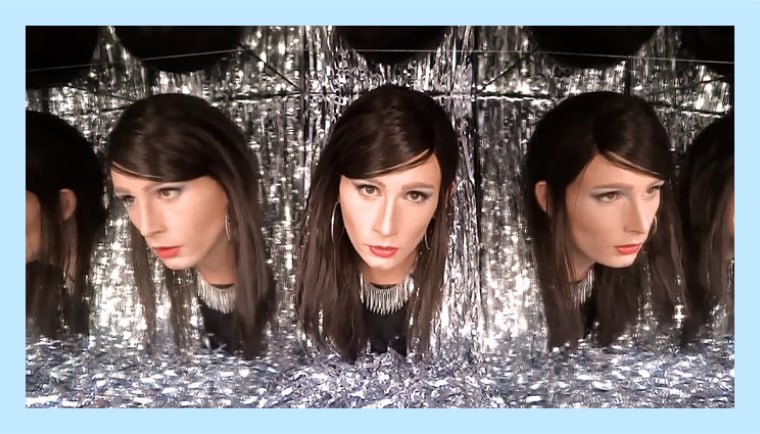 Around three years ago, at the age of 26, Tami T was working on a factory production line in Gothenburg. The Swedish artist had dabbled in skate punk bands as a teenager, and began learning how to produce at the age of 18, but she was no longer making music — until she abruptly decided to quit and move to Leipzig, Germany. It was there, holed up alone and working on her craft, that she began making glittering electronica under the name Tami Tamaki (which she would later shorten, in March 2016, to Tami T). Now based in Berlin, Tami produces tracks that soar and surge with their EDM-pop synth patterns, magpie-picking from trance, house, and chart pop music to make songs as emotionally brutal as they are fun to dance to. Plus, her live show is the most transfixing around, featuring a self-built instrument that she wears like a strap-on and plays like a drum.
One of Tami's most distinctive characteristics is her explicit approach to writing lyrics: from blunt life lessons (They say love will make you blind, I say love will make you disgusting) to no-holds-barred sexual details (even your scrotum smells like perfume). Speaking to contemporary art website Eyes Towards The Dove earlier this year, Tami explained it this way: "The only way for me to write lyrics, is to write honest lyrics. I love details and have always thought that songs about very specific moments are more relatable for a listener...I prefer to be sincere in my songs, especially when compared to songs that describe moments or feelings in a more general manner." In an interview with Dummy, she elaborated further on her dislike for being figurative when you could just say what you mean: "I really don't like the way people sing about sex. Most songs about it are like 'blow my whistle, baby' or something." Read on for all the songs of Tami's you need to know now — there's not a whistle blowing in sight.
Her early single "Fancy Hotel" set the tone for her melodic EDM-pop and its softly accented, pornographic lyricism.
Tami's breakthrough moment came in 2014, with her lilting vocoder ballad "I Never Loved This Hard This Fast Before," and its bewitching video.
The song appeared in the soundtrack to the Swedish indie drama Something Must Break the following year.
If you can't get it out of your head, she even made a karaoke version.
Tami shared "Despicable" in January 2016: "I made a pop song about a disgusting ex and I made a video where I'm making out with myself mmmm."
She then featured on the unshakeable FADER-premiered single "Ultimate Syndrome" by Swedish rapper GNUČČI.