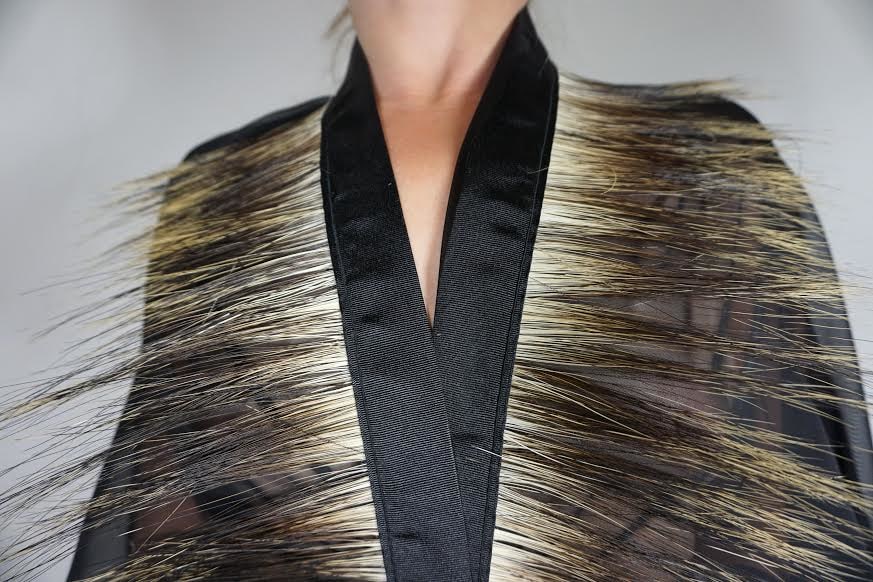 Sage Paul knew that the name of her new art show would be provocative. Indian Giver: It's an outmoded pejorative used to denigrate a long tradition of equitable give-and-take common to many native communities across North America. Paul is a Toronto-based clothing designer, of Dene First Nations origin, who runs the Setsuné Fashion Incubator with Erika Iserhoff. They came up with Indian Giver as the name for a wearable art and textile show in order to draw a direct correlation between ownership and appropriation. If you want to be polite about it, the show is recontextualizing a variety of native aesthetics. To be more direct: Sage Paul and her collaborators are taking back a narrative that Indigenous peoples never gave away in the first place.
"Accountability is only coming up now, because we finally have a voice to say, 'Wait a minute, you can't use our name for that or our ceremonial objects for your poster!'," Paul told me, a week before the show's launch. "It's very new, but this turn of accountability is not enough. We're just at the beginning of the conversation."
Indian Giver runs in Toronto through June 19, and features clothes, textiles, and other wearable pieces from eight artists (including musician Lido Pimienta) representing Cree, Mohawk, Gwich'in, Nahua, Dene, Wayuu, Nuu-chah-nulth, and Ojibwe peoples. The FADER spoke with Paul about the show, and exploring and reclaiming her own Indigeneity through style.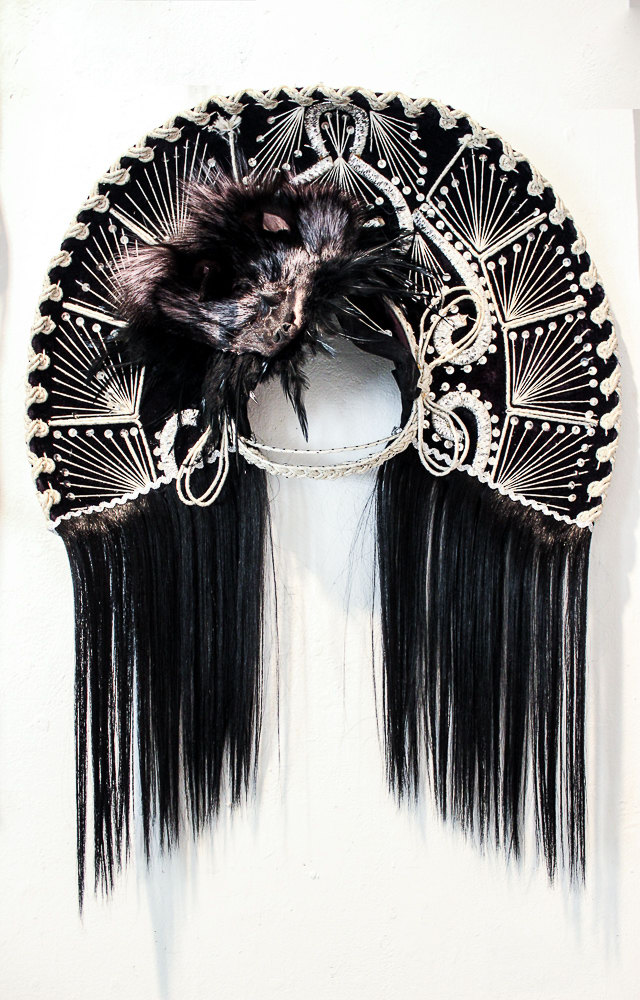 Are you originally from Toronto?
SAGE PAUL: I was raised in a community called Gabriel Dumont, which is a native housing complex in Scarborough [Toronto's east end]. It was great. It was like an urban reserve (laughs). I was with a lot of Objibwe so even though I'm Dene, this allowed me to understand the roots of my ancestry. It's actually a very mixed part of Toronto — there are a lot of low-income households in the neighborhood, so there were a lot of community events. They would do powwows in school. It was a great place to grow up.
How does your identity tie into your design work?
I want to be able to tell my stories as an urban Indigenous woman. A lot of my work isn't stereotypically native — I use materials like plexiglass and resin — but it tells stories that are important to me. I knew I would be tagged immediately as a native fashion designer. This isn't a lack of pride: I just didn't want to be pigeonholed into a type of design. Conceptually, a lot of my work is driven by who I am as a person, and my Indigeneity, but the actual aesthetic isn't always going to be that way. My brand's tagline is 'Authentic Appropriations' which is just a play on words to get me thinking about my identity. I have to make sure that I'm understanding where the work is coming from also. What am I misappropriating?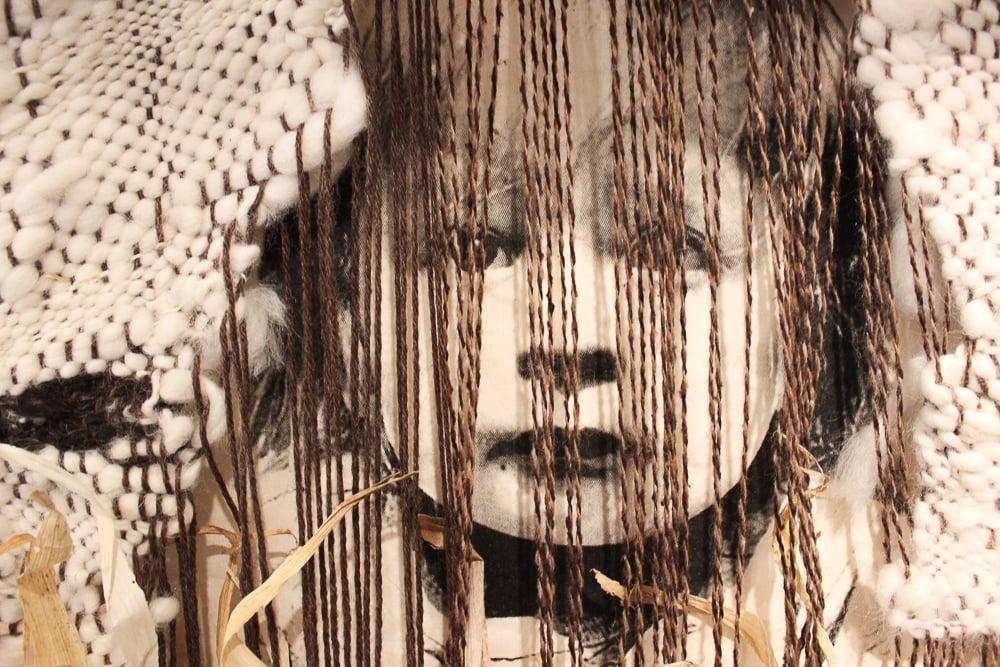 I want to know what my auntie did and what my grandpa and grandma did. Why do I have this weird innate feeling to do the same? I don't know where it comes from.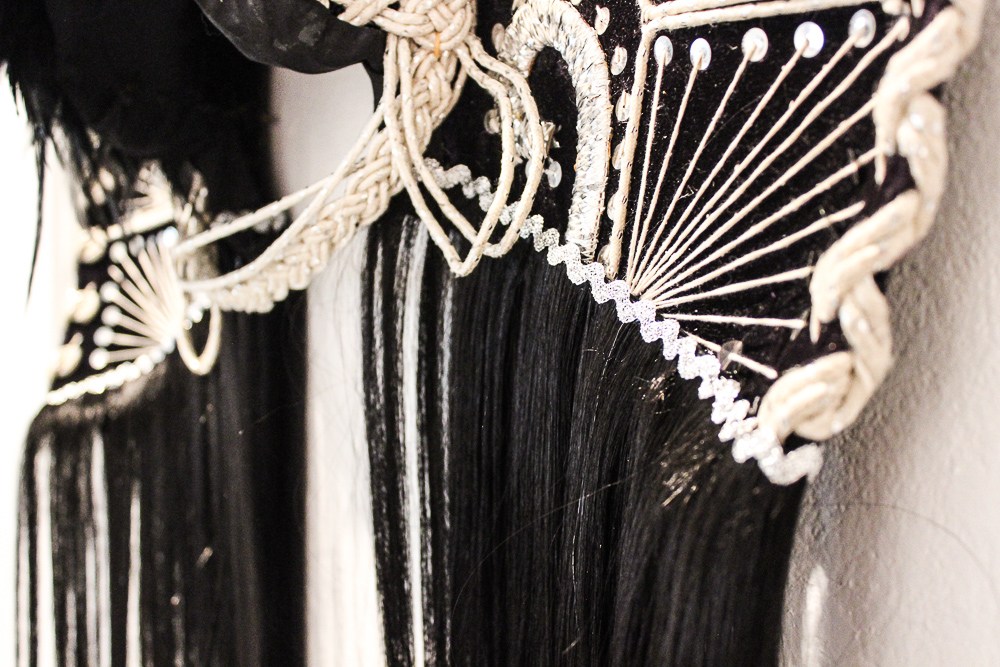 The phrase 'cultural appropriation' has become digital lingua franca, but I feel like it's original meaning has become diluted: it's now just charges of stealing with no examination of power dynamics. When did you first start thinking about this, and have your thoughts changed?
The words feel a little newer, but the idea of cultural appropriation isn't new to me. I really feel that in the last few years it's been trendy again to be native. What upsets me about cultural appropriation is the sense of entitlement that comes along with it. The dominant society really feels, like, It's just beautiful, you know? I think you're overly sensitive about us using this thing. We want to celebrate beautiful Indigenous women. Well actually, Indigenous women are the lowest class of people in this country right now and to use them as an object just keeps us as this objectified, exotic, fantasy image as opposed to beautiful, strong women who are doing work and have a voice, words, and ideas to share. Now, I want to talk about the people who are actually that culture, rather than people who are stealing. So: talk about Indigenous artists, and celebrate and support Indigenous-made work.
You mentioned that you want to make sure you don't misappropriate — can you elaborate?
Across Canada there are 500 different Indigenous nations. There are some commonalities but we're all pretty different. So, for example, I would never use a headdress in any of my work because I don't have a cultural connection to it. I have a feeling of protection over it but it's not part of who I am or my nation. I wish I had more to say about it: I was born and raised in Toronto and have had to learn. Our language and culture has been taken away from us so, for me, a lot of the artwork is one of the things that's been constant. I'm still learning about [Dene traditions] but I know that a lot of it is utilitarian. Clothing and textile identifies who we are, especially because we are an oral culture. There are very specific visuals that you can place to nations: the types of floral work on a mitten or moccasins, for example, can place us geographically.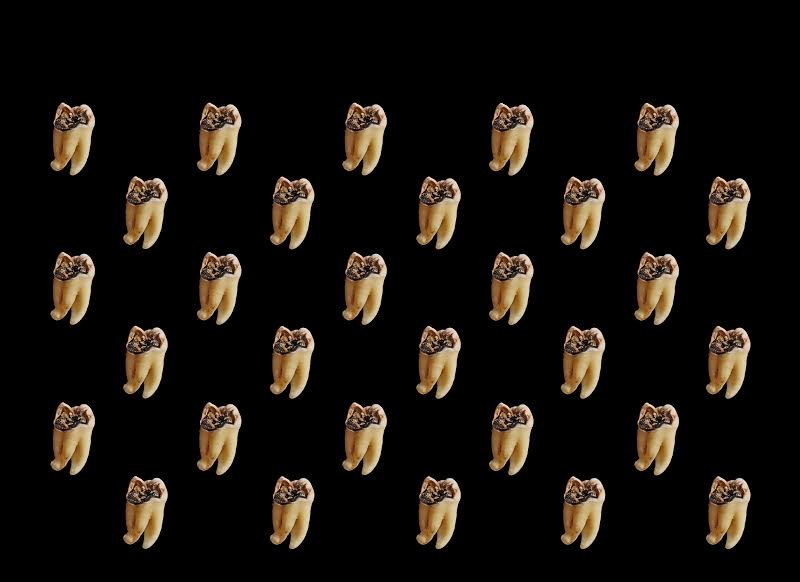 Knowledge sharing must be one of the main goals of the Setsuné Fashion Incubator then.
I was looking at more traditional techniques of creating work and realized, 'Holy shit, I don't actually have all of the resources that I need to do this.' There are no spaces for Indigenous women to create work for fashion or wearable art without selling out into what people expect of us as Indigenous creators. So I called my friend Erica in 2014 with the goal to do fashion, textiles, and wearable art within an Indigenous framework. That allowed us to put on workshops for skills and techniques that we don't have access to in the city. Tanning hide? Moose hair? We don't have the opportunity to earn that kind of skill. And it's also about sitting around with a bunch of aunties to just talk. There's so much we can learn from our families. We have to use new technologies. There are so many ways of doing things from the past that we can practice every day. I want to know what my auntie did and what my grandpa and grandma did. Why do I have this weird innate feeling to do the same? I don't know where it comes from.

There are no spaces for Indigenous women to create work for fashion or wearable art without selling out into what people expect of us as Indigenous creators.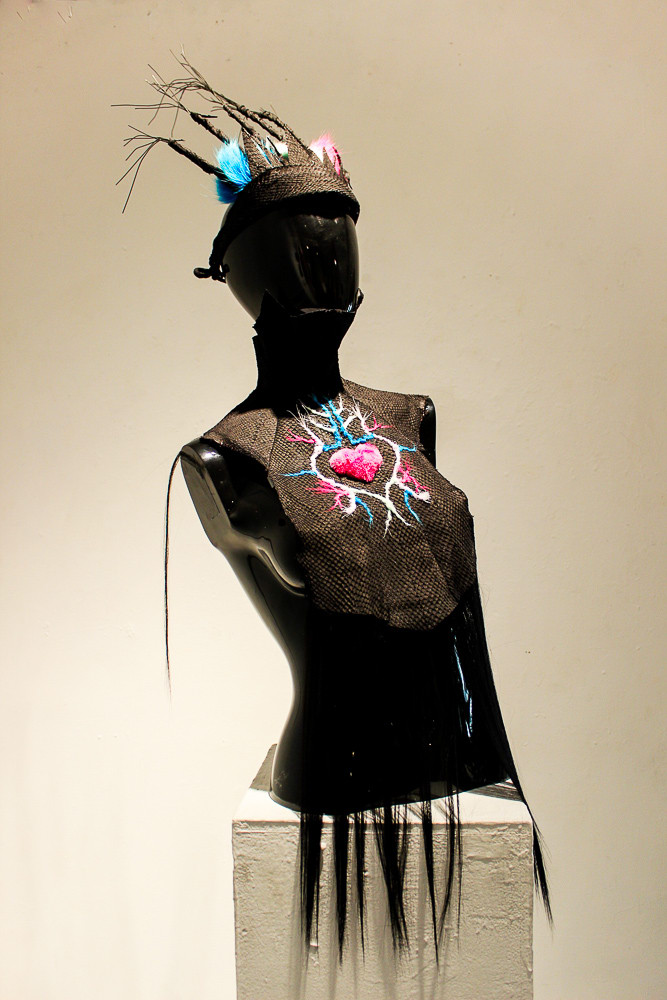 Why did you call the show Indian Giver?
A lot of what I'm creating is about protection and preservation, and me making it as opposed to Urban Outfitters. And the other work really establishes a connection to this idea of the trade route between nations in North America and South America. The idea of trading between nations, that's a very true thing. There's also the potlatches where they would give out gifts, and then a year later you would be expected return it with something of equal value. It's the idea of balance and the value of give-and-take and sharing. But when we look at the white culture, the Western culture, they've taken everything and that's where the racist trope comes from: The Indian wants their land back, so now they're 'Indian givers.'

Beyond tying narratives of appropriation by mass fashion retailers to the work of real people, what do you hope audiences get from the show?

Once we're done here we want to tour across Canada and the States. My dream would be to actually go into certain spaces...so to have it in an Urban Outfitters! I think people are able to use clothing in a political sense but, for the most part, they aren't doing it. So I hope that it sparks an interest to look into what you're wearing and to think about its sources on all levels: who's making your clothing, what part of the world it's being made in, where the fabric is coming from, what the actual cultural inspiration for the aesthetic is.
Why was it important for you to include perspectives from South America up to Canada?
It really shows the diversity of Indigenous nations across the Americas. Borders are a Western construct. People would migrate. My father can speak with Navajo people from Southern American states because of that travel and the trade routes; there was a lot of respect for each nation. We are diverse, and we are everywhere. Indigenous people around the world experienced the same impact of colonization and there's a certain sense of renaissance not only in North America but South America, New Zealand — even in Europe with the Sami people — there's a really big voice coming from our global Indigenous community right now.