Why Queer Latinx Parties Are Necessary Spaces Of Resistance
In conversation, friends, DJs, and event organizers Kristy La rAt and Precolumbian discuss strategies for survival in the face of hate.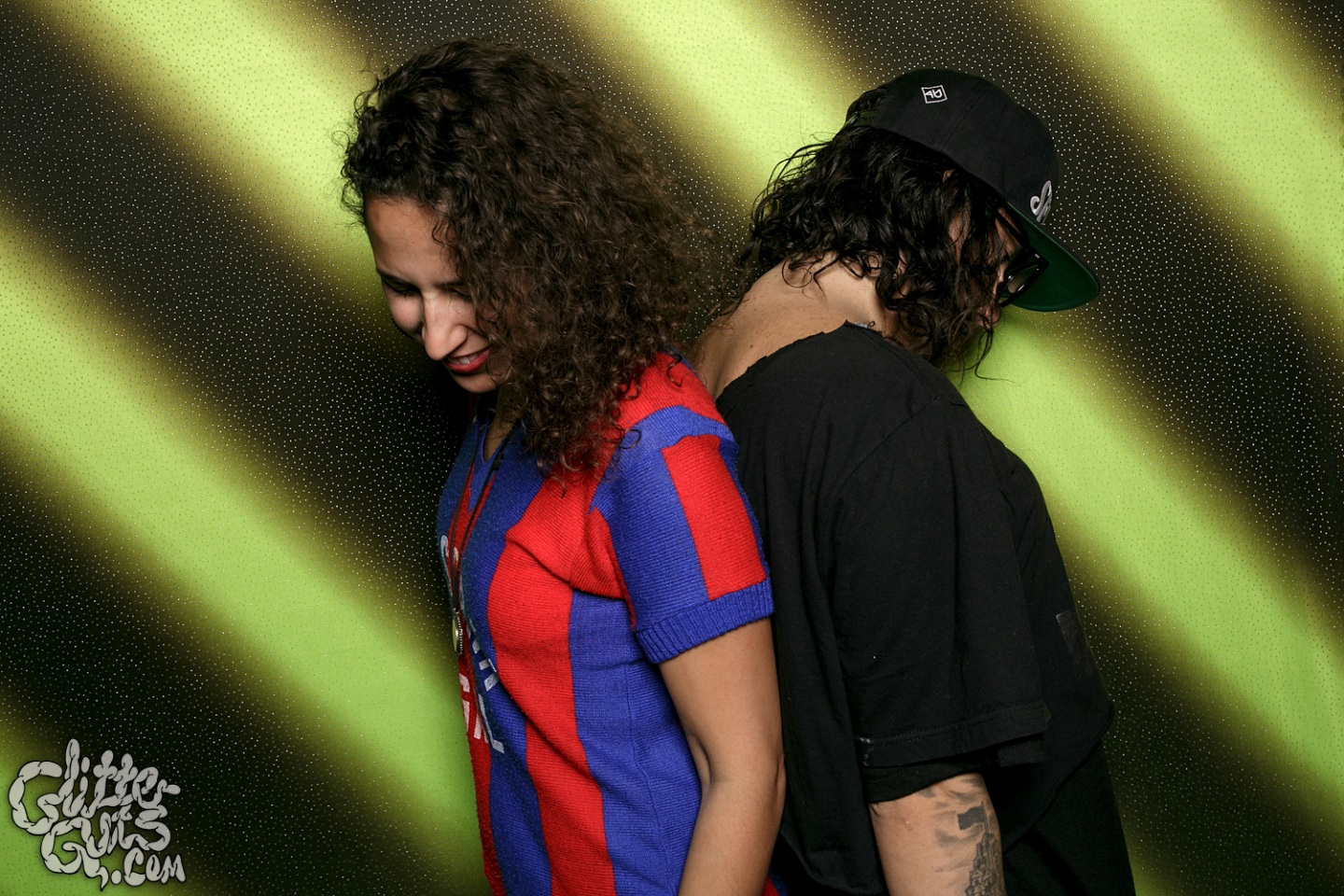 Kristy la rAt is one of the co-founders of Maracuyeah, a Washington, D.C. party that showcases "Latinx, queer, femme, POC, trans, immigrant, and gender non-conforming identities and art." One of her closest friends, Chaska Sofia — who DJs as Precolumbian — runs "Philly's biggest queer dance party," Cutn Paste. The two friends met in the D.C. area back in 2005, bonding over shared Peruvian roots and a desire to create spaces in which to celebrate queer, Latinx, and QTPOC identities. Over Skype on a restless night earlier this week, they reminisced about the start of their friendship, strategies for survival in the face of hate, and why their parties are more necessary than ever.
KRISTY LA RAT: Music was always a thread in my life of people coming together; [it was] how you would meet people and exchange new ideas, and transform, and get free. I think coming up in D.C., where it's an all-ages city — more than a lot of other cities — that was huge. My friends and I just threw a big party at [D.C. music venue] Black Cat last weekend, and I remember going there when I was 13, and that's crazy to me — thinking of all the different parts of my life moving through it. I feel like that was the beginning of really thinking about the power of those spaces, for me personally and for people close to me, in terms of discovering new parts of yourself, sharing ideas, and finding family.
PRECOLUMBIAN: Yeah, totally. I've been going to the Black Cat since I was 13, too. I left the D.C. area after college and lived on the west coast for a while, and when I came back, I met Kristy because I was living with mutual friends. How I got started was with a lot of things that Kristy and our friends were doing — creating these house party spaces that were just for our friends and our community. I would go to straight spaces to see the music that I liked [but] I would feel uncomfortable, or not have a good time because of it. That's why I started creating my [own] spaces — to bring my passion and share that with my community.
Outside of mainstream gay and lesbian bars, there's not a lot of other spaces that are queer-specific. There's not a lot of venues for queer people of color specifically to access, so we created our own. The queer club is so important for us as a community on the margins, an escape from the day-to-day harassment on the streets, in our workplaces, and even our homes. [It's] where our own experiences are kinda mirrored, our images and stories uplifted, and we are free to be our full selves.
LA RAT: I was just thinking about the time period when we met — I remember riding in this really packed car to another D.C. club together called Phase, which is one of the oldest lesbian bars in the country. Our friends were throwing this party called Hotbox, and [I was] thinking about what it meant to be starting to go to these dance parties that were kind of taking the house party to the club. As a young person who identified as punk and queer at the time, I remember going to gay clubs and feeling like they were really fancy, or I would not make the dress code, or the drinks were way too expensive. Some of them were really vibrant, amazing spaces but in that moment of my life, [I was] not feeling like I completely fit in.
I remember moving to Peru — for part of college, and just to live for a while where my family is from — and spending time with this artist and amazing person, Giuseppe Campuzano, and working on video projects that had to do with gender and feminism. Giuseppe, who I always called Giula as a nickname, took me to all these amazing, really informal, queer, massive club spaces in Lima. That was my first experience in terms of hustling your way around this Latin Catholic colonized set of rules and expectations and constraints, to feel like this massive place of freedom. So, as a baby queer, that was really huge. Lima was where I ended up starting to throw parties and DJing, and when I came back, that was when Chaska and I really started hanging out more and throwing more house parties. When I think about that, I feel like my excitement about those house parties came from some excitement that I'd felt in Lima at a lot of these spaces that didn't feel as formal or fancy.
PRECOLUMBIAN: I feel like a lot of those spaces really are intentionally meant to stay underground, because they want to have that safety. We do very targeted promotion for our parties so that we only bring the community in. It's hard to find about those things unless you do a lot of word-of-mouth, and know a lot of people.
"The queer club is so important for us as a community on the margins, an escape from the day-to-day harassment on the streets, in our workplaces, and even our homes. [It's] where our own experiences are kinda mirrored, our images and stories uplifted, and we are free to be our full selves."—Precolumbian
LA RAT: The house parties were really formative experiences for a lot of us, but there were a lot of reasons why it was necessary to consider taking them outside of people's homes. Here in D.C., one of the biggest things that came out of that for me personally was forming a crew called Anthology of Booty. We started throwing parties in the basement of the 9:30 Club, which is another big, all-ages club here. We called [the party] Back Door, like a triple entendre — part of it was that people traditionally had to come in through the back door, in a lot of different ways, to social spaces. It was kind of a clandestine party for a lot of reasons that Chaska talked about — we were just kind of going on word-of-mouth and it was focused on free expression with safety considered. And through those years, working with a really amazing staff at 9:30 Club, we set to learning — from people before us, and also through our experiences and from our community — what it meant to try and create a party that was safer than just any old space.
PRECOLUMBIAN: As people in the margins, a lot of us are coming with so many life experiences and traumas, so it's essential to create a space that excludes the oppressions that a lot of people face. [For Cutn Paste, my night in Philly,] we created a manifesto to make sure people knew what we were about and the space that we were trying to create. The space is meant for queer people of color and their safety is of utmost importance. We wanted to have our intentions set forward so that people knew what we were about because we wanted to make sure that the people that we did create the space for felt safe and nurtured in that space: we don't tolerate racism, homophobia, fatphobia, transphobia, misogyny, and stuff like that. It's important to just name those things so that people know what is expected of them.
LA RAT: I definitely feel a lot of responsibility, as an organizer and as a DJ, for holding that space, but it's not just something that I hold — it's something that a ton of people in the room are holding. It makes a huge difference who's on staff and what kind of conversations you can have with the staff of a club before a party, and what kind of ongoing relationships and understandings you can build.
PRECOLUMBIAN: [What happened in Pulse] is a tremendous tragedy. I feel like it took a day for it to really hit me, just really thinking about had that happened in Philly, or New York, or D.C., or Baltimore, that probably would've been my friends, or maybe one of us. Even though we do expect people to self-regulate and to also be responsible for themselves, as a promoter, as a creator of that space, you have so much... You're really bringing your community into the space, you make them feel safe. Just as we have expectations of them, they have expectations of us, of the space that we create for them. It's devastating to find out that a space that felt that safe for somebody could be wiped out in one second. I don't know what I would do if that happened at one of my spaces.
LA RAT: It's really hard [but] people have been resisting this shit and surviving for a really long time — a really, really long time. There's an incredible amount of resilience and creativity and fierce humanity in the way that queer folks of color, specifically trans folks of color, have survived and figured shit out before us. So for me, I think a lot about that, and not wanting to give in to this conflating of hatred and conditions that were created by a much bigger, systemic set of problems. This is also made possible by racism, by prison systems, by police...
PRECOLUMBIAN: And toxic masculinity.
LA RAT: It's all connected to this economic violence, symbolic violence — the way that many of our bodies and identities are represented all the time as worthless, and worthy of violence. We have a lot to learn from people who have come before us, and those are conversations and fights that are happening within our communities. In terms of safety for organizing parties, we lose if we give in to that kind of fear and hatred in a way that takes our power away.
[At my night Maracuyeah,] we make these bilingual signs saying what is okay in this space. Will those stop an assault rifle? No. Will putting a metal detector or checking everybody's bags or saying no bags and patting down people — all these things that are also perpetuating more policing and violence — stop it? No. That comes from a really different place — that's not really party safety at that point, that's a much different set of things that allowed something like that to happen. Our parties are a necessity.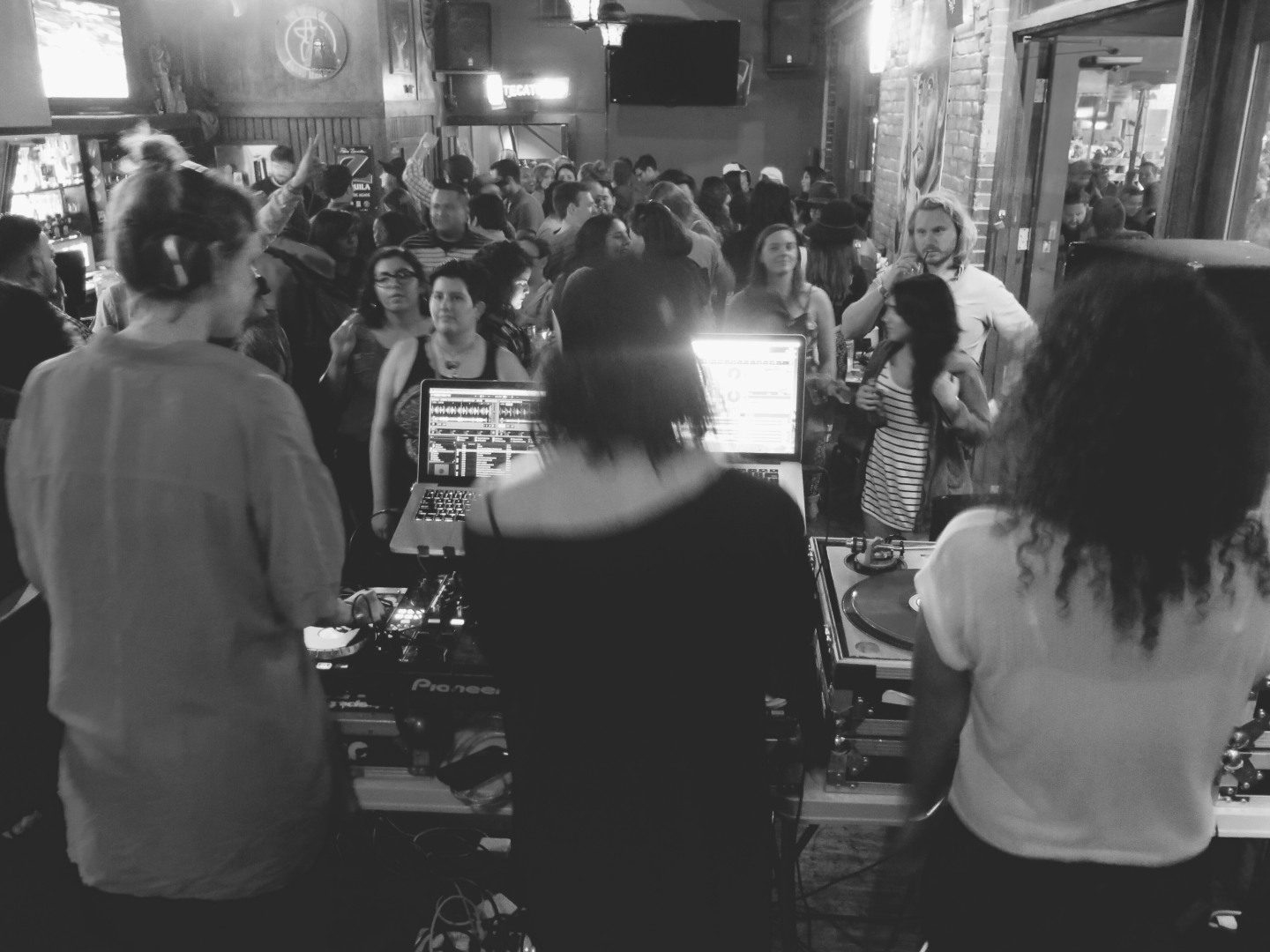 "There's an incredible amount of resilience and creativity and fierce humanity in the way that queer folks of color, specifically trans folks of color, have survived and figured shit out before us." —Kristy la rAt
PRECOLUMBIAN: Like Kristy said, the QTPOC community is super resilient and strong, and we face tragedies every other day sometimes. I think that something that really needs to happen more is straight people and cis people need to do more self-educating, and be more respectful of those things. That work is always expected of those who face oppression, but it's like, you should take some time to think about that. I feel like that's something that needs to happen more as we move through this, one of so many tragedies that have already happened. Like last year, there were over 20 black and brown trans women killed; it's such an ongoing thing. We shouldn't have to do all the work, we're just out here trying to survive.
LA RAT: I woke up throwing up the other morning after dreaming all night about [the Pulse massacre], and then didn't address it, and it took being at an altar in a friend's backyard to finally express more, and allow myself to release in my own way. Reading about history does help me — I was reading today about speakeasies and cruising spots and drag balls and gay clubs in the early 1900s in D.C., and for me that's uplifting. I'm also grateful to be able to return to community-produced materials like the Safe Outside the System Safe Party Toolkit Guide.
PRECOLUMBIAN: I've really learned to be more gentle with myself, and take care of myself. The past couple days I haven't really done anything, and just being okay with that. I feel like in a capitalist society, our productivity is optimum, and it's what defines us — trying to resist that as well, [so we're] able to take care of ourselves. I'm definitely not stopping [doing parties]. Also, I love what I do — these places are so necessary; we need these spaces to heal because that's what those spaces are for us. We need to dance it out real soon, that's part of our process. Throughout history, music and dance have always been spaces of resistance. We've been resisting for so long, it's just a continuation.
LA RAT: I feel similarly. Like Chaska said, self-care is important, but I think we all hold a lot of complex experiences, and [the Pulse hate crime] definitely brings up a lot of anger as well, which is something else that a social space can hold or provide release from — in a positive way. Miriam Zoila Pérez wrote this piece on Colorlines about how there's so few [opportunities] to be in Latinx queer spaces where there's a certain type of partner-dancing. I think that those are really healing things and important human experiences that, in a moment like this, are really necessary. We're continuously learning how to create in a way that reflects our and our friends' and communities' needs. It makes sense more than ever to continue on.
Precolumbian is on tour in Chicago next week (TRQPITECA on June 24 and Cumbiasazo on June 25), and will be back in Philly for Cutn Paste on July 8 at Voltage Lounge. Kristy la rAt's next Maracuyeah party will take place in DC on July 9.