Meet Papi Juice, The Collective Behind Brooklyn's Best QTPOC Party
Four New Yorkers started a monthly celebration to help queer and trans individuals find visibility, friends, partners, and joy.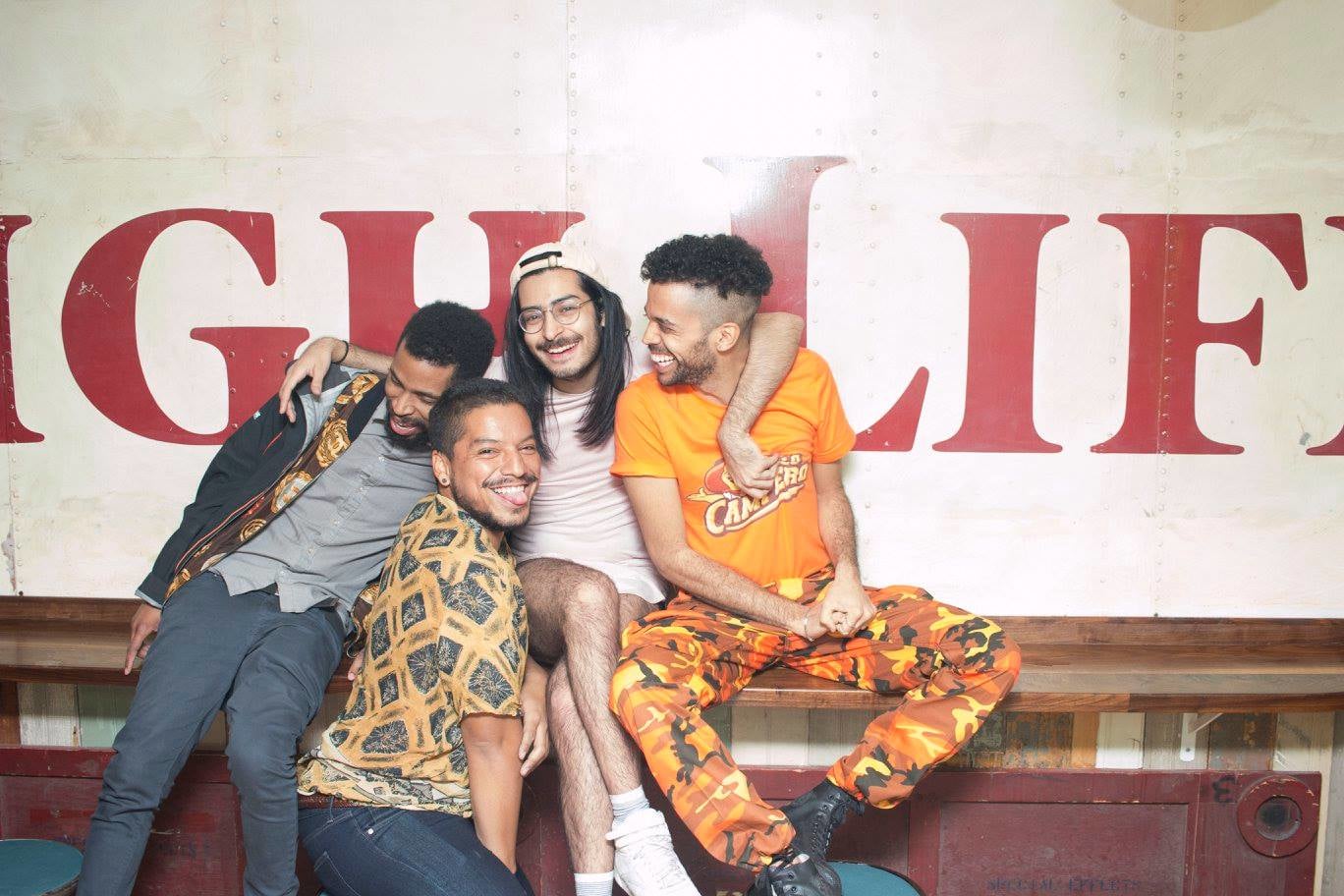 The four members of Papi Juice encircle a small brown table in DJ Oscar Nñ's Bed-Stuy apartment. It's early June, just a few weeks from the collective's third anniversary party — which shares the same name of the group — and they're in good spirits. Next to the 28-year-old born Oscar Nunez is DJ Adam Rhodes; he helped to co-found the party before bringing on photographer Cristobal Naranjo and illustrator Mohammed Fayaz, who's got long wavy black hair that often flows freely across his face when on the dance floor. "I woke up at 4:15 a.m. to eat," Mohammed said, in his unmistakable Queens accent. He's Muslim and is breaking fast today by devouring some jerk chicken; he wants to eat without interruption. "It's Ramadan and I haven't observed in a long ass time."
Since 2013, the tight-knit crew of queer boys — three of whom identify as cisgender men; Mohammed, 25, considers himself femme — have organized Papi Juice, a monthly party that serves as a safe space for queer and trans people of color (QTPOC) in New York City's dwindling and mostly white gay nightlife scene. "[We] were gallery hopping and Oscar was like, 'We should throw a party' and I was like 'That sounds pretty cool,'" Adam, 29, explained of the party's origin. "I had DJ'd once at Azúcar, which was another queer party at the time," Oscar said, interrupting. "Adam and I bonded over our frustration with traditional gay spaces and how there was a lack of representation of gay men of color, people of color, and also diversity in gender representation and gender identities. It was a really big problem for us. People were just there to have sex. There was a lack of politics to it."
Though Papi Juice has grown into a platform for artists of color, it has also functioned as a micro-liberation movement against the white gay scions of Manhattan's club kid circuit typified by Amanda Lapore, Susanne Bartsch and Lady Fag. In their place, at Papi Juice, acts like Byrrell the Great, Njena Reddd Foxx, and Maluca take the stage to mirror the experiences and fantasies of those who fill the dimly-lit dance venue. At January's gathering — titled "Papi Pollo" — for example, hip-hop artist Jay Boogie performed his underground hit, "Body," a strutting and rebellious ode to queer black and brown femininity. At one point during his set, the crowd erupted, belting, Buh buh buh buh body ody ody as the East New York rapper stalked the stage in a white cotton tank top and powder blue jeans.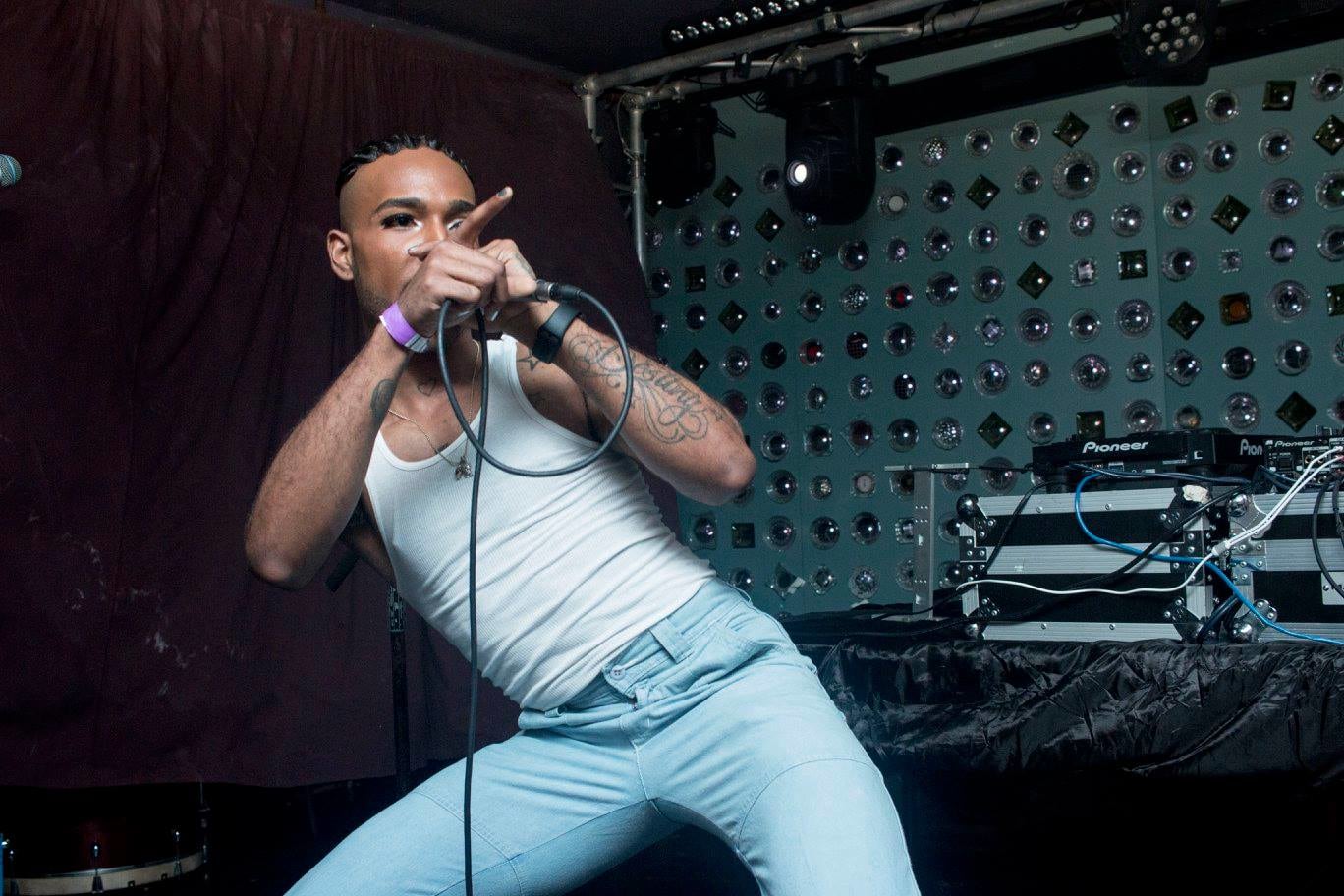 "Summer Honey" — the third-anniversary party slated for June 25 at Baby's All Right during New York City's Pride Weekend — will feature a lineup that includes Juliana Huxtable, DJ MikeQ, False Witness, and singer Princess Nokia. Adam and Oscar will also play short sets throughout the night. The flyer for the party is symbolic of the group's signature aesthetic: a bearded queer black man with a high top fade wears sunglasses that reveal a "papi" in his underwear. "You can imagine his skin being dewy," Mohammed said of the flyer, laughing. "It's sexual and sensual at the same time." Mohammed has made the last 22 party flyers, many of which are vibrant digital portrait approximations of people that attend the Brooklyn bash. "It's about beautiful black and brown skin that is shinning that you don't get to see everywhere, particularly in nightlife where party flyers are just, like, very stripper-oriented bodies." The party illustrations are part of Mohammed's larger practice, "w Grace," a site specific work he created for the Queens Museum's 2016 Queens International — the biennial exhibition highlighting artists throughout the borough — which, through portraiture, centers on the story of Grace Lawrence, an undocumented trans women of color.
If Mohammed's illustrations set the tone for the parties weeks in advance, Cristobal's photographs capture the colorful volume of attendees as they writhe into the early tints of morning. "When you take a photo of someone you are catching them—" Oscar said, pausing and looking across the table at Cristobal, searching for the right word. "Free?" Mohammed offered, interjecting from behind his red circular frames. "I had a coworker tell me straight up, 'You made my night when you took my picture,'" Cristobal recalled. "I didn't realize that the [photography] was going to be so powerful. You are literally choosing to represent people in a state where they are having fun — they are just who they are."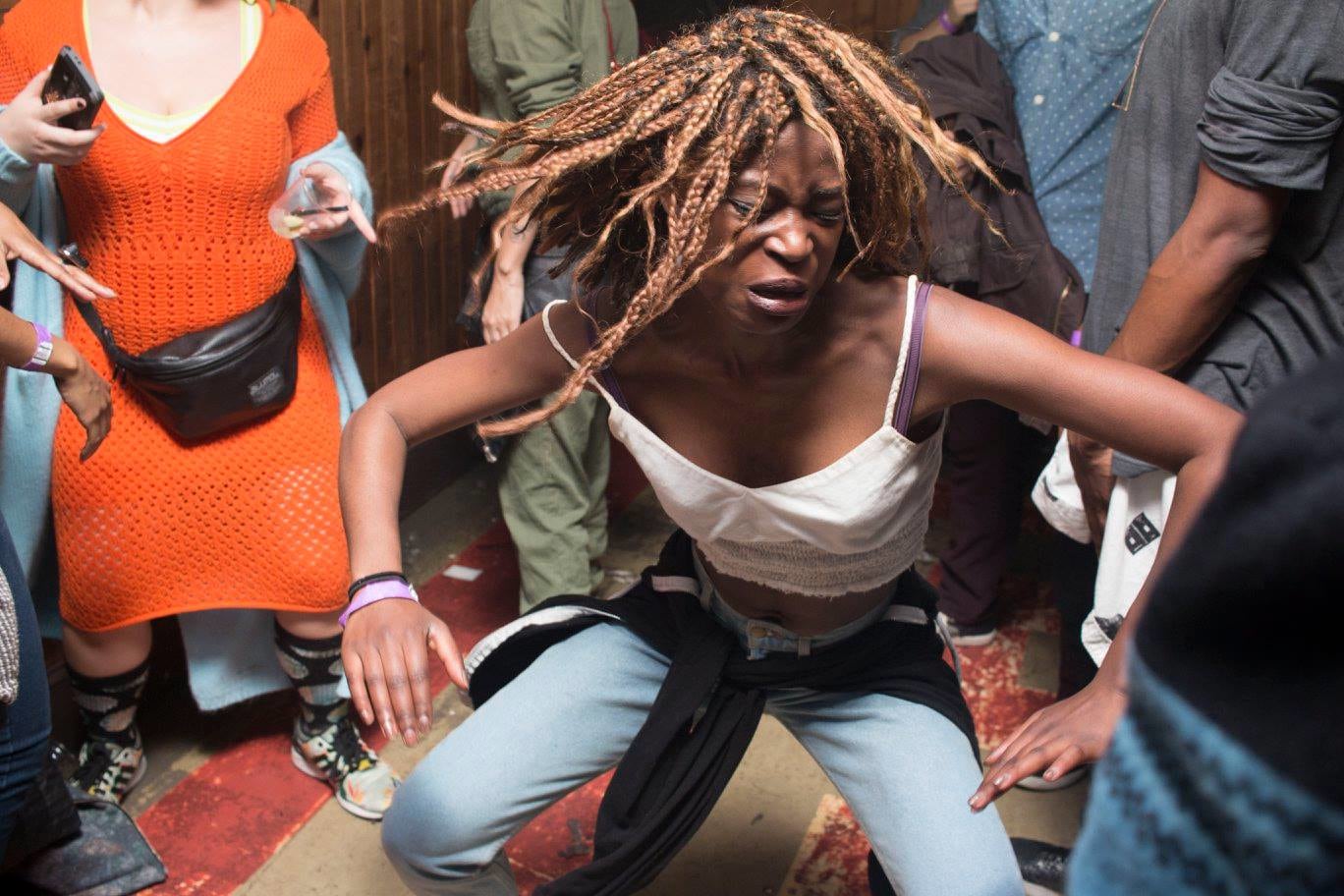 "The ways people show up and perform their gender is varied on the spectrum. It's nice to have a space that elevates that. A papi could look like anybody." —Cristobal Naranjo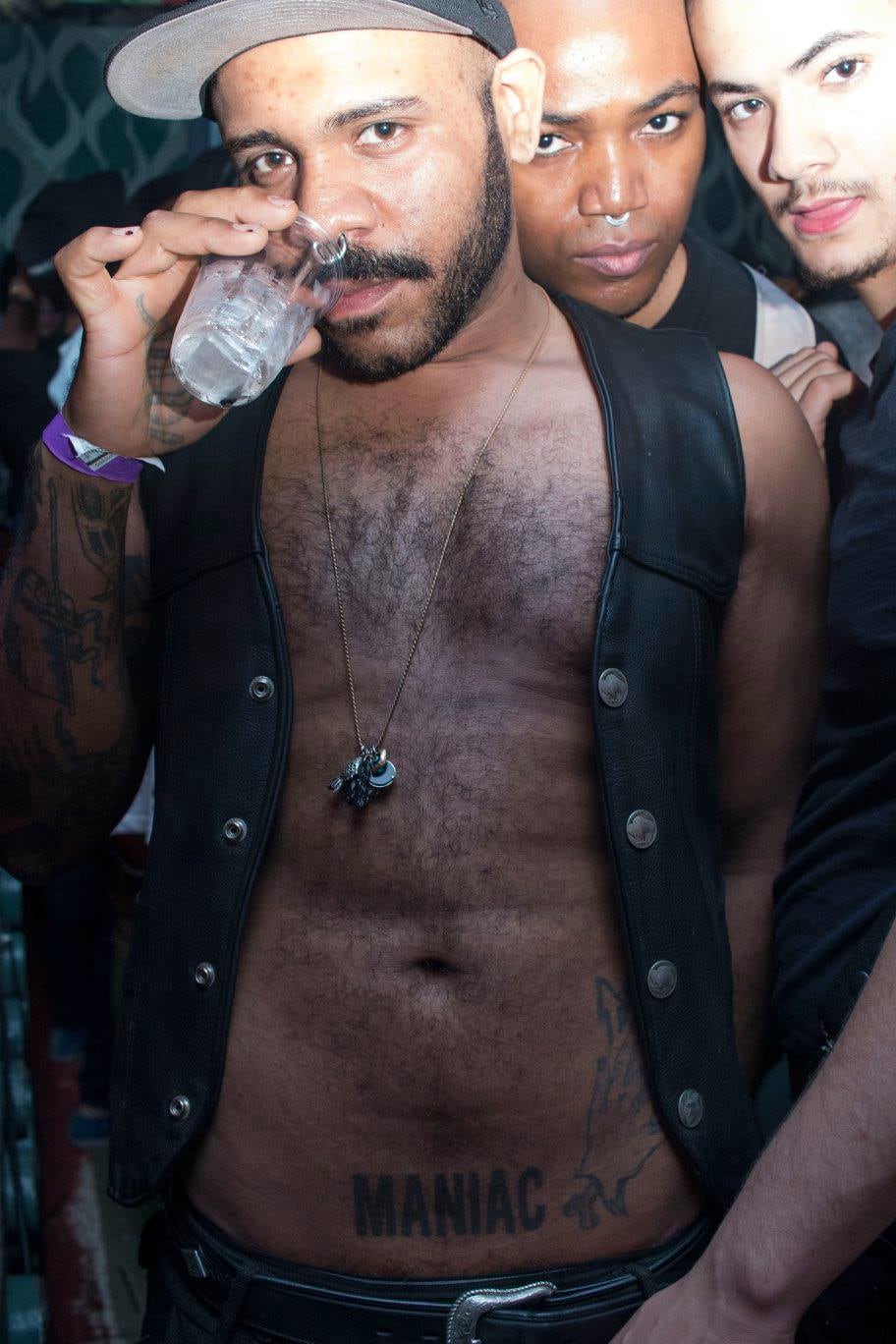 The underground success and relative mainstream obscurity of Papi Juice is perhaps due to its mission statement. Stated on the group's Tumblr, it reads: Papi Juice is a Brooklyn-based monthly dance party and kiki celebrating queer and trans people of color and our friends, fam, and allies. According to Cristobal, who grew up in Puerto Rico, the gathering is not meant to shut out any particular identity or sexual orientation, but instead ennoble individuals. "The ways people show up and perform their gender is varied on the spectrum," the 25-year-old said. "It's nice to have a space that elevates that. A papi could look like anybody." Referring to Manhattan gay clubs, he added: "Literally it takes no work to be erased in spaces like that, so you have to come hard and come through with a mission statement."
Before Papi Juice moved to the roomy Baby's All Right, it was held in Clinton Hill's cramped, jungle-themed bar, One Last Shag. But space was never really a serious issue. The spirit of the party could be seen on any given third Saturday as Oscar and Adam spun late into the night. Adam often kickstarts the party by playing a mix of 1970s funk and 1990s R&B, a set list he described as being "black barbecue music" (doing so, he said, reminds him of "childhood and family functions"). Later, as Oscar typically works his closing set into its last song — most likely a remix of Selena's "Como la flor" — regulars, sweaty and panting, grind, kiss, and hold each other, singing along on the black-and-white tiled dance floor.
The mission has matured in other ways, too. "I have had to ask white straight dudes to leave because if you are wilin, you out," Oscar said, his faint Honduran accent breaking through. A few months ago, Papi Juice booked a DJ who some in the community felt had acted violently against them. Verbal threats were exchanged and, after a meeting, Papi Juice decided to remove the guest from the lineup. "We have extensive conversations between the four of us whenever there's a concern," Oscar explained. "We take it on as a group very seriously." To this, Mohammed added: "It's worth noting that our community is really vulnerable."
In the wake of the massacre at Pulse, which left at least 49 LGBTQ Latinx and black folk dead and many more injured, a renewed need for safer spaces has engulfed the gay community. For most of the 20th Century in a majority of cities, laws barred clubs from serving LGBTQ people alcohol. Police raids regularly added an element of violence to gay clubbing that routinely destroyed the lives of people who identified as queer. It wasn't until 1969, when New York City's Stonewall Inn bar became the site of a riot, that the modern day Gay Rights Movement was set into motion, which helped, among other things, bars and clubs become legal safe havens.
But maybe for the QTPOC community, there has never existed a true sense of security in these sanctuaries. After all, living has always been a radical act for blacks and Latinx who call America home. Just three years ago, on August of 2013, the murder of a 21-year-old black trans woman, Islan Nettles, on a Harlem street corner, rattled the community. The gay bars and clubs that line 8th and 9th Avenues in Chelsea and Hell's Kitchen — places which, more or less, put value in traditional masculinity and notions of beauty and gender — have, in part, also left QTPOC folk scrambling for ports of refuge. The brutal murders at Pulse occurred on "Latin Night," a commonly segregated affair at white mainstream gay clubs throughout America. Which makes you wonder: what kind of community racializes a dance floor? From this exclusion, Papi Juice emerged as a place folks could gather in solidarity to find visibility, friends, partners, and joy.
"Our hearts and minds are really heavy today with sorrow and pain and anger," the collective wrote on their Facebook page in the aftermath of the Pulse shooting. "Thinking of fifty angels who left too soon, thinking of how they could have been us and how they are us and every person who walks through the door at our parties."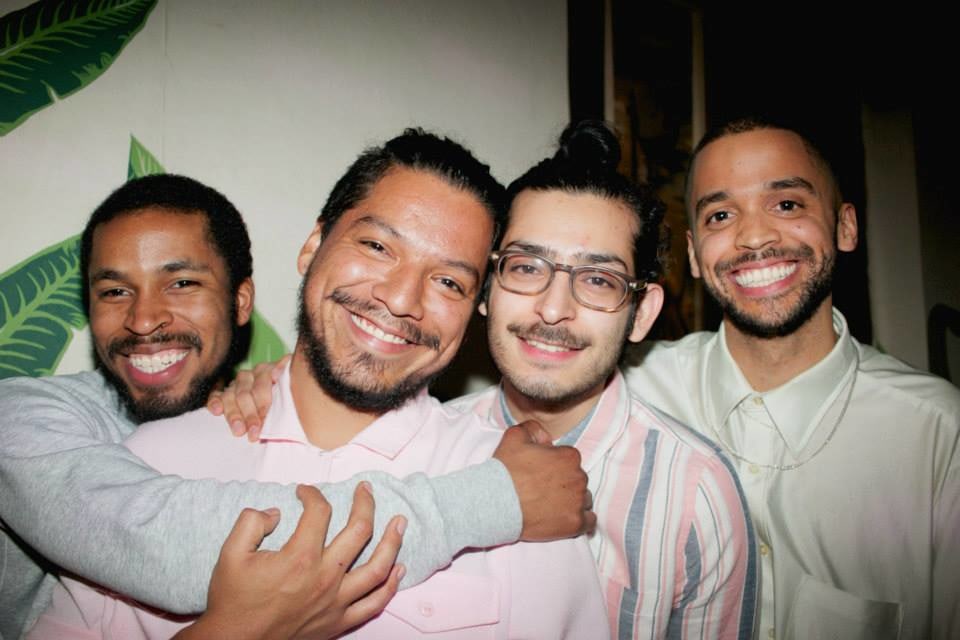 Later that evening, sitting on the roof under a starless Bed-Stuy sky, Oscar offered insight into the heart of Papi Juice. "I feel like [the] sense of safety comes from our intentionality in what we are putting out there, starting from Mohammed's art to our music to Cristobal's photography." Adam, in between puffs from a cigarette, added: "We just try to do our best — to make people feel some semblance of safety and feel like they are able to have fun."
Since Papi Juice's inaugural fete, the group has attempted to bring Mark Aguhar's "Litanies to My Heavenly Brown Body" poem to life. They have sought to live up to the poet's prayer-like proclamations with each Saturday-night kiki. It reads, simply:
Blessed are the sissies

Blessed are the boi dykes

Blessed are the people of color my beloved kith and kin

Blessed are the trans

Blessed are the high femmes

Blessed are the sex workers

Blessed are the authentic

Blessed are the dis-identifiers

Blessed are the non-normative

Blessed are the genderqueers

Blessed are the kinksters

Blessed are the hot fat girls

Blessed are the hot fat girls

Blessed are the weirdo-queers

Blessed is the spectrum

Blessed is consent

Blessed is respect

Blessed are the beloved who I didn't describe

I couldn't describe, will learn to describe and respect and love

Amen