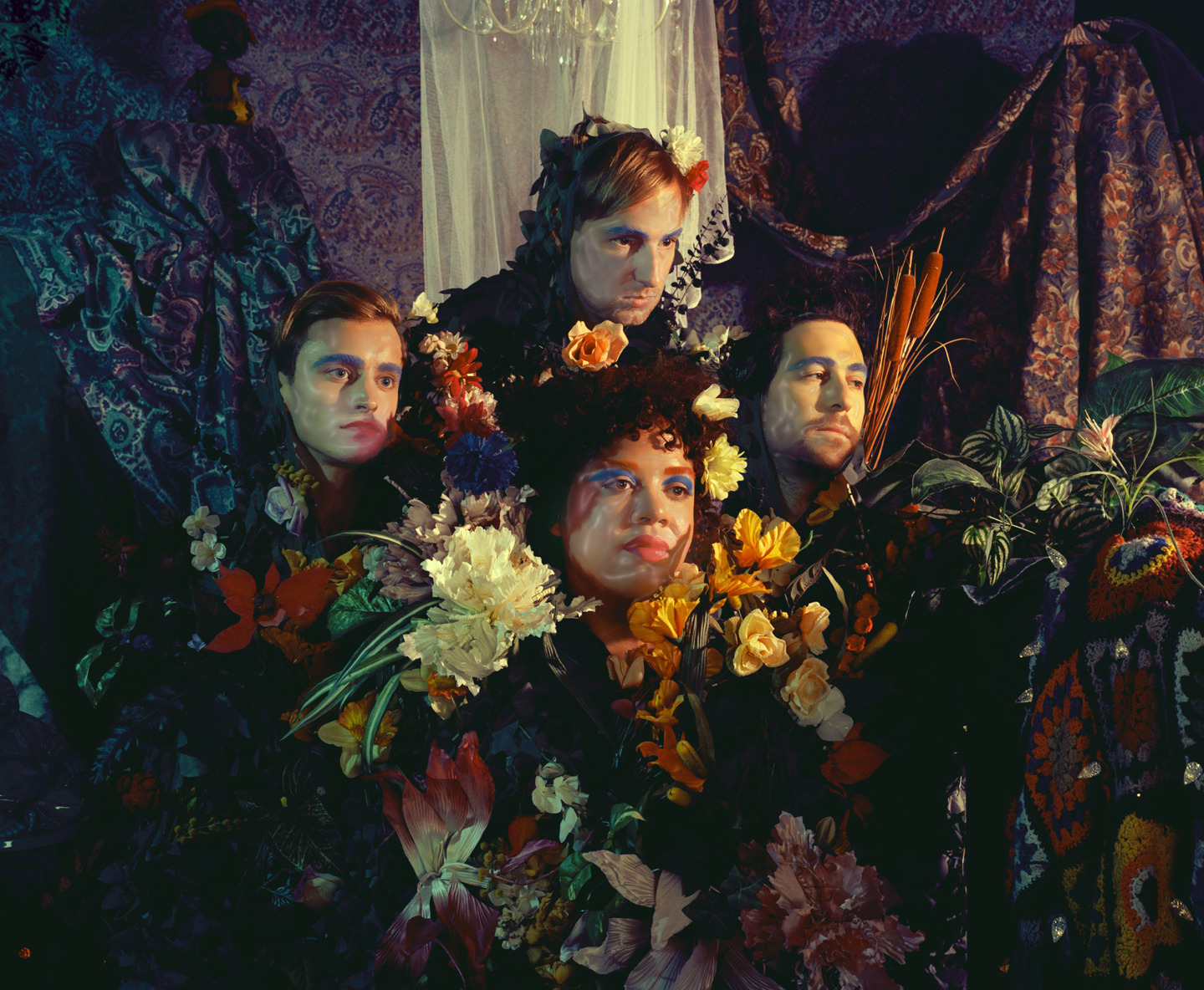 On a May afternoon, Jasmyn Burke and Morgan Waters of Weaves sat in Holy Oak, a cafe in Toronto's Bloordale neighborhood. They both slouched from the heavy mid-spring heat as a speaker hummed songs from Beyoncé's Lemonade. A small dog barked just beyond the door. Waters, 34, picked at a scone with a painted nail and Burke — who has said she doesn't believe in age — sighed into her coffee with amused irritation as the dog's yelps grew more frantic. The entire scene was weirdly reminiscent of the band's music: energetic, noncompliant, yapping at pop's fringes.
Weaves started in 2013 as the solo project of Burke, who began looping vocals and guitar at small venues around the city. "I was very nervous," she said. "I had just finished my other band, RatTail, and I hadn't performed in a year. I was like, Nothing matters, but I have to play." Waters, a staple of Canadian comedy, was a year away from the premiere of his web series The Amazing Gayl Pile, which currently streams on JASH, a YouTube comedy channel created by Sarah Silverman, Michael Cera, Tim and Eric, and Reggie Watts. Waters caught Burke's second solo show. He was intrigued enough to approach her after the set. "I remember she started when the house music was still on, which was a bit of an odd move right off the top," he recalled. They decided to collaborate, with Waters on guitar, and recruited Zach Bines on bass and drummer Spencer Cole. In 2014, after just over half a year as a full band, Weaves put out a self-titled EP on Buzz Records, the noisy Toronto rock label behind bands like Dilly Dally and Greys. And their new album — also self-titled and released via Buzz/Kanine/Memphis Industries on June 17 — refuses to adhere to any preconceptions of 'Toronto rock.'
Burke and Waters are content with labeling their sound "bent-pop," though they're also quick to give it the gibberish label "Costco rock." Whatever you call it, Weaves is united by a chaotic disregard for musical comfort zones while still operating within pop structures. New songs like "Candy," announce the band's arrival with a loud, crunchy blast. Pick up the pieces, pick up and move/ I'm just a giant/ Walk over you, Burke warbles, somewhere between sweet and acidic. Like the most memorable tracks on the first Weaves EP, moments on the full-length seep with a cartoonish energy, miles apart from the fraught sounds dominating Canadian guitar music.
Each song starts as a voice memo Burke records on her phone — sometimes as many as six a day — which are then sent to Waters to translate for guitar, before they're developed as a band. "If I send the loop to the other guys, sometimes they're like, 'We don't know what you're doing,'" Burke said, "but Morgan can figure it out. He's my Rosetta Stone." Their friendship has a relaxing and unforced chemistry, which has become an essential dynamic as writing partners. Waters doesn't embellish the creative genesis of the band, but understands that he's provided his own unique contributions through interpreting Jasmyn's unrefined melodies. "It's always a challenge to live up to those voice memos," he said. "In those first 20 minutes...there's always a spontaneity and you can never match that, so sometimes you have to go in a completely different direction to find a new spirit."
"Rock music seems a bit outdated, and we need more people to push up on what it means to make that music." —Jasmyn Burke
Waters refuted the idea of binaries existing at any level in the band, and Burke's vocals are an example of that: From throaty hacks to sustained heart-swelling notes, everything is treated with the same amount of care and respect. Songs from the new album, like "Shithole," surf the edges of a relatable existential ambivalence. I can't be left alone anymore, Burke sings on "Birds & Bees," before fuming against co-dependence: Don't think of me as you. From time to time, even in intimate moments, there's an embrace of the nonsensical; on "Two Oceans," the entire band dissolves into rehearsal mode three minutes in, laughing and fooling around on their instruments before roaring up once more.
Weaves are a band with their own notion of a fresh sound. They've made something with warts, polish, and human error, manifesting through a divine connection between bandmates. "The goal is to compete with the hot new shit, not something that was released in 1991," Waters said, emphasizing their contemporary listening habits. "We're not trying to be obtuse. It just comes out the way it does. Jasmyn and I disagree on this, but I don't think there was a better song last year than Justin Bieber's 'Sorry.'" Quickly, Burke countered with a smile: "I like 'What Do U Mean?' That was our big debate last year."
Weaves's "hot new shit" have made them one of Canada's most sought-after bands in a relative short period of time. Their first show in England was at Glastonbury 2015 — on one of country's biggest festival stages — and Burke said the experience led them to double down on their efforts to create something worthwhile. But her insecurities — how she won't let her bandmates watch her play guitar or record voice memos, her nerves before going on stage, how she wishes she could read music — only emphasize her artist's heart. She will create in spite of all reasons, both real and imagined, that everything could go wrong. That risk-taking is one of many reasons Weaves aren't just a band to follow, but one to study. "When we're working on something or demoing, we'll reject things that sound too much like 'a band.' Rock music seems a bit outdated, and we need more people to push up on what it means to make that music," Burke said. Waters nodded in agreement.