A bunch of artists talk a good Snap game — Yo Gotti on "Down In The DM," Krept on "Freak Of The Week," Kanye on "Blessings" — but not many back it up like Lady Leshurr. The Birmingham, U.K.-born rapper outlined her M.O. last year in the viral freestyle "Queen's Speech 4": I hold it down like a Snapchat/ Go over your head like a snapback. It's a true enough description of the infectious Snaps from @ItsLadyLeshurr, an account which is packed with in-jokes and insights, joltingly honest reflections on the music industry, and is populated by a colorful cast of characters. In the past few years, Leshurr has harnessed the creative potential of the platform to introduce at least four alter-egos, from snooty females to chancing roadmen. She even dressed up as one of them, a posh middle-aged woman named Sandra, for a scene-stealing bit in 2015's "#LUKATAR" video.

Lady Leshurr has been releasing music for over a decade, but her life shifted up a notch after signing with RCA this spring, and Snapchat has been by her side through it all. In recent months, she's been recording her debut album Queen of The Scene in L.A. and Atlanta, bringing a little feel-good fun into the lives of folks she's met along the way. You might have seen her dabbing to "Panda" with a homeless guy in West Hollywood, or singing along with a dancer at Atlanta strip joint Magic City to "Queen's Speech 4" — but what makes Leshurr's Snapchat really special is her willingness to turn the front-facing camera on for more intimate moments. One such time came in May 2016 when she tearfully showed off the keys to her first apartment in London, the result of years of graft; and in June 2016, she sent a touching message of support to her followers with mental health issues: "If anyone's suffering with depression ur not alone."
The FADER spoke with Lady Leshurr in May 2016, the day after she filmed the colorful video for her first ever official single "Where Are You Now?", to find out more about how she uses Snapchat as a tool for expression, and how it helped her get the confidence she needed to take her career to the next level.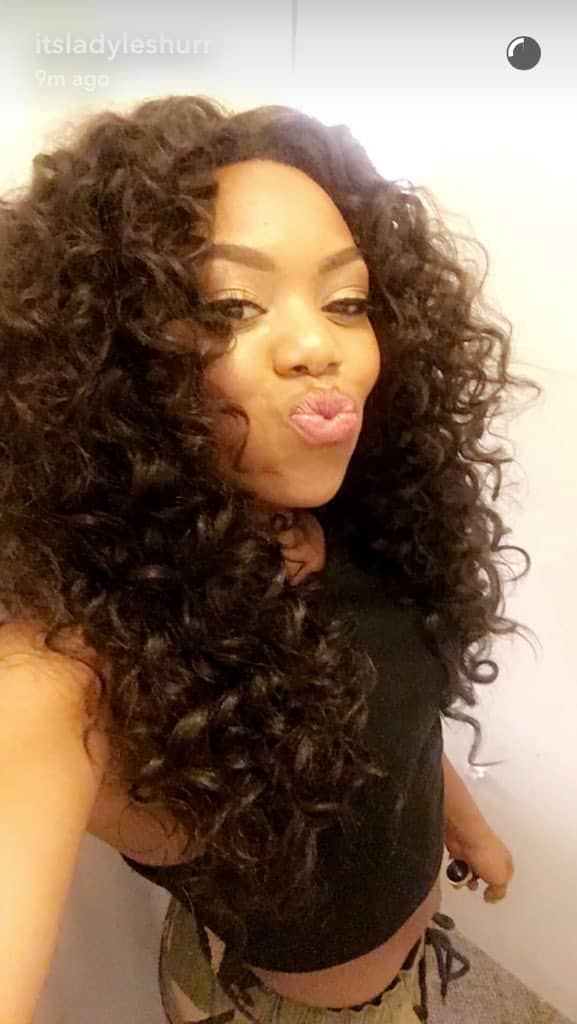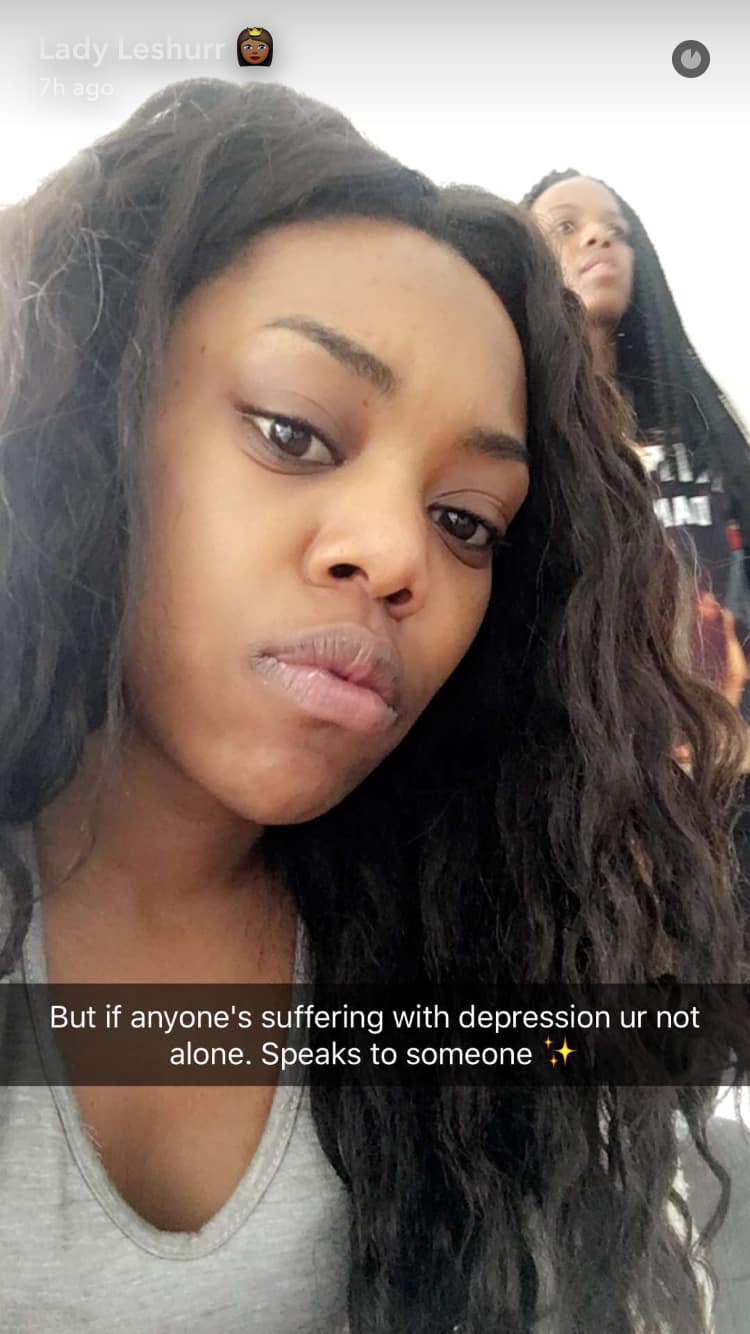 Why is Snapchat your favorite app to share your life with?
It's because you don't realize that people are watching you. I think that's the best thing about it: you can just be yourself. I love the fact it's 24 hours — people only get one day to see it, and that's it. It keeps people wanting to see more about your lifestyle. And it also made me more confident with doing alter-egos and characters. It has made me proper, proper confident.
Your alter-ego Sandra is hilarious. How did Snapchat help you create her?
About four years ago I pranked my mum. I phoned her like I was a guy and I was trying to chat her up and she said, [puts on disgruntled voice] "forget it." This is one of her little phrases that she says all the time to people that she wants to stop talking. So I got that little bit from my mum, which kind of just morphed into Sandra.
I was [also] doing this little thing on Snapchat called 'Just Yam,' which is where I would get takeaways from [delivery service] Just Eat and I critique it in a Sandra voice. And it kind of developed: I would put on glasses, a blonde wig, old fogey clothes, horrible sandals, and I would act like Sandra. The way I was talking was giving me the appearance of what she should look like. So that's how I made her — over Snapchat. And the same thing with Leon, which is another character that I did.
Can you describe your Leon character?
Leon is basically a hood, south London rapper. He's broke, he signs on [benefits], he tries to get girls, and something always happens on his journey. Like, he will meet a girl and he will come back and express himself in the ghettoest way. He is always wearing a tracksuit with his hood up and screwing up his face. [My characters] have all got different tones to their voices.

"I had to mentally train myself to not care what people thought anymore, because I knew that was stifling what I could do."
You seem to show everything on your Snapchat, whether getting turned up, or even going to the bathroom. Where do you draw the line on what to show?
[Laughs] We all make mistakes, and obviously I've done a Snap on the toilet one time. It was part of one of my characters, so everyone on my Snapchat understood because they watched the story beforehand. But when someone took it from Snapchat and put it on Twitter or somewhere else on social media, people was thinking, 'What the hell are you doing?'
You can manipulate somebody from one Snap and put it somewhere else, and people have the impression of something completely different than what it was originally for. You have got little sections of Twitter — black Twitter, white Twitter, funny Twitter — so once a piece of footage goes into one of those, you can be the laughing stock of the whole week, maybe even more. That's what happened to me: it backfired. Everyone was calling me nasty, and that I'm a tramp. I didn't mind, I was laughing at first. But I just thought, Woah, the internet is very powerful.
You've had a couple of viral moments, from your "Look At Me Now" freestyle to "Queen's Speech 4." But does the fact that your fanbase is online come with its downsides, like this criticism?
You know what? The reason why I got to the point where I was doing [the] Queen's Speech [freestyle series] in the first place, is because I stopped caring what people thought. Way before Queen's Speech was out, I had to mentally train myself to not care what people thought anymore, because I knew that was stifling what I could do. I started having more fun — Snapchat really helped with my confidence — and I just started being more happy, and more 'out there.' That's what really helped me progress in my career.
What would be your advice to any people getting abuse, or unwanted messages on Snapchat?
Just don't care, innit? I get it all the time, people saying that I am ugly, or they diss your town, or they say your music sucks. They just want a reaction. Sometimes I will respond, and be like, Thank you babe. And they will be like, 'Oh my god, you just replied!' Some people just want a response. I know a lot of them are not really haters, they just play that part because they think it will get more of a response than being supportive.
"I knew that to tell the world [my story] I had to completely change my whole style to get attention."
You're about to release your first official single, "Where Are You Now?" What inspired that track?
I got the actual song title "Where Are You Now?" from this little Manchester boy [S.B.D.] that done a song on [British hip-hop TV channel] Channel U, about his father not being there. Everybody that knows about Channel U knows this song. I thought I would revamp it and bring it back. I feel like when it drops, the little boy is going to appear again. I actually want to see what he looks like now!
The concept of the song is basically about people that I grew up listening to that had that one banger, or bangers after bangers, like Dru Hill or Mark Morrison, and then you don't hear from them again. It's like, 'Where are you now?' I genuinely want to know: are you secure, are you comfortable?
So I thought I would take that concept and twist it a little bit, and still do it with an element of the Queen's Speech vibe, because I still want to continue having fun. But at the same time, I want people to understand that it's not just the Queen's Speech thing that I am trying to do. I want to get into being a bit more technical like I was before. I don't want to just do [funny freestyles] for the rest of my life, I have got more of a story to tell. I knew that to tell the world [my story] I had to completely change my whole style to get attention — and re-vamp myself, re-brand, and everything. Now I have got the attention I can finally tell my story.
Finally, do you have any tips for people who are just starting a Snapchat account?
Be yourself, just be your complete self. If you are a funny person, throw that out in your Snapchat. You never know, people may put it online and it will go viral, and next thing you know, you have got how many shows? You never know where your Snap is going to take you.