The Making Of Bas, Dreamville's Heir Apparent
The Paris-born, Queens-raised rapper outran his past. Now, with J. Cole's support, he's got a better shot at life.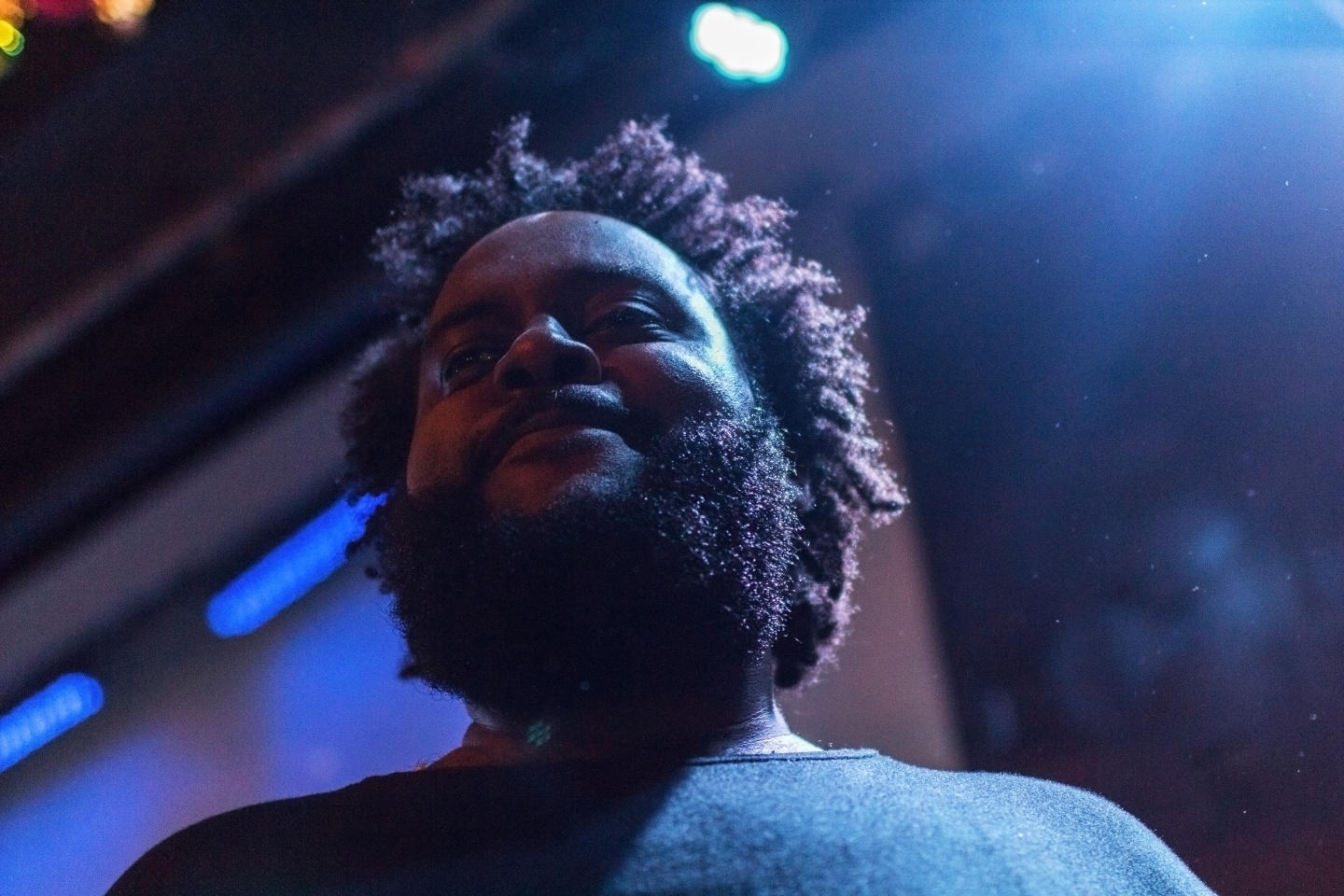 On Pacific Avenue in Venice, California, cars ambled down the street, bumpers nearly touching, inching their way through mid-day traffic. Halted in front of a decaying, low-slung apartment complex — a "Now Leasing" sign draped across a paint-chipped staircase — drivers powered down their windows, craned their necks backward, and fixed their gaze on the side of the road. Here, one block south of the beach, on a stretch of sidewalk the length of a football field, director Scott Lazer whipped an ARRI Alexa Mini camera through the air. He was searching for the perfect shot. In front of him, his subject, the subject, was Abbas "Bas" Hamad, the 28-year-old rapper next-to-bat from J. Cole's Dreamville Records.
It was early March, months before Bas would depart on a headlining tour that currently finds him crisscrossing North America, and they were here to shoot the music video for "Ricochet," a song from Too High to Riot, Bas's sophomore album, due out exactly one week from this day. Flanking Bas were Sam Paul Evans and Roxane Dayette, members of British electro-soul band The Hics, who'd trekked all the way across the pond — their first visit to the United States — for the video. Collectively, they cut an odd figure. Evans, in high-water slacks and a form-fitting turtleneck; Dayette in a pink sweater-dress and white clogs; and Bas, thickly bearded, clad in a grey hoodie with brown khaki pants. Even in Venice, a gentrifying town of beach-weathered surfers, hipsters, and newly-arrived tech bros, shooting a music video in broad daylight, on someone else's doorstep no less, was something of a scene.
The music cued up and Bas sprang to life. Over an airy synthesizer swell, he waved his arms for dramatic effect, shifted his weight and submitted to the vibe. He half sang, half rapped: Six months since I last seen ya, clipped blunts in them ash trays/ While we speak up on them past days, you know I still have faith. Atmospheric and ethereal, "Ricochet" occupies that rarefied space somewhere between moody R&B and downbeat hip-hop. Thematically, it's abstract — alternatively perfect for a late night car ride or headphones on a long commute.
"I'm trying to bridge gaps," Bas told me. "On this album, I challenged myself to be more honest and truthful. I just didn't give a fuck, and wrote about exactly what was on my mind. Being a rapper, traveling the world, doing shows, meeting people, yeah, it's cool, but it isn't a fairytale. Just because we're fortunate enough to act like we're in college for the rest of our lives doesn't mean real shit isn't going on around us."
---
In person, Bas is charming and warm, endlessly worried about other people's comfort. "You alright? You need anything? You good?" He can be pensive, yet you never get the sense he's particularly stressed, mostly because he's not. After all, things could have turned out much worse. On "Night Job," one of the album's strongest cuts, J. Cole raps: Got Bassy off the corner, 0-10 niggas thought he was a goner/ He ducked shots, now it's Bas we gotta phoner. "I don't want to glorify it," Bas said of his former hustle. "I wasn't a gangster and it's not really who I am." Maybe so, but to truly know Bas, one must know this part of him, too. Because it's this part that makes everything happening now — the video shoots, the tours, the fans — that much more meaningful.
Growing up, Bas' father was a Sudanese diplomat headquartered in Paris. As the the Deputy Director of UNESCO, he'd been on "envoys with Idi Amin and all types of next-level dictators," Bas said. "He's got a watch, a '71 Rolex, that one of the sheiks in Qatar gave him. He's done interesting work and had a crazy life." At age 8, after living in Paris and Qatar, young Abbas moved with his family to the United States. They settled in one of the most culturally diverse neighborhoods in New York City — Jamaica, Queens. He has three older brothers and an older sister, all of whom are, by most measures, very successful. One brother is a NYC nightlife staple, DJ mOma. Another works in college admissions in the Sudan. His lone sister is in Mali working for the United Nations. And then there is Ibrahim — the closest to Bas in age, three years older — who met J. Cole at St. John's University and has been managing him since 2007.
Early on, it appeared as if Bas might follow in the footsteps of his overachieving siblings. "He was just a really bright kid," mOma told me. "When he was 11 or 12, he was already fixing computers in the house. Me and my pops were like: 'This kid might be a genius.'" But Bas was also the youngest, which meant that among his family, he grew up with the most exposure to western culture. It changed him. "At 15 or 16, he's hanging out, smoking weed, doing all kinds of shit," mOma recalled. "You're trying to figure it out, like, how did all that happen?"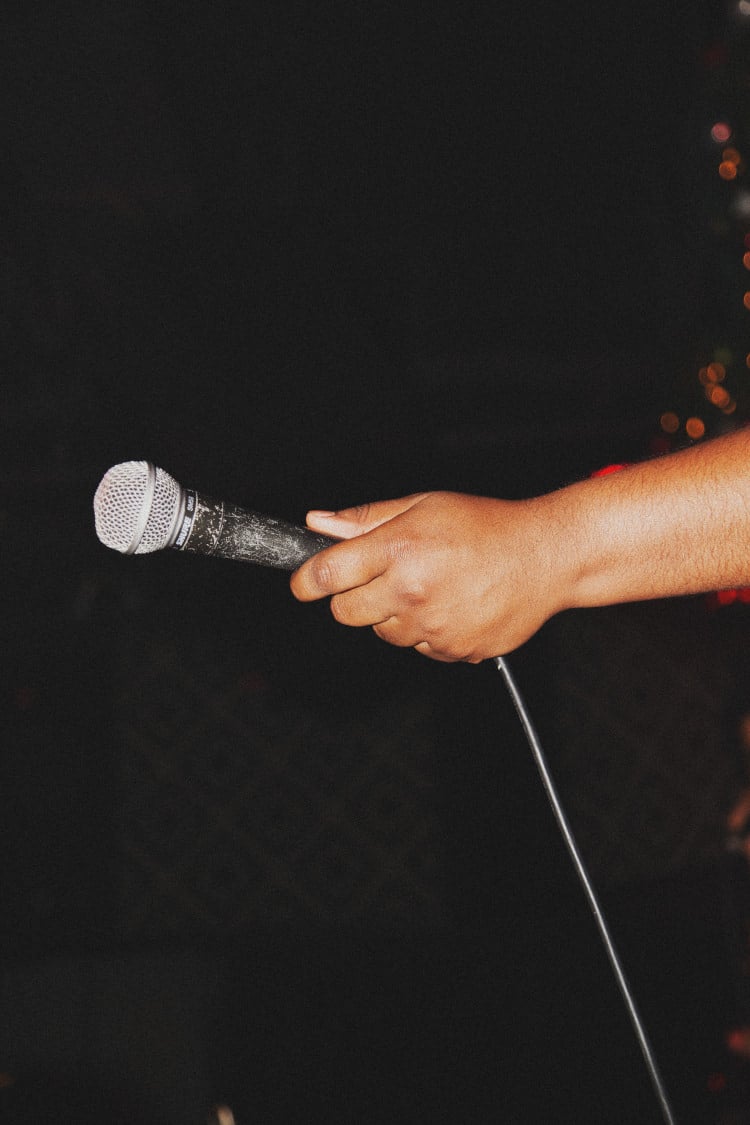 "Bas can really do this shit. I can give him a platform and be justified because this nigga's fucking good." —J. Cole
Still, he went to St. Francis Prep in Fresh Meadows, then got a full scholarship to Hampton University. Things were looking up — until he left for college in 2005. Newly independent and living in Virginia, he did what many students do when they're far from home: wild out. "My first semester I had a 0.0 GPA," he said. "I wasn't going to any of my classes. I was getting high, getting drunk, getting bitches." He flunked out of school after one year, and in the summer of 2006, he returned to Queens. Needing cash, he worked at places like the Container Store and Dave & Buster's, but most of his money came from re-selling big-ticket electronics that a friend boosted from a Long Island Walmart. When his friend quit, Bas turned to the next best thing — selling weed. "It was a small thing, but then greed took over," Bas explained. "I was just young and naive, getting it. Pretty soon, I was moving weight."
One day, a customer, one of his regulars, told Bas he wanted two pounds. When the customer changed the meeting location at the last minute, he sensed something was up. So he hopped in a car with a friend, the guy who was fronting him the bud, and drove to the building. On the defensive, he left most of the weed in the car. His intuition, it turned out, was right. After entering the apartment, three men in ski masks stuck guns in his face. "It was a mess," Bas said. "One dude was like, 'This nigga don't got it. Shoot him!'"
With guns to his neck, he handed over the small bit of weed — an eighth of an ounce — and assured his would-be assailants he could get more. Lots more. Then, with a 22-caliber gun stuck into his backside, he walked one of them out to the car. His accomplice, observing the set-up, rolled his window down, ready to hand over the weed. The assailant put the barrel of the gun inside. "A huge flash went off," Bas said, pausing to collect himself. "I'm thinking, my friend is dead — I mean, this dude shot him at point blank range."
Instantly, his fight or flight response engaged. Bas turned and ran up Hillside Avenue as more bullets fired. There he was, the son of the Sudanese diplomat — all that potential — now deathly close to becoming just another statistic, another cliché.
"I'm hearing every shot hit the metal. Bing! Bing! Bing! I'm booking it, running as fast as I can. Finally, I make it to the corner, and duck into a deli. They know me there, and I'm safe, so I call my friend — praying, let this dude pick up — and thankfully, he does. He's alive! With no money on me, I somehow persuade this cab driver to take me to my boy's house. And when I get inside, he's at the computer Googling: How to remove a bullet from your elbow."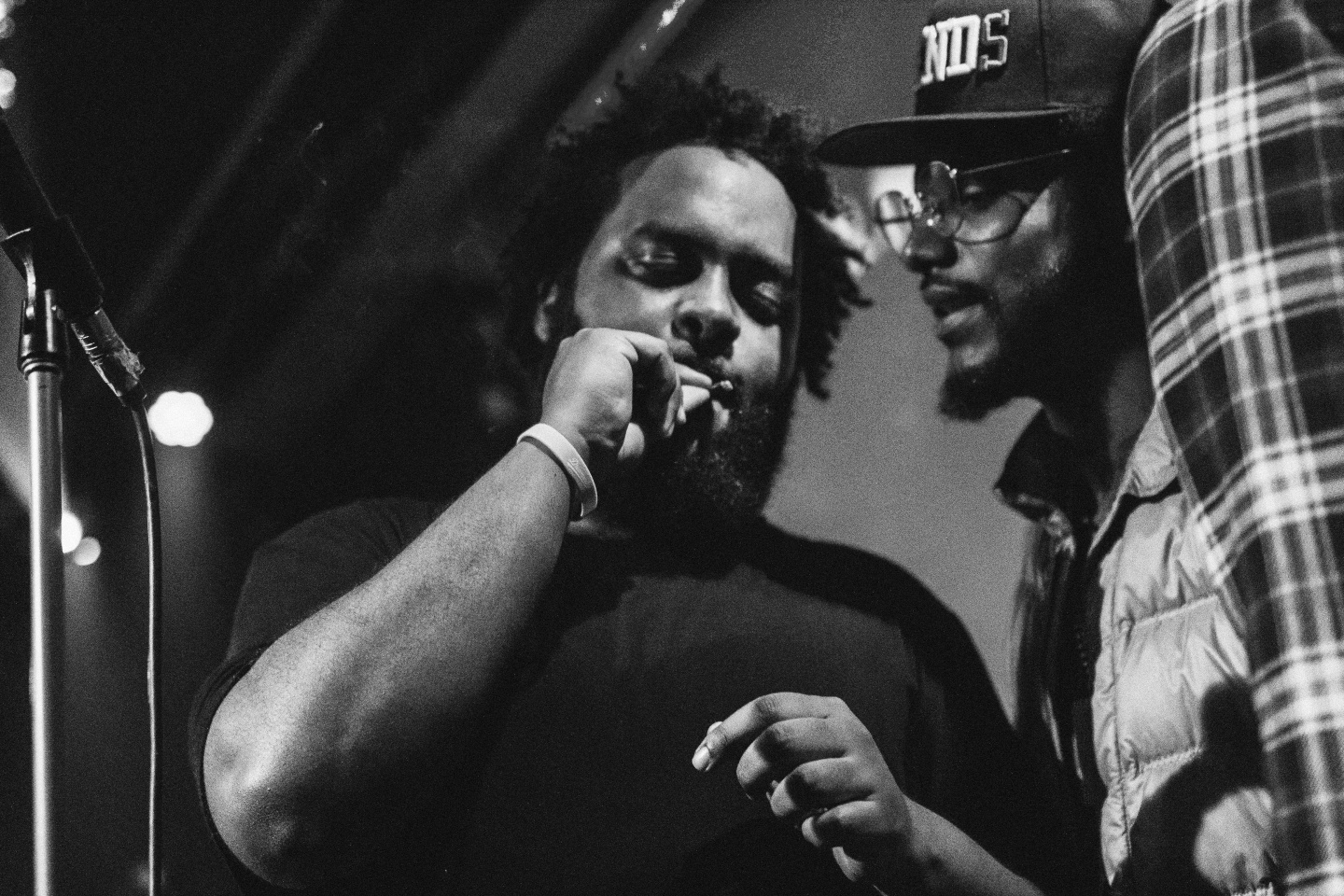 ---
Thirty-six floors high in the McGraw-Hill Building at Rockefeller Center, Sirius XM's green room was sparsely-decorated. A lone can of Pepsi sat inside an empty Red Bull freezer, and a few office chairs were scattered about. Bas was patiently waiting to enter the studio at Shade 45. It was late in the evening on March 3, and after three weeks on the west coast shooting music videos, he was back in New York. At midnight, Too High to Riot would officially be out.
He was at Rock Center to appear on DJ Statik Selektah's radio show — one of many during a week-long radio blitz — to promote the record. But beforehand, he was mainly preoccupied with other things; namely, the girl in Los Angeles he was Facetiming with. "I'm having a '90s themed birthday party," she said, her voice pecked with midwestern charm. "You've got to come!"
"I'm in New York though," he deadpanned.
She pressed on: "But you've got to come. You're like, famous. Send me something. Send me a bottle."
"You want some Ciroc? I know some people at Ciroc."
"Yeah," she shouted. "Ciroc!"
Silence.
"Bassy, you're coming right? We're gonna have temporary tattoos. And we're going to sing '90s songs."
He looked away, confused. Or maybe uninterested.
"I'm in New York," he reiterated. There was another beat of silence, and then: "Hey, I gotta go do this interview." When the screen went blank, he stared at his phone momentarily then burst into laughter.
At 11 p.m., Statik was ready. "This is big," the DJ, cup of alcohol in hand, shouted over the airwaves. "You've got to understand, this is a New York rapper with an album dropping on Interscope Records in the year 2016. That hasn't happened in a long time, so that's big for the city."
It was true. Short of 50 Cent — who left the label in 2014, and whose last album with the company dropped six years earlier — few modern-day New York rappers have called Interscope home. But Bas is not like 50. He does not invite controversy, nor does he glorify hugging the block. And he's not like his label boss J. Cole, who despite being from Fayetteville, N.C., plays his affinity for '90s-era New York rap close to the vest (all three collaborated on "New York Times," a bonus track from J. Cole's 2013 album Born Sinner). Bas is more global than local, and in 2016, there's possibly nothing more New York than that.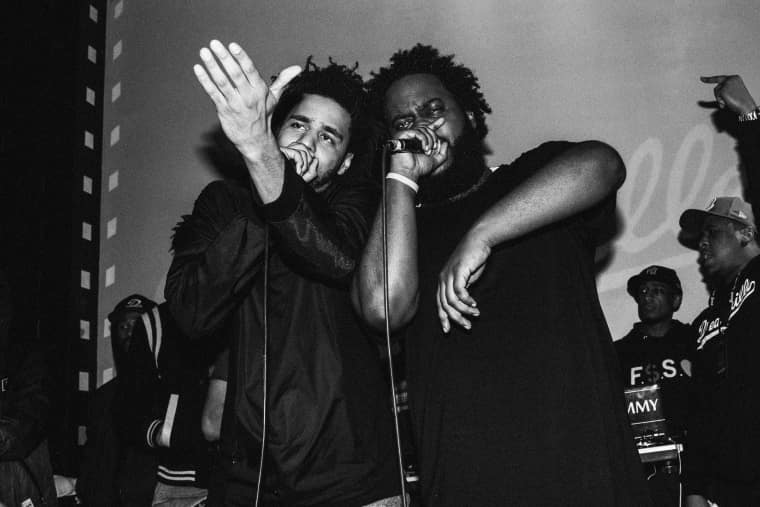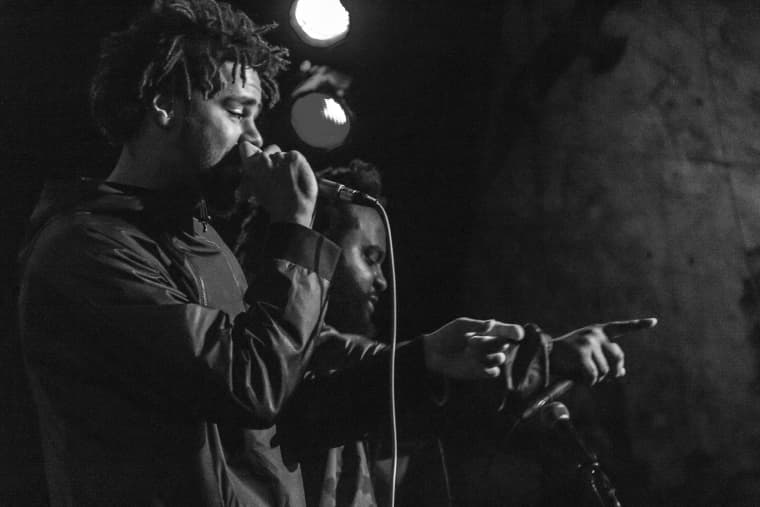 "Bas is Sudanese Muslim, born in Paris, lived in Qatar, came to New York, was raised in Queens and went to college in the south — he's got such a crazy perspective." J. Cole told me. "Frankly, nobody is like him. He's a dude who is very unique. The way he raps, the kind of beats he picks, his melodies, flows, tone of voice. Bas just has his own wave."
Bas never really aspired to be a rapper. He doesn't remember exactly when he first met Cole, but palling around with his older brothers, they often partied and played basketball together. In 2009, at the New York City release party for The Warm Up, he even handed out Cole's mixtapes. "Bas was there from the very beginning," Ibrahim, his older brother, said. "When Cole and I didn't even really know what we were doing, standing outside of Baseline waiting for Jay-Z in the rain to give him a beat CD, he was just down for whatever. "
Even still, Bas wasn't thinking about rap. After the robbery he looked inward — what was he going to do with his life? It was then that mOma passed him an old laptop and asked him to begin opening his DJ gigs. "I was trying to find a niche for him," mOma said. "Ibrahim was always into hip-hop, like the latest 50 Cent mixtapes on the Ave, while Bas was interested in other stuff, whether it was acid jazz, broken beat, rare grooves, house. He had sharp musical sensibilities."
Around the same time, he connected with Derick Okolie, a junior high school friend who was managing NYU's basketball team. Okolie booked Bas to spin the basketball team's house parties, and after one pivotal night — in an apartment on 7th Avenue and Bleecker Street they called "The Carter," because it's where they started experimenting with a lot of drugs — he was persuaded, for the very first time, to record a rap. Bas played it for friends and, to his surprise, they didn't hate it. Okolie encouraged Bas to take it seriously, then came on as his manager. Meanwhile, friends from St. John's, NYU, and elsewhere around the city began pooling around them. The loose collective started to grow and eventually took on the name The Fiends. One day, not long after Bas started rapping, Ibrahim played his music for Cole.
"The first joint he played me, I was like 'What the fuck?'" Cole recalled. "I could tell right away, the potential. Some of the flows he was using, words he was putting together. He was kind of naturally talented. It's like basketball. You never played a day in your life, and all of a sudden you get on a court and you're just draining threes. But this was 2010, and you have to remember, I was still knee deep in trying figure out how the fuck do I put out an album."
Cole's tenuous position didn't last long though, and over the next few years, as his own star rose, he kept tabs on what Bas was doing. "Every new batch of songs, I'd see the growth," Cole said. "The more growth I saw, the more I got to see a vision — Bas can really do this shit. I can give him a platform and be justified because this nigga's fucking good."
Cole brought Bas on tours, allowed him to be a fly-on-the-wall in the studio, and quietly coached him on how to build a career. In 2011, he released the mixtape Quarter Water Raised Me Vol. 1. A second volume followed two years later; it featured "Lit," a hazy ode to good times, which quickly became a fan favorite. The Fiends grew larger. When Interscope came knocking on Cole's door with a label deal in early 2014, he immediately inked Bas to a contract. Last Winter, his first album, followed that March.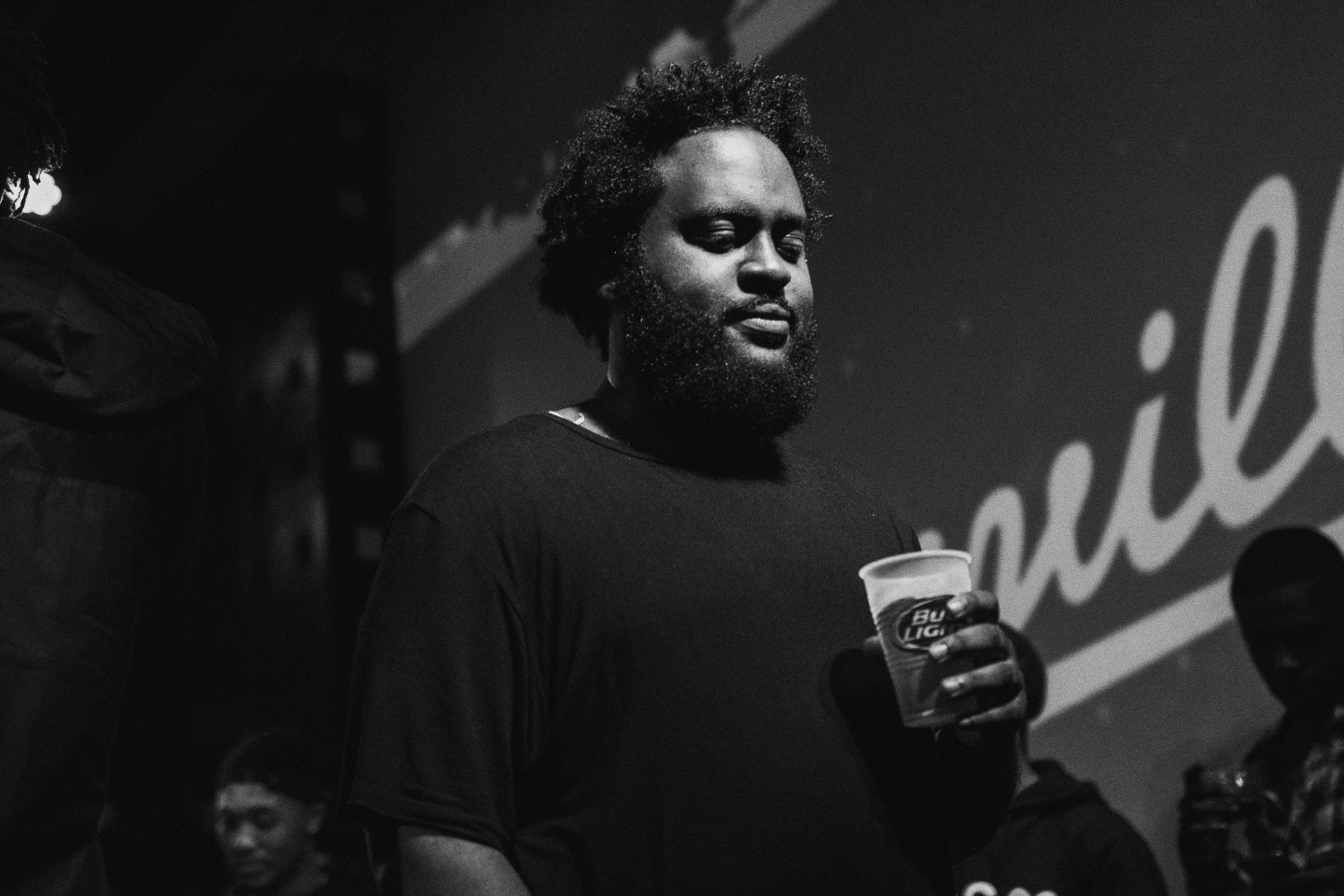 "There were people who never heard me before, had no idea I had other projects, who were like, 'What is this? This shit is dope. I fuck with it.'" —Bas
Originally conceived as a mixtape, Last Winter didn't exactly tear up the charts; it sold something like 3,700 copies its first week and had no real radio singles. Still, Dreamville fans bought into its boozy, soulful sound. And Bas spent two years touring with the music, slowly building his fanbase. To hear Cole tell it, this was all by design, a way to give his young homie a platform without having to make the same concessions he once did: like doing songs for the radio.
"I don't really give a fuck about the numbers," Cole said. "It's an independent mindstate, like we don't even have a label. We're taking a very slow and steady route. I just want Bas to focus on making great albums and getting out in front of people. If he gets a radio record, it should be organic, and even then, it'll be a bonus."
To that end, the goals for Too High to Riot were modest, far more about how it would be received than whether it performed well commercially. A heartfelt tribute to an aunt who passed away ("Live For"), writing about being black in America ("Black Owned Business"), and a thoughtful meditation about uninformed drug abuse ("Methylone"), Bas stretched himself creatively. In this, he wanted the album to establish that elusive thing that separates great artists from average artists — talent coupled with a distinct point of view. He worked diligently on his songcraft too, spending hours poring over harmonies and vocal inflections, the very things that give musicians their particular character. Listen as his voice matches the synthesizer swells on "Dopamine" and percolates to a hi-hat's breathy pulse on "Housewives." In its first week of release, the LP doubled the sales of Last Winter, moving 8,000 units. Progress.
"I think the diehard fans gravitated to it because they could see the progression and hear me finding myself," he told me in late June, months after the album's release. "At the same time, there were people who never heard me before, had no idea I had other projects, who were like, 'What is this? This shit is dope. I fuck with it.'"
---
Empty Modelo cans, red cups, and clouds of weed smoke. Derick Okolie's apartment in the East Village is a sort of post-collegiate office space, and on the night of Too High to Riot's release, The Fiends were mounting up for a late night run to the 24-hour Best Buy in Union Square. Outside, snow flurries fell from the sky. Twenty-odd dreamers, shadows in the night, set out in the dark. There was talk: of music, of food, of friends. These same sidewalks, these same buildings — memories were made here.
At Best Buy, a kid with a camera filmed Bas walking into the store. Everything was material. Employees eyed The Fiends suspiciously, but nobody noticed. His CD in hand, Bas was like a child now, finally given that new toy to play with. For a while, he just held it there, staring. The Fiends grew louder — all raucous joy — but in his head, all was quiet. For Bas, there was only this.
"You inspire me." It was a fan. The young man was holding back tears. Alongside him, an Indian girl. These were the die-hards. The ones who showed up at midnight. The ones who wanted to be there the minute Too High To Riot dropped. "I'm a fan of Bas's music but I'm also a fan of him as a person," said the man. "Many times, when he'd be performing with Cole at Madison Square Garden or at the Staples Center, he'd still meet me at the merch stand. He's a celebrity now but he doesn't act like one."
Bas turned back to the CD rack. He fished around more, picking up other albums: J. Cole's Forest Hills Drive: Live, Cozz's Cozz & Effect, the compilation Revenge of the Dreamers II, and whatever else he could find. "I didn't start rapping until I turned 23," he said. "I dropped out of school and had no direction. I almost got killed. But it was the best thing to ever happen to me."
He paused again, marveling at the moment. The albums. The feeling. This night. These people.
"The fear of dying will make you realize how wasteful it is to not be living up to your potential," Bas said. "And now, look, I really just walked into Best Buy at midnight and bought five albums from our team, from Dreamville. I mean, wow — that's kinda fucking crazy."