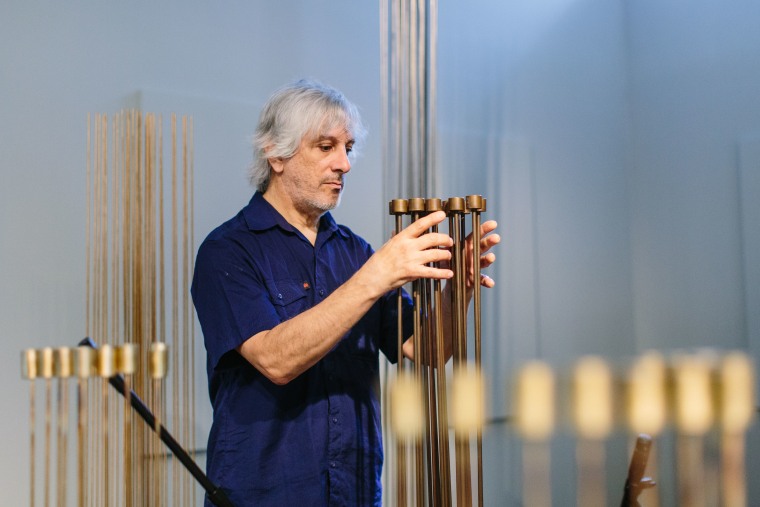 The Museum of Arts and Design in New York is currently hosting an exhibit called Atmosphere for Enjoyment: Harry Bertoia's Environment for Sound, consisting of some pretty darn cool sound sculptures by the late Bertoia, whose thirty five-year career was influential to artists and musicians alike. Lee Ranaldo, renaissance man and former Sonic Youth member, went for a studio session at the exhibit, and created an intricate track using the installation's many slender metal pieces. He had a lot of fun, as you can hear both from the peaceful yet exuberant nature of the song, and at the end of the recording when he says "that was so much fun."
"I've been wanting a chance to play Harry Bertoia's Sonambient sound sculptures for a long time," Ranaldo wrote in an email to The FADER. "Having once made metal sculptures of my own, I was familiar with the process of their construction. From the first time I heard the sounds these instruments could make, I've wanted to try my hand. There's something magical about the sounds they produce, and each sculpture has it's own unique sonic characteristics. On top of the amazing sonorities, playing Harry's sculptures is just plain fun!"
Ranaldo will be performing at Brooklyn's Issue Project Room this weekend, using some of the sonambient sounds he recorded in his performance, which is bound to be an experience.
On July 8 and July 15, the museum will host performances from New York­–based musicians Lizzi Bougatsos of Gang Gang Dance, and Lichens, a.k.a. Robert Aiki Aubrey Lowe, featuring site-responsive compositions like Ranaldo's.