This week, The Fashion Law reported that Urban Outfitters has won the most recent round of the trademark case filed against them by the Navajo Nation back in 2012. New Mexico Federal Judge Bruce D. Black accepted the hipster retailer's trademark fair use defense, thus approving the company's decision to brand panties, flasks, and other products as "Navajo." As the basis to their argument, Urban Outfitter's explained that the term has "acquired a descriptive meaning within the fashion and accessory market...the fashion industry has adopted 'Navajo' to describe a type of style or print." Despite the standing of Indian Arts and Crafts Act and federal trademarks, the court has agreed that the use of "Navajo" as descriptor of style rather than origin does not qualify as infringement.
The Navajo Nation, composed of over 50 chapters, holds more land area than any other native tribe in the United States, spanning parts of Utah, Arizona, and New Mexico. This is a tribe rich with history and tradition, not to mention they function under their own government, and run a college and a museum on the reservation. Yet somehow, our legal system permits an entire culture to be reduced to a style of print. If the blatant and offensive appropriation isn't cringe worthy enough, perhaps the fact that Urban Outfitters spokesman felt no remorse will further the disdain for this case. According to NBC, Ed Looram stated "Like many other fashion brands, we interpret trends and will continue to do so for years to come. The Native American-inspired trend and specifically the term 'Navajo' have been cycling through fashion, fine art and design for the last few years." Who knew pointing out the wrongdoings of others is a valid way to justify your own?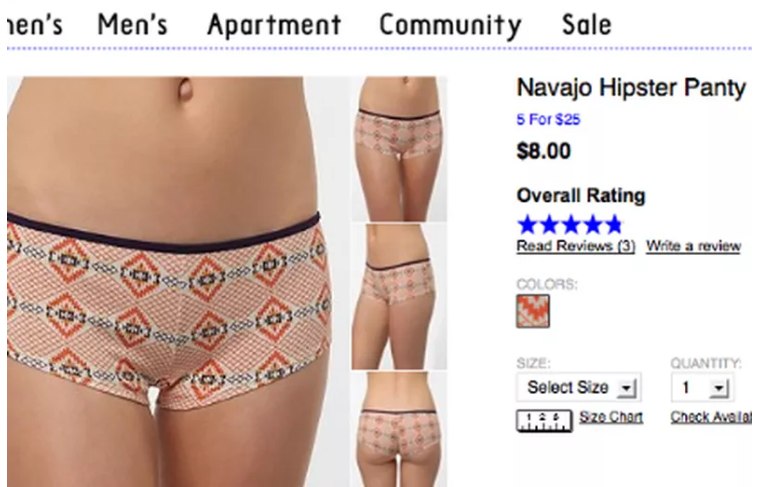 While the stance Urban Outfitters has taken in this situation is disrespectful there's truth to Looram's claims: popular icons, designers, and retailers are constantly appropriating the aesthetics of Native American tribes. For example, Pharrell and Khloe Kardashian have both donned headdresses, Free People is known to profit off of "Navajo"apparel and accessories, and perhaps worst of all was the acclaim that followed Dsquared2's Fall 2015 collection. Vogue celebrated the "exhaustive research and elaborate, expensive detail" that went into the Inuit-meets-Old European apparel, filled with colorful tribal prints and fur pelts, contrasted by corsets and tailored jackets with golden tassels. As Bustle pointed out, the collection glorified colonialism; here we have two white men mixing "native" garments with apparel inspired by what European colonizers were wearing, finished off with the hashtag "#Dsquaw." Ciara, JLo, and, surprise, surprise, Kylie Jenner are just a few of the celebrities who have proudly rocked the brand.
The weight of this issue should not be minimized due to its normalization, in fact, it should demonstrate how rampant cultural and intellectual theft has become. But on a more optimistic note, some music festivals in Canada, Osheaga being the most notable, have decided to prohibit native headdresses at their events out of respect. It is evident that more people should be taking a stance against cultural appropriation, or at the very least stop purchasing "tribal" wares manufactured by big-name retailers.