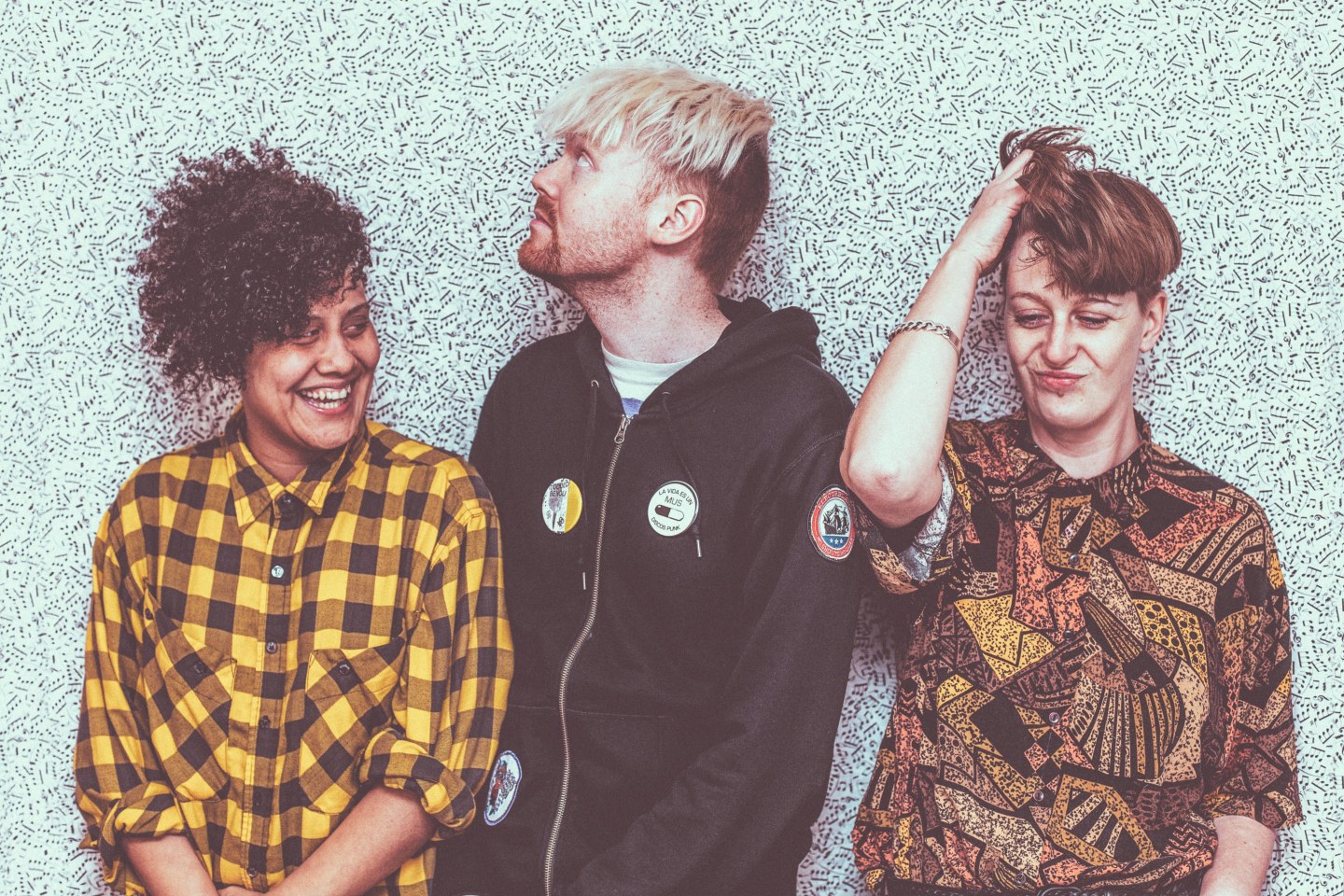 In my early teens I was largely interested in three things: kissing boys, kissing girls, and punk rock. I loved punk music because it was bratty and it felt good, but I sometimes struggled to carve out a place for myself within the scene. I always seemed to wind up at shows dominated by straight men, and I got little affection in return from an art form I invested so much in. At 15, I was already jaded by the unspoken sexism of my local scene — like the hardcore shows where I'd routinely get hit hard in the face by guys three times my size, or the male friends who assumed that my gender meant that I couldn't possibly understand punk in the same way as them. I longed for something that I could call mine.
So, just like most frustrated girls into aggressive music, I eventually discovered riot grrrl. In bands like Bratmobile and Bikini Kill I found a style of punk where the loudest voices belonged to women who talked openly about the type of sexism I'd encountered, and who countered it by prioritizing the safety and happiness of girls at their shows. In retrospect, the scene wasn't perfect — the genre has been criticized for not doing enough to include women of color. But for me, hearing punk with an explicitly feminist message was revelatory, and I was ravenous for more. The brazen, personal-is-political style soon led me to discover U.S. queercore.
Queercore as I knew it then was hardcore punk with explicitly "queer" lyrics that engaged with gender and sexuality in non-normative ways. Bands like Limp Wrist and their invitations to Come out of the closet and into the pit! tapped into a part of myself that I was still trying to understand. But it wasn't just queercore's lyrical content that thrilled me; it was the showy vocal delivery and outrageous performance styles too. Between Black Fag, with their elaborate costumes and hardcore send-ups, and Pansy Division's tongue-in-cheek kitsch aesthetic, I quietly developed a lust for camp in its many forms, which has stayed with me into adulthood.
Camp and queerness are, of course, two different things. For me, camp is the spirit of queerness enacted: it's all about outwardly revelling in that which feels somehow deviant from social norms. Sometimes camp has nothing to do with sexuality, and everything to do with how a performer constructs a relationship with their audience — female pop stars like Madonna and Katy Perry thrive on camp, but you wouldn't call them queer.
In the definitive 1964 text Notes on "Camp," Susan Sontag writes that "the essence of Camp is its love of the unnatural: of artifice and exaggeration." Queer punk relishes playing up to this, often in performances which take social prejudices about queer people — for example, that they're a threat to the nuclear family, or spend all their money on tiaras and glitter — and remake them as uglier, cuter, and more powerful than they were before. Punk rock in 2016, I am pleased to report, has camp in rhinestoned bucketloads.
Perhaps due to the widespread galvanization of previously marginalized voices through social media and activist circles, voices in the punk scene feel prouder than ever. It's happening on both sides of the Atlantic: in the U.S., bands gathering steam include New York garage duo PWR BTTM, and G.L.O.S.S. from Olympia, Washington, who play self-described badgalcore punk (and whose hard-as-nails Trans Day of Revenge EP is out now). But these queer voices feel especially loud in the U.K., where DIY venues that place huge premiums on community and inclusivity are springing up in a number of cities, and bands are responding to these new spaces which embrace them. In honor of that, here are some of the best bands currently being unapologetically queer, camp, or both, in British punk.
3. Actual Crimes
London three-piece Actual Crimes's songs mash together sonic elements that shouldn't match up, giving a discordant texture to their music that marks them out from anyone else on the list. That's what happens on "Trash" from Actual Crimes's 2015 EP 5 Songs, when raw guitars and drums contrast with a lilting soprano vocal to jarring, thrilling effect. Vocalist and guitarist Kirsty Fife explained to The Girls Are in 2016: "I don't really write songs about big P politics, but I think of the stuff we do as politicized because of the position and perspective I write from (as a working-class queer fat femme). I think making music or doing any sort of cultural work as a marginalized person is inherently political."
4. Cruising
With Irish punks Cruising, you get everything you might expect from a band that is ironically named after an Al Pacino film about a serial killer who targets gay men. The four-piece are equal parts mad as hell and delightfully seedy, especially on their single "You Made Me Do That," where Benni Johnston's vocals are just vague and echoey enough to transport you to a seedy club with smoke machines and unidentifiable pink drinks. Elsewhere on "Woman," vocals begin more gently before leading up to an assured, affirming chorus with lyrics that candidly embrace non-normative sexuality: Say who you are and shout your name.
7. Daskinsey4
Self-described on Bandcamp as "benders with agendas," Brighton band Daskinsey4 are bold about their queer politics and identities, and includes members from across the LGBT spectrum. Their sincere lyrics directly refer to queer sexuality (for example, You didn't seem like the kind of girl to act like this/ but then I saw you kissing her/ And I could tell that you really meant it on "Making Out") and are delivered by singer Maeve in a vocal which is by turns swaggering and fragile, with a penchant for the dramatic. Perhaps the most indie-influenced of the bands on this list, Daskinsey4 make guitar music reminiscent of The Long Blondes, another band I idolized in my teens and purveyors of high camp. Their songs center on personal relationships, and stress that your romance with yourself is as vital as any you might share with anyone else.