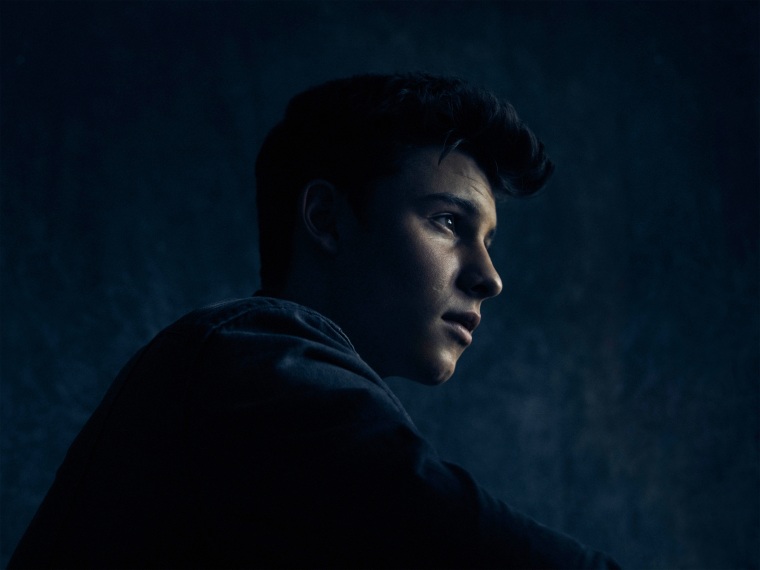 On "Ruin," 17-year-old singer Shawn Mendes takes Continuum-era John Mayer and turns up the pop sensibilities a couple of notches. It's a good trick, and one that fits right in on the Canadian signer's upcoming album, Illuminate, which will be released on September 23.
Following up his 2015 debut album and hit single "Stitches," Mendes has firmly planted himself in pop rock — a sound and space that has, for the past couple of years, been pretty much Ed Sheeran's for the taking. In his new songs, there's a ton of heartbreak and promises to stay by your side. In real life, Mendes, whose initial burst of fame came from Vine, doesn't seem to be as all-consumed by either romance or social media. He's left Vine behind and his Instagram is carefully curated. On the day we spoke in July, he hadn't played Pokémon Go yet but his best friend was out buying them Nintendo DS's, so they could conquer an older version of the original game.
Mendes stopped by The FADER's New York office, to talk about John Mayer's enduring relevance, adapting to internet-native fame, and the patience it took to make his new album.

"Ruin" has such heavy John Mayer vibes. Are you inspired by him?
Going into the album, I was listening to Continuum on repeat for like two weeks. Actually longer, months. "Gravity," "Slow Dancing in a Burning Room," "Bold as Love." So I went in with that whole John Mayer vibe, especially with "Three Empty Words" and "Don't Be a Fool." I think John inspired the album more than anybody. Bringing the pop flare into it was really easy and fun as well.
I saw he had given you a guitar once. Do you have a relationship with him?
We're actually getting to be really good friends, which is amazing for someone like me. He's my idol, musically. Yeah, he texts me all the time. Snapchats me, actually, all the time [laughs]. He gave me a guitar, and that's the guitar I'm playing "Ruin" on.
It sounds like the recording process was very clean, you mentioned you went to the gym a lot.
We went up to this place called the clubhouse in upstate New York, in Rhinebeck. It was the most beautiful area on this massive hill, and we'd just do whatever we wanted, for a week. And as long as we were writing music, we were being productive. We just did whatever we wanted, which was so fun for me. It was such a freeing experience, I think.
On most days, what's your escape from the internet? How do you get away from that?
Just turning your phone off, you know what I mean? You just have to sometimes. As much as the internet can be beautiful and amazing, it can be horrible and a nightmare. So you gotta know when to turn it off and go back to reality for a minute.
Do you think Vine is dead?
I haven't used Vine in a while, so I don't know what's going on with Vine. Is it?
I don't know. I thought you might have an expert opinion.
I have no clue. No expert opinion there.
Is it difficult to write a love song?
Writing love songs is the easy part. Writing the songs that are about life and the things that actually happen to you is the hard part. It's hard to dig into that second part of your brain and be like, "What happened to me? What's really affected me, either in a bad way or a good way?" And then, let's write about it. A love song can be a story. You'll never know when it's a story or when it actually happened to someone, which makes it a lot easier.
"Ruin" and "Treat You Better" both refer to being the third man in a relationship. Is that something that's actually happened to you?
Sure! Sure. No, that's not something that's like actually happened to me. Definitely thoughts I've had, but no, I wouldn't do that.
With "Treat You Better" and "Bad Reputation," you sing a lot about being a very good guy. Does that make you nervous saying out loud?
No, I think I'm a good guy! For the most part! I'll say I don't want to make myself a villain in my music. I'm not a hero though. I'm a very average guy.
The last album was very successful — are you nervous about this one? At least commercially?
I'm way more confident with this album, it's not even funny. I mean, I just feel so good about it. If it sold no records, I'd still be so much more confident. I'm so passionate about the music I created that, if it sold 10 copies the first day, I'd still be happy. You put a lot of effort into it — your heart, your soul. Everything goes into that album that you've been working on for the past year. So no matter what, it's a big thing.
How have you changed, personally, since the last record?
From 15 to 18, I feel like I'm a whole different person. I think just my understanding [has changed], in general. As vague as that is, it makes a lot of sense. Just understanding whatever it is: of people, of situations, of life, of the world. My patience has grown because of my understanding, and I think in general being able to grasp life and not let it get to me too much.
Some of your peers — people who became famous on social media — have had trouble growing up.
I just try to be as much as the same I would be if this wasn't happening. I don't think about it too much. I think that's the problem: people think about it too much. If you just live and just live to be happy, then you should be OK. I don't try to fill any voids. I'm just living and doing what makes me happy. If it makes me happy to go home and see my friends and family, then I go home and see my friends and family. If it makes me happy to be working my ass off for a month straight, then I work my ass off for a month straight. As much as I can vow to myself that I'm just going to do whatever it takes to make myself happy, without, obviously, affecting other people's lives in a bad way. The people I'm surrounded by are really awesome people, and are really heart-to-heart with me.
In adjusting to a new career, have you found peace activities besides your work?
So much so. Human interaction is the biggest thing. I meet so many people. My career is so much more than just singing, and being in pictures and stuff. It's like a whole experience in itself, and I am the luckiest person in the world.