Meet Lil Uzi Vert, The First Rockstar Of Post-Obama Rap
The Atlanta-via-Philly wavemaker is a new kind of avatar for a new kind of hip-hop.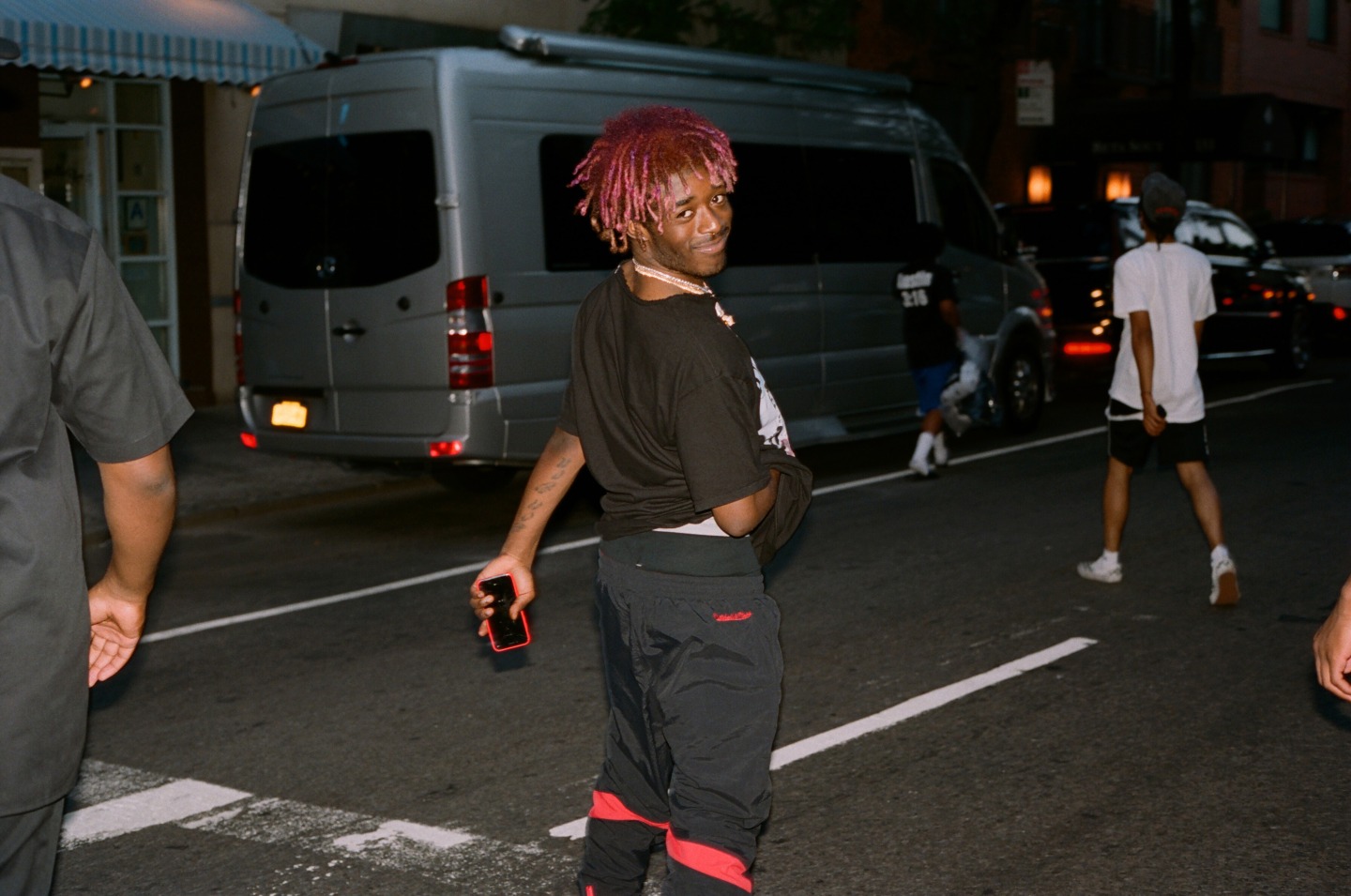 Lil Uzi Vert feigned disinterest, twisting his face and shaking his head, a bright mop of magenta-tipped dreads. "I hate interviews," he said. Uzi, 22, claims he doesn't let many people into his private life, and when we met on the edges of Weehawken, New Jersey — a Hudson River-lined town where he was staying the night during a tour stop — he was not so willing to speak freely. And why should he? "I don't trust nobody. Nobody. Not even the people around me," he said, his hometown friend Spike in earshot. "They just the people that I'm a little bit more familiar with. You can get familiar with people's ways; you can learn people. But you don't ever let your guard down."
That's not all true, of course. There is one recent exception: Brittany Byrd, his girlfriend and creative muse. On "Paradise," the airy bonus cut from his 2015 LUV Is RAGE mixtape, Uzi maps the highs of their relationship. That feeling of new love, as affirmed in the song, pushed the Philadelphia-born rager to truly open up for the first time. Paradise, it's somewhere that I never been before, he confesses on the blissful hook. We lip lock until our lips are swollen/ Live in the moment good times are golden/ I'm not gonna lie you got me open.
The pair's relationship, which is well-documented across social media, has been going on for about a year now, and on the day of our interview, they'd recently gotten back together after a week-long split. "I was being a little extra," was all Uzi would divulge about the rift. Just days prior, he punctuated the initial break in a solitary tweet: the word "Single" was followed by a two-heart emoji and the copyright symbol (one user, @siarah_, expressed a pretty unanimous sentiment among fans: "NIGGA CALL BRITT RIGHT NOW & WORK THIS OUT… WE WERE ROOTING FOR YALL!!!!"). Less than an hour later, he released an inky lament called "Stole Your Luv" on SoundCloud, which contemplated the rigors of intimacy and dating.
But that was days ago, and, for now, the past is just that. "She helps me with everything," Uzi clarified. Brittany, who's originally from Los Angeles, introduced him to a pescatarian lifestyle and provides creative assistance on shoots and music videos. Their co-dependence revealed itself in our time together: she was part of the reason we fought against evening rush-hour traffic into Manhattan to get to Dover Street Market, the New York City clothing emporium launched by Commes des Garçons founder Rei Kawakubo in 2013, before it closed for the night.
Uzi loves to shop, and he browsed through Raf Simons and Hood By Air garments in a relaxed, unhurried manner, even as high school-aged hypebeasts prodded him for a photo. He checked in with Brittany via text on multiple occasions (she was getting her hair done) and made sure his assistant D. Rich sent her the address to the restaurant he planned to go to next, and all the pertinent details for his show that night at Irving Plaza. An hour after we entered Dover Street, Uzi had spent just north of $5,000 and paid for nearly everything in $100 bills. He decamped with four bags full of various threads from Supreme, Vetements, and UNDERCOVER — at least half of which were for Brittany.
Lil Uzi Vert wasn't always a high-powered wavemaker with Super Mario tattoos and a fondness for girls who study design at Parsons. He was born Symere Woods, on the last day of July in 1994. Growing up in the Francisville neighborhood of North Philly — "the 1600 block, Ridge Avenue" — his boyhood was defined by video games like Mat Hoffman's Pro BMX and the cartoons CatDog and Franklin. Uzi only ever held one job, working at Bottom Dollar for "like three or four days" before quitting. He wasn't a star student in school, and took the job so his mom wouldn't kick him out of the house. "I knew that wasn't for me. I was like, Ew, I can't work here," he recalled, the creases in his face made visible by the memory. He would bounce between four public high schools — Sayre, Northeast, Olney, and Camelot; "I was just bad," he acknowledged — before falling into rap his senior year.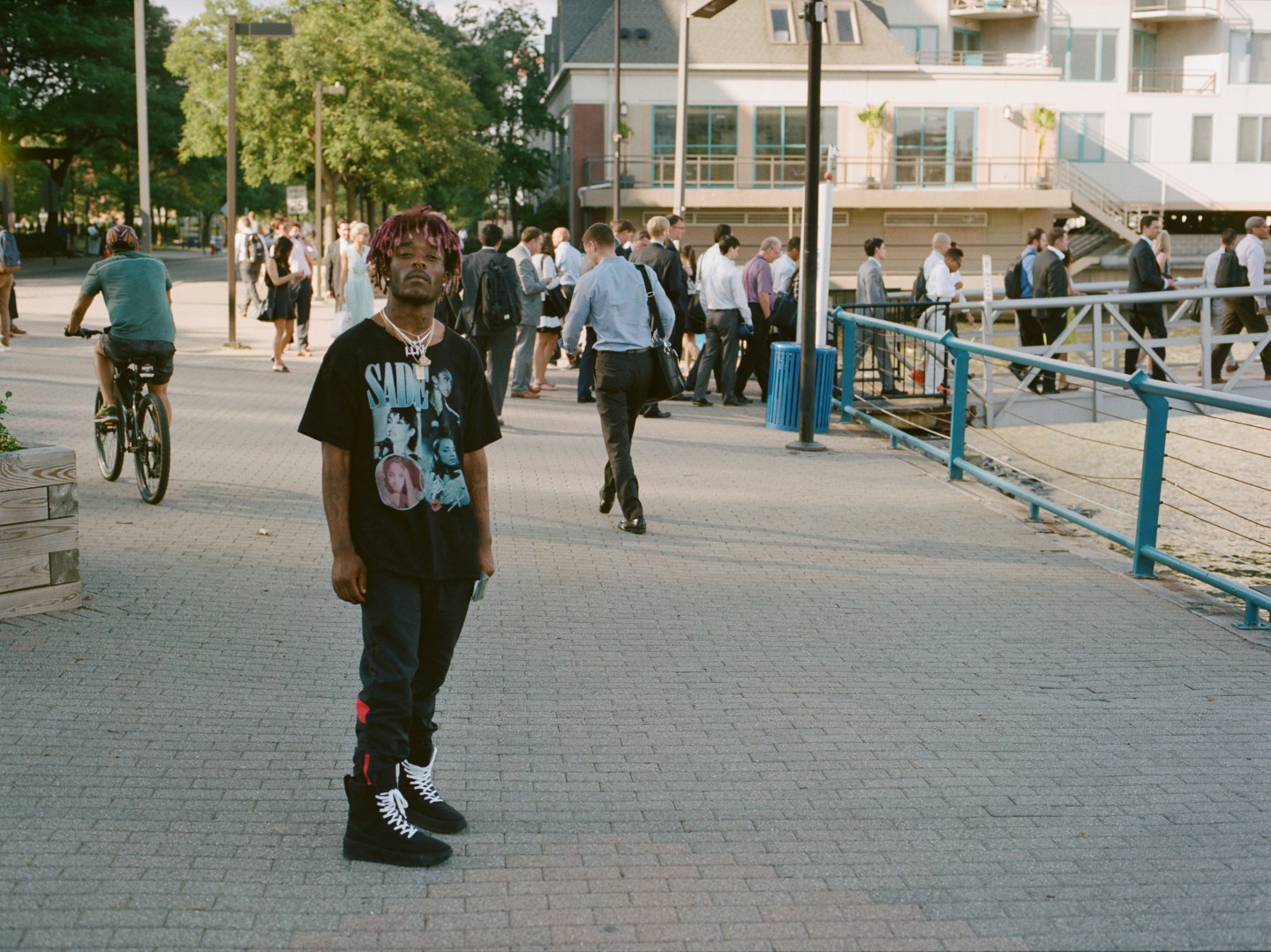 "You know who plan? Old people. I don't want to be old."
That was around 2012, the period after A$AP Rocky released his murky debut album and Big Sean's Finally Famous found a devoted fan base among newly minted college bros. Both releases, despite Rocky and Sean hailing from northern cities, embraced styles typically associated with the South, an approach a young Symere would later tap into in his own unique way.
Things began to take off in 2014 when Don Cannon heard the eponymous solo track "Uzi" — a Charlie Heat-backed, barrel-blasting allegory of survival — while driving to Atlantic City. Cannon linked Uzi with DJ Drama, another Philly native, and signed the rap upstart with Generation Now, their imprint under Atlantic. Though Uzi had already released two mixtapes, it wasn't until he recorded the DJ Carnage-produced "WYDW" with A$AP Ferg and Rich the Kid that he finally reached a considerable audience. The 16-track LUV Is RAGE followed — "Can I tell you a secret? [That's] a project that I really worked on," he said — and featured a guest verse from his idol Wiz Khalifa. "I don't really get starstruck, because I am a star," said Uzi, "but I kind of got starstruck when I met Wiz."
But it was Lil Uzi Vert Vs. The World, which came out last April, that solidified the fact that Uzi had become a rare vessel for the kind of sound Atlanta's ascendant rap scene has bolstered over the last half-decade. You know it when you hear it: the seesawing beats; the gliding hooks that feel like they're rising out of some dark, hazy hell; the erupting bursts of lyricism that twist and turn before suddenly dissolving; the tales of endless nights and lost loves and unpardonable fuckups. Uzi has a wunderkind-like proficiency for this particular style, and he knows it. When asked how he feels about being associated with the new contingent of weirdo Southern hip-hop, he answered without hesitation. "Everybody get everything from each other," he said. "Nobody really makes up nothing. You just see it, you like it, and you do it. And if you do it the best, that's all that matters."
Even though kindred spirits like Lil Yachty, Playboi Carti, and Young Thug ("That's my bro right there") have hometown advantage, Uzi is just as beloved in and beyond Atlanta's borders. But why? Maybe it's because his personality is tailor-made for the kind of bipolarity today's rap often embraces: in conversation he's chameleon-like, moving between extremes, distant and walled-off and then instantly endearingly open and engaged to the point where you begin to wonder if you could actually be friends. It could also be that he considers himself a rockstar more than anything, and embodies that motif completely — a new kind of avatar for a more evolved, post-Obama, post-trap sound. It may have taken root in the South, but through Uzi, the music could infinitely transmorph.
It's also possible that Uzi has emerged from the pack simply because he grinds really fucking hard. In our day together, it becomes clear that he understands how fortunate he is and that he'd be nothing without his fans, so he gives them his all: the delicious, dizzying hooks, the multichromatic music videos, the Instagrams of him and Brittany. Success is merely the result of his constant labor. The immeasurable support, the headlining U.S. tour without a major-label release in sight, the hospitality from Atlanta rappers and the home he moved to last fall in North Druid Hills — none of it, it seems, has gone to his head.
Later, as the van barreled down Lexington Avenue toward 15th Street, the thick hum of traffic dissipating, Uzi felt at ease. The partition, for now, had come down. "I don't plan nothing, I just do it," he said, speaking to his serendipitous last two years. "You know who plan? Old people. I don't want to be old."
From The Collection:
GEN F