How Dad Hats Became Status Symbols For Everyone
These hats are everywhere, and can be worn by everyone, and that's exactly the point.
In a brilliant synergy of trends and timing, 2 Chainz reportedly grossed close to $2 million in 30 days last December by selling sweaters emblazoned with a "Dabbin' Santa." Portions of proceeds went to 2 Chainz's T.R.U. Foundation charity, which helped out a disabled Atlanta veteran with rent and furniture and donated a car to another local family after a house fire. The success inspired another merch venture, CEO Millionaires.
"When you hit that second comma, it's a big deal," said Charlie Jabaley, 2 Chainz's manager, who co-owns CEO Millionaires. "Entrepreneurs are the new rock stars. With CEO, we wanted to sell that culture, and we wanted to help and influence these kids." Launched on New Year's Day, the Millionaires web store sells a line of products featuring its hustle-inspiring "CEO,000,000" slogan. There are shirts, hoodies, and no less than nine caps, all advertised as "Dad Hats."
"I noticed dad hats were a trend back in December," said Jabaley, 28, who also helped popular gossip site The Shade Room launch a web store. "So I'm like, This term? I'm going to blow it out of the water."
If a catchy name like "dad hat" makes for a fresh marketing opportunity, the actual hats are nothing new. They're cotton baseball caps with adjustable back straps, the kind that actual dads, kids on sports teams, and thrift store shoppers have worn for decades. Often found in solid colors and embellished at the front seam with a simple design, they're more low-key than snapbacks, fitteds, and trucker hats. But like each of those styles once did, dad hats are currently enjoying a flash of cultural ubiquity. They're a favorite of everyday socialites looking to breeze through a bad hair day and of musicians enjoying a low profile, like Rihanna and Bryson Tiller, whose face is regularly obfuscated behind a brim.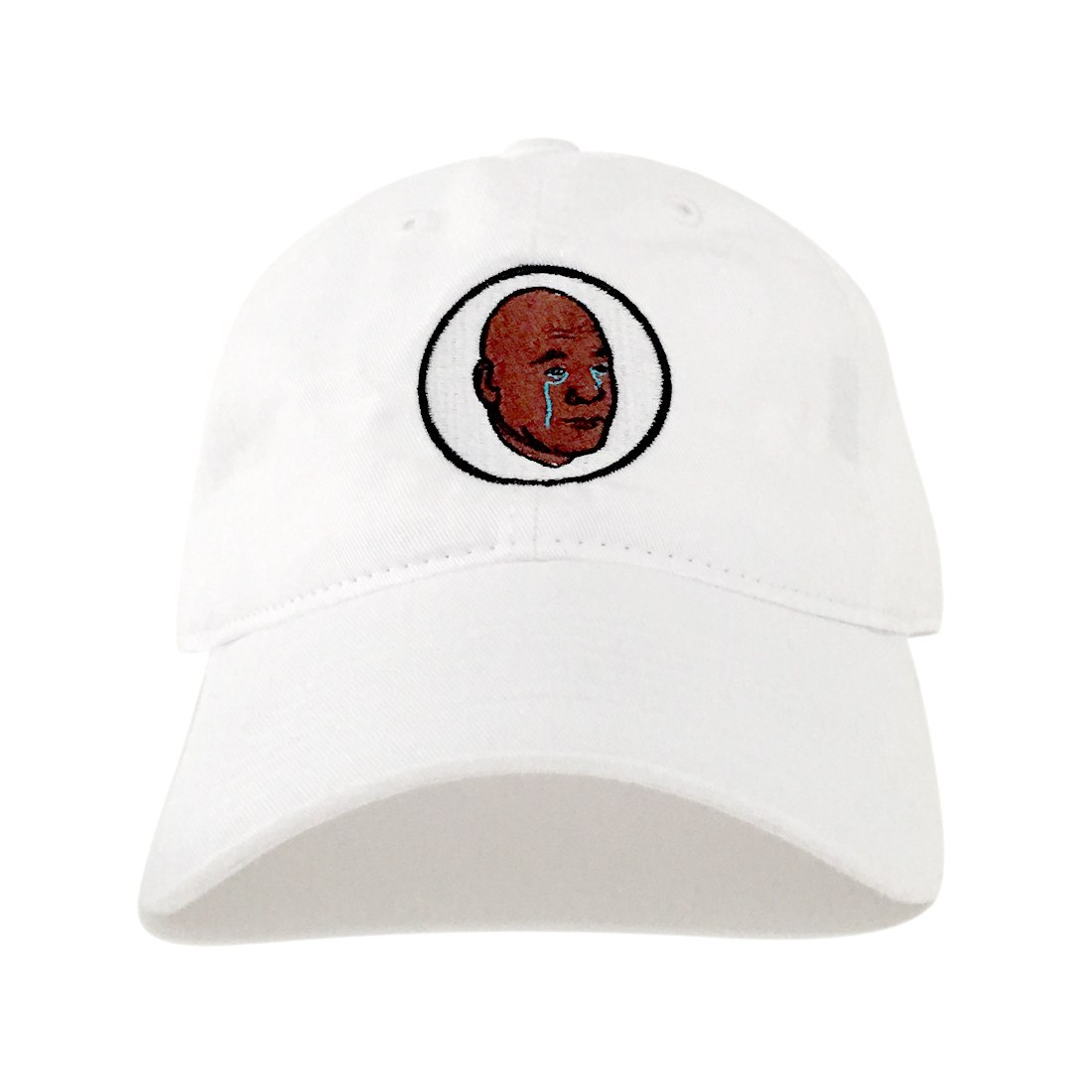 Perhaps dad hats have become so pervasive because they're inexpensive to produce. NASASEASONS, a line of hats inscribed with funny phrases that are designed by a French teenager named Alexandre Daillance and four of his friends, sell online and at the Paris boutique Colette for $50 to $70. But they cost just $7 to make, Daillance said. The hats 2 Chainz and Jabaley sell under yet another label, Trapavelli, are priced at $28 and produced quickly. They're intended to be sold (and then replaced with another dad hat) just as fast, drawing in customers with designs that reference up-to-the-minute memes, like Crying Jordan, or one that actually just says the words "Dad Hat."
For the trend-engaged, purchasing a fresh dad hat might be more fun and affordable than collecting the latest Jordans or designer purses. And a good one can be like a real-life, wearable Instagram caption, topping an outfit with a wink. "My collections started from my parties," Daillance said. "All my best friends were hooking up with people, but didn't want to hang out with them after. I came up with 'I came to break hearts,' and that was really successful, so I did 'Single for the night.'" A hat is covetable, he said, when it conveys originality: "It should be simple but not something that already exists. Where you're like, 'Oh, that's cool, I never saw that before.'" The basic form of a dad hat is notably unoriginal, which makes interesting logos and phrases pop out even more by contrast.
The blank canvas of a dad hat has also become a billboard onto which someone can broadcast their participation in a social movement. Looking to give his peers a way to celebrate their blackness after a string of protests over campus racism led to the resignation of the president of the University of Missouri last fall, student DeMontaz Brown launched a line of hats embroidered with the word "melanin" and sold them on his own webshop, MyMelanin. Ayda Gebrerufael's BrainByG hats honor her Eritrean heritage, with designs memorializing the country's independence in 1991, and are meant to be worn as symbols of African pride.
"It's the only kind of hat accepted by all the classes of society."—Alexandre Daillance, NASASEASONS
A couple years ago, I thought about launching a website to showcase people in music and culture with empowering stories about overcoming adversity. But last year I started selling dad hats instead. Embroidered with the words "get free," they spread the message of resilience and liberation I once hoped a site could express. A manufacturer provides both the hat and its embroidering for $7 and I sell them for $20. But making a profit isn't as rewarding for me as when people tell me that wearing the hat makes them feel good, or when I see that someone's worn one to a Black Lives Matter protest or on a trip abroad.
It seems dad hats have become popular because they're as functional and flexible as the generation that has revived them. Accessible to both buy and sell, endlessly customizable, and unisex, they have the potential to express both comradery and individuality. If trucker hats were a symbol of working people ironically popularized by ostentatious, overspending celebrities, dad hats are aspirational and universal, offering people from all walks of life an opportunity to feel cool. "I come from a high society type of class, and hats were not accepted," NASASEASONS designer Daillance said. "But hats with just a color and the logo, they've been worn so much by rich people, it's the only kind of hat accepted by all the classes of society. No matter who you are, it will be fine if you wear it."