Kanye's Twitter account seems to have disappeared. After searching for his handle @kanyewest, Twitter immediately shows an error page with the standard message: "Sorry, that page doesn't exist!" According to @TeamKanyeDaily, the Twitter authority on all things Kanye, fans seem to be viewing different messages when trying to access the rapper's account.
The FADER has reached out to representatives for Kanye and Twitter for comment.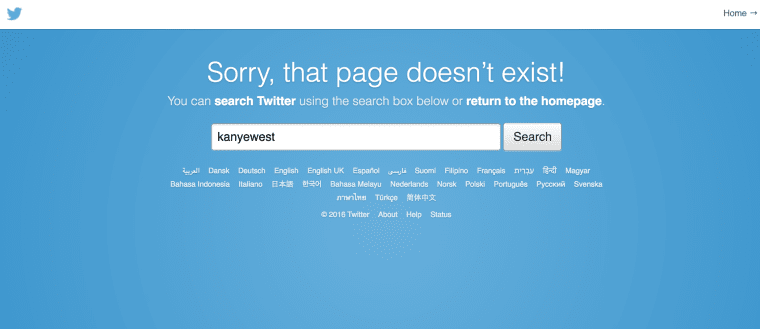 Update 8/7/2016 7:05 p.m.: Kanye's Twitter seems to be back up and running normally.
While Kanye's Twitter was experiencing glitches earlier, the account seems to be running smoothly and back to normal. Representatives for Kanye and Twitter have not yet responded with comment.
Update 8/7/2016 7:21 p.m.: Twitter says that some accounts were temporarily unaccessible, but the problem is now resolved.
In a statement to The FADER, a representative clarifies that the issue was not associated "with any specific Twitter account and is now resolved." They also released a public statement below stating that some people "may have briefly been unable to access certain Twitter accounts." Turns out Ye's account was just one of the unlucky few.