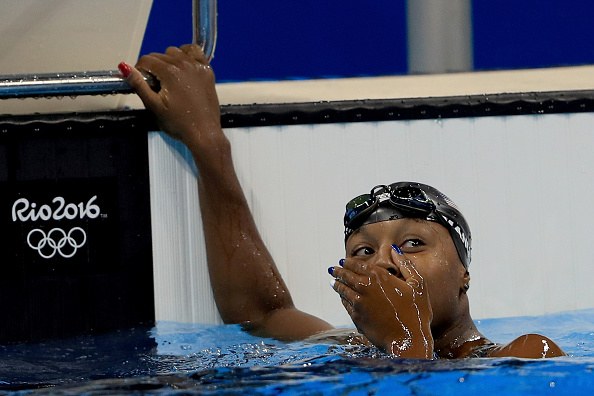 On Thursday night, American swimmer Simone Manuel made history with her race in the women's 100 meter freestyle. Manuel becomes the first black woman to win a gold medal in an individual Olympic swimming event, tying with Canadian Penny Oleksiak, and setting an Olympic record time of 52.70.
The 20-year-old Texas native will also take part in the 4x100-meter medley relay and the 50-meter freestyle on Friday and Saturday.
The historicity of Manuel's win is being celebrated on social media, with users offering praise for the American swimmer and historical context on pools as complex and traumatic spaces for black Americans.
First Black woman to win individual swimming gold for the USA. That'll always be yours, Simone Manuel. You're the inspiration now.

— Amadi (@amaditalks) August 12, 2016
clean swimming pools weren't accessible to any black people two generations ago by law. still not for many for economic reasons

— i am the sun (@MauiMescudi) August 12, 2016
simone manuel will reinscribe the difficult space of pools in black America. she's the future.

— Deaux (@dstfelix) August 12, 2016
this is for all the blacks kids who got kicked out of pools and for all the pools drained b/c black kids touched the water
Simone Manuel.

— profloumoore (@loumoore12) August 12, 2016