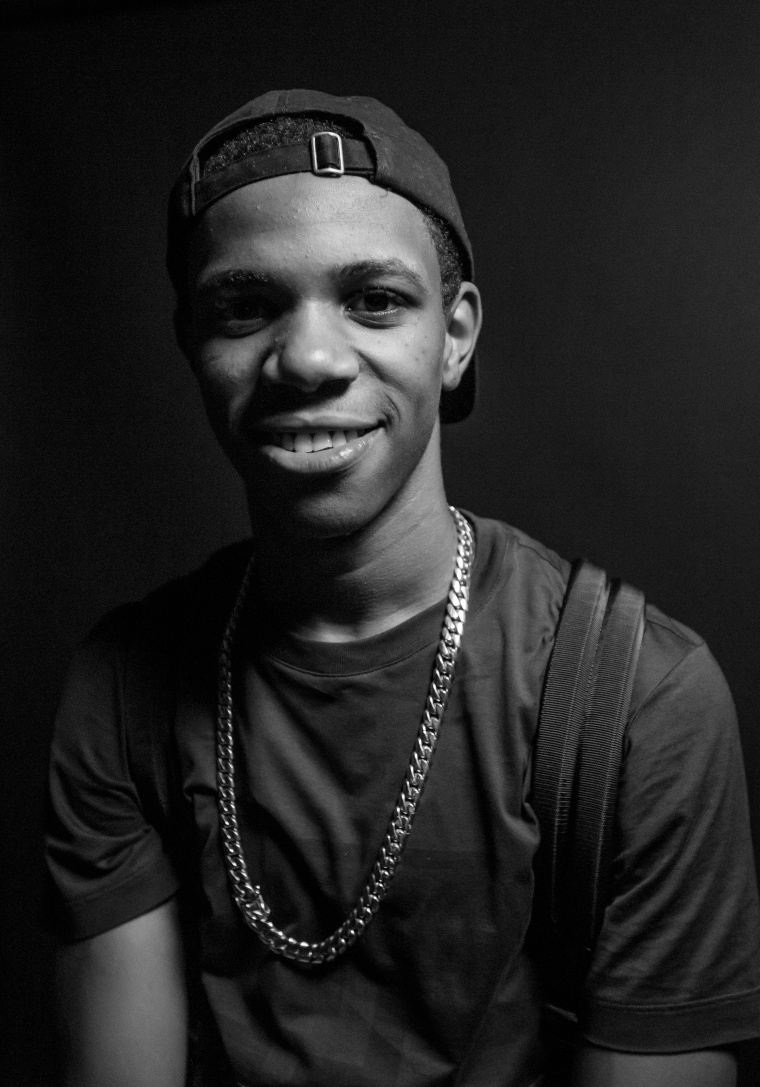 A-Boogie Wit Da Hoodie goes by A-Boogie for short — but his father named him Artist. That prophesied creativity began to materialize at 13, when he would rap for fun at the local park in the Highbridge section of the Bronx. This past January, he got serious and recorded the wildly catchy "My Shit." When he stopped by The FADER office in July, Boogie told me that before he even released the video for the track, the audio had almost one million views on YouTube.
As of this writing, the official clip —which features Boogie resting on a white Bentley and bubbly club scenes—has nearly 4.5 million plays, and the track itself has even more Soundcloud listens. Since its release, Boogie's fist-bumped by the rap community and artist like Meek Mill and DJ Khaled have shouted him out on social media. Drake brought him to perform at a Summer Sixteen Tour concert in New York last week and he also shared the stage with Lil Uzi Vert during a recent show.
Boogie said he didn't know the song would get him this much shine when he first recorded the contagious opening lines: In my bag now/ in my bag now. But when it dropped in the club, he says, everyone went crazy. We talked about what makes his sound different, how Highbridge has been his support system, and about his two-sided personality: part trap-enthusiast, part full-on romantic.
How did being from Highbridge influence you as a rapper?
Everybody around me was always rapping. That's how it is, everybody raps there. I was the only one that was good, so that's what I did. Everybody was always telling me to rap and freestyle. I used to go to the park and spit on the mic. If I go to the park, they always gonna give me the mic. It's a lot of love over there. It's like my engine right there. They just support me.
So when you first started taking music seriously, how many songs would you make in a day or week?
I'm not the type of person who makes a lot of songs in a day just to see which one is the best. I'm the type of person that goes with the vibe. I want to make every song a good song, so I just work on that one. Sometimes I do it in 30 minutes, sometimes I do it in two days. This one song I did took me eight months.
How long did you spend on "My Shit"?
That was a day. Like, 30 minutes.
It's been seven months since "My Shit" first dropped in January, and now you're getting all of this buzz pretty quickly. How are you adjusting to that?
I'm still adjusting. When it comes to things like people in my life — because I know a lot of people, I got a lot of family — there's a lot of people trying to get in contact with me, so that's a lot. I still don't know how to deal with it. I got so many people that have my number. It's crazy. I just don't feel like texting any body back after I get like 30 text messages in three hours. I just be chilling. I just work to keep myself busy.
When you first recorded the song did you think it would be this big?
Not when I recorded it, but when they played it in the club, yeah. The first time I recorded it I thought it was catchy, but I didn't really hear it because I was in the studio and I couldn't get that good feeling just from the speakers. I ain't hear all the speakers knockin' yet. So when we took it to the club next day and we heard it, and everybody was just bobbin' their head and dancing, I'm like, Oh, this is love.. I went back to the studio the next day, fixed the song up, and then we started doing something with it.
So when you took the song to the club, at what point did the crowd reaction come?
The reaction was like the intro, when I come in and say, In my bag now/ I'm in my bag now. That's when I caught everybody's attention and everybody started dancing.
What do you think it is that makes people love it pretty much instantly?
It's catchy. And I think because the way I'm singing too. Trust me, it get ugly/ If I wasn't getting money would you still want me/ If I told you I was broke would you start actin' funny — I think people can relate to that. People look for wordplay. Nowadays, people listen to the beat in the clubs and they go crazy and everything, but I really think it's [about] the words.

You don't sound like other rappers from New York right now. How did you find your sound?
It wasn't like I was trying to find a sound that was different from somebody. It was just like, it's me, it's my voice. I had to realize that. Even when I'm on a song, I talk. Sometimes I don't sing, I just talk and it sounds like I'm singing because I got a low voice. Like "Friendzone," if you really listen, I'm talking. Like, Two doors, black on black whip/ Told that bitch I'm from New York, she like my accent. I'm just talking, but it just sounds like I'm singing.
I found my sound through exploring. I was in the studio yelling, going low, trying things, and that's how I found that I have a lot of sounds. I started doing different things in every song. It's like I have two sides of me. I got the "Artist" side of me, and I got the "A-Boogie" side of me.
Tell me a little more about those two sides.
The "Artist" side of me is where I do my love songs, like "Friendzone," "ETP," and"Still Think About You." The A-Boogie side of me is like my trap songs. My trap songs I make for the streets, like "Bag On Me," "Bando" and stuff with a high tempo.
A lot of the songs on your Artist mixtape are about your romantic side. Why did you choose to emphasize that part of yourself?
Everybody in the world got a heart, so no matter how you do it, everybody got a heart. Everybody has a career. I'm saying it in a cool way. I'm making it cool — feel me?
Would you consider yourself a romantic person?
Yeah, I get there. But right now, it's just all about the grind.
So what's next?
My EP is next. I'm dropping my EP in a few months. I'm excited for that. I'm going to do a video for "Baecation." I'm still thinking of a name for the EP. My album is gonna drop after the EP. From there, hopefully, the album is just gonna go platinum.