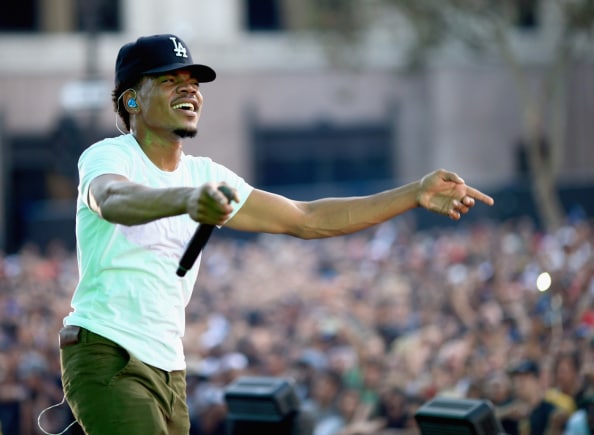 Nothing about Chance The Rapper's career has been by the book. The Chicago native has refused to sign to a major label - instead opting for an exclusive streaming deal with Apple Music for the release of Coloring Book - and has said that he won't ever put out a physical release. On Tuesday night, Chance took to Twitter to lay out plans for a new campaign that would help independent artists get play on major radio stations.
Chance has announced the launch of RapperRadio.com, a website that allows fans to enter their location and tweet a request to hear two of Chance's Coloring Book singles - "Smoke Break" and "No Problem" on their local radio station.
"The radio is like a huge listening party for people of all demographics to get in tune. In those moments it's mad ppl in harmony," Chance wrote on Twitter. "I want you to share my music in whatever city you're in with as many people as possible."
The campaign, which Chance is referring to as #optioncee, requires fans to have a Twitter account and will take place over the next few weeks. It appears that the campaign is already finding success, as Minnesota's GO 95.3 notes.
Visit RapperRadio.com and read Chance's descriptions of the campaign below.
I want you to share my music in whatever city you're in with as many people as possible. #optioncee

— Lil Chano From 79th (@chancetherapper) August 16, 2016
The radio is like a huge listening party for people of all demographics to get in tune. In those moments it's mad ppl in harmony #optioncee

— Lil Chano From 79th (@chancetherapper) August 16, 2016
#optioncee requires your twitter and will take place over the next few weeks. It has phases so I'll keep tweaking it but let's take over!

— Lil Chano From 79th (@chancetherapper) August 16, 2016