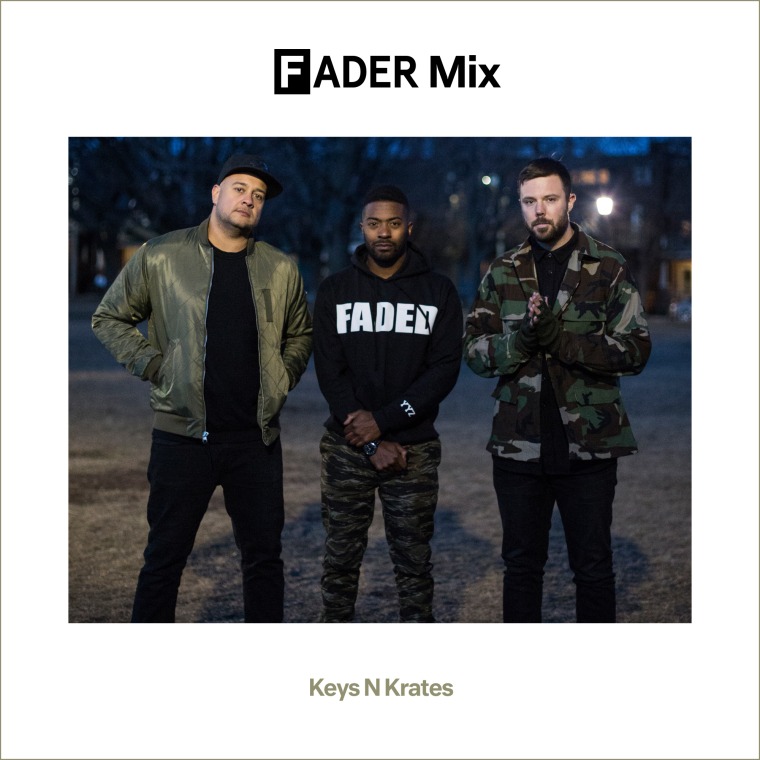 It's not easy to move any crowd but I've seen Keys N Krates do it. And, over the years, the Toronto crew has gone from a roughneck live hip-hop act to souped up stadium sound. "You don't want to be a salty hater who doesn't try things," the guys shared in an email to The FADER. This love of old and new, crowd-pleasing and cutting edge, is key (lol) to the group's continued success — particularly on the festival circuit — and you can hear it in this new FADER mix. Soul legend Roberta Flack brushes up against PC Music's SOPHIE, Toronto rappers Kardinal Offishall and P. Reign make an appearance, and the blend is anchored by a bunch of bouncy Keys N Krates originals. It gives you an idea of why these dudes are booked through festival season, with a break for their annual Keys N Krates Birthday Party in Toronto on August 28 (this year's guests include Lunice, Araabmuzik, River Tiber, Mannie Fresh, and more) of course. Wheels up.
Where are you right now? Describe your surroundings.
Right now, we are in the Atlanta airport (the Delta terminal to be exact) en route to Montreal for Osheaga Music and Arts Festival. When we're finished this mix we're probably all gonna take naps on the floor at our departure gate. There's a Popeye's next to our gate and the fried chicken smell is strong. Lately we've been on the road, from festival to airport. It's air conditioned to shit in the airports, and really hot at all the festivals.
Tell us a bit about this mix—what do you imagine people doing while listening to it?
I think we mostly imagine people in their apartments getting ready to go out for the night. It feels very much like a 'get you excited for Friday night'-type of mix. In the context of us traveling, the beginning of the mix kind of feels like the plane taking off. So the mix could really be good for going somewhere where you'll have a lot of fun.
You guys are on the road for festival season right now: what's the best way to get the most out of a festival experience?
Don't plan too much. You'll burn out early. Just let stuff happen. Also drink lots of water and don't drink too much alcohol 'cause that will burn you out, as well as dehydrate you. Also in-soles (we fux with Dr. Scholls) for your shoes are a great idea 'cause your dogs will be barking by the end of the night.
What's the difference between playing a festival versus a club gig?
Well we always play our live show at festivals and tend to keep our actual DJ sets for smaller clubs, so that gives the two sets very different vibes. For the most part, when we play a festival we have a very pre-planned live set that's supposed to take the crowd on a journey and experience, whereas when we play in a club the DJ set is more loose and spontaneous and based on how we feel at that exact moment. The DJ set also gives us a chance to play other artist's tunes that we like, that has stuff in common with our music.
What's the last book you read that had a big impact on you? And why?
Anthony Bourdain's Kitchen Confidential. Doing music has ups and downs, and requires constant reflection about how what you are outputting fits into the world. It was really cool to see someone laying all that out in a totally different field. Really identified with Bourdain's disdain for certain things like brunch 'cause that's how we feel about certain production techniques or sounds. Identifying stuff you don't like helps define your direction as an artist, but you also don't want to become a salty hater who doesn't try things.
And finally, what's your favorite dish to cook and how do you make it?
Wish one of us could cook! Flo (Greg) is good with the smoothies. He makes excellent breakfast smoothies that have stuff like almond butter and hemp protein, and basically taste like milk shakes, but are healthy.
Tracklist
MIDNITE MASS X DIAMONDS DANCING (KNK EDIT) - KEYS N KRATES
U ALREADY KNOW (KARDI VIP RMX) - KEYS N KRATES FEAT. KARDINAL OFFISHALL
HARD - SOPHIE
U KNO - FISHERMEN
GONE - ROBERTA FLACK
LOVE AGAIN - KEYS N KRATES
RAPTOR - RUSTIE
BURY IT (KEYS N KRATES RMX) - CHVRCHES
UNDERSTAND WHY - KEYS N KRATES
UNDERSTAND WHY X UBER EVERYWHERE (KNK EDIT) - KEYS N KRATES
ANTIDOTE (KNK CINEMATIC COVER VERSION) - KEYS N KRATES
HYPNOTIK - KEYS N KRATES
GO GO - BAAUER
MSMSMSM - SOPHIE
ALL THE TIME (SLOWED THE F DOWN VERSION) - KEYS N KRATES
YES WE FADED - KEYS N KRATES
FADED - KEYS N KRATES FEAT. P REIGN
SUMMERTIME MADNESS - KEYS N KRATES
BIRTHDAY - BOYS NOIZE FEAT. HUDSON MOHAWKE & SPANK ROCK
ID - KEYS N KRATES
BIG CATZZ - RUSTIE
NOTHING BUT SPACE - KEYS N KRATES
Tour dates:
Aug 17 / Kamio (Red Gallery) / London, UK
Aug 18 / FM4 Frequency Festival / St. Pölten, Austria
Aug 19 / Pukklepop / Hasselt, Belgium
Aug 20 / Razzmatazz / Barcelona, Spain
Aug 26 / Mad Decent Block Party / Dallas, TX
Aug 26-28 / Imagine Festival / Atlanta, GA
Aug 28 / Keys N Krates Birthday Party 2016 / Toronto, ON
Sep 3 / North Coast Music Festival / Chicago, IL
Sep 3 / The Mid (NCMF Afterparty) / Chicago, IL
Sep 4 / Nocturnal Wonderland / San Bernardino, CA
Sep 9 / Mad Decent Block Party / Eugene, OR
Sep 10 / Farm On Fire / Pataskala, OH
Sep 16 / Rifflandia Festival / Victoria, BC
Sep 18 / ageHa / Tokyo, Japan
Sep 23 / Life Is Beautiful / Las Vegas, NV
Oct 8 / Masonic Temple / Detroit, MI
Oct 22 / Halifax Pop Explosion / Halifax, NS
Oct 29-30 / Something Wicked / Houston, TX
Dec 10 / Bill Graham Civic Auditorium / San Francisco, CA
Feb 16-19 / Mad Decent Block Party / Maya, Mexico