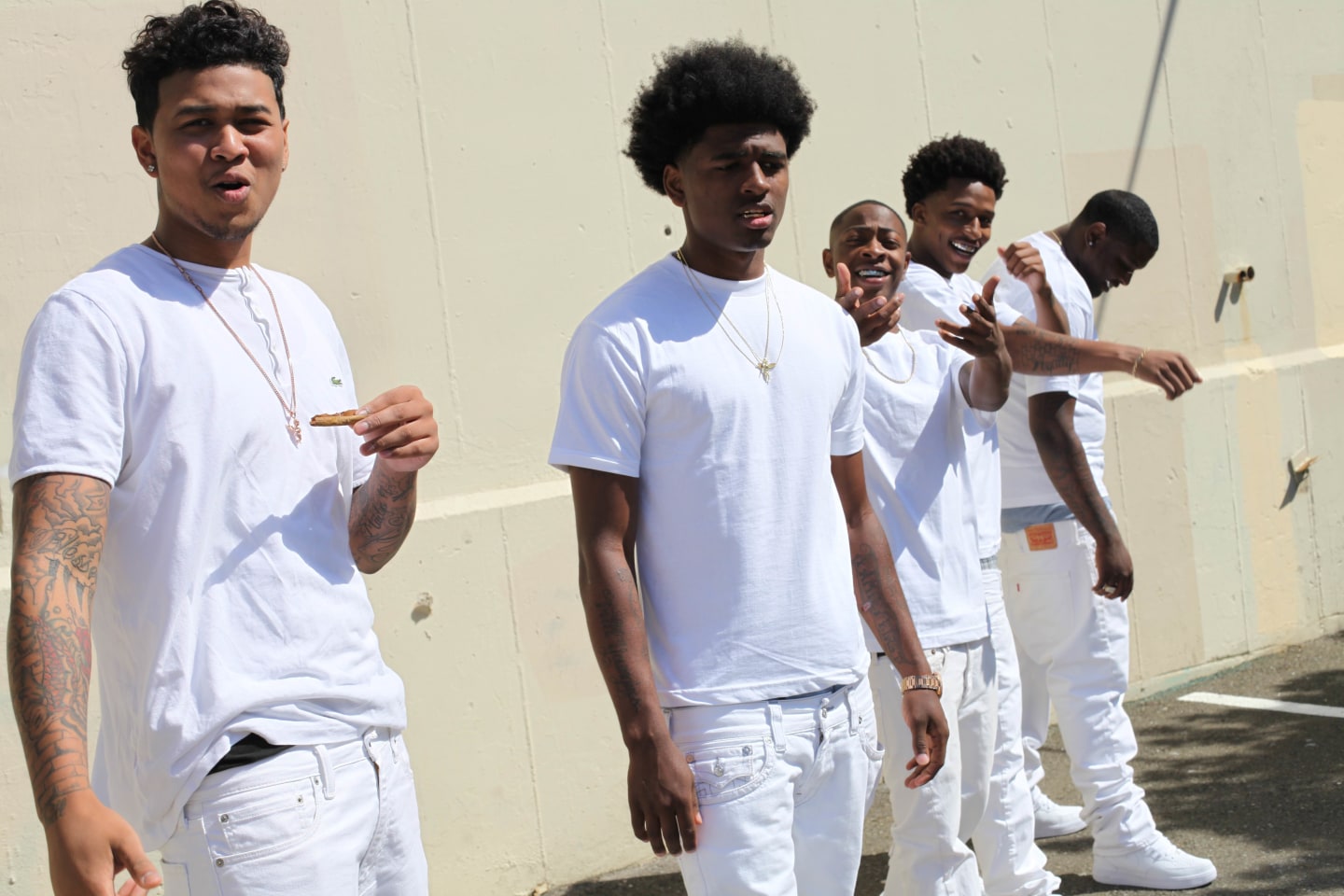 Trill Youngins' music makes you feel like you can do anything. Start with their homegrown hit "I Look Fly." From the opening candy-coated chords to the insanely catchy hook, it's a universal anthem for feeling yourself and flexing freely, so infectious that it gained attention and a remix from fellow Bay Area rising stars Nef The Pharaoh, IAMSU!, and Show Banga.
On Trill Youngins' 2015 album, Rich This Summer, and more recent Upperclass Lifestyle mixtape, the group prove they are fantastic storytellers, sharing heart-hitting songs about come-up dreams, young love, and looking fly. The magic, here, is that no matter the story, you always get this bright, stokage-inducing, and uplifting sentiment from their sound itself.
This is particularly special and important given where the guys are from. Describing their neighborhood, group member Clear It Out put it like this: "It's the slums, baby. It's a cool area, but it does get hectic. It's a good place to grow up because it teaches you a lot, but then at some point, you're gonna wanna get out of here."
On a recent trip out west, I met up with Clear It Out, along with Trill Youngins' Lay Em Down, Sonnie, and Mitche (fifth member Capolow is currently in prison), to talk about how they got their start, growing up and making music in East Oakland, and how they got that uniquely electrifying sound.
How did Trill Youngins come together?

LAY EM DOWN: We all met through the streets and school, so we were all close since we were teenagers, middle school. We were friends before the music, played basketball with each other. Me and Clear [It Out] is blood brothers, and then these guys — blood couldn't make us no closer with these guys right there.

We had found a studio on High Street, the Boys & Girls Club, and we were just in there everyday continuously. Sonnie was sitting in there, and he was like, "Shit, I'mma try it." The next day he came with his whole song written out, like "Let me record." And Mitche just kept bugging me, like "Let me sing, let me sing." So the next day he comes with his whole song written out. It was the "Post To Be" remix. After that, we linked up with Famlife Entertainment. And they flew us out to Dallas, but they were trying to give us a bullshit-ass deal.

This was December 2014. We weren't making music as a group, just as individuals. Trill Youngins is a brotherhood before music. Eventually, we came to an agreement like, shit, we're just gonna be a group. We didn't take the deal, so we came back to Oakland, and by the time we came back, I produced "I Look Fly" and came up with the hook. I sent it to everyone and they were like, "This fire!" And once we recorded the song and put it out, the response we got was amazing. From then, it was just like, we're a group and we're gonna stick with it. And now we rockin'.
There are five of you, I'm sure disagreements happen. What kind of things do you guys butt heads over?

LAY EM DOWN: This shit ain't just hunky dory over here. But after it all, we come to an agreement on what we wanna do. It ain't just one person saying "It's gonna be like this." Everybody got their own opinion and their own thoughts on everything, so we straight. When there's group shit, you better be there. You wanna do something by yourself, get it done on your own time. Whoever booked the session, they just tell us, "We got a session this day this time, make sure you're all there." And we do songs fast. When we're all together, we knock out songs quick. We did the album in eight hours. Every song was written, we just came and laid everything.

CLEAR IT OUT: The group always wants to wait years to release music — I'm ready to bubble. I don't know, I feel like when you let fans wait, it gives other people time to step on your neck. If we become irrelevant, it's gonna be hard to become relevant again. We got good music, so... if fans are gonna keep listening, keep making them listen. I ain't with the waiting. I want my ends right now. Sound changes. If we're making our sound like today's current music and then tomorrow that sound changes, it's like, "Damn we did some songs for nothing, we're basically wasting our time." If we're dropping, dropping, dropping, and getting our music out there, it's not like we wasted our time. We did it, we got it out, and now it's time to switch our style up. Once a style is gone, it's gone. It ain't no bringing it back. Like the hyphy movement, everybody wanna bring that Hyphy movement back. That's not coming back. Bye bye, hasta luego amigo. Ain't no more Hyphy movement, it's a new sound now.
SONNIE: We work quick, because where we come from, we never had studios. We had the Boys and Girls Club so it was like a time limit. Whoever got there first, it's your time, it's your day. You could be considerate, and sometimes you could be like, I'm doing all my songs. You only get three hours, from 5-8. So if I get there at 4:45, and I'm there first, I'm going in the booth first.

LAY EM DOWN: We're really serious about music. All of us dropped a lot of shit. I could've been a basketball player, I could've played college, but it was like, "I'm cool Imma just fuck with music." I feel like, if you don't put something first, you don't really love it and don't really wanna do it. You gotta be determined, make sacrifices and all type of shit to get what you want.
Everybody dropped shit for this. Mitche got a daughter, he got two kids. Sonnie goes to college, but Sonnie's like, "Shit I gotta miss this class on Friday because we got a show over here." He'll be like, "I gotta miss two days out of my schedule because we got a studio session." If you can't sacrifice shit like that, then it ain't for you, it ain't meant for you to do it.

It hurt us right now that Capolow in jail, because we're about to start getting ready to work on another album. We don't know the exact date that Capolow's coming home, and it's like, "Shit, we ain't got Capolow. Thoughts on what you wanna do?" But, hopefully, when he comes home, it'll all be good and gravy. He's the catchiest nigga on this earth, the GOAT of the group. He's very talented for real. He's versatile with everything he does. He can make a lot of shit happen.
What was it like growing up in East Oakland?

CLEAR IT OUT: It's the slums, baby. It's a cool area, but it does get hectic. It's a good place to grow up because it teaches you a lot, but then at some point, you're gonna wanna get out of here. Like, "OK, now it's time for me to expand my life and go on to better things." I wouldn't raise my kid here, I wouldn't want my kid experiencing what I experienced or going through what I went through because over here, it's basically like, an over and over thing. But I respect it for what it did for me, and that it got me where I'm at. It motivated me.

LAY EM DOWN: Oakland ain't too big, it's a small city, but it's big. To us, it's big because there are certain places you really can't go, certain areas you've gotta stay within, so it's like it's really a danger zone out here, to keep it 100. We've got one of the top murder rates out here and as a young dude, we have to watch our backs and shit, just keep our eyes open for shit all the time. You would be walking down the street, shots get to ringing off, and you'd be like "Oh shit, where am I about to go?" We've been at parties where right after shots started going off, and niggas be like, "Wow I could've died."

SONNIE: You get used to it, "So-and-so woo woo just got killed," luckily it wasn't one of my niggas. It's fucked up, but it's just like, shit.

LAY EM DOWN: It ain't a terrible city, it's a good city, but the shit that happens out here… It be a lot going on. I love Oakland, though. This where we're from, shit. If I make it today and start making hella money, millions and shit like that, and branch off to L.A., I'm still gonna come back and show love. I'm gonna shoot videos and hella shit over here. Charity, giveaways, I'm gonna be giving back to the kids and all that shit. I love Oakland.
You had some old songs that you took off the internet. Why'd you take them down?

SONNIE: Our old songs did numbers. Like in 2014. I had a song called "Blaze It Up," it did 100k plus views. It was like gangsta music type stuff. It's lost in our archives. We were taking it down, though, because we didn't really want that image anymore. We wanted to start fresh because the city was hating on us, like, they don't let us do shows, because they try to say we're gang-affiliated.

LAY EM DOWN: We can't perform in Oakland. When we perform in Oakland, we've gotta put up all types of money, we've gotta get all types of police officers to come do security for the venue and all that shit. We don't even wanna go through that, because it'd be like, "Why the fuck am I paying for all of this stuff if I can't make nothing from it?"

I gave up the gangster and all of that music because a lot of kids look up to us. My little brothers and little cousins, they love us to death. All they wanna hear is Trill Youngins. A lot of kids look up to us and that's a good thing because if they look up to us at that age, as we grow, they're gonna grow, and they're gonna be fans. But for how long? Who knows?

In June, you guys opened for Kamaiyah's sold-out Oakland show. How'd that happen and what was it like?

LAY EM DOWN: She came to us first, like, "Y'all wanna open up for me?"

CLEAR IT OUT: We actually got a song dropping with her and Iamsu! We were talking about the vocals, and she was like, "I got a show, you all trying to open up?" "Uh, yeah!" (laughs) "Hell yeah!" She finally hit me, "Yeah, it's a go. We're just not going to put you on the flyer because 5-0 be trippin'." We were like, "Alright, cool." We took the opportunity and ran with it. We rocked it, I ain't going to lie. Just as well as the crowd was singing her songs, they were singing ours too.

MITCHE: That night opened up a lot of doors, too.

LAY EM DOWN: A lot of people in the industry, and big people were there. And they was even fuckin' with us. When we got off stage, they were like, "Who are y'all?!" because they saw the crowd reaction when the dude first introduced us, like, "We got Trill Youngins!" The crowd went nuts! When the song dropped — when "One Bitch" came on — it was like "Wow." The crowd sang the whole song, from beginning to end. Then, "I Look Fly" came on. The crowd went dry for not one song!

Marissa from Hot 97 was there. She came to me and was like, "I was watching you from like since you first came in here. Is y'all a group? Is y'all hiding in Oakland?" I told her, "The crowd just showed you for yourself — this is us." She was like, "Wow, I didn't know who you guys are!" And she took my number down and shit, and Scottie Beam was talking to Mitche.

What are your relationships like with other Bay area artists?
LAY EM DOWN: We really fuck with Nef, and Nef really fucked with us. Nef was on a live broadcast with 106 KMEL. Big Von asked him "Who the hottest niggas in the Bay?" He tagged us, like, "Where Trill Youngins at? Get y'all music to Big Von." This was before we really even knew Nef yet. We didn't even know him all like that. We just knew him from "Big Tymin'." He just did all of that on his own. We were like, "Damn, that was love right there!" Because we don't even know the dude! When we got the music to Big Von, he spinned it! That's love. After it spinned on the radio, and all that – and Su! shouted us out too. We asked them, "You want to get on the 'I Look Fly' remix?" They was like "Hell yeah!" Then we reached out to Show Banga too. Every time we hit Show Banga he be like "My guys!" And we might just shoot a video for the remix.

What are your goals for the coming year?

SONNIE: We're really trying to branch out and grow our fan base. We be checking our views — where we're getting plays and all that. We just want to get to those cities and do some shows and see the response we get.

LAY EM DOWN: I want a true fan. I want true fans that, no matter what I do, they'll like it. Like, if I was to put out a mixtape right now and charge $20, they'd all buy it. I want my fans to truly love who I am and like my music for what I make. The fans is where everything comes from — where your cut comes from, where your life comes from. Your music is your fans.

MITCHE: I want to go somewhere I've never been. In this music shit: I really want to get on. I put off everything for this. I had a job — I was working at Stanford Hospital. I was a facilities assistant. So I walked around, reported all the damages, made work orders and all that. I blew that off for this. I'm all in. Lay Em Down told me last year, "Either work, or do this." I had to make a decision.

LAY EM DOWN: We want people to know we came from nothing: we started from the ground up. We don't want you to keep feeling sorry for us. Life goes on. If you're going to give us what you're going to give us, you're going to give it to us because we're talented young men, and we deserve what we work for. That's just what we feel. We want to see how far music can really take us in life.