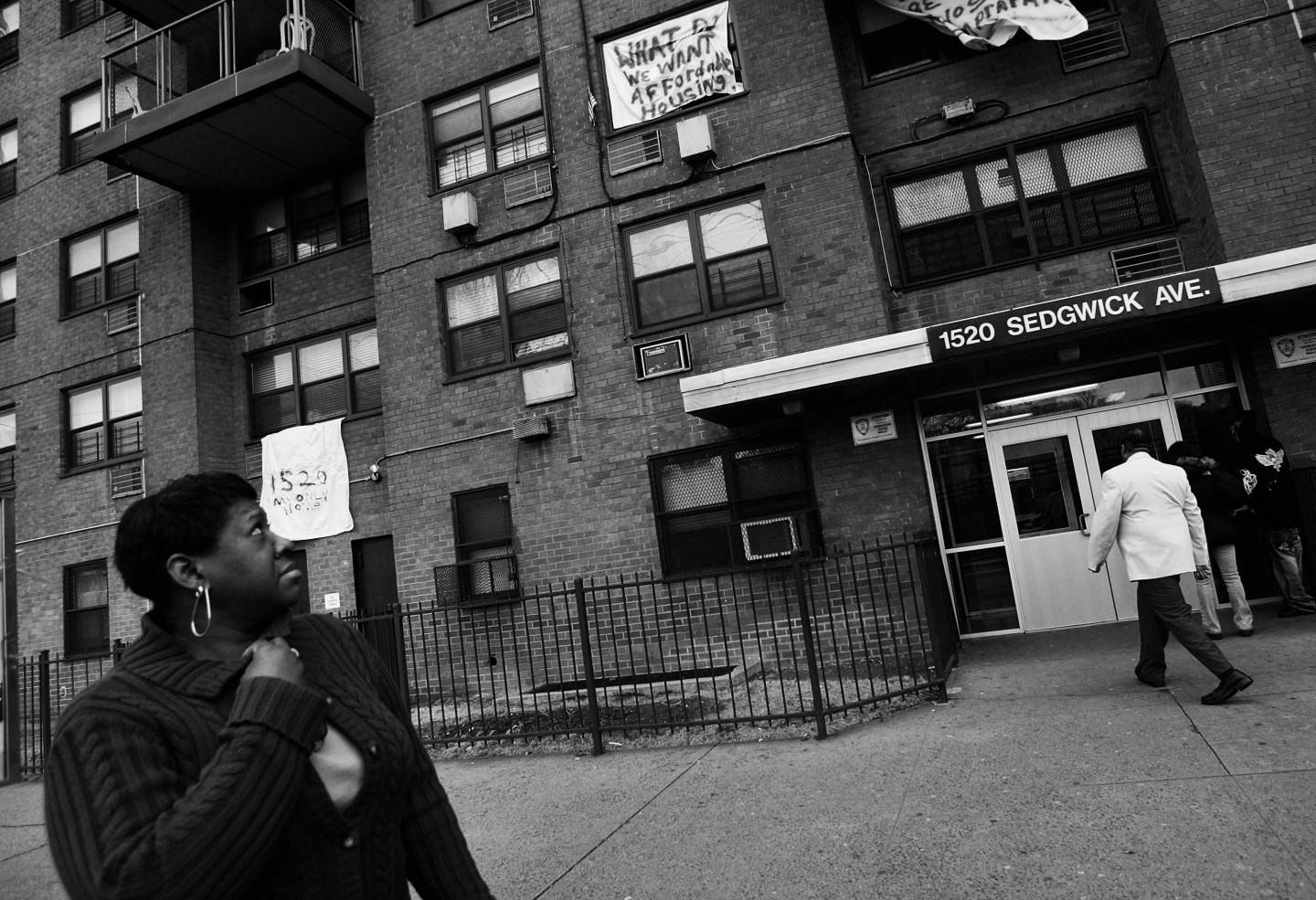 Broken glass everywhere/ People pissin' on the stairs, you know they just don't care/ I can't take the smell, can't take the noise/ Got no money to move out, I guess I got no choice/ Rats in the front room, roaches in the back/ Junkies in the alley with a baseball bat/ I tried to get away but I couldn't get far/ Cause a man with a tow truck repossessed my car
— Grandmaster Flash and the Furious Five, 1982
Life in the so-called inner city has always been a major theme in hip-hop. From the desolate state of the Bronx Projects described in Grandmaster Flash's "The Message" to the poor conditions in parts of Brooklyn and Queens recounted by artists like Jay Z, Biggie, and Nas, rappers have used their music to offer a glimpse into urban spaces across the United States. For decades, they've used verses and hooks to allude to the relationship between hip-hop and architecture — overcrowded, dilapidated towers have been the backdrop of the genre since its inception. But that relationship is more significant than it appears to be, says architect and designer Mike Ford, whose pioneering research in the field of hip-hop-inspired architecture has earned him a fitting sobriquet: The Hip-Hop Architect.
Ford, who was born in Detroit and studied architecture at the University of Detroit Mercy, is shedding light on how the historical failures of urban planners and policy-makers working in black and Latino communities actually led to the creation of hip-hop. Last week, those failures, and their sociopolitical implications, were confronted by The Get Down, a new Netflix show chronicling the birth of hip-hop in the burning Bronx of the '70s. The series' opening song, recorded by Nas and Michael Kiwanuka, lines up perfectly with Ford's research: Six powerful men put New York through some drastic times/ The rich and selfish ones feed off the welfare ones/ And which borough suffered the worst? Hmm where I'm from, the Bronx, Nas raps.
In addition to his research and design work, Ford recently became the lead architect for the Universal Hip Hop Museum, a Bronx-based project that seeks to celebrate and preserve the genre's history. When The FADER recently spoke to him via Skype, Ford explained how poor urban planning sparked the birth of a multi-billion dollar genre.
Mike Ford: Your voice can be silenced very quickly as a minority in the architecture world. When I was a student all the theory courses covered architects and academics that didn't look like me, who were not from the communities that me or my family and friends are from, so it's easy to feel as if you're an outsider. You know, I didn't meet a minority architect until I was in my fourth year at college. I'm from Detroit, which is more than 80% black, and I didn't meet a black architect until my fourth year. That's pretty bad. I guess I was just crazy enough to not be deterred.
When I was transitioning into grad school, we had to work the summer before school started and crack our thesis. That entire summer, I worked on a thesis called "Livable Sky Scrapers." But on the first day, when all the graduates announced their titles, I stood up and said, "My thesis is on hip-hop and architecture." The way my professor looked at me — we had been working the entire summer and she'd spent a lot of time sending me articles and books and I just got up and changed it. But it was something I knew I needed to do. Through this and subsequent research, I've looked a lot at the relationship, or lack of, between urban planners, architects, and the communities they're supposedly building for.
Historically, African-American communities have been pretty much destroyed by architects and urban planners. Expressways have torn through the fabrics of established inner city developments all over the U.S. The Cross Bronx Expressway, which was conceived by Robert Moses [a powerful city planner who sculpted the landscape of New York City between the 1930s and1960s], displaced a large number of residents and created the projects we see today. In an attempt to reduce displacement, Moses looked to the French modernist architect Le Corbusier and his "towers in the park" concept, [which was] Corbusier's plans to remodel the center of Paris for the working class. He wanted to create these monotonous towers that would take up a very small area but have a very high density. Paris said no, but Moses implemented the idea in the U.S.
The only problem is that Corbusier wanted social, political, and economic resources for residents. But Moses extracted the physical architecture [from his concept] and ignored the rest. Corbusier wanted fresh food markets and community kitchens to improve the lives of the working class. He envisioned lush green spaces and recreational facilities and running tracks perched upon roofs. Instead, you have concrete jungles: an isolated architectural system, a lack of private space, and a high concentration of people. Under Moses, there were no markets, no fresh food, no recreational activities. Not even the parks that Le Corbusier described. The shadows that are given off by those towers, there's no way that green spaces could flourish. Moses then looped this bad sample over and over throughout the Bronx. So the projects — now completely void of amenities or employment opportunities and coupled with a pre-existing racial bias in America — literally and figuratively represented structural racism.

And how did hip-hop come into play? Hip-hop was born in those towers. 1520 Sedgwick Avenue is acknowledged as the birthplace of hip-hop — it's a Corbusier-inspired structure, built [on] the advice of Robert Moses. The resulting conditions are what necessitated the birth of hip-hop culture. The lack of private space created a high concentration of people whose cultures cross-pollinated and resulted in the four elements of hip-hop: DJing, MCing, B-boying, and graffiti.
Hip-hop lyrics are [filled] with first-hand accounts of living conditions in the projects. The hip-hop MC used lyrics to create a dialogue, to give commentary and counterpoints to the modernist vision [that birthed towers like 1520 Sedgwick Ave]. The MCs served as a voice for disenfranchised communities and often un-consulted end users of public housing. Think about Streetlife's contribution to Wu Tang Clan's [1998 song] "S.O.S": Street chronicle, wise words by the abdominal/ High honorable, rap quotable phenomenal/ Seniority kid, I speak for the minority/ Ghetto poverty fuck the housing authority. Or Snoop Dogg's song "Life in the Projects," [from the soundtrack of the animated TV show The PJs]: Ain't no trees, the grass ain't green/And when I say it's all bad, you know what I mean. They provided realistic accounts of what life in the projects was like, of the failed urban planning and deplorable conditions of high-rise, low-income housing developments in contrast to the utopia imagined by Le Corbusier.

Corbusier's plan [did receive] its fair share of criticisms. A critique of the plan was published in the French architectural magazine L'Architecte, and spoke to the uncertainty of the social impact of high density living and Corbusier's machine-like architecture: "Is the next generation really destined to pass its existence in these immense geometrical barracks, living in standardized mass production houses with mass production furniture…Their games, and by that I mean their recreations, are all based on the same model…Poor Creatures! What will they become in the midst of all this dreadful speed, this organization, this terrible uniformity?" I argue that this 1925 criticism is a prediction of hip-hop culture.
It's crazy because every architecture school around the country celebrates people like Corbusier and Moses as being great. I'm changing up the story and saying that these people and their ideas were flawed, you know? They created these awful conditions that birthed hip-hop. This is something that's left out of architectural studies. It hides the hands of those that damaged communities and blames the existence of the "hood" on African-American culture.
As long as people from the outside are telling the story, that narrative will continue. We need to continue to get people of color involved in architecture, as urban planners, as professors, as authors. It's important for minorities to enter architecture because, throughout the United States, our communities have been designed, uprooted, and pretty much destroyed by architects and urban planners who do not look like us and unfortunately have little to desire to communicate with us during the planning of those events.
So what can happen if we get more minorities involved in architecture and architecture fields such as urban planning? You're gonna have people at the table who are sensitive to the fabrics of [their] communities and understand what it means to not uproot them. Having a voice at that table to be an advocate for those underrepresented communities is essential. Architecture can destroy and inhibit people from becoming their best, but it also has the power to uplift and empower them. If we're going to achieve the latter, it's got to be a collaborative effort.