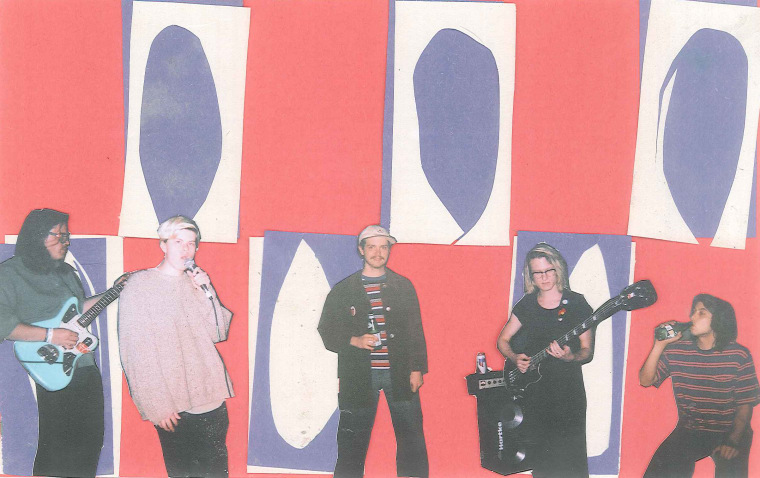 "Simultaneous Contrasts" is a new song by Warehouse, a five-piece rock band from Georgia. It's a cool track, built from crisp riffs, coarse vocals, and a vaguely tangled structure that's tough to predict, even after multiple listens. "'Simultaneous Contrasts' is a term coined by [French chemist] Michel Eugene Chevreul in which two colors compared side by side only heighten the visual and emotional effects of one another," the band's gravelly-voiced lead singer Elaine Edenfeld told The FADER in an email. "By itself, a color means one thing. By another, it changes meaning. The song touches on duality and contradiction."
Greta Kline, the precocious Manhattan songwriter who makes rainy pop songs as Frankie Cosmos, directed a video for the track. It's assembled from candid footage filmed during their tour together (Frankie Cosmos and Warehouse are both signed to young-ish Brooklyn indie label Bayonet Records). It doesn't re-wire the DIY music video formula, but Edenfeld, the short-haired blonde with clunky Dr. Martens and round shades who appears in the most shots by far, definitely comes off as a magnetic human. Like someone you wouldn't mind touring the country with, or drinking Slurpees in gas station parking lots with.
"It was truly amazing to watch them perform every night, and to get to know them outside of the shows too," Kline added over email. "I filmed a lot of moments and wanted to use this video to show how beautiful, charismatic, and cool they all are — individually and together." Warehouse's new full-length, Super Low, is out September 30 on Bayonet.