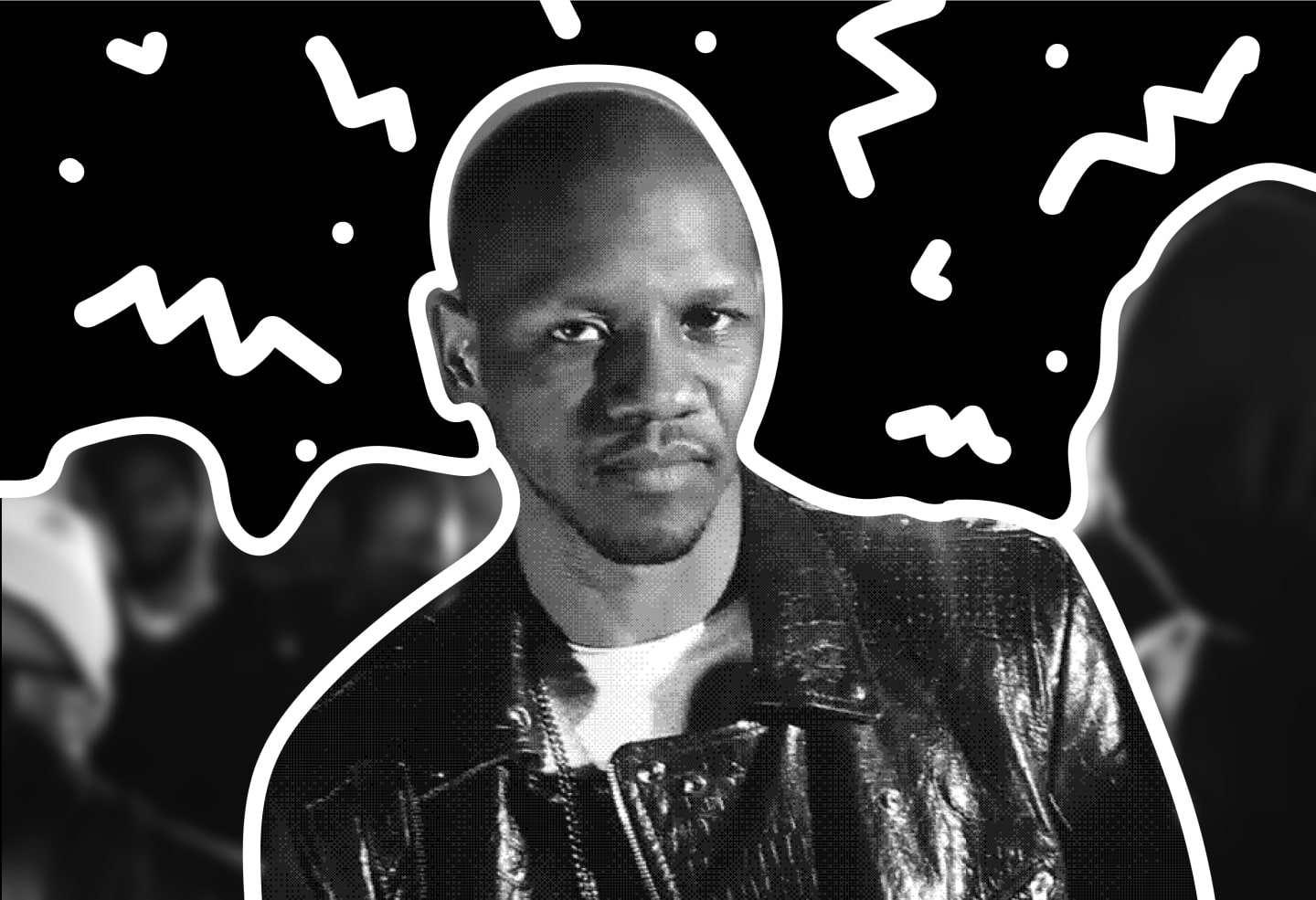 On August 5, Giggs released his fourth LP Landlord, and it's quickly become your favorite artist's favorite album of the summer. Skepta's been performing the lead single "Whippin Excursion" at all his own shows, and The Weeknd shouted it out on Twitter. Meanwhile, JME ran a dance competition offering £500 to whoever best performed the best routine to the headbanging track "The New Shit," and Stormzy woke up all his neighbors on release day. With the whole grime and U.K. rap scene backing it (including radio stations like BBC Radio 1Xtra, which put the whole album on the A playlist), Landlord independently reached number two in the U.K. charts on Friday August 12, marking Giggs's highest ever chart position.
All the things we love about Giggs (his sound effects, spontaneous giggles, and ability to get the most superb verses from U.K. rapper Kyze) are all in attendance on Landlord. It's an addictive listen right from the opening bars of "The Blow Back," a relentless six-minute relay between Giggs, south London rapper Dubz, and Stormzy. So it's only right that we pay the Landlord his due, by looking back on how Giggs became such an important figure, and all the ways he's innovated and strived to push U.K. rap forward.
1. He released the best British debut single since Dizzee Rascal's "I Luv U."
In London, 2007, Giggs's name was inescapable. His song "Talkin' Da Hardest" — a charismatic rap over Dr. Dre's beat for Stat Quo's song "Here We Go" — was an anthem, booming in every club, car, and home stereo south of the River Thames. Whether you were a rap fan, or a rap fan's parent trying to decipher the track's explicit content (a sample lyric: Half of the crowds all snorting my Charlie), it was more than likely you'd heard the track. "Talking Da Hardest" was something new: gun and drug references were common, but rarely so cleverly devised, or as darkly humorous, as Giggs's verses. The track's depictions of violence sometimes made me wince, but its lyrical content oozed a rebellious attitude that made me want to blast it out over and over again.
The arrival of Giggs was the beginning of a journey that would later encourage many young men to get off the streets. Other rappers from south London such as Krept & Konan and Section Boyz picked up a microphone, and turned their own unique narratives into rap songs they would eventually make a living from.
2. He won big at America's most prestigious hip-hop awards.
Giggs's work the previous year paid off, and in 2008, after self-releasing his debut album Walk in da Park, he was nominated for Best Hip-Hop Act U.K. at the BET Awards. The nominations included U.K. heavyweight MCs Wiley, Ghetts, Skepta, Chipmunk, and Dizzee Rascal, all artists who not only had street heat but had established themselves within the music industry. Being nominated alongside those artists, when he was only a year into his career, was an achievement in itself. So winning the award — which he did — was a true triumph for Giggs.
3. He landed a lucrative record deal (even when the police tried to stop him).
In August 2009, despite the police allegedly attempting to dissuade them from doing the deal, major independent label XL Recordings signed Giggs. In doing so, XL made a confident statement of trust. They were going to bridge the gap between the underground and the mainstream once again (as they did in 2003 with Dizzee Rascal's acclaimed debut Boy In Da Corner), and take another talented young black boy out of the hood and into the charts.
6. He's shown he can grow without abandoning his roots.
After his release, his future in the industry was uncertain, but Giggs got through this rocky period by doing what he's always done: he carried on making music. In 2013, he released his third album When Will It Stop on his own label SN1, with artwork that showed him walking away from destruction. Back in 2009, Giggs had released his debut album independently, and after his legal troubles he proved he could do it again, and do it even bigger. When Will It Stop was his highest charting record to date, landing at 21 in the U.K. album chart.
The album wasn't only his most commercially successful, but his most thoughtfully experimental yet. Giggs had previously stuck to using producers within his SN1 camp, but this time he branched out, recruiting the likes of Mark Ronson and J.U.S.T.I.C.E. League. Conceptually, his lyrics revealed a reflective artist who was living in hope that his own son wouldn't make the mistakes he had. The tracks retained the edge of Giggs's earliest music while also being melodically infectious, and the lead single "(Is It Gangsta?) Yes Yes Yes" was picked up by BBC Radio 1Xtra.
When I caught up with him recently at the BBC studios, BBC Radio 1 and 1Xtra DJ Charlie Sloth explained to me why it was so important to him to premiere Giggs's comeback single, and continue supporting the rapper even after his legal troubles. "Giggs is one of the most important artists of our generation, an artist who has never felt the need to conform or change what he does artistically for financial gain; a timeless artist who delivers timeless music."
7. He's spoken out about the police shutting down his shows.
In 2013, just days before Giggs was slated to begin a 10-date headline tour in support of his third album, Police Licensing Officers stepped in and pressured venues into calling off the gigs, later citing "risk assessment." The authorities had been targeting Giggs's shows in this way since 2010, but they'd never shut one down so close to its scheduled date. This time, fans found out via Giggs himself, who issued a video apology on YouTube (above). At the end of the video, Giggs showed off a wide smile, and reminded everyone, "but the album's coming out anyway."

Despite the ban, the police couldn't keep Giggs fully away from the stage. Giggs went on to perform at various shows, appearing as an unannounced guest with Chip, JME, and more. It became a game of cat and mouse: you just never knew where he would pop up, and — despite the police's efforts to keep him down — it kept the name Giggs on everyone's lips. In a statement he gave to the BBC in 2014, Giggs thanked the police for shutting down his tour, and "all this great promotion that they're giving me. All these cancellations are making me more powerful."
9. And he's always supporting the next generation of artists.
Landlord is a 14-track body of work that has you sitting up straight from the first track, but the highlight of the album is a song aptly titled "The Best." The track features the U.K's most underrated rapper Youngs Teflon, but before we even get to hear Tef's verse, a raw Liverpudlian accent kicks in from newcomer Aystar. I'd never heard of Aystar before listening to this track, where he delivers a "Talkin Da Hardest"-style verse that has you flying off your seat and into the nearest wall. It's crude, gully, and a welcome northern surprise in an album that breathes London.
Just one listen to the track certifies an ethos that Giggs has sustained throughout his career: whether you're a new or old artist, if he likes your style, he'll work with you. Giggs is constantly striving to bring through the next generation of rappers who will push the genre forward just like he always has.