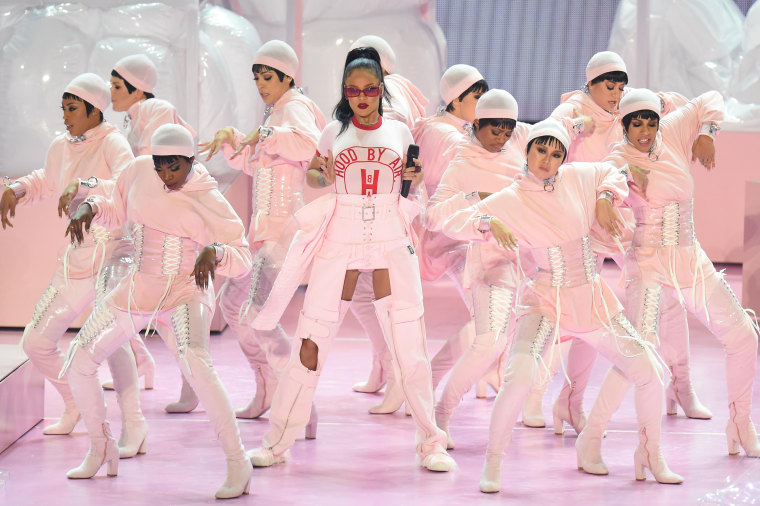 At the 2016 MTV VMAs, Rihanna received the Michael Jackson Video Vanguard Award for her career-long achievements in music videos. Since her first her first single, "Pon De Replay," Rihanna has worked tirelessly to give flawless visual after flawless visual. On Sunday night, she hit the stage four times to showcase some her most beloved songs while draped in flawless threads. Below, here's a breakdown of her moments in the spotlight at Sunday's show.
---
1. Rihanna welcomed the world to her legacy.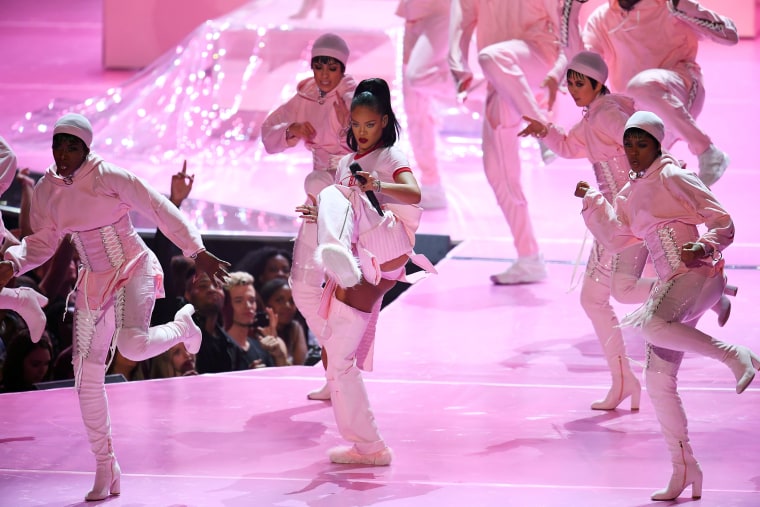 At the start of the show, the icon and her backup dancers wore all pink everything during the night's opening performance, where she sang and danced through "Please Don't Stop The Music," "Where You Have You Been," "We Found Love," and "Only Girl In The World." In this first look, Rihanna rocked baby pink cut-out pants and furry sneakers with a t-shirt from Hood By Air.
2. She brought the party to the VMAs.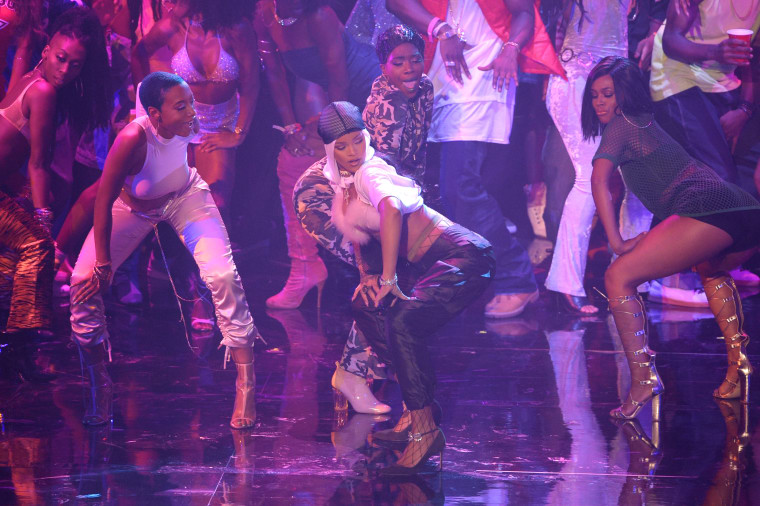 During her second appearance, Rihanna was at the center of a carefree party scene with a group of vibrant girls dancing all around her. In a fur trimmed satin and pink bra, Rihanna whined and dropped it low to "Work," "Rude Boy," and "Whats My Name." As she and the ladies around her turned up the set, her netted du-rag followed suit and swayed freely behind her.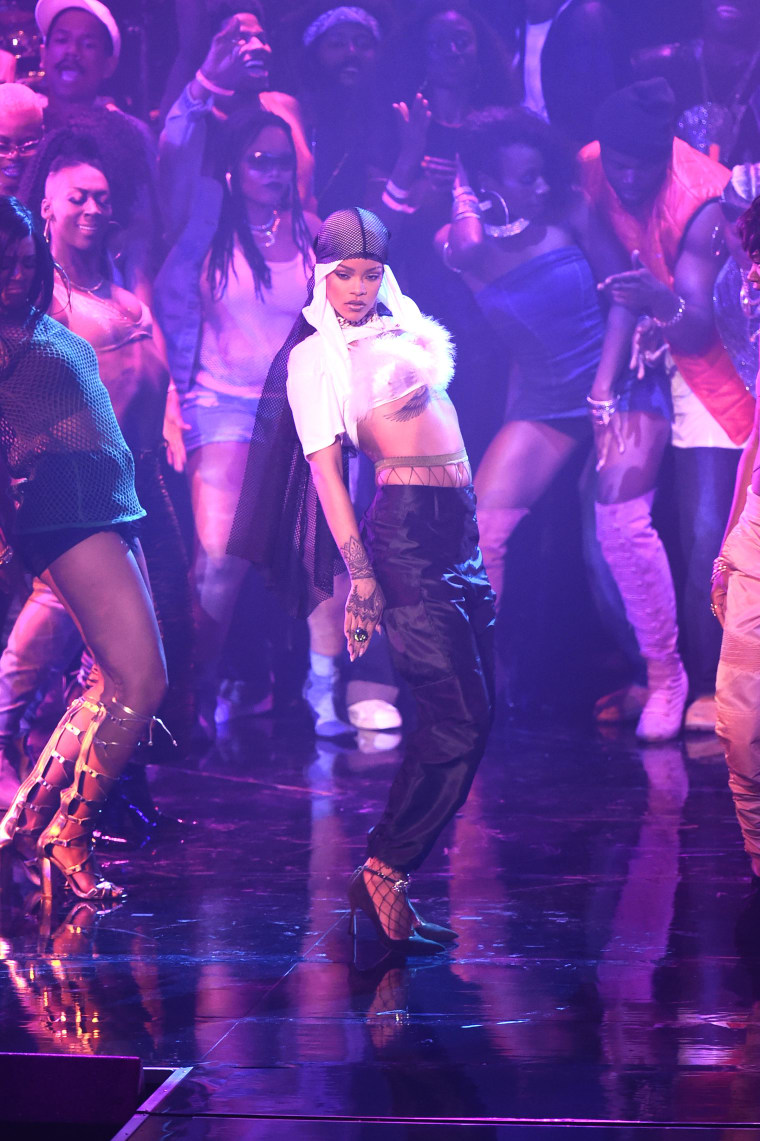 3. She showed the world her powerful side.
She continued her retrospective with some of her finest bad bitch anthems: she sensually dipped it low and got into place with her dancers on "Pour It Up," then "Needed Me," and "Bitch Better Have My Money." She slayed in a fur shoulder piece worn over a black bodysuit and her signature Vetements x Manolo Blahnik boots.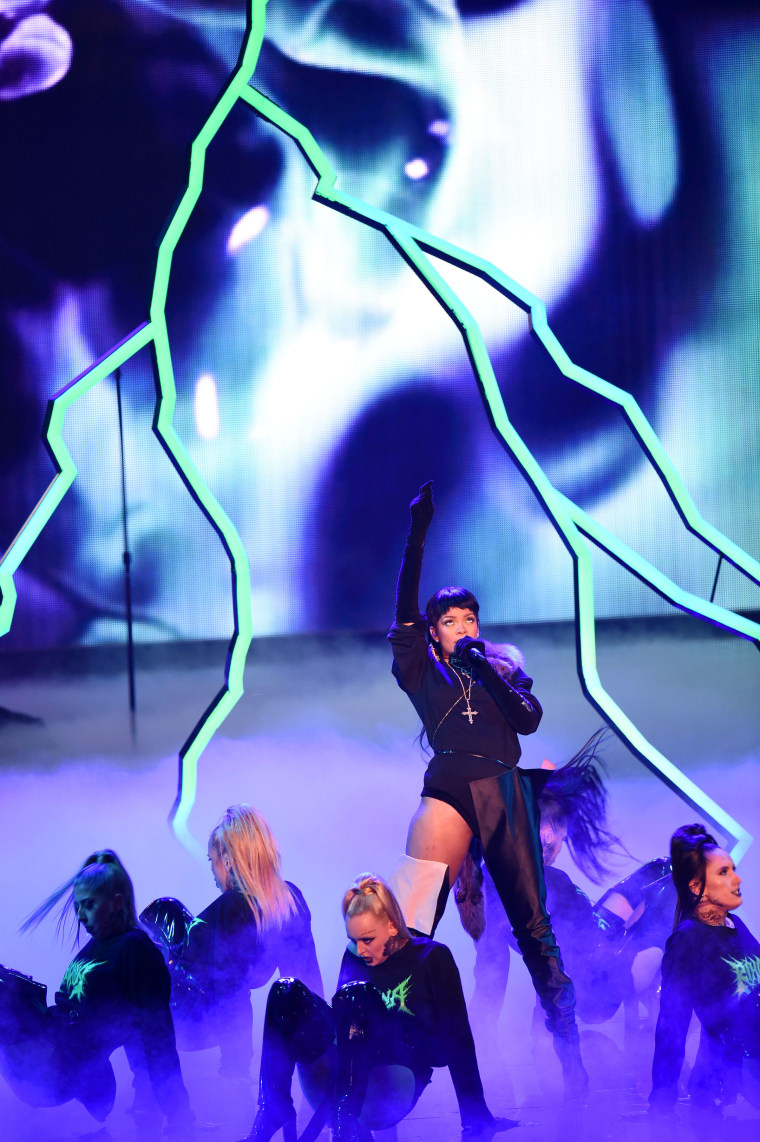 4. She brought the house down with her vocals.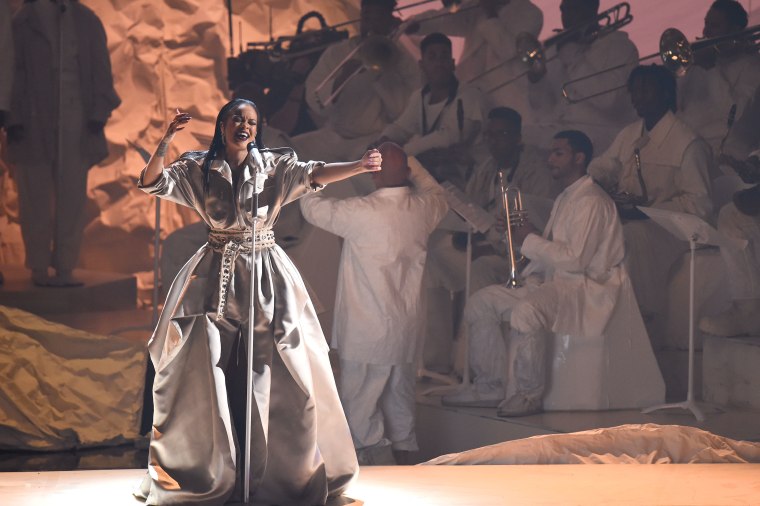 For her final performance, R&B legend Mary J. Blige gave Rih an introduction that praised her dedication and talent. Rihanna slowed it down with a melody of "Stay," "Diamonds," and "Love on the Brain." Her hair was worn long and slicked over the back of her taupe colored gown as she brought the house down and proved why she deserved the night's final honor.
5. She got a beautiful tribute from her friend Drake.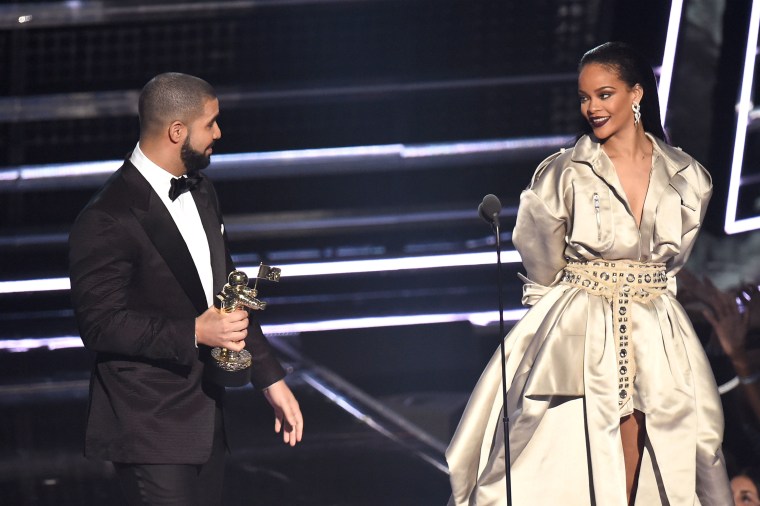 At the end of performance, Drake made his way to the stage to give a heartfelt speech about Rihanna's achievements and the pair's history together. He started out with the first time he met Rihanna in Toronto in 2005 on the set of her video for her debut song, "Pon De Replay." Rih beamed as Drake went on to honor her evolution as an innovative artist and tastemaker. He confessed, "She's someone I've been in love with since I was 22 years old."
6. She thanked the world and her fans for everything that she's earned.
When it came time for her to speak, Rihanna made sure to express her love for Barbados and acknowledge its role in her beginnings. "When I think about the vanguard award," she said. "I think about my country. They're gonna be so proud. This is the first Vanguard award to land anywhere close to my country."
Rihanna went on the note the award's connection to all of the people who've felt represented by her work and presence as an artist. She said, "This started out as my dream. But now its my family's, it's my country's, it's the Caribbean as the whole, it's women's, it's Black women's."