Soca imbues the listener with a sense of freedom and puckish abandon, but for those that make a living off it, the genre's never-ending fête can sometimes be creatively limiting. The annual carnival in Trinidad, and the tour of international carnivals that follow through the rest of the year, require a steady stream of reliable hits from soca artists: formulaic songs that are full of countdowns to jump, crescendos to let your waistline loose, and sing-songy choruses perfect for chanting whilst drunk on rum. Destra Garcia is one in a handful of Trinidadian soca singers who have successfully claimed their spot in an industry dominated by ben, but the constraints of the genre have grown frustrating. With its emphasis on bellowing calls to wave and wine, soca has left little room for her to fully utilize her vocal capabilities. "You expect Destra to sing something sexy or loose or lewd," said Garcia. "We need that in the Carnival, but I'm just saying, in the years that I've been singing, I haven't gotten the chance to really explore my real God-given gifts."
Garcia was raised in Laventille, a notoriously rough suburb set in the hills to the east of Trinidad's capital, Port of Spain. She began singing and recording calypso, gospel, and R&B at the age of 10, following the musical path first blazed by her grandfather and father, both accomplished musicians. Despite a conservative, religious upbringing, Garcia found her calling in soca music, the faster pace, sexually suggestive kid sister of calypso. She earned her title as the "Queen of Bacchanal" off the strength of hits that began with 2001's "Tremble It," "Whe Yuh Want" (2003), and "It's Carnival," a ubiquitous duet with Machel Montano, also from 2003, that holds a place in every soca DJ's set to this day. Not to forget 2015's "Lucy," a saucy, autobiographical song that recounts Garcia's metamorphosis from a mousy schoolgirl to a stage-commanding soca diva: I grew up as ah real good girl, always home doh go nowhere/ Ah soon as I was introduce tuh Carnival, deh say I loose/ All down on de ground, wukkin', wukkin' up meh bottom/ And it draggin', draggin' all over town and deh say I Lucy."
Garcia's special brand of slackness has resonated the world over. She tours globally year round, connecting with her international fan base via trilingual capabilities — she speaks English, Spanish, and French — and the universal language of wining. But Garcia is hoping that the new pop sound that she's exploring on her forthcoming album, Queen, will translate. The record finds Garcia flexing creative muscles that hardcore Destra fans probably never knew existed. The first single, "In Love With The Rhythm," is a synthy ode to popping bottles in the club. Later, over a lilting one-drop, Garcia tries her hand at reggae-lite with "Body Bag," the lyrics a classic tale of a scorned lover's revenge. "Satellite" is a straight-up EDM banger that's full of shimmery vocals and intense bass drops. As the beat builds, Garcia sings, Everything's alright/ I'm changing over and over like an alchemizing incantation.
Stepping away from the jump-wine-wave formula of Carnival songs and branching out into pop-friendly pastures has been exciting for Garcia, but she's also worried that her new sound could fall flat. The Billboard pop charts can be a fickle place; enamored with, and emulating, Caribbean music today, and dashing it away tomorrow. Given the crossover rise and fall of Caribbean artists like Rupee ("Tempted To Touch") and Kevin Lyttle ("Turn Me On") of Top 40 fame, Garcia's fears are not unfounded.

The FADER spoke with Garcia about her position in the soca world, her new album Queen (due out November 25), and what's at stake with her new sound.
You're exploring a new sound on the songs that we've heard from Queen. Your vocals are to the front of the beat and the production is straight-up pop. Were you nervous to branch out into this sound?

I was skeptical because it was something that I've done before. It felt like I was going backward. A lot of times you go backwards to perfect something and bring it forward, because the time at which you were doing it was probably not the right time. I think now I have a better control of my voice. I know what I want to sing and how I want to sound. Now is a better time for me to do that, especially with my fanbase. My only fear is that the people that love me for just Destra — the soca star that gave them "Lucy" and "It's Carnival" — are they gonna feel like I'm kinda like a Selena [Quintanilla Perez], that's leaving the tradition behind and trying to branch out into the pop world? I've seen people that make it abroad. Let's say Rupee, when he started to do international stuff, a lot of the time his shows were no longer in the Caribbean circuit. And now he's coming back into it. We've seen Kevin Lyttle do the same thing. I can learn from what I've seen and how the reaction is with other artists and decide what you want to do. You still have to understand that artists need to grow. As artists too, with our fans, we have to understand that we have a responsibility to still make that kind of music unless someone else comes and takes that mantle to carry it on. In my case, the female soca market is so small. It's not as saturated as the men's market, so people will still look for that sexy, sultry Destra. But I'm hoping that I can do both simultaneously.

A lot has been said and written about the male artists crossing over into the mainstream. Are female soca singers trying to cross over as well but it's just not being talked about? Where's the disconnect?

I'm not sure what is happening. I do know that in the soca industry, it's a man's world. Let's face it. We talk about women and empowerment and all that but in any genre of music or on any job — whether you're a doctor, lawyer, or whatever — it's so much harder for a female out there. I think that the women are doing it. The men have set the bar and — despite whatever tricks that women have to make themselves more marketable — only a few women get through that bar. I guess it starts with the radio because the DJs have to want to play it too. It's a lot of different things, but men get away with a lot of stuff.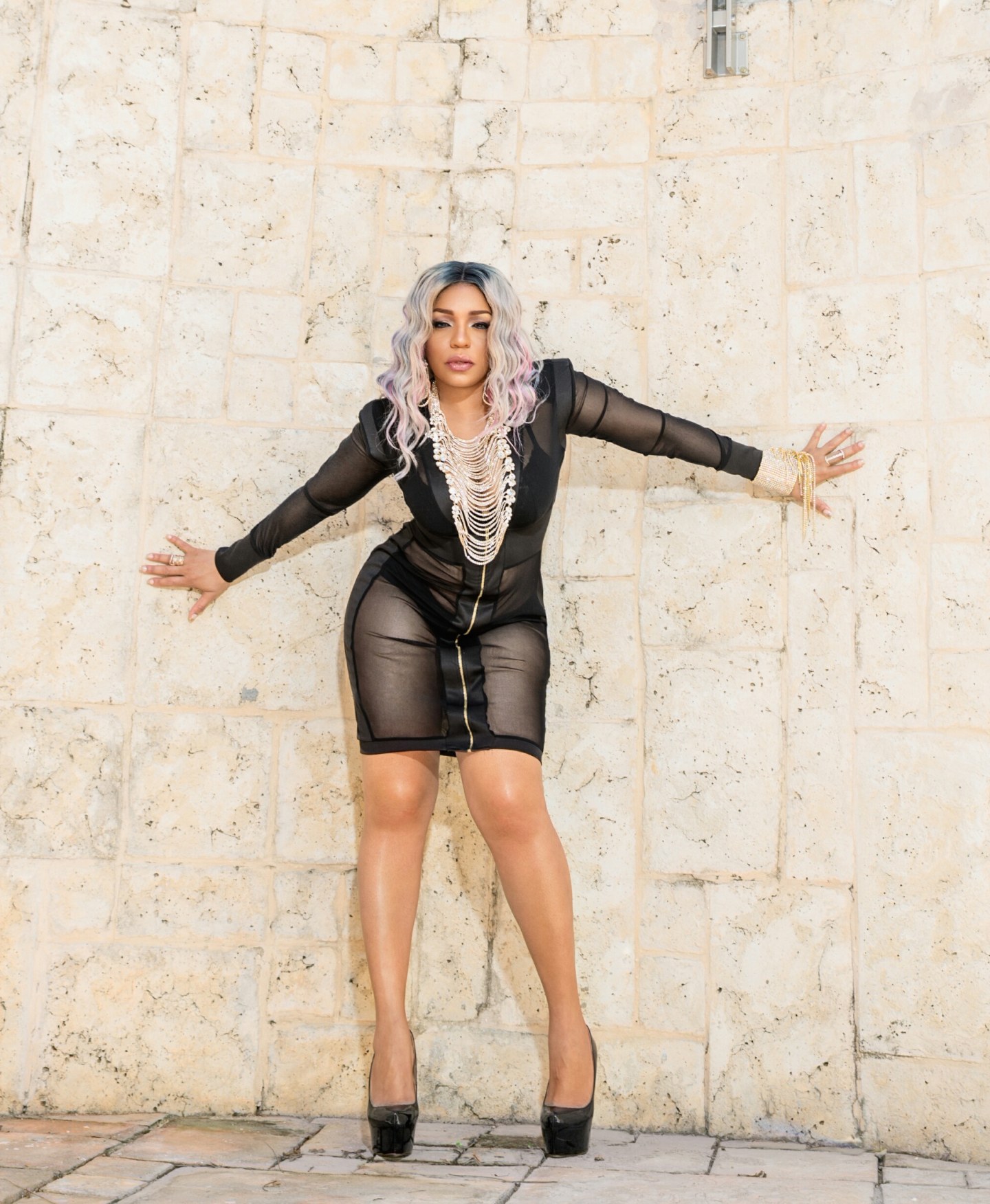 "Drake is dabbling in soca, dancehall, afrobeat. If anybody else had done that, it might not have worked. He and Rihanna can try stuff like that because they're at the top of the food chain."
Even with the far reaches of the internet, does Trinidad feel like a constrictive market for you?

I can't say Trinidad, because Trinidad is a part of the Caribbean. But is the Caribbean a restrictive market for me? I'd have to say no. Because whether the music plays on the radio or not, because of my fan base the music goes. What I feel restricted about is not being able to go too far outside of the box. It's scary because even though I like it, I don't know if my fans will like it. I am judged the most in Trinidad, nowhere else. People love Destra, they don't care what I sing as long as I come on the stage, perform, and mash up de place, they good with that. The only restriction comes when I can't stretch too far out. And I hate being confined. It's natural for myself, or Machel or Bunji, to feel like ok, we need to do this because no one is doing [it]. We keep saying soca needs to go global, but nobody is doing anything; ok, let's try. It's gonna take the heads of any genre to make it happen. Let's look at Drake. He's dabbling in soca, dancehall, afrobeat. If anybody else had done that, it might not have worked. He and Rihanna can try stuff like that because they're at the top of the food chain. For another artist that may not have that kind of power, they may try and you won't ever hear it on the radio.
How do you feel about "Lucy" in 2016? Does that song kind of haunt you?

I think "Lucy" has joined the lineup of Destra classics, which would be "It's Carnival," "Bonnie and Clyde," "I Dare You," "Fly," and "Max It Up." Those are songs that I can't do a show without singing. I did not expect that from "Lucy." I thought, Here I am telling a story about myself. But I didn't realize that it would touch so many people, because it's everybody's story.

Why do you think it resonated in that way?

In the Caribbean, it's so taboo to be "loose." Growing up, my mom did not allow me to wine in the house. After Ash Wednesday, no soca was played. Certain things you can and cannot do. I couldn't sing certain songs if they were deemed inappropriate. My parents were, and still are, very religious. A lot of people had that "Lucy" experience: grew up as a real good girl, always home, don't go nowhere. But you get introduced to carnival when you get your own money and you can buy your own ticket to fête, and then you get loose. Not because you're reckless, but because the music moves you. That's the power of soca. That's why I love it so much and I'll never completely disconnect from soca and what it can do. Soca music is not meant to make someone shoot someone else or make you get high and overdose. You hear soca and you get an immediate sense of freedom to just be yourself. A lot of people come up to me and say, "Thank you for 'Lucy!'"
"Soca music is not meant to make someone shoot someone else or make you get high and overdose. You hear soca and you get an immediate sense of freedom to just be yourself."
What's the reality of the soca market for women? Is there a sense of camaraderie or sisterhood?

With anything, people like to say that women are catty and women like to fight and compete. I think there's a bigger chance of achieving that love amongst women, and I saw it this year [when I had to cancel a concert]. All of the ladies came out to support me 100%. When I had to cancel, they couldn't stop calling my phone to tell me how sorry they were and not to take it on, everything will be ok. Here's Patrice Roberts calling me and saying, "Honey, I understand how you feel but don't give up. We'll do it again next year." There's Denise Belfon, Nadia Batson, and Drupatee doing the same thing. I think they all wanted me to succeed. Because to them, a win for me was a win for them. I felt like, we already have Machel doing his show, we already have Kes doing his show, and everything about carnival is man, man, man. This show was a chance to show that female sisterhood. I wouldn't lie to you, there's some of us that probably don't get along on an individual basis with each other, but that's human, normal and natural. I get along with most and I applaud them all.
On songs like "Neckbreaker," you always shout out and ride for West Indian girls as a special type of women. With mega stars like Nicki Minaj and Rihanna fascinating the public in their own ways, what would you say it is about West Indian women that make them so special?
They hot! [Laughs] Listen, when you think about West Indian food, what do you think about? The spice. Our food don't taste like nobody else's and that's because of what we put in it. We like spice, we're different, we're exotic. Why do you think Rihanna has so many number one hits? Why do you think Rihanna has taken over? And listen to me, I love her and I'm so proud of her and what she's achieved. I remember when I first saw her when MTV launched their Tempo channel in New York. I keep reflecting on that day. Back then, nobody knew who she was and they all knew who I was. But since then she's gone to take over the world and she's from the Caribbean.

And she's unapologetically West Indian.

I think that's why we all ride for her. And when she's playing mas and drinking her alcohol she doesn't care. Her bottom loose. And that's all of us. When I big up Caribbean women, that's why, because of people like Nicki and Rihanna. You know what's the strange thing, I wouldn't expect them to know who I am, but they do. I was shocked when Nicki came to Trinidad and was like, "I want Destra in my video, 'Pound The Alarm.'" But I wasn't there, I tour so damn much. I'm like, "Nicki, welcome to Trinidad." She's like "Waddup, Queen!" I was always, and will continue to be a defender of Caribbean women, because God knows what we go through.