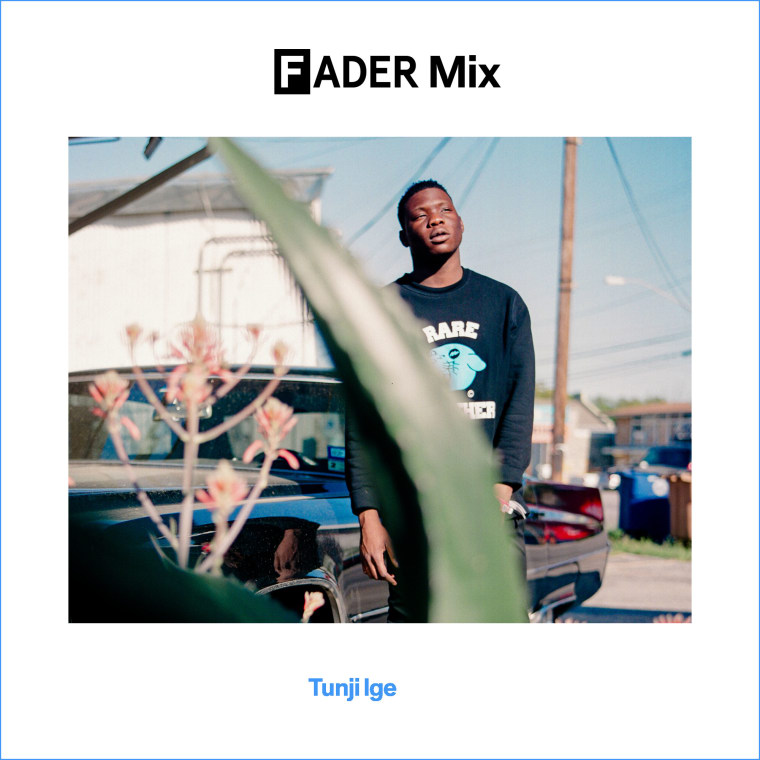 Bright Philadelphia rapper and producer Tunji Ige has a wide palette for sound. Ige is able to approach music from two strong perspectives as the man behind and in front of the beat. After he released his propelling 2014 EP The Love Project, Ige also gained momentum from the catchy "Day2Day," featuring Makonnen and Michael Christmas. Last year, he released his album Missed Calls with collaboration from producer Noah Breakfast and continued to evolve while showing his appreciation for diverse instrumentation.
Ige's FADER Mix covers a few genres and features a throwback vocal sample from Lil Wayne's monologue, "You Love Me, I Hate You." There's also a Noah Breakfast edit of Rihanna's "Work" and a mashup that features Soulja Boy's "Pretty Boy Swag." Get to know Tunji Ige below and enjoy the well paced mix filled with Caribbean dance tracks, trap beats, and some of his own tunes.
Where are you right now? Describe your surroundings.

I'm in a basement in PA Studio. There's a space talk box, an MPD, a laptop, candles, a G-Pen, and friends and such playing video games in the control room.
Tell us a bit about this mix — what do you imagine people doing while listening to it?
Imagine people doing their day to day routines. I just wanted people to get a glimpse of the headspace that I've been in the over the past month. It has a lot of exclusives and gives a glimpse into where we're taking things. It also shows different inspirations and how they each play a part that listeners may not hear in my regular music. There are lots of exclusive snippets.
What did you open up and end this mix with? Why?
I opened up the mix with The xx's "Kingdom" and ended with my own song called, "Black James Bond." The xx's "Kingdom" was sampled in The Love Project on "Kingdom" which is one of my favorite songs. "Black James Bond" is this past year in a song, so it felt its only right.
How do your Philadelphian and Nigerian roots impact your taste in music? How'd they effect this mix?
The influence is worldwide with it going all the way to being hard rap. I'd say thats pretty much me.
How does being both a rapper and producer influence the way your musical ear and the way that you approach producing?
When I make songs they're already made in my head. As both a rapper and producer, when I work all I have to do is make it match whats in my head and producing lets me do this precisely. Whether it be programming, theory or emulating things that inspire me, production helps a lot.
And finally, what's your favorite thing to cook and how do you make it?
Chicken. I fry it.
Tracklist:
The xx, "Shelter"
Tunji Ige, "Kingdom" (Demo)
Karrueche, Heaven in Stereo "Karrueche"
Tunji Ige f. Jesse Rutherford, "HANDSTAND" (Remix snippet)
Tunji Ige, "Dope" (Unreleased)
Tunji Ige, "22" (Demo)
Vybz Martel and Tunji Ige, "22" x "GoGo Wine"
Noah breakfast, "All Night" x "Work"
Tunji Ige and ILoveMakonnen f. Larry June and Michael Christmas, "Don't Do Too Much" (Remix snippet)
Tunji Ige and Soulja Boy, "Pretty Boy Swag" x "I Suppose"
Big Leano, "Travel Clothes"
? "Sometimes"
J Dilla, "Daylight"
Tunji Ige, "Black James Bond"