FADER Mix: Amy Becker
Club, grime, and reggaeton hitters from one of London's boldest emerging DJs.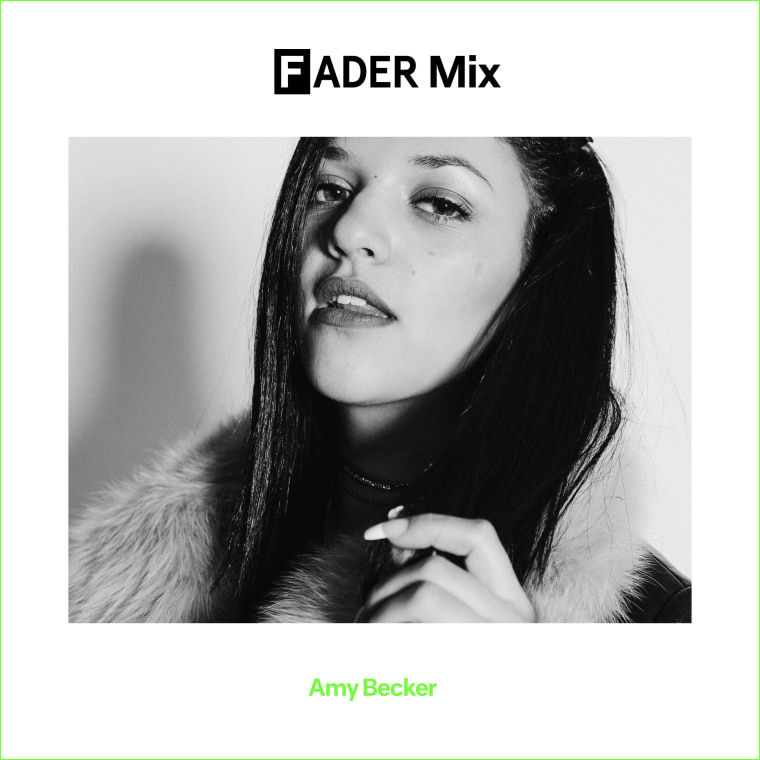 22-year-old Amy Becker is one of the best DJs coming up in London right now. Blending the city's own grime and cutting-edge club tracks with Jersey club, hip-hop, and dembow rhythms from around the world, her monthly Radar Radio show is essential listening, and her budding club night Acrylic is on a mission to take eclectic, diverse DJs around the U.K.
Her next night, a collaboration with Swing Ting in Manchester, featuring FADER Mix alum Manara, is set to take place this Saturday, September 17. To celebrate, Becker's made us a gripping exclusives-packed mix that opens with a shout out from masked MC CasisDEAD, and closes with a banger from AJ Tracey. Listen below, and read on for more on how she learned to DJ, and what her favorite tune is right now. Gunfingers up.
Where are you right now? Please describe your surroundings.
In the café in my gym. The Wi-Fi is A1 and [boxer] Anthony Joshua goes here, so it's worth every penny.

Tell us a bit about this mix — what do you imagine people doing while listening to it?
I utilize mixes as a way to showcase the sounds that I'm into right now, so it's mostly new music that represents several different scenes and genres; it spans from dark reggaeton to weirdo club tracks, from hard hip-hop to cunt-y vogue house and from R&B to homegrown drill and grime. I like to listen to mixes on the train while staring at strangers like I want to murder them, so I hope others will do the same.

How did you first get into DJing?
My older sister passed on her dance music obsession to me while we were growing up in northwest London. I would steal all her Mixmags and Fabriclive CDs, and after years of begging I got my first set of decks for Christmas when I was 14. I owe a lot to my sister, she's always believed in me to the point where she physically cried on the dancefloor during my first set in Fabric room 1. My parents thought it would just be a phase, and I think they low-key still do.

What do you look for when you book artists to play your Acrylic night around the UK?
The best thing about running a night is that I just book who I would wanna go and see in a club. The lineups that appeal to me are diverse, forward-thinking, and unpredictable, so that's what I aim for in order to make every Acrylic party stand out. I don't think it necessarily has to "work" musically…people come out and see who they want to see, and hopefully they'll discover something new, too. I've been working on the Acrylic winter tour for the last few months, and I'm excited to kick things off with Manara and Swing Ting in Manchester [on September 17].

What was your song of summer 2016?
Iglooghost f. Rocks FOE, "Ell" never failed to get a reaction from festival crowds this summer, and people went nuts for it at the Boiler Room I did back in May. Although Rocks blocked me, and I cry every time 'cause I have no idea why...

What's the last book you read that had a big impact on you and why?
This.

And finally, what's the best dream you've ever had? And the worst?
If I go to bed high I don't dream, but on the rare occasion I do, they are pretty fucked up and vivid. I don't really remember any of them though, and that's cool with me.
Tracklist:
DJ Esmera, "Sin Control"
Tomasa Del Real x Talisto X Kablam, "Tu Señora" (Kablam Psycho-Mutation Remix)
Endgame, "Felony Riddim"
Kamaiyah feat. YG, "Fuck It Up" (Samrai Edit)
Rafa Maya x M.E.S.H, "Bust x Follow Yute" (Santa Muerta Bootleg)
Rivera, "Siéntelo"
Traxamillion, "Gas Skrape" (Mungo Orion Edit)
DJC, "C100"
TryTryDown, "Acradian Straits"
WWWINGS, "Arcane"
Kamixlo, "Esta Noche"
J Hus, "Free Up"
Dinamarca, "Mobileboy"
Galtier, "Gold Bones"
Gucci Mane, "No Sleep"
Santa Muerte & King Doudou, "Trembla"
Kid Antoine, "Dungeon"
Kodak Black, "Hollyhood"
Copout, "Fallen"
Leggoh, "I Chant, You Vogue"
De Grandi, "Sharp"
Nobel, "Boia"
Nunu, "Core"
Tomás Urquieta, "Anatomía" (M.E.S.H Remix)
NA, "Definitely Ride On Me"
Youngstar, "Bongo" (Kahn & Neek Remix)
Mistress, "Kanagawa Homicide"
Nunu x 67, "Alla Dat" (Endgame Edit)
MssingNo & Faze Miyake, "Pree The Throne"
Abra, "Crybaby" (Iglooghost Remix)
Finn, "Late At Night" (Do Not Disturb Mix)
AJ Tracey, "Leave Me Alone"