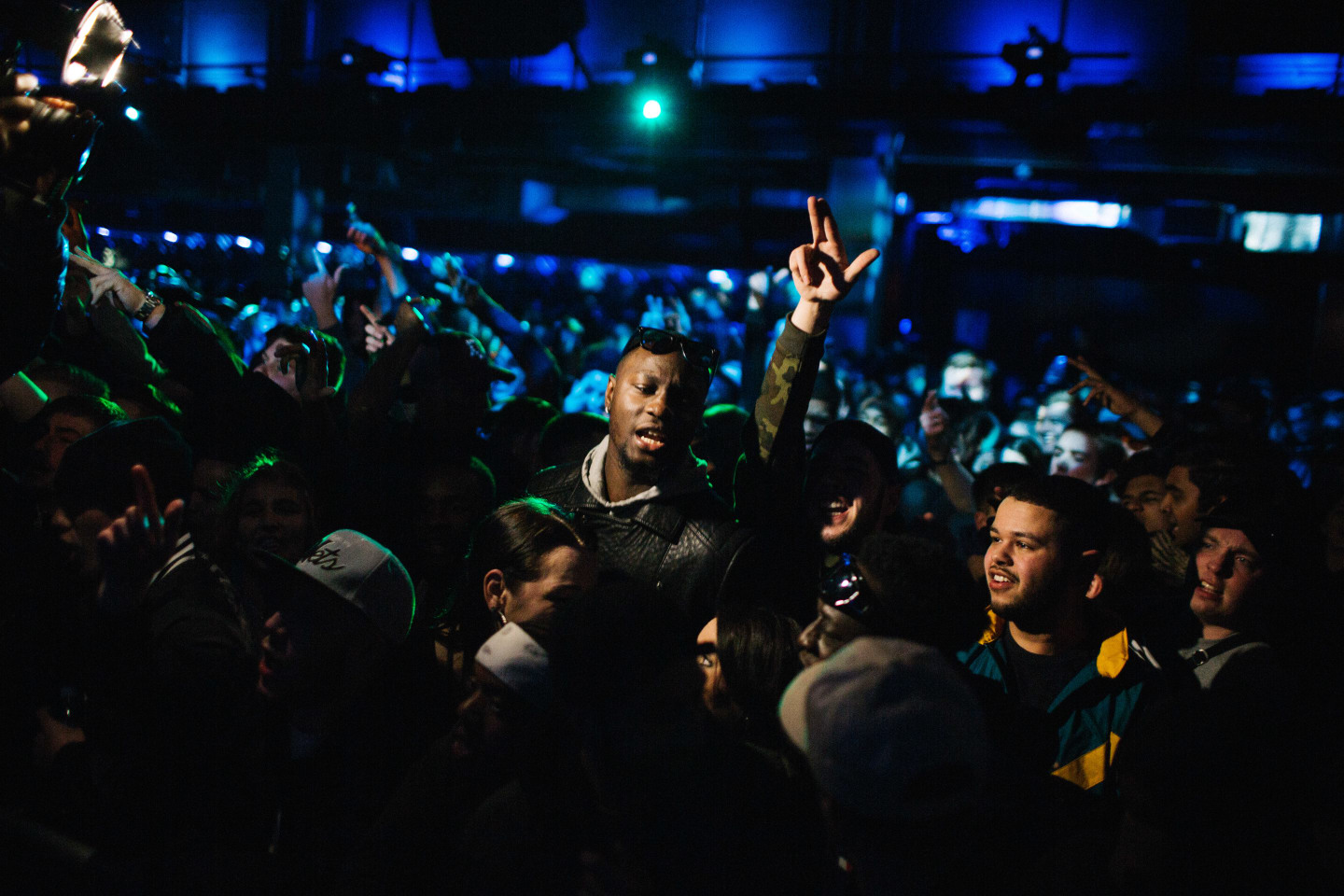 London's 1,400 capacity venue KOKO has a grubby charm: sticky floors, glittering glass chandeliers, and four gilded theater-style tiers that seem to sag like icing on an over-frosted red velvet cake. Over the last 10 years, this unlikely venue — located in the indie/rock stronghold of north London's Camden neighborhood — has steadily established itself as a home for rap, hip-hop, R&B, soul, and grime artists. With performances from the likes of Blood Orange, Metro Boomin, and Wiley, the venue has also hosted headline-grabbing one-offs from A-listers including Kanye West. After his "All Day" performance at the BRITs in 2015, West took to the venue's stage at 1 a.m., in a performance flanked by Skepta, Big Sean, Vic Mensa, Raekwon, JME, Novelist, and Cyhi The Prynce.
But while KOKO would at first appear to be an incubator for these genres, my own experience of attending events there has been consistently frustrating. Jeremih's June show, for instance, was rescheduled after a last-minute cancellation in January due to the singer's foot injury. The venue's lack of diligence with sharing the news had already left me feeling upset and confused, and, when I did attend the show months after its initial date, it turned out to be a disappointing experience. The endearingly kitsch setting couldn't distract from the unpredictable sound quality, with over-enthusiastic bass levels and muddied top-end. Jeremih's trademark slinky vocals were lost in the discordant mix. His performance itself wasn't the problem; it was the venue's carelessness, which ultimately translated into a mediocre evening for fans — many of whom were black and brown teenagers.
Looking into this, I found that, since August of 2015, KOKO has postponed, moved, or straight-up cancelled a total of 21 shows. Of these, ten were under the vague catch-all of "unforeseen circumstances" — and 8 of those ten were for prominent non-white artists. (A spokesperson for the venue declined The FADER's request for elaboration.) A Young Thug concert was the fishiest of these: it was announced on KOKO's official channels in January 2016 (Songkick listing and all), before it was subsequently denounced as fake by Thugger himself in a since-deleted tweet, and not-so-promptly removed by KOKO from their Twitter page.
In April 2016, KOKO tweeted on the day of Section Boyz's scheduled show that the event had been postponed, citing "unforeseen circumstances." The group reacted with a broken heart emoji, and attempted to reschedule that evening's performance to south London's The Clapham Grand, but the venue wasn't able to accommodate their large fanbase. The KOKO date was eventually rescheduled for May 2016, and announced just a week in advance. A representative for Section Boyz did not respond to multiple requests from The FADER for a statement.
The cancellations affecting POC audiences appear to be disproportionately unexplained.
Lack of transparency from the artists and the venue makes these individual situations difficult to unravel. Yet whichever way you slice it, KOKO has a startlingly high volume of cancellations compared to neighbouring venues in north London (I found just four instances at The O2 Forum Kentish Town and three at The Roundhouse). What's especially worrying is that the cancellations affecting POC audiences appear to be disproportionately unexplained.
KOKO is by no means the only example of a venue to demonstrate remiss attitudes to its patrons of color but, as one such patron, it's one I know intimately. Additionally, the venue's status as a staple of the capital's music scene makes it a compelling case study of problems faced by live performance venues across London and the rest of the U.K.
To a British concertgoer, the situation feels suspiciously familiar. Since 2008, dangerous and prohibitive legislation has existed in the U.K. that unfairly targets people of color, exposing the deep-rooted biases of club owners. Titled Form 696, the risk assessment document mandates that promoters detail the demographics of event attendees. The form, too, has a long and tangled history of being used strategically by London's Metropolitan Police to shut down events with majority black audiences. The form was revised a few months after its introduction and now no longer requires the specific ethnic identity of event attendees, but it still asks for details with regard to an event's target audience. On top of this, the form continues to be used by venues to justify concerns about the violence wrongly associated with black and brown audiences. In one infamous case, multi-arts venue The Barbican cancelled Just Jam festival in 2014 — where JME, Big Narstie, and Preditah were due to perform — "on the grounds of public safety" and following "concerns raised by the City of London police."
Form 696 is not the only way in which patrons of color have been unjustly excluded from London venues. In September 2015, when central London nightclub DSTRKT got into a public dispute over their racist door policies, black artists both from the U.K. (Tinchy Stryder, Stormzy) and outside of it (The Weeknd, Omarion) publicly disassociated themselves from the space. In fact, Omarion announced on Twitter that he would not be attending the venue just hours before a scheduled appearance, in the wake of DSTRKT's reported racism, creating an outcry on social media. Just months later, in December, a security guard at north London jazz bar Camden Blues Kitchen told a group of black students that they "didn't look like" the venue would be their kind of thing and that perhaps they would prefer somewhere that played "rap music." The comment resulted in his dismissal.
I don't care how it looks for business. I don't wanna perform or be in some dickhead racist club anyway thanks mate

— #MERKY (@Stormzy1) September 29, 2015
2016 has not seen an improvement. In March, Roy Seda, the owner of Dice Bar in south London's Croydon neighborhood, fired a DJ for playing dancehall music. Seda told The Croydon Advisor that London's Metropolitan police had "advised" him "to remove the word bashment" from a flyer for a club night that advertised R&B, garage, house, bashment, and hip-hop because "commercial music is considered safer," sparking a full-scale council investigation.
It's difficult to know whether it's the high energy and charged lyrics of grime and rap music — or the number of black and brown faces in attendance at their live shows — that is seen as a risk by certain institutions. There are music venues, however, that are willing to create and protect a space for this kind of scene. In addition to London venues like Notting Hill Arts Club and Camden's Jazz Café, one such place is Shoreditch's Village Underground, a non-profit venue that, since 2007, has pushed for events they believe in (despite the supposed safety risks). In the past year, these have ranged from Section Boyz's show with Skepta and Drake as special guests, to their their monthly R&B/bashment night, Livin' Proof. When asked whether grime shows are more difficult to manage than others, Village Underground's Editorial Director Dan Davies refuted the theory. "We receive hundreds of shows a year and most people want to have a good time," he wrote in an email. "The troublemakers in any crowd — be it rock, rave, or hip-hop — are generally just a bit drunk and full of themselves. Grime artists are like any other artists: they don't want to see their fans hurt."
"You can't deny there's been a history of violence connected with the culture in the past, but shutting down events that encourage artistic expression doesn't make these problems magically disappear." —Madam X
Christiana Vassilakis, the British DJ known as Madam X, runs the grime-focused show Kaizen on NTS Manchester, and has been playing events from superclubs to basement raves, up and down the country, for the past five years. Over email, she told The FADER that the issue with grime or rap music is that "higher authorities, police, figures in parliament [and the people] in power don't understand it. It's not relatable to them. They see 'a bunch of young men all dressed in black dancing extremely aggressively on stage' as threatening and intimidating. They pigeonhole the culture as antisocial and violent. You can't deny there's been a history of violence connected with the culture in the past (enter Form 696) but repressing art, locking off venues, and shutting down events that encourage artistic expression and collaboration — like Just Jam [at] The Barbican — doesn't make these problems magically disappear."
Venues have a responsibility to consider who they are creating space for — and who they might be closing the door on. It helps no one to pretend that race is not an issue in our community. Even so, there are some venues that choose to gloss over the fact that there is still work to be done. When I asked Birmingham's independent venue Rainbow Warehouse about their support of black music and culture, their response was noncommittal. "It's about the music and the vibe," a rep wrote over email. "Not the race."
In contrast, there are spaces that are taking active steps to support POC artists and audiences, like Village Underground. "Whereas some independent venues may chose a niche and stick to it, we support artists and promoters who make our programme as varied as possible," Davies said. He was also full of fierce and specific praise for their bookings. "Disproportionately, the most original and creative gigs are often by black artists, and we're pleased that we don't have just a white audience watching anyone."
It's becoming increasingly impossible for venues to avoid this issue, but it's difficult to imagine widespread change happening overnight. According to Madam X, this will happen gradually, in the same way that it took years for grime to infiltrate the mainstream. "Before, people would see the word 'grime' on a flyer and get scared. Now, the whole fabric is changing. Skepta's album reached No. 2 in the charts, Stormzy's got a whole army of politically conscious youths behind him, and [POC audiences] are getting harder and harder to trivialize and ignore." She's right — it's impossible to dismiss the fact that Skepta sold out Alexandra Palace (a 10,000-capacity venue in north London) in just two hours. Fans have more choice than ever about where to take their business, and it likely won't be to spaces that leave them ill-informed and confused about performances by their favorite artists. It's time these venues stopped taking the presence of black and brown concertgoers for granted.