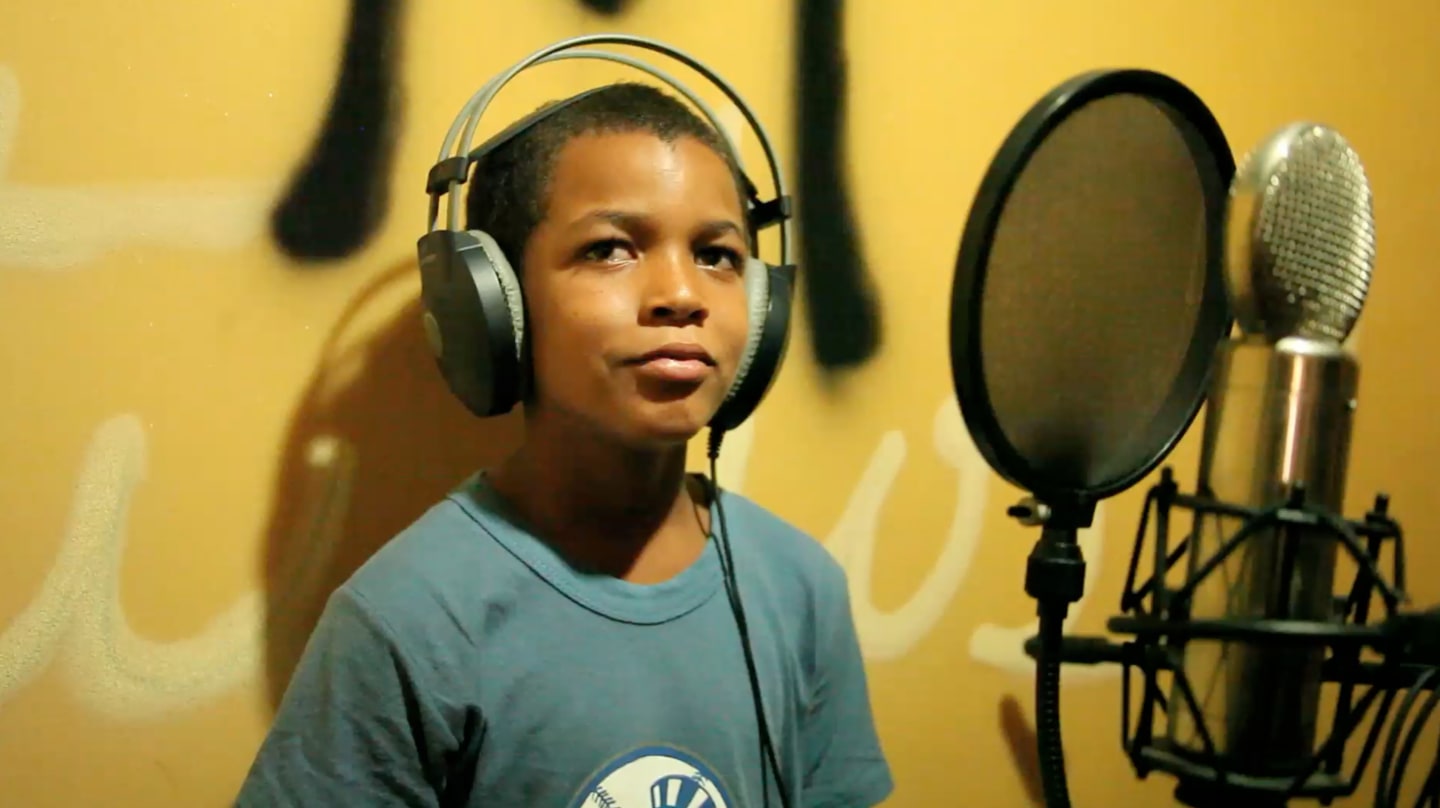 When Yanillys Pérez discovered 9-year-old Joselito de la Cruz cleaning car windshields for petty cash on the streets of Santo Domingo in the Dominican Republic, she had no idea he could dance. From his home in the slum of Los Tres Brazos, de la Cruz, who goes by Jeffrey, dreamed of being a reggaeton success, calling himself 'La Pesadilla' (The Nightmare) and even recording a track with the help of his older brother. Now 12, his closest brush with success is Jeffrey, Pérez's documentary about the pre-teen's life and musical ambitions, which had its world premiere at this year's Toronto International Film Festival. And after seeing it, all anyone wants to know is whether Jeffrey's song is on iTunes (it's not – yet).
Pérez has spent the past four years following Jeffrey's pop pursuits. Her film is a documentary – but her star's story feels like a kind of fiction. The FADER sat down with Pérez to talk about how she found Jeffrey, her love of reggaeton, and the leveling power of dance.
How did you find Jeffrey?
I wanted to meet real characters and film them. I started looking for kids in their place of work in Santo Domingo. This is the place where we met. There were a lot of kids around working, but somehow he stick to me, Jeffrey. I guess because he's very charismatic and also when you make a question, he'd reply in a way that you didn't expect. [Jeffrey] showed me around and he said, "You see that tree? I come here often but not in the evening, because this tree walks at night." That's when I said this is the kid.
I wanted to film a kid that had an adult life and behaved like [an adult], but still had that imagination of a kid. I didn't know at that point that he did the dembow and reggaeton songs, and then after he told me, "We sing." I said, "Really? Show me."
There's a disturbing moment in the film where Jeffrey and his friends are pretending to be police officers and beating each other up. What was it like to film that scene?
I found it very violent because they take this playing seriously. They were so much into it, they forgot about us [and the cameras]. I didn't want to spend so much time filming this because it wasn't exactly the story I wanted to tell, but it's a part of it. That scene I found gave me the opportunity to show that violence.
They would never let me – the people around see a camera on them, that was a problem. The camera pointing at Jeffrey and his family, that was fine. One guy, he thought we were filming him and he took a machete and came to us. We were like, "No! We're not filming you! Please!"
In the film's opening scene, Jeffrey says he loves his name because "it's American and everything American here is popular." Can you talk about the idea of the American dream that's running through this film in the context of the Dominican Republic?
You have a lot of Dominicans in the States, mostly in New York and Miami, so to hear since you're a kid that 'the States is The States and New York is New York. Everything that is American is good.' If you come from America, you're good, you're wealthy – it has a positive side.
The film is quite critical of the way music and pop culture are seen as an escape route from poverty.
There is a phenomenon with the reggaeton and dembow where you have a lot of artist and it's like 'BAM!' They're famous! And then as fast as they come up is as fast as the come down. There are some stories of people who were very poor and everyone was singing his song, and you ask me where are these artists, you don't know. It's not only Jeffrey [who has this dream], it's every kid and adolescent, because social media, TV, all of that, is selling this. You see the guy that came from a slum and then suddenly he's on TV – this is a story you see over and over.
I wanted to film a kid that had an adult life and behaved like [an adult], but still had that imagination of a kid.
Which reggaeton artists are you listening to right now?
I wish Jeffrey was here because the ones that he likes is not the ones that I like. Nicky Jam, Don Miguelo, we have some of them similar – he likes something called El [Famaso] Bieberon, which is from the Dominican Republic.
What do you think about the way dancehall, soca, and reggaeton are coming back into fashion all over the world?
It's fantastic. I'm not that old, I was part of the public at the beginning that discovered the reggaeton. It was fantastic to dance like that, it's a way to have a boy next to you and be very close without being exactly boyfriend/girlfriend! I liked it at the beginning but I remember that it was music for a certain generation and also – how do you say – the rich didn't dance reggaeton.
Did you feel it was a genre that was associated with working class culture?
Yes, the working class. And the girls that danced reggaeton at the beginning, it wasn't a good thing you know. I like the music, but I had to be careful not to dance that everywhere, which I guess stuck into my head, but now I see that everyone is dancing reggaeton. It's a way to get all together and there is no more distinction between classes. It's a music that gives you a lot of energy.