Emeli Sandé never planned on getting so famous. "I'm quite an introvert," the multi-platinum singer-songwriter admitted, her long black sleeves pulled protectively around her hands, and her trademark shock of blonde hair wrapped in a headscarf. "I like to hide in basements." Fittingly, she told me this in her soft Scottish accent as we sat in her cozy underground recording studio. Sandé's 2012 debut album, Our Version of Events, broke a chart record set by the Beatles and was the U.K.'s highest selling of 2012. But, in the densely soundproofed room, the only sign of this success was the row of MOBO Awards tucked in the corner behind a burning stick of incense.
Sandé began her career by grafting behind the scenes. She caught the industry's attention with her original songwriting, after her parents sent a CD of her songs to BBC Radio 1Xtra, leading her to quit medical school in 2009 and move to London. In the capital, she began writing tracks with producer Naughty Boy, two of which wound up being Top 10 singles for grime MCs Wiley and Chipmunk (with Sandé on the hooks). The first solo track of hers that I heard was "Daddy," a menacingly catchy song about addiction, in a low-budget acoustic session on YouTube in 2010. It wasn't long until she was signed by Virgin/EMI, but even while making moves toward stardom herself, she kept writing for others, including "Half of Me" for Rihanna, and "It Takes Two" with Katy Perry.
In summer of 2011, she released her drum & bass-inflected solo single "Heaven," and everything changed — to a casual observer, overnight. Soon, Sandé had featured on a U.K. number one single (Professor Green's "Read All About It"), and she was omnipresent in the media. As well as the White House, she sang at the 2012 Olympics twice, and in an array of increasingly high profile televized and sponsored performances. Among many other awards, her song "Next To Me" won "Most Performed Work" at the 2013 Ivor Novellos — an honor that reflected her relentless schedule. Critics began labeling her "overexposed."
The trade-off for all that exposure was Sandé's peace of mind. By the end of 2013, she had retreated almost completely from public view. Her marriage to her long-term (and first) partner, marine biologist Adam Gouraguine, had ended after one year. She was burnt out, and she needed space. Now 29, Sandé can look back on the younger version of herself with the sympathetic yet critical attitude of an older sister. "I wasn't assertive enough," she reflected in the studio, her skin mottled under the light of a widescreen TV playing David Attenborough's The Blue Planet on mute. "I have a much better understanding of myself [now]. I've learned how to say no."
In her time out of the spotlight, that self-awareness has translated into a second album, Long Live The Angels, that builds on the winning pop formula of her first in wiser ways. Her familiar shivery piano ballads and feel-good anthems are intact, but they come with a new sense of exploration: the sounds roam further, the emotions hit deeper. Lead single "Hurts" is a booming clapback that might be the first truly angry Emeli Sandé song. But the album's highlights are more low-key: R&B tune "Garden" (featuring Jay Electronica), opens with self-affirming poetry from Sandé's close friend Áine Zion, and swells to a sensual chorus of ooohs on a bed of bass. On her velvet sofa, Sandé discussed heartbreak, family truths, and how she found the strength to do it all again.
Was 2012 a whirlwind for you? What did it feel like?
Before my album came out, I wrote with Alicia Keys. She kind of became a big sister. She'd be like, "You have to schedule personal time." Because I wasn't that busy, I was like, Well, you're Alicia Keys — but that probably doesn't apply to me. Now looking back, I'm like, Okay, that's why she said it. Even if it feels weird scheduling it in, you have to make sure you do nothing. It's so important that your family and the people you love have your attention, and you're still involved in real life.
When a label gets involved, and they want to push your music even to a bigger audience, you have to start keeping up with this pace. I think that unless you're feeling very healthy — mind, body, and soul — you can't get on that racetrack. You have to be so strong, and your personal life has to just be on the back burner. And for me, that was the part I didn't really like.
Would you have done anything differently?
There's nothing I regret. [But] I did start to feel very tired. I didn't have time to get better as an artist — and you have to live, to have something to write about. [I was] 22, 23 when it all started, and those are such crucial years to get to know yourself, especially going from a girl to a woman. I look up to Nina Simone, Janis Joplin, and Joni Mitchell, and the depth of their lyrics, you can tell they'd really been in love and they'd really experienced things. I wanted to do more than [make] something that was selling, I really wanted to make art. I wanted to get very deep. You know, I'd left medical school to do this. I've given up a career that would've been really special to me to do this, so I've got to do it properly.
You've changed your management since the first album; what was behind that decision?
I was never forced to be responsible for myself. I'd been with my previous manager since I was 17. He was so loving and protective, and same with my ex-husband. They would organize everything for me, and all I had to do was turn up and sing. I needed to make my own mistakes.
"I left medical school to do this. I've given up a career that would've been really special to me, so I've got to do it properly."
What was it like being married to someone who was not famous at the height of your fame?
He was so supportive. He was there on tour with me, and he really kept me grounded. But I knew it wasn't fair on him; I was so dedicated to my career, and there wasn't a compromise. It got to a point where I felt like it wasn't cool of me to expect someone to not live where they want to live; to not be able to fully make themselves stable and pursue a dream that they want. We made it work for as long as we could.
You traveled to Zambia in 2014 with Oxfam, and also spent time with your family there. How did that affect you?
It was the first time I'd met my family over there. I met my grandmother for the first time, all my aunties, my cousins. I'd never seen my dad speaking his language in his country, the real him. Just seeing real life was a big lesson to me. We went to my grandmother's village, which was like a two hour drive from the nearest town. There's no electricity, no running water. You see the sun, the cockerels would wake you up in the morning, everyone was singing prayers, and they'd light the fire at night. Something about the harmonies in the music, it was so cleansing.
[I also saw] community in action. You have the grandmother, who's like chief of the village, and then her daughters were taking care of the children and cooking…[Previously] I'd had this whole picture of like, women should be like this, they should be nice and you shouldn't swear. I saw the responsibility was on them — if they weren't around, the [community] would collapse. They had to take charge of things.
Before that, I'd been working with Oxfam for a week; we'd been going around Zambia looking at inequalities, and men's attitudes with women, domestic abuse, and how to empower women by them being able to sell their own things at the market so they have more financial freedom. It really made me value everything I have over here.
After that trip, did you feel your cultural heritage came to bear on your writing any more?
It definitely came into play. I really wanted it to be an important message in the album. There's a new song ["Tenderly"] that features my dad and some of my cousins, singing in the village, from all the voice memos we took. It made me realize my responsibility is even greater than I thought. To be a black woman in this position, and have a voice — that's even more special. I want to speak for a lot of people. Especially [after] my trip to Zambia, especially people I've met on the journey, and everything you see in the news at the moment.
People are so vulnerable. Men as well. Everybody. The reason I wanted to be so honest and so raw on the album, to expose myself, is that's the only way to make true connections with people.
I want to let people know, "You can be yourself. You can sometimes be pissed off. If you're in a relationship that's not working, you can tell someone." I hope I can empower people with this album. Being able to express every side of you is so important.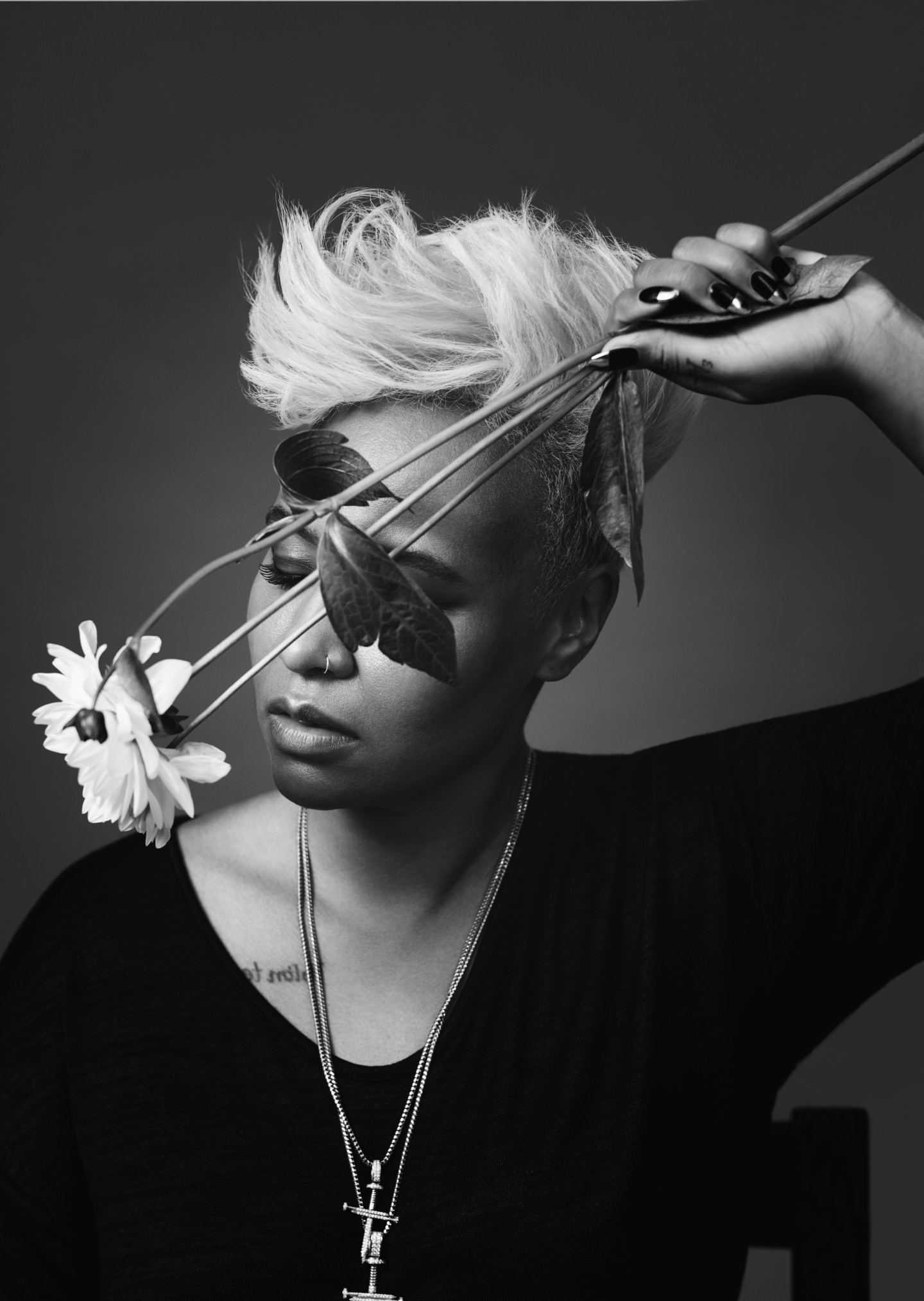 "My responsibility is even greater than I thought. To be a black woman in this position, and have a voice — that's even more special."
The song "Garden" feels like you exploring a new side of your songwriting — it's so sexy.
It was the first time for me just exploring sexuality, and sides of me that I always thought were like, You can't be like that, if you wanna be a lady. It's not really an area that I'd properly expressed in myself, or thought was important. But I'm a grown woman. There's a strength in femininity and there's a strength in just being honest. It felt like a real release.
"Hurts" also feels different; it's very bittersweet.
If "Garden" was exploring sexuality and sensuality, then "Hurts" was exploring assertiveness, saying what you mean. It was me finally saying, I'm not okay. I wanted it to be the first single because it represents the change I've gone through. Now I can tell people, I'm angry, and that's okay.
There's a clear gospel influence in some of the new songs. Are you religious?
I used to go to church. Not every Sunday or anything. When I'm hanging out with Shahid [Naughty Boy] — he's Muslim — we speak about religion a lot. I have friends who are Bahá'í, so that was always a big thing in my life, and I have a friend who is a Rastafarian. There's a lot of spiritual influence in this album. Not so much religious, but I definitely started to ask a lot more questions about what my beliefs are.
Through all this, what have you learned about self-care?
I've learned that it's not bad to be selfish sometimes. I always thought that that was the worst thing you could be. But if you keep giving yourself all the time, and depleting yourself, then you're no use to anybody. Self-love and respect are the biggest lessons I've learned — saying what I mean, not censoring myself. People who get it, they get it and if they don't, then I'm still myself. I'm still full and whole.
Emeli Sandé's new album Long Live The Angels will be released on November 11 on Virgin/EMI. Pre-order it here.