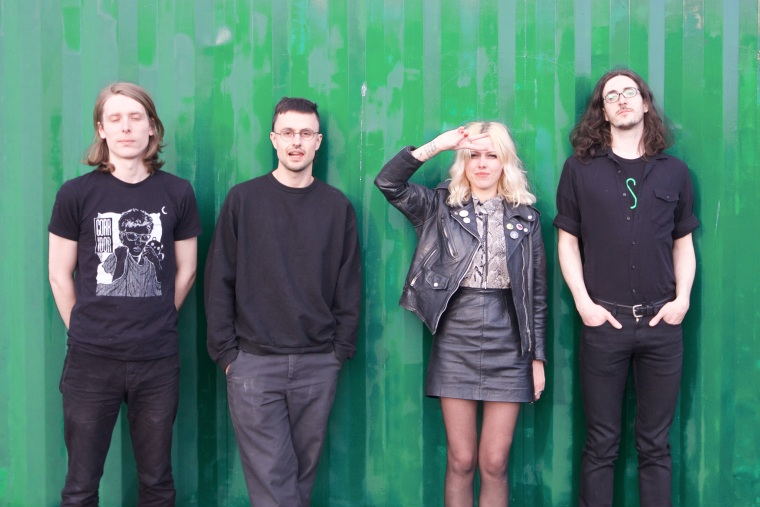 There's a cool thing going on in Toronto these days: lots of really good punk bands keep sprouting up, like DIY dandelions. Peeling, whose new single "Magic Eye" is premiering today, is one of those bands. Frontwoman Annabelle Lee has a perfect raspy sound, and she's backed by Dilly Dally's Jimmy Tony Rowlinson on bass, and Buzz Records's co-founder Denholm Whale, which is some great company to be in. And "Magic Eye," which appears on the band's October 14 album, Rats In Paradise, definitely rips.
"'Magic Eye' is about sex positivity, feeling lusty, and getting it on," Lee told The FADER over email. "I was listening to a lot of Rowland S. Howard and old Japanese psych when I came up with the bass line. [I was] inspired by their super dark and sultry tones. Writing the rest of the song was just [about] building over that repetitive groove until it climaxes at the end."
I want more! Listen below.
Peeling Tour Dates:
Sept 25 - Toronto, ON @ Bovine Sex Club *
Oct 12 - Ottawa, ON @ House of Targ
Oct 13 - Montreal, QC @ L'Escogriffe
Oct 14 - Brooklyn, NY @ Shea Stadium BK #
Oct 15 - Philadelphia, PA @ First Unitarian Church ^
Oct 16 - Washington, DC @ Rock & Roll Hotel ^
Oct 18 - Atlanta, GA @ 97 Estoria
Oct 19 - Augusta, GA @ Soul Bar !
Oct 20 - Asheville, NC @ Jackson Scott's !
Oct 21 - Knoxville, TN @ 2501 MLK
Oct 22 - Birmingham, AL @ The Firehouse
Oct 23 - Nashville, TN @ DRKMTTR
Oct 24 - Cincinnati, OH @ The Comet
Oct 25 - Chicago, IL @ The Empty Bottle
Nov 4 - Toronto, ON @ Baby G
* with Death Valley Girls
# with Duchess Says
^ with Preoccupations
! with Muuy Biien