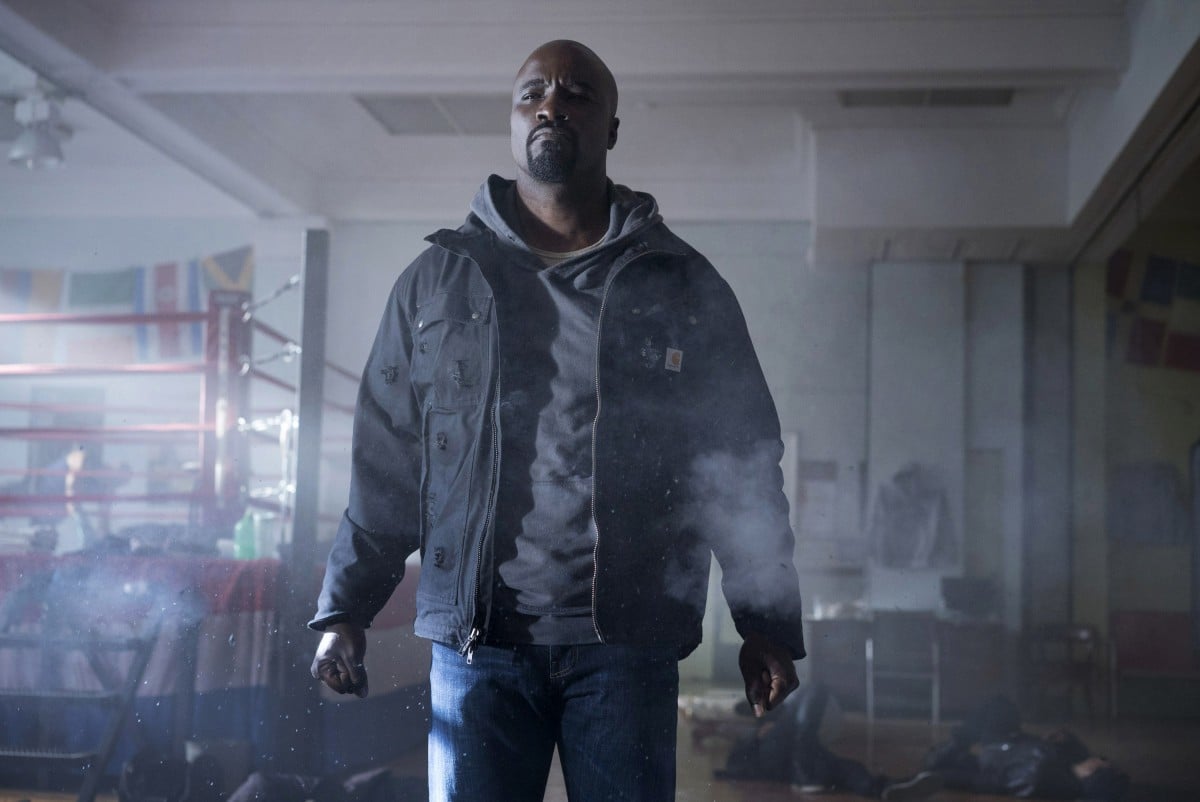 The existence of a black man with impenetrable skin in the age of Black Lives Matter is radical. Critics are already saying plenty about the significance of Luke Cage — the Marvel Comics adaptation debuting on Netflix on September 30 — in which the eponymous character routinely sports a hoodie à la Trayvon Martin and carries himself with an unapologetic swagger. Cage is a bulletproof black man perfectly aligned with the zeitgeist, a time when racial discord and political immorality inform the collective temper of the nation. What stands out for me, though, is a detail; it's perhaps the most relevant one: the hoodie and hip-hop mood and cultural authenticity result directly from the involvement of a black showrunner, Cheo Hodari Coker.
Created by the late Kansas City-born Archie Goodwin, Luke Cage was Marvel Comics' first African-American superhero to star in his own monthly series. (The Black Panther — created by Stan Lee and Jack Kirby in 1966, and set to star in a Marvel Studios-helmed movie in 2018 — is from Africa. Another Lee creation from 1969, the Falcon, had to share a title with partner Captain America). The words written in Luke Cage's speech balloons were penned, for decades, by white writers. In his 44-year history — dating back to the character's springtime '72 debut in the first issue of Luke Cage, Hero for Hire — the champion hero sometimes known as Power Man has only once had the true benefit of a black comic-book writer (Christopher Priest, 1984-86), until this year.
As a series, Luke Cage, Hero for Hire hit the rotating wire magazine racks of stationery stores the same year that blaxploitation fare like Blackula and The Legend of Nigger Charley splashed across seedy Times Square silver screens. In his first few issues, Luke Cage, a fugitive from Seagate Prison who escapes after a scientific experiment goes wrong, is on the run from The Man just like the titular star of the iconic Sweet Sweetback's Baadasssss Song. Meanwhile, The Falcon had criminal roots as L.A. gangbanger "Snap" Wilson. Because, black men.
To Marvel's credit, Black Panther endured as African royalty since his very beginnings. He's king to the fictional nation of Wakanda. But Luke Cage grew from blaxploitation origins, just as his eventual partner Iron Fist — due for his own Netflix series next year — was invented to capitalize on the 1970s karate-flick craze. (Before the streaming giant's acquisition of the characters, I'd always hoped for a Kill Bill-meets-Jackie Brown, Quentin Tarantino-directed Power Man and Iron Fist movie, given the filmmaker's fascination with those genres.)
As a tweenager reading their adventures, I can't say I saw myself in Power Man. His jive-ass turkey dialogue — written by white writers like Kurt Busiek, Jo Duffy and Chris Claremont — rang all the way false. And he was a "hero for hire," meaning he charged a fee for his heroic exploits. I may have been 8 years old, but I was a child of the Black Power era. I often wondered: Why does the black superhero, the ex-con, have to be the one asking for money after he saves somebody? Nowadays, black characters like Blue Marvel and Riri Williams are heralded as the most intelligent superheroes in the Marvel Universe. But back then, white writers felt like black heroes needed rap sheets.
Cage is a bulletproof black man perfectly aligned with the zeitgeist, a time when racial discord and political immorality inform the collective temper of the nation.
Those same writers also phased out black love interests like Claire Temple and Harmony Young in favor of white heroines like She-Hulk and Cage's eventual wife, Jessica Jones. All of which is to say: I didn't look up to Power Man then in the way that my sons are able to look up to Luke Cage now.
Comic geeks once had a strong thing for continuity, but this generation's superheroes have become more like iPhones: there's a version for everyone. Marvel's got an African-American Captain America and a biracial Spider-Man with Latin heritage fighting alongside the white originals. Rival DC Comics just debuted a Chinese Superman and a black Robin. (Which rocks — as a kid, I wanted to be Robin, not Power Man.) Also, comics, TV, and movies are all different mediums, and fanboys have, more or less, learned to allow for the differences in treatment.
Which brings us back to showrunner Cheo Hodari Coker. Outside of whatever writer David F. Walker is currently doing with Power Man and Iron Fist on the Marvel Comics side (Walker is black), Netflix's iteration of Luke Cage works so extremely well because of Coker's creative autonomy and influence — a black hand is creatively steering the wheel.
Full disclosure: back when he was known as music journalist Cheo H. Coker, our bylines often crisscrossed on the pages of Rolling Stone and Vibe magazines, but I've never met the man in person. Like most in our proverbial hip-hop media graduating class, I've proudly kept tabs on the evolution of his career. I recall him referencing A Clockwork Orange in an N.W.A profile. Still in his 20s, he would sell an unproduced script to New Line Cinema. Co-written with his screenwriter uncle Richard Wesley, the man behind Uptown Saturday Night, it was called The Flow, and at one point had John Singleton attached to direct. In 2009 he adapted his own Biggie Smalls biography, Unbelievable into the biopic, Notorious. He's been writing and producing in Hollywood for years for shows like Southland and Ray Donovan. Now, as the accolades pour in, it seems clear that Coker's career has been building up to this big moment: Luke Cage seems like his perfect fit.
The show triumphs for a mixture of reasons, but what sold me most were the Easter eggs. Legendary Harlem haberdasher Dapper Dan makes a cameo designing a suit; photographer Jamel Shabazz is referenced shooting a photo essential to another episode's plot; artist Barron Claiborne's iconic Biggie Smalls portrait hangs framed in its blood red glory on the office wall of the villain Cottonmouth. Believable black barbershop talk on the corner of Harlem's 120th Street and Malcolm X Boulevard (as rendered in episode 1, "Moment of Truth") doesn't happen without black participation. Neither does naming each episode after a Gang Starr song. Or detective Misty Knight's organic explanation of the Polo Grounds' hood-famous basketball court, Rucker Park. Or responsible deployment of the N-word. If God is in the details, Luke Cage is one holy roller of a superhero series.
One of the first moves Coker made as producer of the show was tapping Ali Shaheed Muhammad (of A Tribe Called Quest) and Adrian Younge to score the series, another example of how his input made a major difference. Luke Cage kicking ass to "Bring Da Ruckus" is an iconic moment for both Marvel and hip-hop, period. (To boot, Cage's headphones are on: he's actually listening to Wu-Tang; it's not just background music.) Along with live performance pieces from Raphael Saadiq, Faith Evans, and Jidenna at Harlem's Paradise — fictional nightclub of the villainous Cottonmouth — the musical soup the show swims in couldn't be more apt.
Critically acclaimed superstar writer Brian Michael Bendis, who is white, had arguably written the strongest, most nuanced Luke Cage to date in the aughts — for titles like Alias and The New Avengers. Still, I'd wager that Bendis doesn't know "DWYCK" like Coker. Assigning Ta-Nehisi Coates to its Black Panther title, with feminist author Roxane Gay, the first black woman ever to write a Marvel Comic, coming up soon, Marvel's behind-the-scenes diversity is on its way with all deliberate speed. Allowing Coker's "Wu-Tangification of Marvel" on Luke Cage was the smartest thing they could've done. Black control matters.