Meet NBA YoungBoy, Baton Rouge's Rawest New Rapper
While labels call, he's keeping his friends close.
Water hung in the air, thick and suffocating, on a humid August day in Baton Rouge, Louisiana, where, two weeks prior, floods rose up to claim lives and property in a historic natural disaster. The flood waters were gone, but evidence of the destruction was everywhere on a residential street on the east side of the city: large piles of drywall, wood, and carpeting had been pushed to the curb, obscuring the low-slung houses behind them.
NBA YoungBoy, Baton Rouge's most promising rapper, was a short drive away on a quiet street just outside the reach of the flooding, where he lives with his friend KK. In the kitchen, KK answered calls on two different phones while another friend, Lil Ben, watched YoungBoy's recently released video for "What I Was Taught" on a phone attached to a portable speaker. The 16-year-old artist's wiry frame suddenly appeared from the hallway at the other end of the house, just in time to rap along to the closing bar of his verse, as he pumped his arms up and down: Finna be one of the dumbest in town/ Got the major labels calling my phone.
YoungBoy, born Kentrell DeSean Gaulden, was raised by his grandmother in north Baton Rouge. "It was hard but fun," he says of his early childhood. "We had to make it fun." At the age of 4, YoungBoy broke his neck in a wrestling accident, and three deep scars still mark his forehead from wearing a halo brace. When his grandmother passed away a few years ago, YoungBoy was left to fend for himself. He dropped out of school in the 9th grade and, shortly after, was arrested for robbery. "I had been rapping, but I used to hide that shit," he remembers. "I was scared, not for sure 'bout myself, playing with my craft." During his six-month sentence in a juvenile detention center in Tallulah, Louisiana, he wrote song after song for what would later become his first mixtape, Life Before Fame, released in 2015.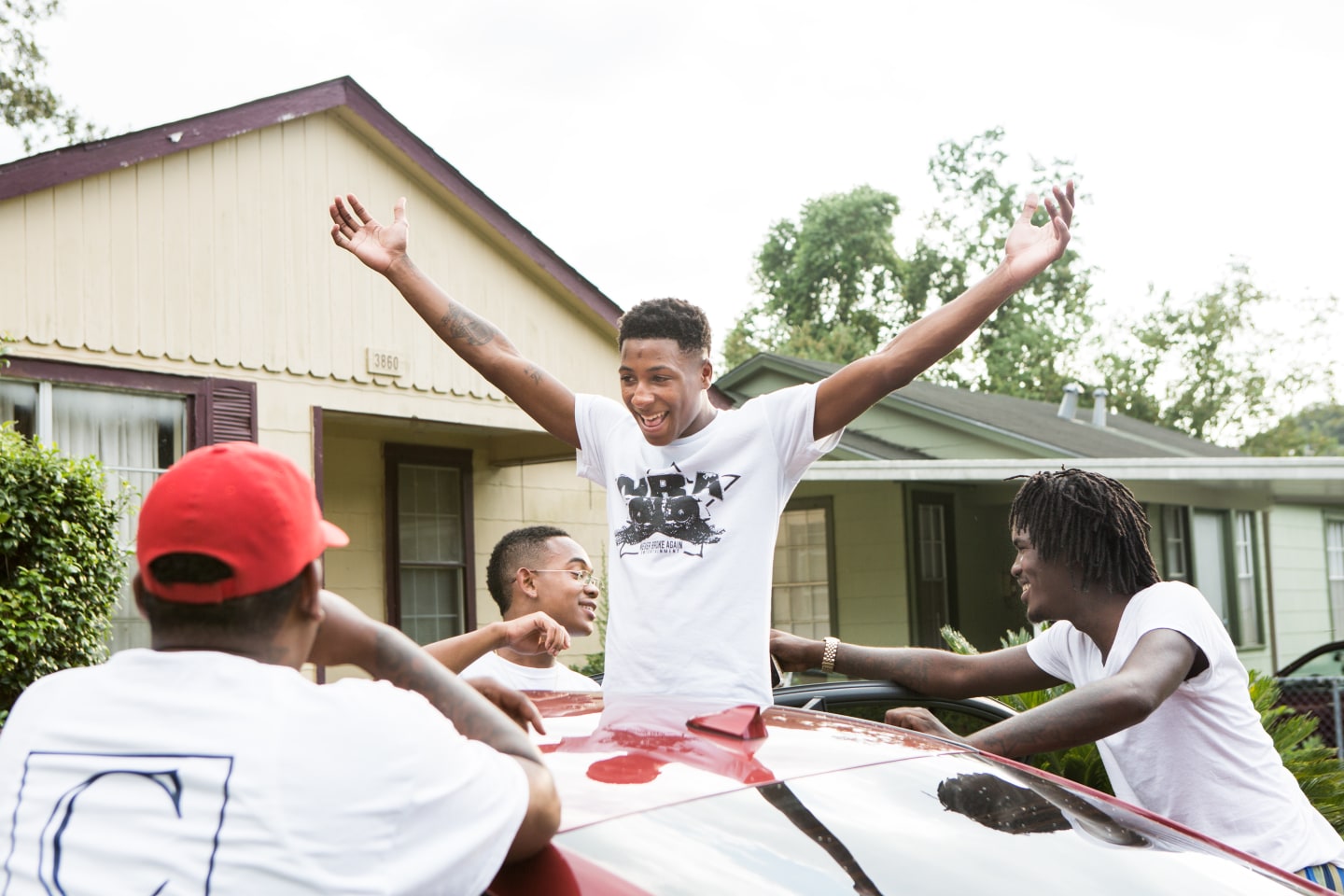 "Without loyalty, you won't accomplish anything. Everything will be salty."
In person, YoungBoy uses words sparingly, saying only what's needed to get his point across. "I'm quiet," he explained. "My vibe gets killed fast." But in his music, he puts his whole life out in the open. Like B.G. and Boosie before him, YoungBoy deals in reality rather than elaborate metaphor, treating the sinister piano melodies and pounding bass patterns that he raps over as his confessional. On "Cross Me," a track from his Mind of a Menace 2 mixtape, he offers a line about his father, who's been incarcerated for much of his life: On my heart, that's on my soul, I won't tell no lies/ Uncle told now my Daddy doin' 55.
Loyalty is extremely important to YoungBoy, and it's easily the most consistent theme across the four projects that he's released. "Without loyalty, you won't accomplish anything," he told me. "Everything will be salty." The Baton Rouge he raps about is dark and treacherous, a city where no one's business stays secret and betrayal lurks around every corner. YoungBoy brings this environment to life, alternating between gruff-voiced street storytelling and melodic hooks heaved from his chest. His autobiographical style has earned him a rapidly growing fan base in the South and comparisons to his city's most recent national star, Kevin Gates. But, despite the fact that he's rapped over multiple instrumentals from Gates's catalogue, the only influence that YoungBoy claims is Lil Phat, a lesser-known hero of Baton Rouge rap, who was gunned down in 2012 at the age of 20.
Within minutes of my arrival at KK's house, YoungBoy was headed out the door to meet up with the rest of the Never Broke Again crew, a group of young men that he grew up with and refers to as his brothers. Much of the day was spent this way: decisions were made in the moment and no location or idea lasted too long. The one constant was the presence of his NBA comrades, who surround him at all times like a coat of protective armor. "I got to see Lil Ben, I got to see 33. Everyday," he explained. "I make sure they know all of us. I ain't gon' overshadow nobody."
YoungBoy is the sole rapper in his circle, but his friends are recurring characters in his songs, and they stand beside him in each of his music videos, heavily armed, aiming their weapons at the camera. When asked about the Glock with a 30-round clip that remained half-tucked into his jeans all day, YoungBoy said that it was "for protection." But he said he isn't afraid of the problems that might come with fame or wealth. "The only thing that scares me is dying," he said, calling that something more likely to happen in Baton Rouge than anywhere else his music might take him.
The group had just gotten back from Los Angeles, where YoungBoy was meeting with record labels, and they were already itching to go back. Instagram videos from the trip show the young men walking the Venice Beach boardwalk, blasting his latest songs for baffled Uber drivers, and splurging on medical weed from the dispensary. YoungBoy said he is currently planning a permanent move to the West Coast — but only if he can bring his brothers with him.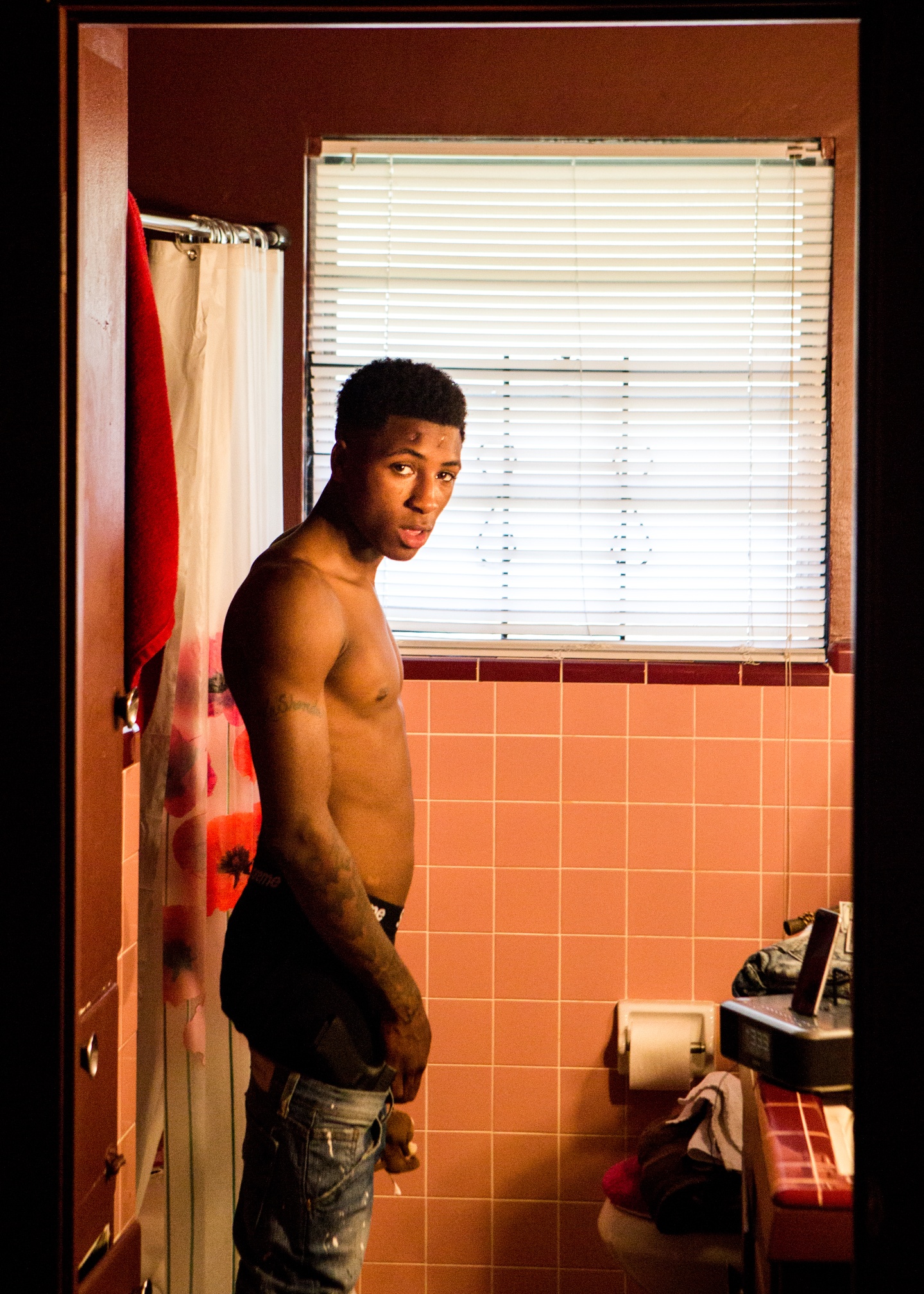 From The Collection:
GEN F