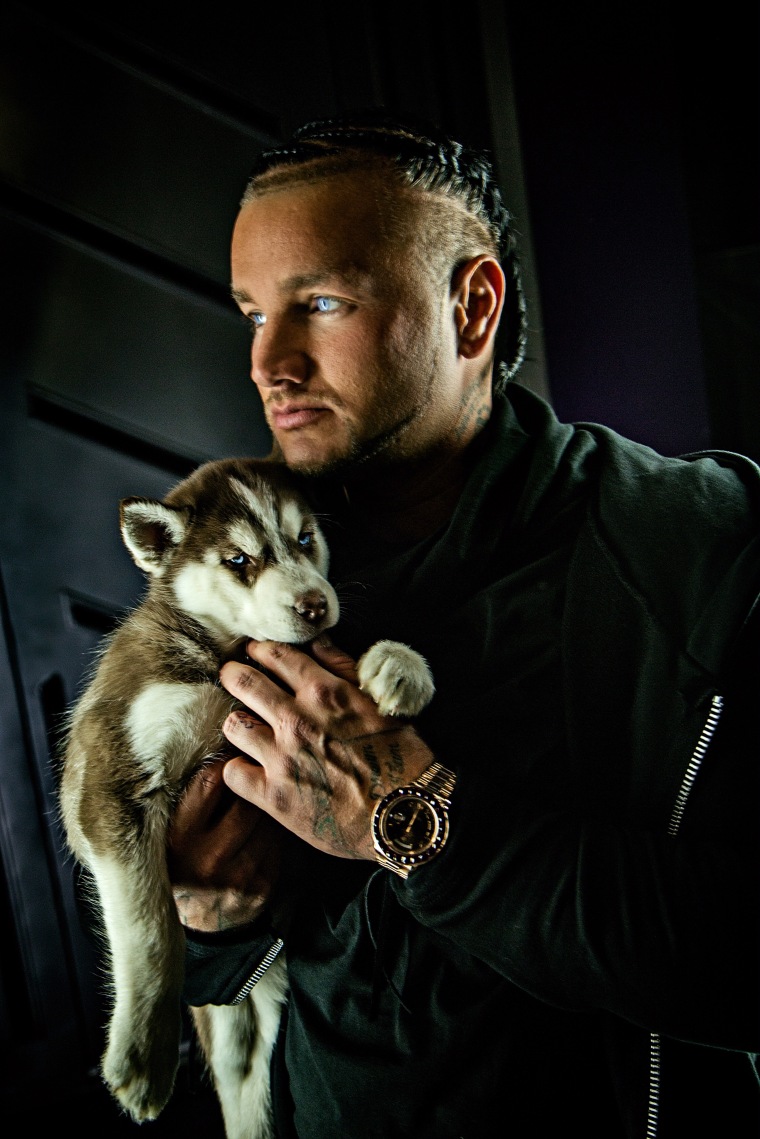 Halloween is a time when larger than life characters come out to play, so it makes sense that Riff Raff is releasing his new album in time for the spookiest of holidays. Balloween is out on October 25 and includes appearances from Skepta, Quavo, Lil B, and Yung Lean among others plus production from Diplo, Calvin Harris, and Sonny Digital.
"Back From The Dead" is the first song from the album and is premiering via The FADER today, October 12. Skepta turns up on his verse, bragging about his Chicken wing swing and imagines brothers blazing at his funeral. Riff Raff, meanwhile, talks about candy-coating his car with a Butterfinger interior. It's brash and fun stuff with Will-A-Fool's gleaming beat bouncing in the background.
Speaking to The FADER over email, Riff Raff said: "When we decided to make the best Halloween album ever we had to get the #1 ranked U.K. artist on this song. Skepta 100%."
Check out "Back From The Dead" below, alongside the Balloween tracklist.

1. BALLOWEEN iNTRO - PROD BY SONNY DiGiTAL
2. BACK FROM THE DEAD ft SKEPTA - PROD BY WILL-A-FOOL
3. FUCK EM ALL ft DJ PAUL & QUAVO - PROD BY TWHY EXCLUSiVES
4. GO GET iT ft CHEVY WOODS & LIL DEBBIE - PROD BY TOP SECRET
5. ViBE - PROD BY DiPLO
6. TONKA TOY FREESTYLE - PROD BY REY REEL
7. SWiTCH LANES ft GUNPLAY - PROD BY MiKE CHEK
8. WORKING EVERYDAY ft LiL B - PROD BY THA HEAVYWEiGHTS
9. STAY AWAY FROM YOU - PROD BY TOOBLUNT BEATS
10. TAKE ME AWAY - PROD BY DAME GREASE
11. DiAMONDS JUMPiNG ON MY NECKLACE ft TRAE THE TRUTH - PROD BY TRAE THE TRUTH
12. ALWAYS UP ft YOUNG LEAN - PROD BY BIG JERM
13. FRESH PAiR OF ROBiNS - PROD BY MENACE ON THE BEAT
14. STARiNG AT THE SUN ft PONCE & GETTTY - PROD BY WILL-A-FOOL & XL EAGLE
15. MOVES LiKE BATMAN - PROD BY MiKE JERZ
16. BiTCHES iN MY DRiVEWAY ft THREE LOCO - PROD BY DiRT NASTY & CHUCK ENGLiSH
17. LIL MOMMA REMiX - M MAC REMiX
18. SOLD THE HOUSE - PROD BY MR OIZO
19. HEART OF GOLD ft TRAVIS BARKER - PROD BY TRAViS BARKER
20. CARE FREE - PROD BY CALViN HARRiS