Listen To FaltyDL And µ-Ziq's Tranquil Track. And Read A Frank New Interview.
"Frigid Air" is taken from the N.Y.C. producer's new album Heaven Is For Quitters, which he dives into in a chat about the benefits of collaboration.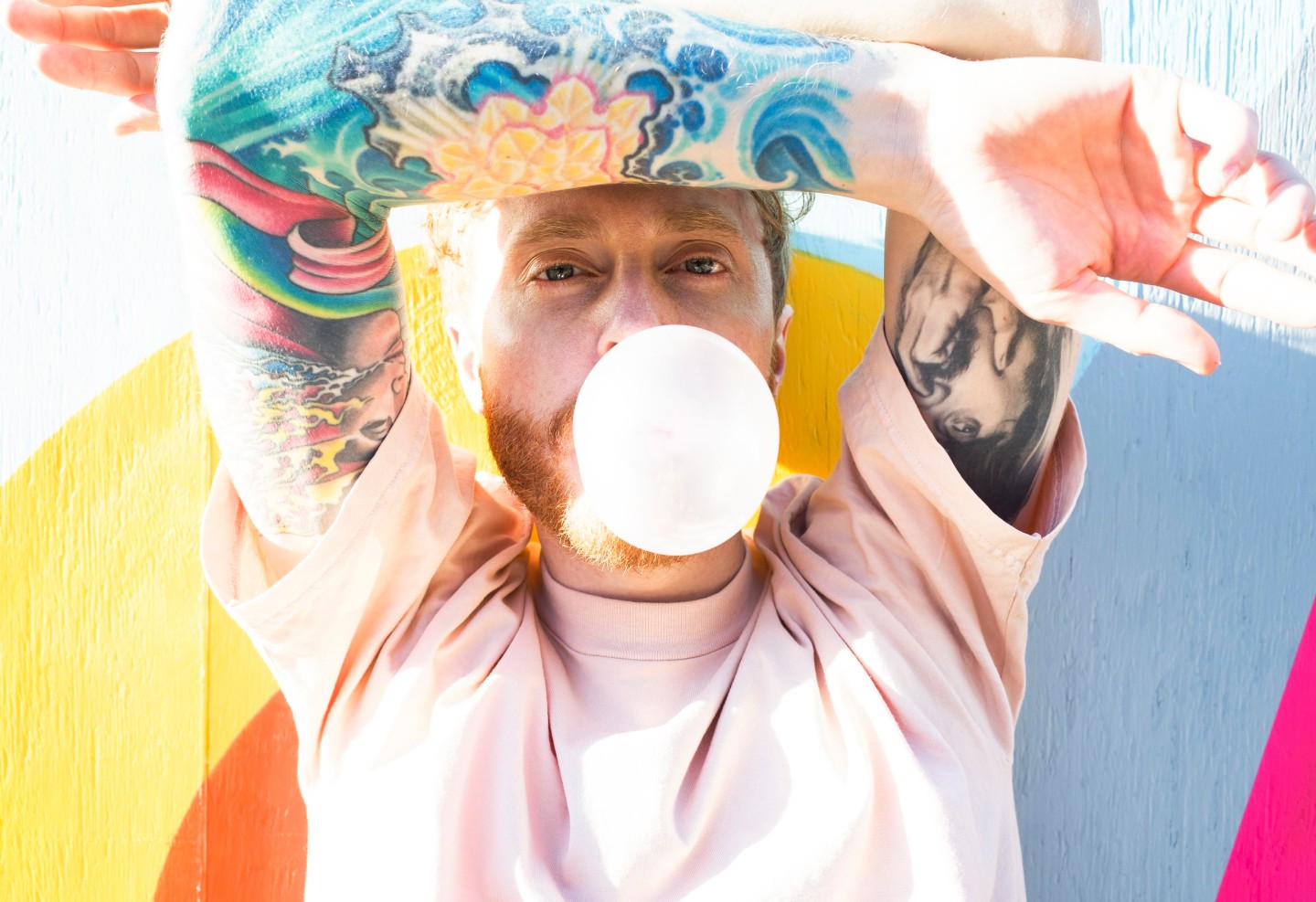 New York electronic musician FaltyDL, aka Drew Lustman, has built a sizable discography over the years. Amidst nearly half a dozen albums of intricate compositions, one thing that stands out is the absence of featured artists. For his forthcoming sixth album, Heaven Is For Quitters due out on his own Blueberry Records, the veteran producer breaks out of his usual, insulated creative process, and tries his hand at collaboration with a select group of producers and vocalists. Today we're premiering one of the album's collaborative efforts — a new track called "Frigid Air" featuring U.K. producer µ-Ziq, the alias of Planet Mu founder Mike Paradinas.
While Lustman has released records on Planet Mu before, it's the first time the two artists have worked together — and the result is a serene instrumental track with multiple layers. The sounds of cymbals, synths, and spacious techno beats constantly interlace and weave together to make the whole greater than the sum of its parts.
Reflecting in an email to The FADER, Paradinas remembered "Frigid Air" as "being one of the more beautiful sounding compositions Drew sent me. I was a bit worried that it sounded too much like his previous work, but the more I listened, the more that feeling withdrew. I think we both felt that the track dragged a bit towards the end so I just recorded a couple of synth lines as a suggestion of what might go there to lift the mood — and he left them in, so thanks."
Listen below, and scroll down for a chat with Lustman about the collaborative vibe of his upcoming album and what he'd tell his younger self after nearly a decade in the record-releasing game.
Collaboration played a bigger role on Heaven Is For Quitters than it has on any of your previous albums. What did that process teach you?
Patience and trust. Not only did I record vocalists for the first time in my studio but really talented ones. I was shitting it to be honest, but I kept remembering this thought that when you are in just over your head, you make interesting, challenging things. I could play it safe forever and never change my set-up or process or how and why I release music, but there is no growth in that. If it's just me in the studio, I can make things as fast or as slowly as I like. Collaborating means waiting and respecting other people's opinions during the creative process. And trusting big time that people aren't going to flake or give you a bad performance.
You and Mike Paradinas (µ-Ziq) go way back. How did this particular collaboration for "Frigid Air" come about, and in what ways did your relationship shape the way you worked together on music?
Mike has worked on my albums in the past with track listing and suggesting a few edits here and there. That started out naturally as I released a few albums on his label Planet Mu. This collaboration didn't feel out of the blue as I know we have both spent so much time listening to each other's music and he was already making track listing suggestions for Heaven Is For Quitters. I know [about] Paradinas's portamento melodies about as well as he knows the shuffle stutter of my drums at this point, so we can call each other up and talk about normal life stuff but the framework for us to discuss music is very strong. The big change for us on this track was, ultimately, it was up to me to [decide whether to] include it on the album or not as I am releasing it on my label, not his. Just knowing that makes you consider things differently. It almost didn't make the cut, in fact. It would be really fun to rent a place near him and try and make a more substantial record together.
Sonically, this record is bright and open, with even a few pop-friendly tones. Has the headspace you make music in changed?
I also challenged myself on the technical side of things and really tried to nail the mix downs more clearly then I have in the past. That may contribute to the openness and the pop sensibilities. Both vocal tracks I mixed down with Al Carlson at Mexican Summer. That was another first for me. I think if I went full-on pop though, I would make my version of SMiLE or Nilsson Schmilsson. I just got a piano and want to make music that sounds like Grouper right now. It will undoubtedly come out sideways and sound like me though. My headspace changes from day to day, the gradual change over a period of two years is hard to pin down but there is hopefully a lot of growth conveyed in the record. Sometimes it's hard to see growth when you are too close to the subject; self, but listening to albums spaced a few years apart is probably a good way to chart change.
In 2017, you will have been releasing records for a decade. What do you know now that you wish you knew then?
That's crazy. I look at my discography and think it really started in 2009, but if I am being honest it goes back a bit further. I would like to tell myself to relax a little more, keep my eyes open, and try and regulate my emotional reaction to critical response. In a decade, you see people come and go, some grow, some stay the same. Everyone who has a moment loses it eventually. [It's] not [a] bad thing, [it's] really just how life goes.
I can't believe I've been able to do music full-time for the better part of that decade. I would have told myself to start Blueberry Records sooner. That's the best thing I have ever done. Also when a really great piece of news hits my inbox now, I try and have a similar response to it as if a bad piece of news came in, sort of the same distance from the emotional baseline. Don't worry about what the zeitgeist is telling you to listen to that week, even if it is underground and really cool. Just find things you like and that speak to you. Not everyone else. Be more kind. Maybe trust less and put yourself out in moderation. Have fun, sleep when you get home. Take photos. Go to the afterparty. Miss your flight. Miss your partner. Remember to put clean socks on your rider. Don't get drunk in Italy and damage your own passport. Remix everyone. Do less remixes. Be confusing and literal at the same time. Kind of sounds like I wouldn't change anything to tell the truth. Maybe delete Twitter.
Heaven Is For Quitters will be released on October 21 via Blueberry Records. (Preorder it here)