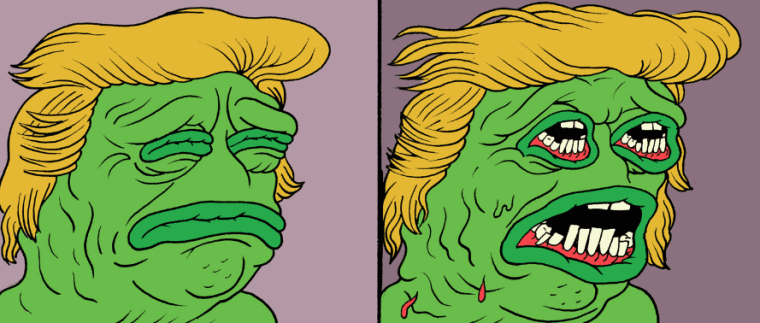 Pepe the Frog began as a relaxed, fun-loving stoner frog in Matt Furie's comic series Boy's Club, before becoming an internet meme and, eventually, an avatar of the alt-right officially designated as a hate symbol by the Anti-Defamation League. "I understand that it's out of my control," Furie wrote in a Time op-ed, "but in the end, Pepe is whatever you say he is, and I, the creator, say that Pepe is love."
On Friday, the ADL and Furie announced the social media campaign #SavePepe. It's described as "an effort to take back the popular meme from racists and use the frog's likeness as a force for good." Furie will design "a series of positive Pepe memes and messages" which the ADL will share on its social media channels using the hashtag #SavePepe. "I aim to reclaim the rascally frog from the forces of hate and ask that you join me in making millions of new, joyful Pepe memes that share the light hearted spirit of the original chilled-out champion," Furie said.
Today, Furie has shared a brand new Pepe comic with The Nib. It's billed as "Pepe the Frog: To Sleep, Perchance to Meme."