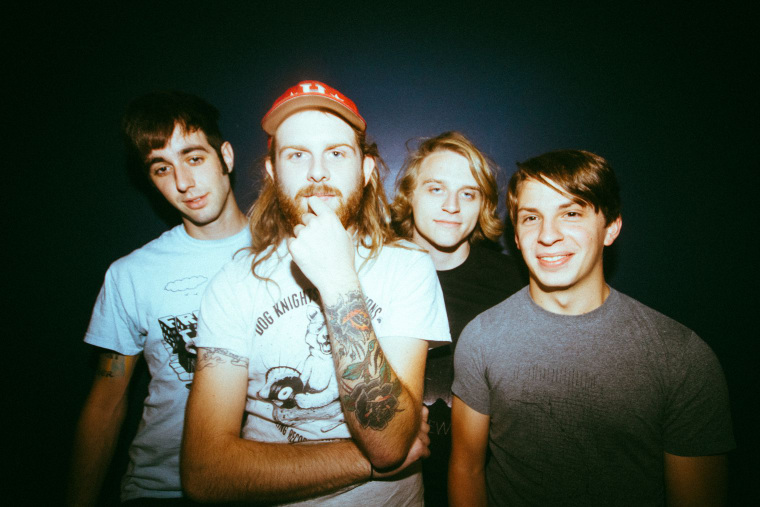 On October 20, Triple Crown Records will release a new 7-inch featuring songs by a pair of reliably great contemporary emo bands: Sorority Noise and The World Is A Beautiful Place And I Am No Longer Afraid To Die.
Another day trapped in my thoughts, Sorority Noise frontman Cam Boucher sings on "Leaf Ellis," his words dragging like a half-deflated balloon. "I remember sorting through some old voice memos and finding this riff and spending hours trying to figure out what tuning it was in and how to play it," Boucher told THE FADER in an email.
The World Is ...'s characteristically meandering contribution, "Smoke & Felt," is great too. "You never really notice how much violent traumatic shit happens around you when you're a kid, until you're older and you remember that everyone used to break their bones constantly and if that happened to one of us now it would be life-ruining," vocalist David Bello explained of the track, which details a kid snapping his collarbone. Your neighbor said it looked like something from the Twilight Zone, it goes.
Listen to both songs below, and order the physical 7-inch here.
Sorority Noise tour dates:
10/19 - Hamburg, DE - Goldener Salon&
10/20 - Copenhagen, DE - Underwerket&
10/21 - Gotheburg, SE - Skjul Fyra Sex&
10/22 - Stockholm, SE - Bergunds Strand&
10/24 - Berlin, DE - Musik Und Frieden&
10/25 - Wiesbaden, DE - Krea!%
11/01 - Wallingford, CT - Wamleg*
11/02 - Boston, MA - Middle East Downstairs*
11/03 - New York, NY - Shea Stadium*
11/04 - Philadelphia, PA - First Unitarian Church*
11/05 - Washington, DC - DC9*
11/06 - Richmond, VA - Strange Matter*
11/07 - Pittsburgh, PA - Cattivo*
11/09 - Lansing, MI - Mac's Bar*
11/10 - Chicago, IL - Beat Kitchen*
11/11 - Madison, WI - University of Wisconsin, Madison - The Set*
11/12 - Cleveland, OH - Mahall's*
11/13 - Columbus, OH - Double Happiness*
12/08 - San Francisco, CA - Swedish American Hall^
12/10 - Anaheim, CA - Chain Reaction^
12/11 - San Diego, CA - Che Cafe^
& = w/ Turnover
* = w/ Ratboys, Free Throw
^ = w/ Neveryoung