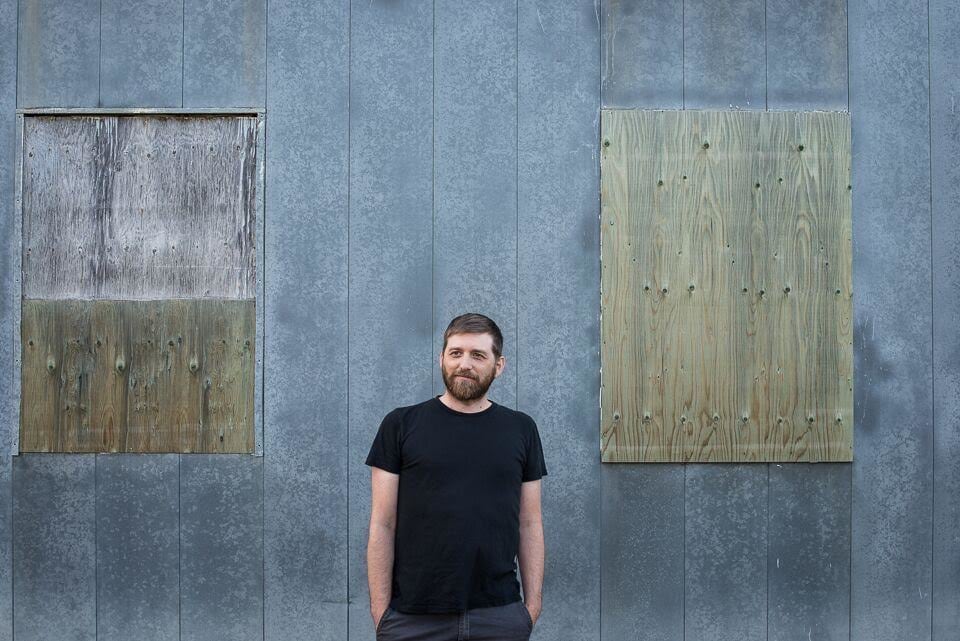 The central Canadian province of Manitoba, its resilient peoples, and sometimes apocalyptic weather have featured as major characters in the music John K. Samson has written throughout his career. On songs like "Confessions of a Futon-Revolutionist" and "Requests," he invokes historic and geographic backdrops to talk about markers of Manitoban identity; the "Icelandic Reserve" (land granted by the Canadian government to Icelandic settlers in 1875), the radical political lineage of the capital city Winnipeg, and even the injustice of Indigenous NHLer Reggie "The Riverton Rifle" Leach's exclusion from the Hockey Hall of Fame. Perhaps more than any other Canadian musician, Samson, the former frontman for The Weakerthans, has been able to communicate what it means and feels like to live in a place defined by isolation.
"It's always been a concern in my writing, and something I keep trying to understand, and trying to get right," said Samson, over a veggie Nip (a 'famous' Winnipeg burger) at Salisbury House, an old-timey diner chain partly owned by Burton Cummings of The Guess Who. His second sprawling solo folk album, Winter Wheat, out on ANTI Records, continues that search through tracks like "Oldest Oak At Brookside." There Samson explores 150 years of Winnipeg history—'progress' and destruction, past and present—in just two and a half minutes. He spoke with The FADER about what that history might mean for the people and Winter Wheat, and how Manitoba's geographies affect the art of its inhabitants.
What qualities define Manitoban identity?
It's more manageable for me to think of it as Treaty 1 identity. [That] both condenses the area we're talking about and also solidifies and focuses in on a relationship I haven't really paid enough attention to in my life — the idea of being a settler Canadian, and me coming to realize that that has to be the first relationship I think of as a writer and a citizen. I feel like Treaty 1 identity is a tricky thing to figure out.
There's real trauma in the communities that were here originally, and the communities that came here. A lot of people came from dire poverty and this was the only place they could find. That, to me, is really interesting: the historical context of this place and the communities that grew here. But I do feel like the land itself, the extremes of it, really shape who we are. There's definitely a stoicism and a sort of lopsided pride in enduring this place that I find really attractive and interesting.

How does Winter Wheat explore these ideas?
[The title track] "Winter Wheat" was the song I was most grateful for. I needed it for the record, although it's quite a short song. The song was actually inspired by a Miriam Toews book called A Complicated Kindness. I was commissioned to write a song about Miriam's work, and didn't know how to do it and then suddenly I was like, 'Okay, this is how I'm gonna figure out where the rest of the record falls into place.' So I read the last chapter of A Complicated Kindness a few times; the main character Nomi is left alone, and her father writes her a letter. So I thought about writing something to her from the father's perspective, or from the perspective of someone close to her, and that really helped. That novel is a real distillation: it takes place in Steinbach, just off Highway 1, which I feel is this connector that pulls so much of Manitoba together. I definitely think of it as the heart of the record.
"There's real trauma in the communities that were here originally, and the communities that came here. A lot of people came from dire poverty and this was the only place they could find."
Lines like, "so make a visor with your hand and squint at where you're from—a lonely line of buildings you can block out with your thumb" really conjure that landscape.
I feel like we're overwhelmed, maybe partly because of the landscape, or because we actually feel like this place is so large. Winnipeg, to me, feels so overwhelmingly large because it's so small. That sounds dumb, but that small town idea of everything mattering so much — our interactions with each other matter so much. There's something liberating about driving outside of Winnipeg and being able to look at it and go, 'It's so nothing.' You can put your thumb over it. It just seems like a little collection, a string of buildings that are pretty inconsequential. There's something valuable in that, an insignificance. There can be real comfort in that. There's so much scrambling for trying to matter and trying to make a mark in the world. Our time here is insignificant, and fleeting, and there's some comfort in that. People forget that.
How do you feel artists and ideas here are connected by geography?
I feel like it's something all artists from this area of the world plug into. There's something common that runs beneath all of our work, in every field, and it's the land itself that does that. In some ways it's the land before the land was developed, the vestiges of that — something wild and frightening. Sometimes I wonder if Winnipeg actually exists. Sometimes I feel like it's more a collection of small towns, and doesn't really qualify as a city at all. So because I feel like there's still a small town mentality, in both good and bad ways, that ethic is still really ingrained here. There are certain limits to the idea of Winnipeg. At a certain point, the fuses go. There's the limitations of the weather, [but also] the fact there are no limits in how far it can sprawl.

You've said Winter Wheat is partly inspired by the search for connection and community. Is there a specific way Manitobans connect and build communities?
The artistic communities in Winnipeg are really interesting. They're this kind of constellation of basements — people in their basements making work for one another. I still feel like, despite the internet, there's a real unique Winnipeg voice because we still need to entertain one another and ourselves because of where we are in the world: the location, the isolation. There's definitely something clannish about it, too. I know people who've moved here that find it very difficult to break into the communities, because they're so established.
What are the most exciting artistic expressions happening right now in Manitoba?
There's a real flowering of Indigenous writing right now that's pretty incredible; Katherena Vermette, a poet and a novelist, and [author and CBC host] Rosanna Deerchild. There's a really amazing visual arts community. It's interesting watching my friends who are visual artists developing. It's a different development compared to music. Music is, in the words of [punk rock band] Jawbreaker, "selling kids to other kids." The forces that drive that market are aimed toward youth. I'm 43 now, I feel like a senior artist in the Winnipeg music scene, I guess. Whereas my peers who are visual artists have now really hit their stride. There's some incredible work going on: Suzie Smith, Michael Dumontier, Paul Butler, Simon Hughes, Jeanette Johns. All these people are doing really exceptional work, and I feel like their artistic lives are just beginning, in a way.