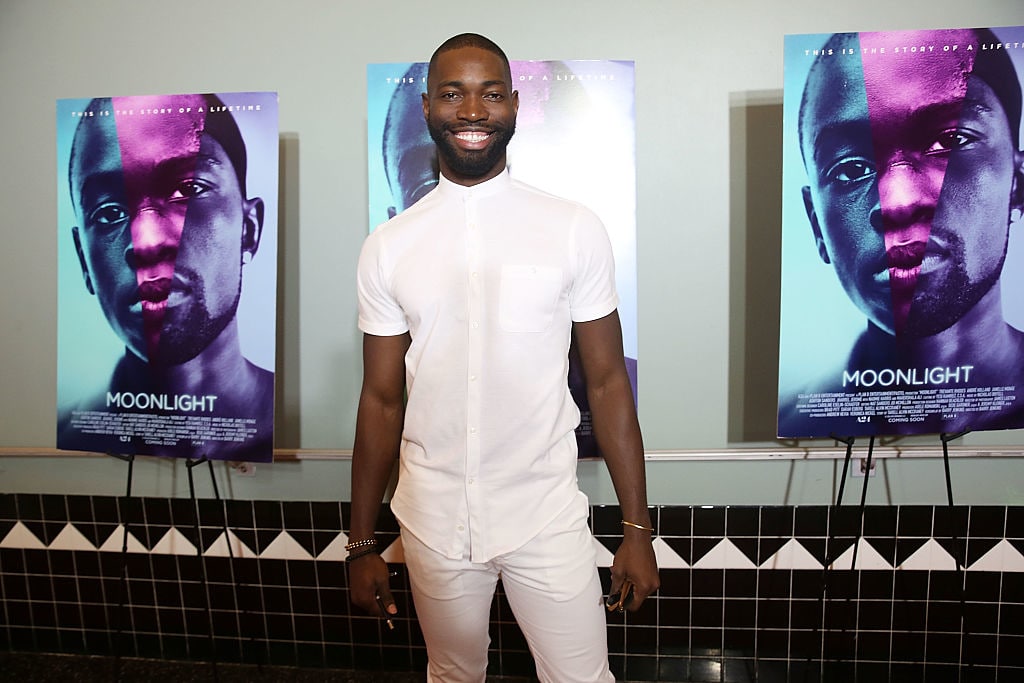 There is no genius more striking than that of the underestimated. By now, you may have been compelled to see Moonlight, Barry Jenkins's astonishingly intimate film about a lonely young black man living in Miami, slowly untangling his sexuality identity. The film's screenplay is based on In Moonlight Black Boys Look Blue a shelved play written a decade ago by Tarell Alvin McCraney, one of the 2013 recipients of the MacArthur 'Genius' Grant.
McCraney and Jenkins grew up just blocks from each other in Miami's Liberty City. They didn't know each other as kids both navigating a tough neighborhood, with home lives afflicted by drug addiction, and instead met as adult artists when McCraney's script for In Moonlight Black Boys Look Blue found its way to Jenkins through Borscht, a Miami-based film nonprofit. The result of their providential collaboration is nothing short of brilliant; but it's also a reminder of the way that arts education and opportunity is segregated by race and class. What if the fates of these two artists were linked earlier in life? McCraney, who still lives in Miami, spoke with The FADER about the limits of growing up surrounded by natural beauty, the power of theater, and providing the inspiration for the best film of the year.
---
How close or dissimilar are the images in the film to what you pictured while writing In Moonlight Black Boys Look Blue?
I think Moonlight captures the story in a way I never could have imagined. Barry has a very intimate voice with Miami. I'm from a more poetic dialogue and background and Barry has an incredible eye for visual storytelling; his ability to marry sound and visuals is extraordinary. So you get a story that takes advantage of what I think we both do well. It's not far off from it — there are definitely things that have been added to the film but there are also scenes from the original script.
Barry never tried to make it a story about any other place than the place that he grew up, and I think that's important. Also, we speak a similar language; it might not be the same language, but we speak a very similar language artistically. It was quite easy to let him go off and come back with something. He says that originally that he wanted me to write the screenplay but, at the end of the day, the best inclination was him taking the original script and turning it into the screenplay that he wanted to shoot.
Can you tell me about the version of Miami that you and Barry both know?
Liberty City is the inner city; it's one of the few neighborhoods that's actually within the city limits of Miami, like Overtown, Allapattah. Whereas what most people think of as Miami is South Beach, which is actually on Miami Beach and a different city altogether. There's a kind of blinding, distracting light that keeps you focused on the popular beaches and not the abject poverty. The things that most urban cities have in terms of turmoil exist in Miami, too; it's just pressed up against extraordinary natural beauty. So what happens in Liberty City when you're not adjacent to the ocean? Sometimes our city and the media can be very adamant about trying to tell a [certain] story. [Liberty City] is a unique place in that the same things that exist in other urban general populations exist for us, and yet there are palm trees and beautiful sunsets and you can smell the ocean five miles away.
"[In Miami] you know that you live in a place with incredible natural beauty and, at the same time, you recognize that it can be equally dangerous. There's a silence that permeates that. It's almost like, Be quiet, you're beautiful."
Californians sometimes talk about the relief that the beach and the sunshine can provide from the pressures of urban poverty.
I don't know if it's necessarily a relief in Miami. It feels like you can clock both things at once: you grow up with the ability to notice both. You know that you live in a place with incredible natural beauty and, at the same time, you recognize that it can be equally dangerous. There's a silence that permeates that. It's almost like, Be quiet, you're beautiful. So even though you're poor and oppressed, even though you have mistrust with those in charge, you live in this place, so why should anybody listen to you? That, for me growing up, was really powerful.
When did you realize you didn't have to be quiet?

It wasn't necessarily that I didn't; after a while, I couldn't. One of the eloquent things that Barry put into the film is that you see these young men, and they're all really quiet. They don't say more than five words, and yet they say so much. Once I did get an avenue where I could speak for myself or for that person that I love; in that circumstance it's necessary to come to the table with full and unadulterated access. As we all know as people working in the field, when you silence one voice you silence a multitude of voices. When one voice is diminished, we diminish all the voices that make up the harmony around it. That was really important to me, especially growing up. The fact that at some point I found a way to speak about the community that I came from, the blights and the problems of the people growing up in Liberty City. This is the story of how people also live.
When did you discover that theater could be a powerful or effective way to tell these stories?
This is where Barry and I, growing up, kind of diverted. He stayed quiet for awhile and played sports, whereas I was exposed to these incredible art programs. A lot of them don't exist anymore, but I was lucky enough to be introduced to these programs that were free and wanted kids involved. I didn't know right away that I could tell stories through them; I was just telling the stories I knew, and then I found that a lot of people kept saying things like, 'We've never heard this before' or 'A drug dealer teaching a kid how to ride a bike? That's a crazy idea.' And I'm thinking, This is my everyday life.
One time we were doing a show at a halfway house — it was one of the ones my mom had been in — about kids and their parents and drugs. It sounds kind of hokey but I remember one of the women in the program asked us to stop because she was very emotional; she was crying and upset. We're like 14, 15, thinking we're doing incredible protest art, and she said, 'I now know what my children were like when I was on drugs. I couldn't remember those times but you guys are making me remember what my kids were going through.' And that was when I was like, Ahh, I have to keep doing this. Maybe if I had done this while my mom was here she would have a better understanding, maybe it would have helped her.

"Barry created something that feels even more real than what I'd written down. It's so beautiful, and yet it's full of all the questions and the doubt and the guilt and the longing and the loneliness that was the impetus for the original piece."
Personal observations form much of your work, but how much personal narrative — or semi-autobiographical details — were you including in your plays prior to In Moonlight Black Boys Look Blue?
There are portions of In Moonlight Black Boys Look Blue based on actual parts of my life. I've been writing plays all my life for these programs, but this was different in that I was trying to piece out my life and experiences through art and in Liberty City. I was a grown man when I was writing this piece and I was looking at what my decisions were and if I'd made a turn at some point could I have been a totally different person? That's the script I created and I shelved it because I was like, 'This won't work as a play, it's way too visual and too intimate in the characters and I didn't have time to invent the world for the form. [Eventually] the Borscht Film Festival gave it to Barry, who I had not met but we grew up four blocks away from each other.
Everything is personal but I wasn't literally writing down moments from my life. Moonlight is one of the few pieces based on actual events; there are scenes in the movie that happened — the words and the scenario and the person, those things happened. And then there are parts that never happened to me and some of it happened to Barry. Writing it was no harder than going through the other circumstances I had to go through. Writing Head Of Passes I had to feel what it's like to be a person who's railing against God and asking God 'why?' and commanding him to answer. That was equally as hard as putting down things that are semi-autobiographical. Barry created something I couldn't even imagine, that feels even more real than what I'd written down. It's so beautiful, and yet it's full of all the questions and the doubt and the guilt and the longing and the loneliness that was the impetus for the original piece.
Why is theater your medium?

So Moonlight's going to open in Paris and people will watch it and enjoy it and that'll be that. They'll go home and think about the characters and that'll be great. But in a play when the performers are there, there's a direct call and response between what we're doing and what you're doing — and you have to be there for it to happen. There's something that happens in the transference of me standing in front of you telling a story in a live space. That kind of circular community is so important to me. The accessibility of film is incredible, but I know the reason I stay in the theater is its community aspect. It feels much more like I can reach out and try to solve these big problems, not just by myself. Us up here on stage don't have the ability to solve it: it's in the circular motion of storytelling that we do.