Meet Lido Pimienta, The Art Pop Warrior Of The Latinx Underground
Her new album, La Papessa, is about "getting ready for war, with love."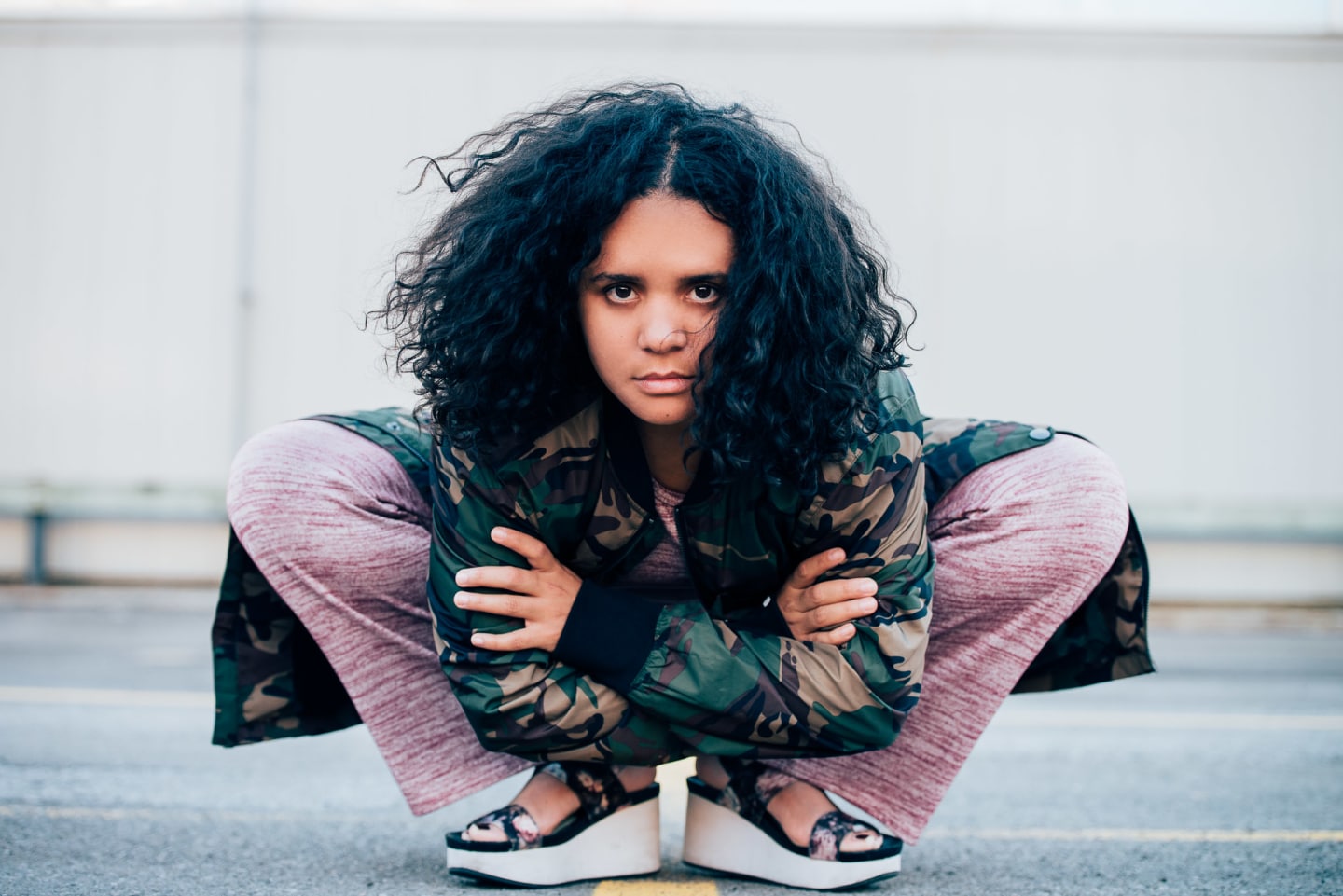 When Lido Pimienta was 23 she released her first album, Color, and became a wunderkind of the Latinx art pop underground. Major players in South America's burgeoning digital cumbia scene — with Buenos Aires label ZZK Records at the epicenter — clamored around the Colombia-raised, Canada-based singer-songwriter, resulting in buzzy collaborations and major tours. Three years after that, in 2013, Pimienta planned to release the follow up: a more straightforwardly political and anti-patriarchal effort, produced entirely under her lead. But it's taken another three years for that record, La Papessa, to finally come into existence.
When I call Lido, who lives in Toronto, she's in Santiago, Chile, wrapping a three-week residency with Soledad del Rio of La Guacha. La Papessa will finally meet the world a few days after our conversation, but Lido is already hard at work on her third album Miss Colombia. The forthcoming album is named partly in response to this year's Miss Universe debacle, when pageant host Steve Harvey accidentally crowned Miss Colombia winner. But also, and more to the point, "Because I miss Colombia," Pimienta said. "Sometimes I feel like I'm not Colombian anymore. But I know that I'm definitely not Canadian, either."
Pimienta's music and personhood is rooted in multiple identities that overlap and contradict. A descendant of historically oppressed ethnic groups — Pimienta identifies as both Afro Colombian and Indigenous, with Wayuu ancestry on her mother's side — she was raised middle-class, educated in private schools, and trained from an early age to play Bach (which she pronounces correctly, with the Germanic scrape) on piano. "My music is a mix, because I am a mix," she told me. Despite this, Lido is wary of the bourgeois repackaging of South American folk music for upwardly mobile audiences; despite her association with ZZK acts like El Remolón and Chancha Via Circuito, Pimienta resents being lumped in with the nu cumbia movement. Some of the genre's players, she said, are "opportunistic exploiters of the real people who have been doing this for centuries, who are still living in poverty and still get treated like shit because they're Black."
La Papessa is a notable departure from the aesthetic trappings of that genre. It includes the swirling synthpop chant "Agua," about protecting the earth's natural water supply. La Papessa it, itself, a political undertaking: its delayed release is indicative of what happens when creative women endeavor to take on the world.
---
The last time we talked in 2014, you were expecting this album to be ready within a few months. What caused the change in plans?
My brother died, and that made me take a few steps back and take, like, a year for myself and my family. I kind of became my family's caregiver. My mother is very Christian, so I took a lot of time to help my family think of the situation in a rational way. I don't believe in God and I have art and music to save me, so I was trying to be here for them in that way.
In November 2015, I finally finished mastering La Papessa, and was trying to find the best time to release it. I sent it around, but everyone wanted to wait another year and a half and I was, like, no. I'd already waited too long. So I just did it myself and put it on all the platforms.
What does La Papessa mean to you?
I see it as my school, really. It taught me about music production. "La Papessa" means "high priestess," and it's a card in the tarot that with a lot of symbolism that spoke to me at a time that I needed it the most. So once I became the high priestess in my own way, the album started taking shape. It's kind of a coming of age story. It's also a story of liberation and independence.
The first song, "Ruleta," is about me crying and lamenting that I separated from my babydaddy, but the next one is about me being, like, 'You know, I actually want you to do well.' Raised in a Latinx and Christian family, if you break up the family it's kind of like a sin, and you've failed your family and your son. And so it starts with me being, like, whyyyyyy? and ends with "Jardines," a celebration of my youth and brightness, and the inner light I'd allowed men to shut down. That's La Papessa: Getting ready for war, with love.
How would you say it's different from your older work?
For one, I didn't really know how to record myself in the first album. I wrote the songs, but they were mostly produced by my babydaddy. He wasn't the most generous person and wouldn't teach me how to do it myself, which was a way of keeping me dependent on him. Watching YouTube tutorials, I discovered loop processing and pedals and got lots of support from Roland Canada. It's pretty amazing what you can do when people are not watching.
Does La Papessa still feel like you, given that it's so closely tied to a very specific chapter in your life?
Totally. Another thing that changed with this album is that, before, I felt like I was being watched all the time. All these people, these famous people, were wanting me to write songs for them or recommend music. I was like the 'It Girl' and that was very distracting, because I wasn't really paying attention to the music, even. I was riding the wave of being a relevant person without understanding what was happening. With La Papessa the attitude completely changed, because I grew up. That's what happens when you grow up: You don't really care about who's there and who's not there. I've been able to develop my own sound. There's nothing like it out there. I'm extremely proud of it.