Here's Why Your Facebook Friends Are Checking In At Standing Rock, North Dakota
Many are using the Facebook feature in attempts to keep law enforcement from targeting protesters.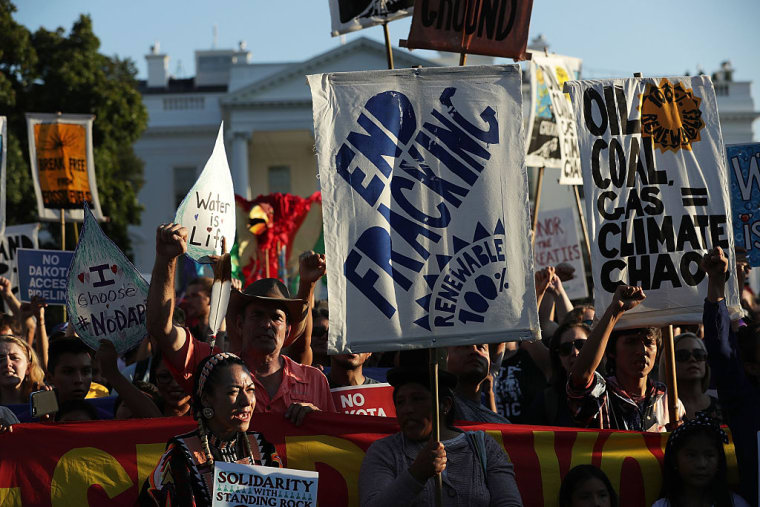 Amidst ongoing protests between police and activists over the Dakota Access pipeline, some have taken to Facebook to show their solidarity with those at the Standing Rock Indian Reservation, as CNN points out. But if you've noticed your Facebook friends checking in at Standing Rock, it's not because they've traveled to North Dakota.
A post going around warns that the Morton County Sheriff's Department has been using Facebook to "to find out who is at Standing Rock in order to target them in attempts to disrupt the prayer camps." The post continues, "SO Water Protecters are calling on EVERYONE to check-in at Standing Rock, ND to overwhelm and confuse them. This is concrete action that can protect people putting their bodies and well-beings on the line that we can do without leaving our homes. Will you join me in Standing Rock? Don't share, rather copy & paste."
Since the viral Facebook status began circulating, many have questioned its validity and utility, pointing out that checking in on Facebook is not as useful as sending funds or supplies. Protesters at the Sacred Stone Camp told Snopes that police often use these tactics to disrupt protests but that the Facebook status did not begin in their camp.

On Monday, the Morton County Sheriff's Department responded to the accusations on Facebook, writing, "The Morton County Sheriff's Department is not and does not follow Facebook check-ins for the protest camp or any location. This claim / rumor is absolutely false."
Last week, police in riot gear began forcefully removing protesters from the pipeline construction site, arresting over 100 protesters and destroying encampments. Police also employed crowd dispersion tactic, firing projectiles into the crowd, releasing pepper spray gas, and directing a high-pitched siren at the protesters.